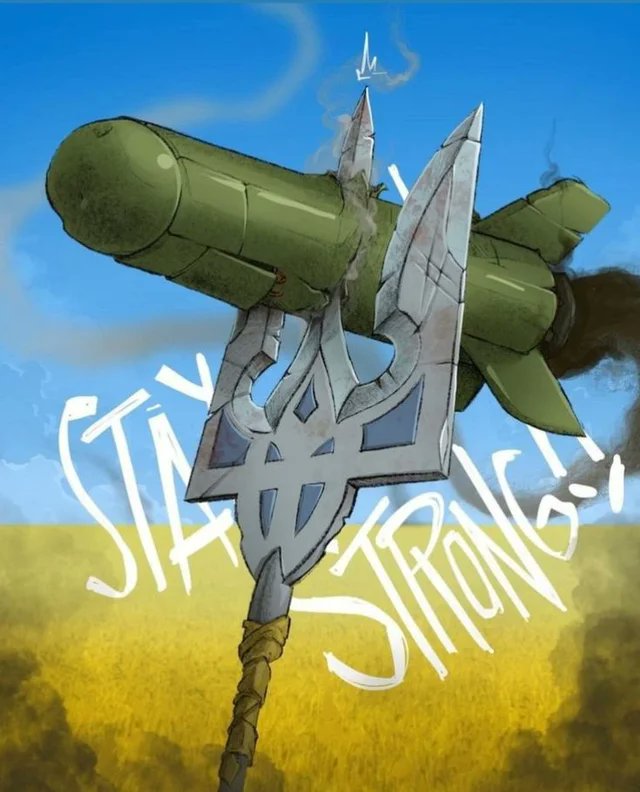 A quick housekeeping note from last night's second post: thank you all for the kind words and well wishes. As I wrote in a comment, the point of the personal anecdote was to drive the point home that Jordan Neely shouldn't be dead because he had a bad day and he was not fortunate enough, as I am, to have people to support him. Especially as the institutions that should have failed him. There's one additional point: that no one seems to have done anything to help him and everyone just made videos and took pictures and watched him be murdered is perhaps one of the cruelest parts of this tragedy.
President Zelenskyy is traveling again today and while there is a video of his joint press conference, there is not a daily address. I'll have the video of the press conference with the write up from the presidential website after the jump.
Before we get to the newer information about last night's drone strikes, earlier today Ukrainian air defense had to bring down one of their own Bayrakter Tb2s over Kyiv as it had malfunctioned and was out of control.
Update: Now confirmed with two Ukrainian sources with direct knowledge plus Ukraine's Air Force statement: Drone shot down over Kyiv today was a Ukrainian Bayraktar TB2 that was out of control due to technical reasons. @FThttps://t.co/gLhVnR6N6Z https://t.co/MwIiswQb1G

— Christopher Miller (@ChristopherJM) May 4, 2023
Here's a machine translation from the post explaining the intercept on the Ukrainian Air Force's Facebook page:
On May 4, around 8 p.m., a Bayraktar TB2 UAV lost control during a scheduled flight in the Kyiv region.

Since the uncontrolled presence of the UAV in the sky of the capital could have led to undesirable consequences, it was decided to use mobile fire teams.

The target was destroyed!
It's a pity, but this is technology, and such cases do happen.

It was probably a technical malfunction, and the cause is being investigated.

There were no casualties or injuries as a result of the combat operation and the fall of the UAV wreckage.
We don't really know a whole lot more tonight than we did last night about the attempted drone attack on the Kremlin. The Financial Times has some of the details:
The US has accused Russia of "lying" after it claimed Washington was behind a drone attack on the Kremlin this week, raising tensions ahead of an expected Ukrainian counter-offensive against Russian forces.

Russia also launched its own drones at Ukrainian cities overnight following the incident in Moscow in the early hours of Wednesday, which the Kremlin called a Ukrainian attempt to assassinate President Vladimir Putin.

Multiple explosions rocked Kyiv later on Thursday, with machine gun fire also heard, indicating Ukraine's forces were firing skywards to intercept incoming drones. There were no immediate reports of casualties or damage.

White House national security spokesperson John Kirby said: "There was no involvement by the United States in [the Kremlin incident]. Whatever it was did not involve us . . . We had nothing to do with this."

Ukraine's President Volodymyr Zelenskyy has also strongly rejected any suggestion of involvement in the attack, in which Russia said it shot down two drones over a Kremlin building in the early hours of Wednesday morning, briefly causing some roofing to catch fire.

Military analysts in Moscow also suggested that a non-state group could be behind the attempt, using commercially available drones.

Kremlin spokesperson Dmitry Peskov on Thursday said Russia saw the assault as a Ukrainian attack "dictated from across the ocean".

"These decisions, the determination of targets, the determination of means, all of that is dictated to Kyiv from Washington. We are well aware of this," Peskov told journalists.

"It is important that Washington clearly understands that we know this," he added, "and that it understands how dangerous such direct involvement is in the conflict."

Kirby said the statements were "false" and Peskov "is just lying".

Alongside Ukraine's president, a host of senior officials have also denied that Ukraine was behind the alleged attack on Moscow's symbolic seat of power.

The Kremlin has said Putin was not in the building at the time. Asked about his reaction, Peskov presented the Russian leader as unperturbed and said the damage to the building was slight. "There are two burnt copper sheets that cover the dome, they will be replaced, if they have not already been replaced . . . There is no other damage."

Western governments have declined to assign responsibility for the incident. A White House spokesperson on Wednesday said Russia had a history of "false flag" operations designed to discredit the enemy. She said the US had not encouraged or helped Ukraine to strike outside its own borders.
Much more at the link!
I think we can reasonably conclude, given all the other drone strikes in Russia over the past couple of days, that this was a Ukrainian strike. We know they can go deep enough to hit the Engels air bases. As such I think the first possibility from last night was the right one. This was a Ukrainian strike, it wasn't meant to assassinate Putin, but to demonstrate that Ukraine could reach out and touch Moscow if it wanted to. And that regardless of who did it or the purpose of the strike, the Russians were and are going to continue to milk it for all its worth in terms of agitprop.
This is a measure of success:
Looks like Russian authorities are so afraid of renewed drone attacks in Moscow that they are spoofing/jamming the GPS navigation signal. Muscovites can no longer order cabs. https://t.co/mt4BqZXG2y pic.twitter.com/BNefAWFdwD

— Yaroslav Trofimov (@yarotrof) May 4, 2023
I'm going to put the jump in here and then pick back up with more on the attempted strike on the Kremlin:
Remember those anti-Putin Russian militia guys we were talking about a few months back, connected to the same group that claimed credit for killing Dugin's daughter?
As soon as Ponomarev takes credit, we'll then know 100% this was a Ukrainian HUR operation. https://t.co/ZldxjyGJls

— Aric Toler (@AricToler) May 3, 2023
Here's the tweet from Mykhailo Podylak, who is one of President Zelenskky's senior advisors followed by the full text of the tweet (emphasis mine):
As for the drones over the Kremlin. It's all predictable… Russia is clearly preparing a large-scale terrorist attack. That's why it first detains a large allegedly subversive group in Crimea. And then it demonstrates "drones over the Kremlin". First of all, Ukraine wages an…

— Михайло Подоляк (@Podolyak_M) May 3, 2023
As for the drones over the Kremlin. It's all predictable… Russia is clearly preparing a large-scale terrorist attack. That's why it first detains a large allegedly subversive group in Crimea. And then it demonstrates "drones over the Kremlin". First of all, Ukraine wages an exclusively defensive war and does not attack targets on the territory of the Russian Federation. What for? This does not solve any military issue. But it gives RF grounds to justify its attacks on civilians… Secondly, we are watching with interest the growing number of mishaps and incidents that are taking place in different parts of RF. The emergence of unidentified unmanned aerial vehicles at energy facilities or on Kremlin's territory can only indicate the guerilla activities of local resistance forces.As you know, drones can be bought at any military store… The loss of power control over the country by Putin's clan is obvious. But on the other hand, Russia has repeatedly talked about its total control over the air. In a word, something is happening in RF, but definitely without Ukraine's drones over the Kremlin…
I agree with Aric Toler's assessment:
The entire crux of their assertion that the drone attack was a false flag is by assuming that Russian air defense is impenetrable. These two drones getting through to the Kremlin makes the Russian military look inept and weak. https://t.co/6sCY6RX8lb

— Aric Toler (@AricToler) May 4, 2023
Most of all: what will would they achieve with this? What is Russia doing/will they do that's measurably different now than 36 hours ago? They'll still attack Kyiv, try to take Bakhmut, and weakly threaten further escalations. When you do a false flag, you have a follow-up plan.

— Aric Toler (@AricToler) May 4, 2023
When the drone attacks happened, Russian air defense looks completely useless, and the public is shown that even Moscow can be attacked.

Russia responds by… putting out some strongly-worded statements, and then launching even more drone attacks at Kyiv and Odesa.

— Aric Toler (@AricToler) May 4, 2023
Again, the more information dribbles out, not that a lot has dribbled out, the more I'm convinced it was possibility 1 from last night.
Alright, here's the video of President Zelenskky's joint press conference from this afternoon.
And here's the English language write up from the presidential website:
President of Ukraine following the negotiations with Prime Ministers of the Netherlands and Belgium: We are meeting in The Hague to bring peace closer and restore justice

4 May 2023 – 16:55

During an official visit to the Kingdom of the Netherlands, President of Ukraine Volodymyr Zelenskyy met with Prime Minister of the Netherlands Mark Rutte and Prime Minister of Belgium Alexander De Croo.

The talks took place both one-on-one and in a trilateral format.

Speaking to the media following the talks, Volodymyr Zelenskyy said: "We are meeting here in The Hague to bring peace closer and restore justice. We need justice."

The President of Ukraine expressed gratitude to Mark Rutte and the people of the Netherlands for their powerful assistance in strengthening Ukraine's defense capabilities.

"The Patriot and other weapons that the Netherlands provided us have already saved thousands of Ukrainian lives! Thank you!" he said.

The Head of State thanked Prime Minister Alexander De Croo and the whole of Belgium for solidarity in the protection of common European values.

"Thank you for your support of sanctions against Russia and aid packages for our country and people," Volodymyr Zelenskyy noted.

During the talks, the parties focused on security issues. As the President of Ukraine emphasized, the main thing now is the speed of delivery of the promised weapons.

"I have called on our partners, both the Netherlands and Belgium, to help us implement the agreements on military assistance – as quickly as possible. Very important is that we are working to create a coalition of armoured vehicles to complement the existing coalition of tanks. We hope that the Netherlands and Belgium, together with the Nordic countries and all our partners, will effectively support our initiative to create a coalition of armoured vehicles," the Head of State emphasized.

In addition, according to Volodymyr Zelenskyy, it is time to make positive decisions for Ukraine regarding modern aircraft.

"There is no rational reason to postpone such decisions. To train our pilots and to strengthen the wings for Ukraine means to speed up the peace we all want," the President noted.

The interlocutors also discussed common Euro-Atlantic security.

"De facto, Ukraine has already become a part of NATO – we cooperate, we trust each other and together we truly make Europe stronger. So, it stands to reason that Ukraine should become part of the Alliance de jure – the thirty-third NATO country. The algorithm of actions in this regard can and should be approved by political decisions at the Vilnius summit of the Alliance this summer. And we count-on the support of our partners," the President emphasized.

The agenda of the talks between Volodymyr Zelenskyy, Mark Rutte and Alexander De Croo also included relations between Ukraine and the EU. The President noted that he expects a positive assessment of Ukraine's progress in implementing the European Commission's recommendations.

"We are doing our best during the war, we are doing all the reforms that we have to do, and this will be the time when political positive momentum will open the way to a new and long-lasting positive history both for Ukraine and for the whole of Europe," Volodymyr Zelenskyy is convinced.

The Head of State expressed gratitude for the support of the Ukrainian Peace Formula that can not only restore territorial integrity and security of Ukraine, but also reliably guarantee long-term security of Europe and the world.

"This is our joint task – to restore the full force of the UN Charter and international law in general – everything that was violated by Putin and Russia. Peace calls for sanctions to be stronger, for the isolation of Russia to be more complete. Peace calls for assets of the terrorist state to be confiscated. And peace calls for damages to be repaired and ruins to be rebuilt. And I am sure – we will do it together," the Head of State said.

For his part, the Prime Minister of the Netherlands emphasized that his country will continue to support Ukraine in its struggle, and Russia must be held accountable for the crime of aggression and injustice it commits against the Ukrainian people.

"The Netherlands will do everything possible to ensure justice for Ukraine, no matter how long it takes and no matter how difficult it is," said Mark Rutte.

According to the Prime Minister of the Kingdom of the Netherlands, Russian aggression reminds the world every day that the rule of law must be constantly protected.

"Ukraine will remain in our hearts and memory not only today, but every day until peace and freedom are restored in your country," he said.

The Prime Minister of the Kingdom of Belgium reminded that his country, like the Netherlands and many other countries, has been supporting Ukraine since the first days of the full-scale invasion, and called for the continuation of this support.

"We will continue this support and demonstrate our solidarity with Ukraine. Now it's our turn to help Ukraine get rid of the brutal and illegal occupation again. This is the same occupation that our countries experienced during World War II. That is why the Belgian government is preparing a new package of military assistance to Ukraine," assured Alexander De Croo.

He reminded that since the beginning of the war, Belgium has frozen more than 50 billion euros in assets of Russian individuals and legal entities.

"We are now exploring how we can fully utilize the proceeds of these Russian assets to support the reconstruction of Ukraine. Belgium is ready to play a leading role in this in the European Commission," said the Prime Minister of the Kingdom of Belgium.
There was no operational update posted today by the Ukrainian MOD, nor any other new posts on their Telegram channel.
The Ukrainian Air Force wishes everyone a good evening!
Work with the best view from the window 🫡🇺🇦 pic.twitter.com/bJvNFFx9WK

— Ukrainian Air Force (@KpsZSU) May 4, 2023
Lord, guard and guide the men fly
Through the great spaces in the sky.
Be with them always in the air,
In darkening storms or sunlight fair;
Oh, hear us when we lift our prayer,
For those in peril in the air!
Mary C. D. Hamilton (1915)
Here is former NAVDEVGRU Squadron Leader Chuck Pfarrer's most recent assessments of the situation in Bakhmut:
BAKHMUT CITY /1930 UTC 4 MAY/ UKR forces have initiated offensive action in the vicinity of Heologiv Street, west of the H-32 HWY loop. UKR Lines of Communication & Supply assessed as secure; UKR will continue urban operations. pic.twitter.com/zKGxJw27ka

— Chuck Pfarrer | Indications & Warnings | (@ChuckPfarrer) May 4, 2023
BAKHMUT AXIS /1245 UTC 4 MAY/ Heavy urban fighting resumed in the W urban areas of Bakhmut. RU conducted wide-spread artillery barrages over the entire axis. Russian attacks at Ivanivske and Predtechyne were broken up. pic.twitter.com/JArGX6zrSx

— Chuck Pfarrer | Indications & Warnings | (@ChuckPfarrer) May 4, 2023
I remind everyone, again, that Pfarrer is making these maps in the style and manner he would if he was briefing his SEALs or his leadership before he retired. They are not an end all be all, but the provide a certain amount of information displayed in a visual format. And it does not mean he doesn't get stuff wrong. We all do from time to time.
Anyhow, here's a great thread from the Australian Strategy and Policy Institute's Nathan Russer, who is himself fond of making maps, on the issues with these types of things. First tweet from the thread followed by the rest from the Thread Reader App:
OK, ISW is becoming a major problem in the media ecosystem. This assessment is just a hunch from their mapping team (one that I disagree with), and yet their role in providing maps will see this (bad) opinion laundered as fact by many journalists who print what they say verbatim. https://t.co/XR0xRzYgAm

— Nathan Ruser (@Nrg8000) May 4, 2023
You can have reasonable theories that this was a false flag, I disagree for the simple fact that it makes the Kremlin look inept and weak as hell. But the point is, it's irresponsible to throw these largely baseless theories out there knowing how they'll be consumed. 

And the other point is (and this is coming from someone who has mapped Ukraine in meticulous detail), the people you don't want making this assessment and putting it out there are the people who's only job is to map the situation in meticulous detail. 

The skillset required for mapping are not the skills required to make a valid assessment about this incident. Especially based on the sparse OSINT information. Look how much effort journalists (not Hersch) put into the recent story about Russian ships near Nordstream. 

These updates aren't just people posting theories on twitter, which is fine, but have become incredibly incorporated into the process that media uses to write the first draft of history for this war (and I'm sure it makes it to classified Intel summaries too). 

And I understand the pressure to comment on each piece of news, especially knowing the media engagement it will get, but sometimes speculation and assessment based on incomplete information or one geolocated video, is irresponsible to launder into the first draft of history. 

Their role in repeatedly spreading incorrect assessments implying Ukrainian forces have established a foothold on the S bank of the Dnipro show that the institutional pressure to publish 'newsworthy' assessment every day has overtaken their care for an always-accurate product. 

See the nested thread of me complaining about this here.

Now I understand the media plays a role in this too, ISW does add nuance to their product that dampen the 'confidence' in many of these poor assessments, and they can't control how the media will often (& wrongly) jump onto the story and repeat their claims with far less nuance. 

But they surely understand this now. When ISW says something, the media repeats it in their starved daily summaries without nuance, and that whole citogenisis cycle starts right up turning a 'may have' into a 'did'.

And it comes down to being responsible with the 'info' you put out, understanding its role in the media ecosystem and prioritising more than media engagement with a daily product. 

Ukraine has settled on many fronts into much of a WW1, trench warfare type of situation, where the changes on the ground are absolutely not adequate for a 10-page daily summary. This begs for invalid speculation.

Yet it is hard to ramp back a product that serves you well. 

This is the same for the UK MoD daily summaries, which are largely useless now.

I understand why it is how it is, but not doing better really risks your credibility, and even if lazy journalists keep citing your work, once seriously observers start viewing your product as inaccurate and unreliable, it is really hard to come back from that. 

There's nothing wrong with saying 'no major developments today, continued fighting in x, y, z with some reports of limited greyzone gains by blah in y.'
much better than trying to fill the space with speculation or feeling the need to prematurely assess breaking developments. 

The ISW intel summary of this is so fundamentally flawed that it fails to mention that there were two drones that hit the kremlin, and implies it was a single strike that took place when people were already on the roof, not two strikes, one of which took place 13min earlier. 

950 words on the attack without a single sentence entertaining the idea that it could be a genuine attack.

When lazy journalists read this there is a single conclusion they will make (given it being unbalenced in its entirity) and this is clear from reading media coverage. 

Much of their assessment relies on the idea that drones could not penetrate Russian air defence… That is NOT an assessment I would trust open-source mapping professionals (very much including myself) to make. 

It fails to mention how irrevokably incompetent it makes Russia look, it fails to mention the fact that this could be designed to pull air-defence away from other 'shaping targets' to protect Moscow, it fails to mention any balance, it's very lazy and one-sided. 

Hard to expect more when you give a couple of people a deadline of 5 or 6 hours to write ten pages on an event that just happened without any clear information in the open source yet. Of course it will be full of errors and incomplete. 

More broadly, the 24-hour news cycle problem is a massive problem for the online OSINTers when reality along with shaping and military operations are happening on a scale of months not hours.
But somewhere with the institutional audience of ISW should know beter. 
I hope that's better for whichever one of you – my apologies that I forgot who it was – who asked if I could not copy and paste it in dark mode.
Here's a thread on an adjacent theme from the University of Toronto's John Scott-Railton:
A blue check account w/a history of sensationalist nonsense is tweeting nuclear alarmism.

Meanwhile the real North American Aerospace Defense Command* isn't verified. pic.twitter.com/L28Rdersu0

— John Scott-Railton (@jsrailton) May 4, 2023
Friends, if you're doing the lord's work debunking OSINT-branded accounts doing nuclear nonsense I salute you. Just please don't Quote Tweet em.

Quote Tweets extend the reach of the initial misinformation & tells Twitter to reward the account with more engagement.

Which is bad.

— John Scott-Railton (@jsrailton) May 4, 2023
*Healthy* OSINT communities tend to self-develop standards of care around information & verification.

And language.

If you see an OSINT-branded account doing breathless alarmism around unsourced rumors, this tells you all you need to know.

— John Scott-Railton (@jsrailton) May 4, 2023
Appending a little sanity from @Reuters herehttps://t.co/8c4Tki8b9i

— John Scott-Railton (@jsrailton) May 4, 2023
Accounts doing nuclear alarmism in #Ukraine aren't just muddying the information environment.

When they go viral, they get read *in war zones*.

Civilians in places like Kyiv read them last night.

And had to make real decisions.

It is traumatizing. Cruel. And shameful.

— John Scott-Railton (@jsrailton) May 4, 2023
Ilski, Russia:
/2. Video of a drone attack on oil storage facilities in Iliski, Russia. pic.twitter.com/olYBa5vCDU

— Special Kherson Cat 🐈🇺🇦 (@bayraktar_1love) May 4, 2023
That's enough serious stuff for tonight.
Before we get to what you really come here for every night – cough, Patron, cough – here's something musical. Last night as I was typing out the two posts I had music playing on YouTube. My feed is basically a combination of President Zelenskyy's addresses, the NAFO HIMARS video, Lucha Libre, dog and cat videos, Patron's cartoons, and music I like. A lot of that is the late 70s through mid 90s music I grew up with, but I occasionally get on a kick for other things. Like when the Tell Me Maw rabbit hole led me to Broken Peach. Last night I was playing a variety of my favorite Blackmore's Night videos/songs and the algorithm fed me a really nice version of The Gael, which then fed me a cover band named The Iron Cross doing Nightwish's version of Over the Hills and Far Away. So I searched for that and got the original. Then me being me I decided to pull up the lyrics and then look up the band. Which led me to the original version by Gary Moore with the Chieftains. And no offense to Gary, but Nightwish's former lead singer – Tarja Turunen a classically taught soprano with a three and a half octave range – makes it sound that much better. But looking up Moore's version I found that there's also a Ukrainian cover in Ukrainian. By Ukrainian artist and activist Ruslana!
So the first video below is Nightwish's official video of their version, then Ruslana's, then the live version from Nightwish on their final tour before Turunen left the band so you can get an idea of just how great her voice is without any of the normal stuff done to it in the studio. The final one is Moore's version in case anyone wants to see the original.
I also now have an ear worm…
Nightwish original:
Ruslana!
Nightwish live:
Gary Moore with the Chieftains:
Your daily Patron!
We've got two new videos from Patron's official TikTok. The first features the powerful, haunting art of Olga Wilson, which I've featured here before. Here's her Facebook page. And here's a virtual exhibit of her work.
The machine translation of the caption reads:
It hurts… 😔 The author of the drawings 0lga.art
The link he provides is dead. Her Instagram is down. And the other commercial site I have for her is showing the domain name is available. So the links above will have to suffice. Keep good thoughts she's safe and still painting.
And here's the second video:
@patron__dsns

Відкрили спільний збір на будиночки для тварин разом з @UAnimals та @kartasvitu 😌 Лінк на збір у шапці профілю, долучайтеся!🫶🏻
The machine translation of this caption is:
We have launched a joint fundraiser for animal houses together with @UAnimals and @kartasvitu 😌 The link to the collection is in the header of the profile, join in! 🫶🏻
The link is UAanimals.org!
Open thread!