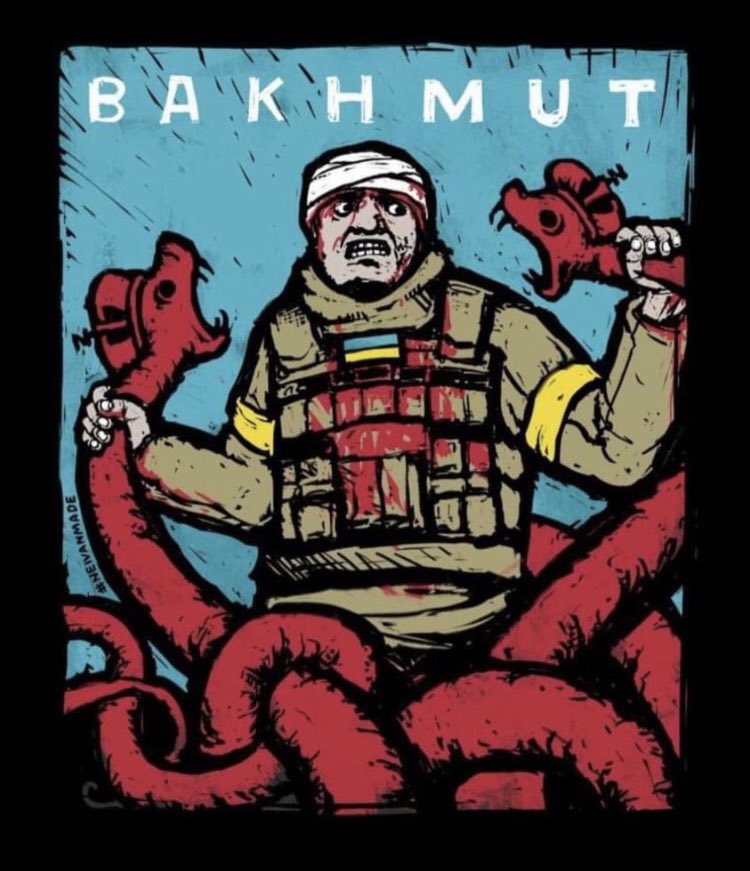 (Image by NEIVANMADE)
Overnight the big Bakhmut news was Prigozhin's threat to pull out no later than 10 MAY if the Russian MOD didn't meet his logistics and supply needs. Will get to that later, but we're going to start with the reality that the fuckers have decided to burn what they can neither take nor hold. The Russians have been using various incendiary munitions since the start of the war, but this is an exponential escalation:
Bakhmut today pic.twitter.com/XE6CLhpuLC

— Illia Ponomarenko 🇺🇦 (@IAPonomarenko) May 5, 2023
Video from Bakhmut presumably after bombardment by Russian incendiary munitions. https://t.co/5K7R2VYI8P pic.twitter.com/uajzJuYT89

— Rob Lee (@RALee85) May 5, 2023
Russia has been using incendiary munitions in Bakhmut for months. 4/https://t.co/nXGFLtG85C

— Rob Lee (@RALee85) May 5, 2023
Here is the statement from the Ukrainian Special Operations Forces: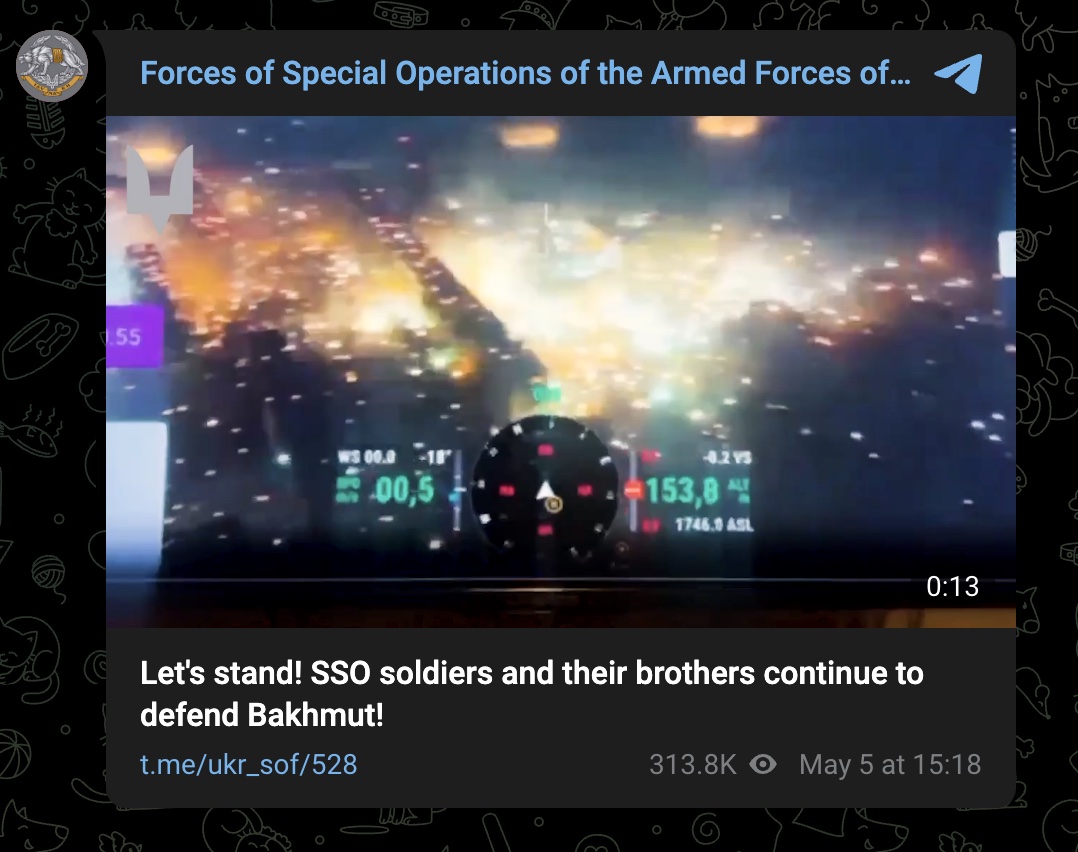 Here is President Zelenskyy's address from earlier today. Video below, English transcript after the jump:
We are doing everything so that the world hears Ukraine, understands and helps our state – address of President Volodymyr Zelenskyy

5 May 2023 – 20:27

Dear Ukrainians, I wish you health!

Today, we kept the pace and strength of international work – the whole week gives Ukraine the results it needs.

In the morning, after returning from the Netherlands, I held a meeting with the Minister of Foreign Affairs of Bahrain. By the way, it is the first visit of the head of the foreign affairs department of this country during the entire period of our diplomatic relations – since 1992. That is, it is another argument that the world not only believes in Ukraine, but also sees how our state is getting stronger.

We talked with the minister about how we can bring peace together for Ukraine and restore peace and stability in international relations. I thanked him for the unwavering support of Ukraine and civilized rules, in particular, the support at the UN platform. We talked about the Ukrainian Peace Formula, and I believe that Bahrain can participate in its implementation.

In the afternoon, the United24 state fundraising platform anniversary summit was held. When this platform was launched last May, our main task was to unite ordinary people around the world, to unite for the sake of Ukraine and the defense of freedom. And it succeeded!

United24 raised donations from different people, from different companies from 110 countries. We have 15 star ambassadors. I am personally proud of United24's support of our work for the naval fleet of drones, and all drone-related projects for the frontline. These are thousands of drones that make Ukraine stronger.

A lot has been done within the Medical Aid area of United24, and there are results in the Rebuild Ukraine area. Now, we are adding another educational area – it is the restoration of schools, as well as – demining. It is a big task that Ukraine faces and that can be implemented not in decades, but in years if there is sufficient global support. Not a single Russian mine should remain in our land!

In the evening, I held a meeting with a delegation of the Congress of the United States. We talked about further cooperation between our states for the sake of global freedom.

Now, when we are fighting side by side with the United States against tyranny, we have reached a level of cooperation that has never been seen between Ukraine and the United States. But it is not the limit. We will continue developing our cooperation – our true alliance. And I thank everyone who helps! Thanks to President Biden for his leadership. I'm thankful to both parties and houses of Congress for their continued support. Thank you to all Americans whose desire for freedom, together with Ukrainian aspirations, together with all our allies and partners, protects global democracy.

Also, today I had a meeting with representatives of the Venice Commission, with representatives of the BlackRock investment fund.

So, in a week: the United States and Bahrain, the Netherlands and Belgium, Finland and Sweden, Norway and Denmark, and Iceland. Canada. New Zealand. The African Union and Comoros Islands. And the entire multinational community of United24 donors and partners. We are doing everything to make the world hear Ukraine, understand Ukraine, and help Ukraine. Because by helping us, the world protects itself.

I am happy to say that after the meetings in Helsinki and The Hague, we have a powerful reinforcement with weapons for our soldiers – on land, in the air, and at sea. I thank the partners! This is a substantial reinforcement. We have more progress regarding NATO and the European Union. We have made more progress regarding Russia's accountability for aggression against our state.

Glory to everyone who is now fighting for Ukraine, on combat missions, and at combat posts! I am especially grateful for this week to all the fighters of our Air Force and all units of other detachments defending the sky!

Resisting, defeating and punishing the enemy is our common task. In unity, making Ukraine stronger every day, adding new opportunities to our state every day, we will achieve victory!

Eternal memory to all our heroes of different times who defended and protected Ukraine!

Glory to our people!

Glory to Ukraine!
Bakhmut:
From the Ukrainian MOD:
Not enough shells, but more than enough phosphorus.
Ruscists are shelling unoccupied areas of Bakhmut with incendiary ammunition.
They will burn in Hell.

📷 @SOF_UKR pic.twitter.com/7oqNTumJ34

— Defense of Ukraine (@DefenceU) May 5, 2023
The first lesson I was taught by my Area Supervisory Officer (ASO), a retired Vietnam vet Green Beret senior NCO, is for the mission to come first you MUST take care of your people. You don't leave them behind! On the battlefield or off! If they're having a problem or struggling, you make sure they're safe, getting what help they need, etc. This is what he was talking about:
Another video showing how the defenders of Ukraine never leave their own behind. Even during intense battles, the heroes are always looking out for each other.

Praying all the defenders will stay safe 💙💛🙏

Glory to the heroes 🇺🇦 pic.twitter.com/NobeGtoekb

— International Observers Ukraine (@INTobservers) May 4, 2023
Then the shell-shocked guy starts helping a comrade with a hug back-pack who's stumbled
Marvellously inspiring camaraderie pic.twitter.com/7VqArvsFzg

— vinm300 (@vinm300) May 5, 2023
Here's a bit of an update about the attempted drone strike on the Kremlin. The bottom line is we still don't know much more. From The Financial Times:
An audacious assassination attempt targeting one of the world's most protected citadels? A cynical piece of military subterfuge designed to justify a violent response? Or a brazen operation to embarrass a supposedly powerful police state by revealing its vulnerability?

As intelligence analysts and defence experts pore over the scant details of the alleged drone attack on the Kremlin early on Wednesday morning, Moscow, Washington and Kyiv are at odds over who is to blame — and what was the aim.

The two small drones with their limited payloads had almost zero chance of killing Russian president Vladimir Putin, who is well known for not sleeping in his official Kremlin offices.

But if they were operated by Ukraine, or agents of Kyiv, their journey is the most serious penetration of Russia's — and Moscow's — supposedly secure airspace since German teenager Mathias Rust landed a small plane near the adjacent Red Square in 1987.

That has prompted hesitation among some experts over declaring this a "false flag" conducted by Russia potentially aimed at justifying a new escalation in Ukraine. It would be a significant risk, they argued, for Putin to imply that its military prowess is misplaced, or that one of the most protected sites in the country is vulnerable.

Lieutenant General Scott Berrier, director of the US Defence Intelligence Agency, said on Thursday the drones did not appear to be the size of weapons that would do significant damage to the Kremlin. Based on photos and videos he had seen, Berrier said the drones potentially required the controller to be within relatively close line of sight.

Some 10 hours after the incidents took place, the Kremlin issued a statement blaming Ukraine for what it called a "terrorist attack" and "attempted assassination", vowing retribution on Ukraine's president Volodymyr Zelenskyy in reply.

A day later, on Thursday, Putin's administration pivoted to laying the blame on Washington, accusing the US of having dictated the Ukrainian attack "from across the ocean".

Both Kyiv and Washington have categorically denied involvement.

If it was a Ukrainian operation, to reach one of the most heavily defended cities in the world and then hit its political heart would demonstrate remarkable planning, luck, daring — and a surprising capability.

Moscow is ringed by radar and air-defence missile systems, which in recent months have been spotted on top of government buildings, including Russia's defence ministry. The Kremlin is protected by a GPS spoofing system that makes mobile phones and GPS-based navigation systems believe they are elsewhere.

On Thursday, a day after the attack, GPS spoofing in Moscow appeared to be operating with full force. Local residents reported so much diversion of signals in central Moscow that people struggled to order taxis or locate e-scooters.

The Kremlin also reportedly has two Pantsir air-defence systems stationed around it, and a Krasukha-4 ground-based jamming system that is able to knock drones out of the sky. Moreover the Kremlin guard have handheld anti-drone weapons, according to a study by Mark Galeotti, a veteran Kremlin watcher and defence expert.

"Ukraine has shown it can take off-the-shelf products, scale them and then use them to creative and lethal effect," a senior western defence official said. "Ukraine's previous attacks using unmanned vehicles also show how hard it can be to defend against those strikes."

Even so, analysts said the small size of the explosion suggested that if it was a Ukrainian attack its purpose was purely symbolic and demonstrative.

The drones used "very small warheads or low-grade explosive, not military high explosive", said Justin Bronk, senior research fellow at the Royal United Services Institute in London. "If it was Ukrainian, it was incongruously poorly aimed and armed to cause any actual damage."

Michael Kofman, director of the Russia studies programme at CNA, believed the most likely explanation was that the operation was at the very least orchestrated by Ukraine.

"The simplest explanation is exactly what it looks like," he said, with the objective of demonstrating that Russia was vulnerable and diminishing the Kremlin's power.

Analysts are divided over whether the drones could have been flown from Ukraine — a journey of around 760km from Kyiv — or launched from inside Russia.
Much, much more at the link!
To answer the question of whether Putin would stage something if he thought it was too his advantage or, perhaps, stage a strange response if he thought it was too his advantage, the answer is yes. I am one of the nat-sec professionals who do not accept the official reporting and story of the Beslan massacre. Neither the attack, nor the catastrophically disastrous response. Putin was looking for further justification for his campaign against the Chechens and Beslan provided it. However, unlike Beslan where Russian forces were shown to be overwhelmingly violently over effective once they commenced what was supposed to be a hostage rescue operation, not being able to shoot these two drones down until they were perfectly framed for CCTV and/or handheld cameras makes Russia's air defense look weak and ineffective. There is much more we need to learn before a coherent explanation emerges for what happened.
Prigozhin has issued the Russian MOD an ultimatum. Here's his video statements with English subtitles from Dmitri at War Translated:
❗️Explicit content warning!

Prizohin films himself in front of a large number of corpses, and in an unusually aggressive manner puts forward demands to Russian military leadership to provide more ammunition. pic.twitter.com/ZjikU2EnZM

— Dmitri (@wartranslated) May 4, 2023
Evgeniy Prigozhin declares in a video that he will be ordering the withdrawal of Wagner mercenaries from Bakhmut due to an acute shortage of ammunition allegedly ordered by the Russian General Staff. He says Wagner will stay in the city until 9 May to avoid shame on this day. He… pic.twitter.com/zFooKfYXRP

— Dmitri (@wartranslated) May 5, 2023
From The Washington Post:
Yevgeniy Prigozhin released a statement and video on his Telegram channel demanding that Valery Gerasimov, chief of the General Staff of the Russian armed forces, sign an order indicating when the military would replace Wagner forces in Bakhmut, the eastern Ukrainian city that Russia has been trying to seize since last year. He said he would withdraw his forces on May 10.

"I am withdrawing the Wagner PMC [private military company] units from Bakhmut because in the absence of ammunition, they are doomed to senseless death," Prigozhin said, wearing camouflage and a helmet, an automatic weapon slung over his shoulder. He stood with dozens of masked Wagner fighters, some wearing full-face skull masks. Prigozhin did not mention where the video was recorded, but it appeared to be somewhere in Russian-occupied eastern Ukraine.

The bitter public recriminations are just the latest in a long-simmering power struggle between Russia's battlefield leaders and highlight the difficulties the country faces in increasing military production as it braces for an expected Ukrainian counteroffensive in the coming weeks.

Prigozhin said his forces had no choice but to retreat to rear bases to "lick their wounds," though it remains to be seen if he will indeed order a withdrawal — a move that would be catastrophic for Russia's long and bloody campaign to take Bakhmut and would likely tarnish the reputation of Prigozhin, a well-connected oligarch who made a fortune through state contracts before founding the mercenary group.

"Whoever has criticisms, you're welcome to come to Bakhmut and stand with weapons in your hands instead of our killed comrades," Prigozhin said, while acknowledging the technical need for a military order for Wagner's withdrawal.

Pro-Kremlin analyst Sergei Markov predicted that Wagner would not pull out May 10 because of the time required for such a handover. If Prigozhin were to follow through, Markov said, he could face arrest and the potential destruction of Wagner — his formidable private army that has helped extend Russian influence across Africa and the Middle East, and whose fighters are now central to the Kremlin's war effort in Ukraine.

Withdrawing "would be a great mistake, but a lot of mistakes have been made," Markov said in an interview. "I imagine the Ministry of Defense would be quite happy if the Wagner Group disappeared. Then the resources of the Wagner Group would be taken by someone else."

Overnight, Prigozhin's press service posted an extraordinary video on Telegram in which he stood next to the bodies of dozens of Wagner fighters killed in Bakhmut, then launched into a furious, obscenity-laden tirade accusing Russian Defense Minister Sergei Shoigu and Gerasimov of supplying his forces with only 30 percent of the ammunition they needed.

Prigozhin's main accusation was that military officials, jealous of Wagner's battlefield successes, were intentionally depriving the group of ammunition to prevent it from conquering the city before Russia's symbolically important Victory Day on May 9, commemorating the Soviet Union's role in defeating Nazi Germany in World War II.

His statement Friday went further, asserting that Wagner was getting only 10 percent of required ammunition, not 30 percent.

Prigozhin vowed to make sure that Shoigu and Gerasimov would bear responsibility for tens of thousands of men needlessly killed and wounded in what he called "a heavy, merciless, bloody war."

"Their unprofessionalism is destroying tens of thousands of Russian guys. This is unforgivable," he said.

Prigozhin's outburst may also be an effort to shift the blame for Wagner's failure to seize Bakhmut before Victory Day, which would have given President Vladimir Putin something to celebrate in his speech from Red Square.

Wagner has been battling to seize Bakhmut since last summer. As its losses have piled up, Prigozhin's open struggle with Russian military leaders has intensified.
Much, much more at the link.
This is the correct take:
In other words: without an overwhelmingly gigantic amount of artillery behind its back, the Wagner is not a highly-capable fighting force.
So here we go with Prigozhin playing a drama queen all the time.

— Illia Ponomarenko 🇺🇦 (@IAPonomarenko) May 5, 2023
The Financial Times reporting on Prigozhin's outburst includes this interesting bit: (emphasis mine)
In April, Putin visited Russian units near the front lines and heard reports from two generals, Alexander Lapin and Mikhail Teplinsky, who have had public fallings-out with the army's leadership. "He was speaking about victory, for a start," the person close to Prigozhin said. "And he came to see the troops without Shoigu and Gerasimov, but to see Lapin and Teplinsky. That's a clear sign he supports the party of victory."

But Prigozhin's public campaign against the defence ministry and attempt to claim the expected success in Bakhmut wound up working against him, the person added.

"They are obviously kicking him out of the victory party. Now the victory [in Bakhmut] will happen without him," the person said, adding that this was probably happening because the Wagner leader "wanted the limelight" and "raised the stakes to the maximum".
I want to make one point here that no one (else) ever seems to make: Putin is not turning against Prigozhin. Prigozhin works on behalf of Putin's interests all over Africa, in the Levant, and now in Haiti. It is Prigozhin's subsidiary companies and NGOs extending Russia's influence in these places not the Russian Foreign Ministry and not the Russian Ministry of Defense! These aren't Russian MOD trucks, their Prigozhin's!
I cannot comment on the legitimacy of the Russian flags of the 'Z' symbol, but the vehicles were filmed driving past this location: 15.759304, 32.526083 in Aljarafa, north of Khartoum, and were headed north. Source footage: https://t.co/YRGGETKNef https://t.co/ZaB64IUGCp pic.twitter.com/U0gMJvahog

— Benjamin Strick (@BenDoBrown) May 2, 2023
Yeah that looks definitely similar. They're in the road to the airport at wadi. Probably just evac support

— Benjamin Strick (@BenDoBrown) May 2, 2023
Here's a screengrab of the Russian backed media ZvezdaNews Telegram channels post with the initial video. I've machine translated the caption: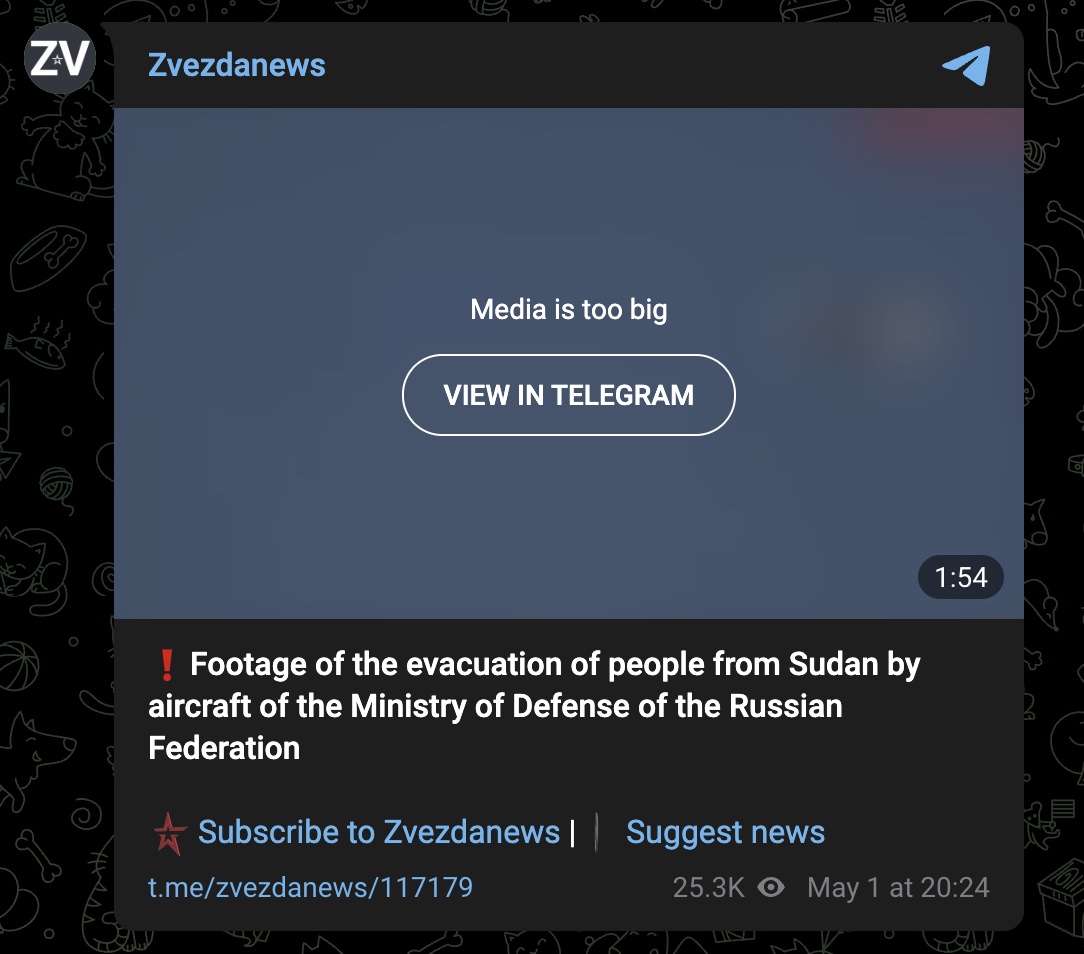 Those may or may not be Russian MOD planes – Prigozhin has his own Ilyushins staged at bases in Syria, Libya, Mali, and the Central African Republic – but the only Russian security forces on the ground in Sudan are Prigozhin's mercenaries!
Here's more on the Iliski refinery fire in Krasnodar:
/2. Now it is reported that it was not a UAV but a "group of saboteurs". Reportedly, they blew up the fifth unit with an improvised explosive device.

— Special Kherson Cat 🐈🇺🇦 (@bayraktar_1love) May 5, 2023
The Financial Times has coverage of the Clinton's joint appearance and interview at the 92nd Street Y: Here's the important part for what we're concerned with here: (emphasis mine)
Bill Clinton said he realised in 2011 it was "just a matter of time" before Vladimir Putin would move on Ukraine after a chilling discussion with Russia's president in Davos, Switzerland.

During that encounter, Clinton said, Putin rejected a US-brokered deal agreed by his predecessor, Boris Yeltsin, to respect Ukraine's territory in exchange for Kyiv relinquishing its Soviet-era nuclear arsenal.

"Vladimir Putin told me in 2011 — three years before he took Crimea — that he did not agree with the agreement I made with Boris Yeltsin," the former US president recalled. "He said . . . 'I don't agree with it. And I do not support it. And I am not bound by it.' And I knew from that day forward it was just a matter of time."

The Clintons urged the west to strengthen its support for Ukraineand said Kyiv could prevail if given adequate arms and ammunition. Failure to stand with Ukraine, they warned, would not only embolden Putin but also China's president Xi Jinping.

Russia's military failures in Ukraine and a resolute western response to its invasion, Hillary Clinton argued, had deterred a campaign by Xi to reclaim Taiwan that may have been more advanced than appreciated.

She said: "Xi saw that. And I think before the Russian invasion, there was a good chance he would have moved on Taiwan within two to three years. I think that timetable has been pushed back."

She also echoed her husband's distrust of Putin, whose malign intervention she has blamed for her surprise defeat to Donald Trump in the 2016 presidential election. "[Putin] is in what he views as a righteous struggle to undermine western democracy and reinstitute, as much as he can, the Russian empire. So he's not going to stop," she said.

To end hostilities, Hillary Clinton argued, Ukraine must either defeat Russia or at least regain the territory lost in the east since Russia's invasion last year. "They need leverage," she said. "I wouldn't trust him at a negotiating table under any circumstances, unless Ukrainians — backed by us — have enough leverage."
More at the link!
As I keep writing here, as I've written elsewhere, as I've stated over and over and over and over again for the better part of the past 10 years: We are in WW III. Putin started it, but believes and has publicly asserted since at least 2007 that the US and NATO started it. This world war is not evenly distributed in terms of Russia's targeting. And the bulk of that targeting is non-kinetic/non-lethal utilizing all the other elements of national power other than military power. Until or unless the US national command authority recognizes and accepts this reality the war will slowly grind on and grind up people, societies, states, and regions.
That's enough for tonight.
Your daily Patron!
A new video on Patron's official TikTok!
Here is the machine translation of the caption:
Secret video about bubukhs! 💥
Open thread!