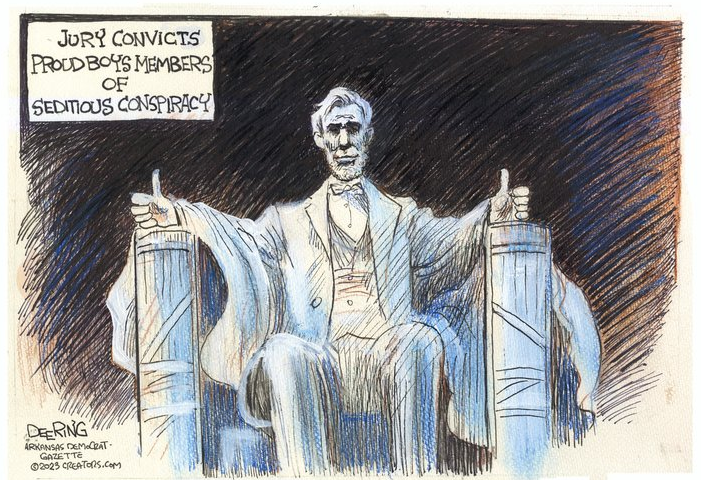 Perhaps it's worth reframing today's news: A friend and ally of Trump's long-time adviser was just convicted of engaging in a conspiracy to commit sedition on Trump's behalf. https://t.co/qj2Agbkl2z

— Philip Bump (@pbump) May 4, 2023

Unpaywalled (gift) link:
… Roger Stone is one of Trump's oldest advisers, having not only encouraged him to run for president in 2016 but also advocated that he do so more than once previously. Stone, alongside his partner Paul Manafort (whom Stone encouraged Trump to hire on his 2016 campaign), was for decades a fixture in D.C., where he gained — and fostered — a reputation for being cutthroat.

… By early 2018, Stone, joined by Tarrio, had sworn fealty to "Western chauvinism" in keeping with the Proud Boys tradition. When Stone traveled to Oregon that March, he brought the Proud Boys with him. In May 2018, Proud Boys joined Stone in the green room of Tucker Carlson's Fox News show. A few months later, Stone offered a message of support that the Proud Boys shared on their website.

As Trump's reelection bid gained steam, so did Tarrio and the Proud Boys. Tarrio became the Florida state director of Latinos for Trump. He appeared at several Republican Party events, landing photos with prominent Trumpworld figures including Donald Trump Jr.

Meanwhile, the activities of his organization, the Armed Conflict Location & Event Data Project reported, had become "strongly correlated with the fortunes of former president Trump." Of the 150-plus events in which Proud Boys had a public presence in 2020, ACLED tallied, nearly two-thirds were explicitly supportive of Trump's reelection.

Most of those events came after Trump failed to repudiate the Proud Boys during a presidential debate. Moderator Chris Wallace asked if Trump — who had been hyperactively demanding Joe Biden disown left-wing violence — would do the same of extremists on the right by asking them to stand down. Trump asked whom he should address, and Biden suggested the Proud Boys.

"Proud Boys," Trump said: "stand back and stand by."…
When Trump subsequently lost the election, the Proud Boys stepped forward. In both November and December 2020, D.C. hosted pro-Trump protests that devolved into violence involving members of the Proud Boys. The December events in particular are noteworthy. Stone spoke to the crowd, conferring briefly with Tarrio at the scene. Tarrio managed to post a photo from the White House, something the Trump administration said was a function of his participating in a public tour. He also ripped a Black Lives Matter flag off a church and set it on fire — leading to his arrest when he arrived in Washington on Jan. 4, 2021, for the protest at the Capitol…

Internal Proud Boys messages offered a preview of the group's approach to the day. On Jan. 4, Tarrio sent an internal group a voice message, including one bit of advice: "You want to storm the Capitol." A bit later, another participant in the group wondered "what would they do [if] 1 million patriots stormed and took the capital building. Shoot into the crowd? I think not."

Proud Boys — though not Tarrio, given his Jan. 4 arrest — were among the first people to attack police officers on Capitol Hill the day of the riot and to make entry into the building. Afterward, they celebrated…

On Thursday, Tarrio and three other members of the Proud Boys were convicted on federal charges of seditious conspiracy, plotting to use force to halt the finalization of the 2020 presidential electoral vote count. They aren't the first to be convicted on such charges; that dubious honor goes to members of the Oath Keepers.

Tarrio's conviction, though, also does something else: It brings a sedition conviction much closer to Trump's inner circle. This wasn't a random Trump fan caught up in the day's fervor. It wasn't even an extremist plotting with his allies to disrupt Congress. It was a friend of a friend, someone who'd tried to intertwine the White House with the fringe — with some success.

He now faces up to 20 years in prison.
Meet America's newest convicted seditionists Enrique Tarrio and Joseph Biggs. pic.twitter.com/oIawbfptiL

— zeddy (@Zeddary) May 4, 2023
"Fuck around, find out! Fuck around, find out! Fuck around, find out!" — Proud Boys, in evidence introduced in the Proud Boys seditious conspiracy trial yesterday. pic.twitter.com/oacCedtaQF

— Ryan J. Reilly (@ryanjreilly) January 20, 2023
Today's conviction of Enrique Tarrio and three other Proud Boys leaders for seditious conspiracy is another critically important step towards justice and accountability and a significant victory for democracy. Read on for more info ??

— ADL (@ADL) May 4, 2023
While these convictions are an important step towards protecting our institutions from extremism, the recent activities of the Proud Boys pose a new challenge for safeguarding our local communities against the same threats.

— ADL (@ADL) May 4, 2023
Our backgrounder provides more on the Proud Boys' extremist ideology, former national chairman Tarrio and the group's history: https://t.co/A1NsUt8LFn

— ADL (@ADL) May 4, 2023