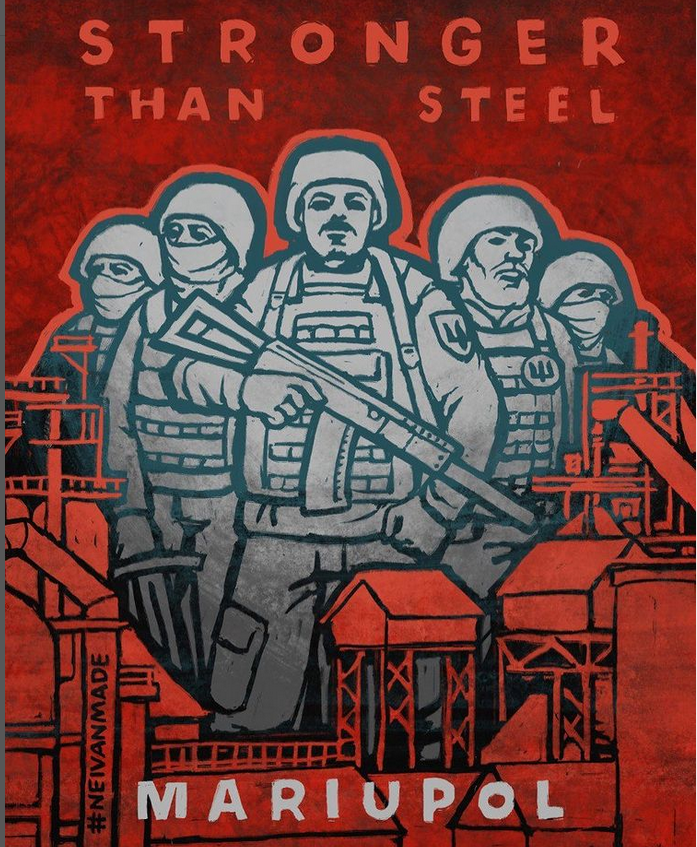 (Image by NEIVANMADE)
45 Azovstal defenders are coming home now.
It is now a good day.

— Illia Ponomarenko 🇺🇦 (@IAPonomarenko) May 6, 2023
As a result of another prisoner exchange, 45 Ukrainian defenders were released from captivity today. Ten officers, and 35 privates and sergeants.
42 are service members of the National Guard of Ukraine who defended "Azovstal." pic.twitter.com/Qnq8kFClum

— Defense of Ukraine (@DefenceU) May 6, 2023
Coming home pic.twitter.com/I6mrwqIqOY

— Illia Ponomarenko 🇺🇦 (@IAPonomarenko) May 6, 2023
Here is President Zelenskyy's address from earlier today. Video below, English transcript after the jump:
We must return and will return all our people from Russian captivity – address by the President of Ukraine

6 May 2023 – 19:35

Good health to you, fellow Ukrainians!

Today is an important day for our warriors, the Day of the Ukrainian Infantry.

It is a professional holiday for defenders that always deserves special attention.

The largest component of the Ground Forces, those whose resilience is crucial for defense. Those whose effectiveness is especially important.

I had the honor to congratulate our infantrymen today, to present state awards to the warriors and honorary decorations to our brigades for their courage and bravery. The 10th separate mountain assault brigade, the 14th separate mechanized brigade, the 56th separate motorized infantry brigade… Thank you, warriors, for your performance! I thank each and every one of you who has the honor to serve in the Ukrainian infantry!

Today I handed over the Order of the Gold Star to the family of our Hero, Captain Valerii Hliebov. He was killed in action. He was the commander of the motorized infantry company of the motorized infantry battalion of the 93rd separate mechanized brigade "Kholodny Yar".

This chevron, the chevron of the Hero of Ukraine, was given to me by his daughter Victoria. I will keep it. It is a great honor for me.

Today, our team managed to bring back 45 more of our warriors from Russian captivity. 42 male defenders of Ukraine and 3 female defenders. They all defended Azovstal. National Guardsmen. 35 privates and sergeants, 10 officers.

We must return and will return all our people from Russian captivity! I am grateful to our team involved in exchanges. Budanov, Yermak, Usov, Malyuk, Lubinets. Thank you, guys!

Today I met with representatives of Utah, one of the strongest states in America. We discussed our cooperation, and this is a good example of how a particular state can help protect freedom and people. Humanitarian support, assistance in reconstruction, political cooperation. We have enough opportunities to work together for the common interests of Ukrainians and Americans.

And one more thing. Today, the Prime Minister of Ukraine and the First Lady of Ukraine are representing our country in the United Kingdom, where the coronation of King Charles III and Queen Camilla took place.

On behalf of the entire Ukrainian people, I congratulate Their Majesties, true friends of Ukraine, on this historic event that begins a new era of the British monarchy. I wish King Charles III many years of successful reign, and the people of the United Kingdom – prosperity and joint victories with us.

It was an honor for me to meet His Majesty in person in London, I remember our conversation, I remember the sincere emotion for Ukraine and Ukrainians. And thank you for your support! Thank you to all the British people!

Thank you to each and every one who helps protect life and freedom!

Glory to all our warriors who are now in combat! Glory to our beautiful people!

Glory to Ukraine!
Not every Soldier makes it home.
Not so long ago, Danylo Nudga, a talented young man, was sculpting clay houses and selling them on social media to fund the purchase of his dream—a vinyl record player.
The body of this 21-year-old soldier who died heroically near Bakhmut is being returned home today. pic.twitter.com/6TOYikzhbJ

— Defense of Ukraine (@DefenceU) May 6, 2023
We now have confirmation from reliable sources that the Ukrainian Air Force's air defense elements, using one of the newly arrived Patriot batteries, brought down a Kinzhal targeting Kyiv two days ago.
Ukraine's air defenders shot down Kinzhal, a hypersonic aeroballistic russian missile, for the first time since the attacks began. This was done by operators of Patriot air defense system. pic.twitter.com/V2YqZE5QEU

— Ukrainian Air Force (@KpsZSU) May 6, 2023
Just something important to remember: the kinzhal, despite Russia's claims of making a new supermissile, is not anything particularly special. It is simply an air launched variant of one of their existing ground based munitions upgraded to hypersonic. That the Patriot had no trouble bringing it down is not surprising given the decades old examples of them doing it with other hypersonic missiles and rockets in other conflicts. It is also a very graphic example of why we need to provide Ukraine with many more of these to further enhance their air defense capabilities.
Very clarifying table. Kinzhal isn't a true hypersonic missile. So be wary of drawing sweeping conclusions from its alleged interception. https://t.co/J5uVZLKRxZ

— Shashank Joshi (@shashj) May 6, 2023
Here's a full size grab of the image from the tweet above that shows that the kinzhal isn't even close to a real hypersonic. It's over in the second column from the left.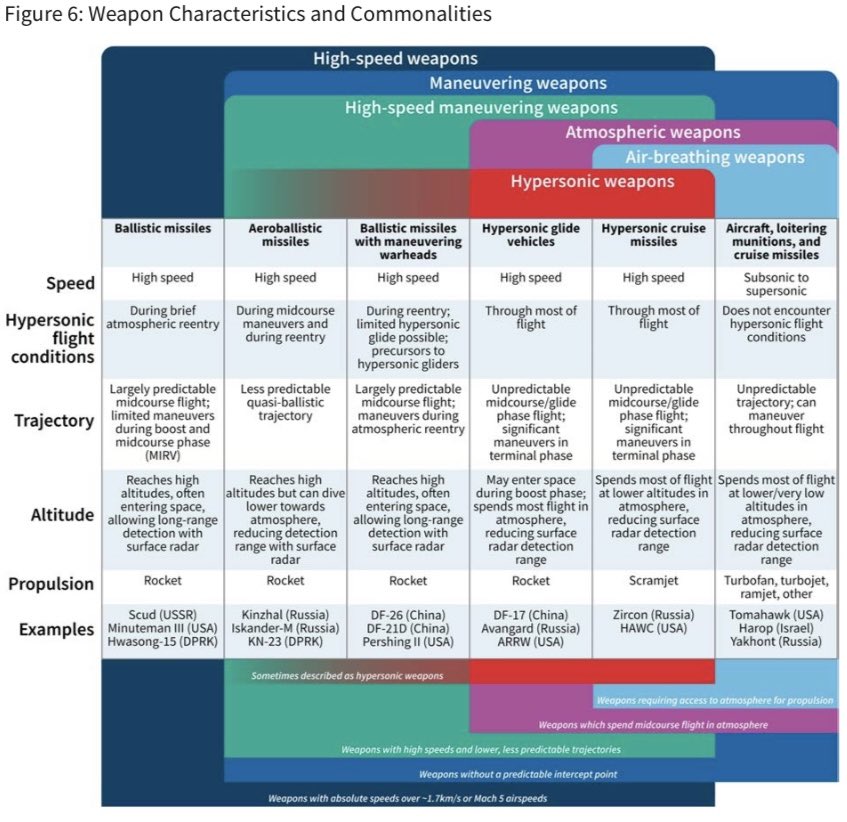 Nizhny Novogorod, Russia:
Someone decided to reach out and touch Zakhar Prilepin earlier today. They killed his driver, but only injured him.
Pictures are now surfacing from the scene of the car bomb attack on Zakhar Prilepin

Look at that crater pic.twitter.com/45286zin1e

— Francis Scarr (@francis_scarr) May 6, 2023
Tight* with Zakharchenko.

— Christopher Miller (@ChristopherJM) May 6, 2023
Radio Free Europe/Radio Liberty has the details:
The pro-Kremlin writer and political activist Zakhar Prilepin was wounded in a car bombing in the city of Nizhny Novgorod on May 6, the state-run TASS news agency reported.

According to reports, Prilepin's driver died in the explosion which occurred in the region of Nizhny Novgorod, about 400 kilometers east of Moscow.

Once a left-wing dissident, Prilepin has become one of Russian President Vladimir Putin's most outspoken supporters on the right and backers of Moscow's invasion of Ukraine. It is the third explosion involving prominent pro-Kremlin figures since the start of Russia's invasion of Ukraine in February 2022.

In August 2022, a car bombing on the outskirts of Moscow killed Daria Dugina, the daughter of prominent Kremlin-connected far-right ideologue Aleksandr Dugin. Russian authorities alleged that Ukraine was behind the blast.

Last month, an explosion in a cafe in St. Petersburg killed a popular military blogger, Vladlen Tatarsky. Officials once again blamed Ukrainian intelligence agencies for orchestrating it.

TASS quoted Prilepin's spokespeople as saying that he was "OK." No details were given about the extent of his injuries.

Gleb Nikitin, the governor of the Nizhny Novgorod region, later said on his Telegram channel that Prilepin had "minor fractures" and that "there is no threat to his health."

Quoting unnamed sources, Russian news outlet RBC reported that Prilepin was traveling back to Moscow on May 6 from Ukraine's partially occupied Donetsk and Luhansk regions and stopped in the Nizhny Novgorod region for a meal.

Police are investigating the incident, the report said.

Russian Foreign Ministry spokeswoman Maria Zakharova said the United States and NATO were to blame for the alleged car bombing but did not provide any proof to back that claim.

The Security Service of Ukraine (SBU) told Ukrainian media that it cannot confirm or deny involvement in the attack or other incidents inside of Russia.
YahooNews! has an interview with MG Budanov, the director of Ukraine's Main Directorate of Intelligence. Here are some excerpts: (emphasis mine)
KIYV, Ukraine — The light is dim and the windows are sandbagged. Classical music plays on an unseen speaker somewhere. The man sitting at the large wooden desk, in this fortified bunker office on the Rybalsky Peninsula, on the edge of the Dnipro River, has a pistol holstered at his side.

"They've been trying to charge me with terrorism since 2016," Maj. Gen. Kyrlo Budanov, the chief of the Main Directorate of Intelligence of the Ukrainian Ministry of Defense, said. "But I want to begin by saying that the things they call 'terrorism,' we call liberation. And this began not because I went mad and started killing people in Moscow. It happened because they invaded our country back in 2014."

"They" refers to the Russian government. On April 21, just a few days before Yahoo News sat down with Ukraine's most recognizable spymaster, the Lefortovo District Court of Moscow arrested Budanov in absentia. He stands accused of creating "a terrorist community," the "illegal acquisition of weapons by a group of persons," and "the illegal acquisition of explosive devices by a group of persons."

The implication is that Budanov's intelligence service, more commonly known by its Ukrainian acronym HUR, was behind a string of audacious and lethal attacks inside Russian territory — or what the Kremlin considers to be Russian territory. These include the August car-bomb assassination of Daria Dugina, daughter of Russia's notorious far-right theorist Aleksandr Dugin, in central Moscow, and the suspected truck bombing in October that partially dismantled the Kerch Bridge, Russia's only direct link from the Black Sea to occupied Crimea.

U.S. intelligence has attributed Dugina's killing to the Ukrainian government, although not specifically to the HUR. Asked about this allegation, Budanov said, "Don't continue with that topic. All I will comment on is that we've been killing Russians and we will keep killing Russians anywhere on the face of this world until the complete victory of Ukraine."

Officially, the HUR claims no responsibility for any cross-border attacks, of which there have been many documented examples. It adopts a Mossad-like air of menacing ambiguity whenever they occur.

On some matters, though, Budanov is unambiguous. "As of today, Russia has no military, economic or political potential to create another attempt for a serious offensive anywhere in Ukraine," he said. "Besides that, it is completely capable of waging serious defensive operations, and this is the very problem we are about to face," referring to Ukraine's anticipated counteroffensive.

Budanov believes that Russia's supply of missiles are running low, almost to the point of exhaustion. "They are trying to accumulate certain stocks and have them ready in order to try to disrupt our offensive, but the truth is that they have taken their stocks almost to zero."

As with Ukraine's Defense Minister Oleksii Reznikov, Budanov declines to offer details of where and when that campaign will be. But he is equally confident that occupied Crimea "will be liberated because our victory is impossible without liberating Crimea."

Policymakers in Washington have long fretted that a recapture of Crimea, assuming such a thing is even feasible, would be something Russian President Vladimir Putin could not tolerate and would prompt him to undertake a massive retaliation, possibly with weapons of mass destruction, but Budanov is not swayed by those fears.

"I'd like to underline here that it is unpleasant for me to recognize the following, but it's the truth," Budanov said. "Unfortunately, the Russian Federation knows how to work with the information space. That is why any event — imagine a rocket that falls into the Kremlin — they will show it as a victory for Russia. They will claim that they've prevented the biggest catastrophe to mankind by having that rocket fall into the Kremlin, that this missile has actually demolished the building it was supposed to and has even helped them. It sounds like a joke, but indeed, Russian society is accepting of such stupidities."
Much, much more at the link!
MG Budanov understands his adversary far better than anyone in DC and, as a result, he is not deterred by the almost fifteen year old influence campaign that has led to Russian information dominance in US and European news media. Russia has so successfully won this portion of its information warfare campaign that seven years after it successfully interfered in both Brexit and a US presidential election and almost fifteen months into its re-invasion of Ukraine, its framing and narrative events still dominates American news. And, as a result, American policy making, strategy development, and decision making.
Before anyone asks what should be done about it, I did something about it between January and April 2013. I did an in depth assessment of it to make sure my boss, the Commanding General of US Army Europe and his senior staff were aware of it and it was pushed up to the Commanding General of US European Command/Supreme Allied Commander Europe to ensure he and his staff were aware of it. It was the US European Command required reading of the week. Those gentlemen and their staffs took it seriously. I'm sure if someone went poking around they could find the paper on the server. But in the end, fat lot of good it did anyone. The US military, despite the oft stated maxim, is NOT a learning organization. Nor is the US government.
Kherson:
The Guardian has reporting from Kherson in advance of the awaited counter-offensive:
The price of liberation is high. In the village of Posad-Pokrovske in southern Ukraine, a place once on the very frontline of the war, almost every house is damaged by shell fire.

Outside a blue-painted church, Father Viktor Kravchuk, 61, has laid out the sheets, quilts and clothes he has rescued from his ruined house to air in front a little cemetery that is a tangle of blossoming lilac.

Mykola Barkov, a volunteer, helps Kravchuk clear out a ruined room with a sagging, broken ceiling where, before the war, the priest hosted his church group meetings.

Kravchuk tells the story of the village, describing the brief Russian occupation there at the beginning of the war – how after the Russians were pushed out, the village became a frontline position for Ukraine's soldiers, who were hit by Russian shells for months.

It was only last November, the priest says, when the Ukrainian army swept through the province and into nearby Kherson city, that the daily threat to the village was removed.

"When the Russians came, at first they asked us why we didn't greet them with bread and salt," he adds. "They didn't understand how we saw them as occupiers. But of course it was worth it."

The sweeping Ukrainian advances of last autumn, which saw Kyiv retake Kharkiv province and large parts of Kherson province down to the dividing Dnipro river, were achieved with limited resources.

Then, Ukraine's nimble assault brigades moved in convoys of private cars to reach the locations where they would muster. Short on armour, artillery and ammunition compared with Moscow's lumbering forces, they turned disadvantage to their favour.

With Ukraine on the brink of launching a spring counteroffensive, the scars of last autumn's push are a reminder of what is at stake.

While the trenches occupied by the Russian forces, before they fled east across the river from Kherson, are collapsing slowly in upon themselves, there are new excavations now, busy with Ukrainian soldiers.

Minefield warning signs dot the countryside, while in graveyards across the region families visit those killed in the fighting. In a field not far from Kherson's eastern outskirts the remains of a downed fighter jet, its sleek geometry buckled, has foundered in the long grass.

The evidence that more war is coming to Ukraine – and soon – is supplied by the roads, full of military traffic. Troop transports and newly supplied vehicles from western allies are moving, apparently confirming the statements of senior officials that the counteroffensive will come imminently and that they are "almost ready".

Underlining that claim, a series of Ukrainian drone attacks in the past week have struck fuel and logistics depots in the Russian-occupied areas.

Along the southern Dnipro river around Kherson, Ukrainian artillery batteries have stepped up targeting of Russian positions on the far side of the river, while in a number of locations Russian military correspondents and bloggers say they have seen reconnaissance-in-force assaults designed to probe for weak spots.

What is also clear is that this will be a different kind of offensive, the light brigades of last year superseded by bigger and more heavily armed formations which will pose new organisational challenges to fight.

Former Australian general and military analyst Mick Ryan recently outlined how he thought the counteroffensive would unfold. "I would emphasise there will not just be one big push, but probably several different offensives," wrote Ryan. "This is because both the south and the east present opportunities for offensive action. But it is also because the Ukrainians will want to deceive Russia about their main effort.

"But this [offensive] will be different from those that have preceded it. This time, the Ukrainians will have to fight through more dense obstacle belts established by the Russians in the east and south."

It has not only been on the Ukrainian side that preparations for the impending fight have been in evidence. On Friday, Russia announced the evacuation of 70,000 people from areas near the frontline in southern Ukraine, blaming a recent intensification of Ukrainian shelling.
Much, much more at the link!
Destruction of a Russian 2S19 Msta, 152.4 mm self-propelled howitzer. On the left bank of the Kherson region.
PS: By a team that was equipped with a NAFO pickup, thanks to your participation in the campaign that was on this channel🤗. https://t.co/kao6ZJb266 pic.twitter.com/c7tYSn1uVx

— Special Kherson Cat 🐈🇺🇦 (@bayraktar_1love) May 6, 2023
Vuhledar!
The 72nd Mechanized Brigade of Ukraine destroys Russian military equipment in the Vugledar direction. Several infantry fighting vehicles and Grad MLRS https://t.co/EV3spBWZbF pic.twitter.com/0ACh57EeFA

— Special Kherson Cat 🐈🇺🇦 (@bayraktar_1love) May 6, 2023
Dzankhov in Russian occupied Ukraine:
Today in the morning, an explosion was reported in Crimea, somewhere in Dzhankoi area. pic.twitter.com/4i8tWrdJPb

— Special Kherson Cat 🐈🇺🇦 (@bayraktar_1love) May 6, 2023
I'd like to say that's enough for tonight, but the regular update material is literally bleeding over into the daily Patron:
Today, terrorists shot 6 of my colleagues from the SES in the Kherson Region. 2 more were wounded. My colleagues were doing their job, and the terrorists were just looking to kill another unarmed person. We will never forgive. Never. #RussiaisATerroistState

— Patron (@PatronDsns) May 6, 2023
I want to help with my Fund for the wounded colleagues. And I hope I'll also collect enough money to help the families. If you can help, I will be grateful. https://t.co/vWmpAUK81v
Pay Pal: [email protected]

— Patron (@PatronDsns) May 6, 2023
A new and more upbeat video from Patron's official TikTok!
The machine translation of the caption is:
Expectations/reality :)) #песпатрон
Open thread!