Flying to Japan is easy. You just take 15mg THC, 6mg melatonin, and 600mg gabapentin, and by the time you wake up from your coma, it's a regular four-hour flight. At that point I played some Return to Monkey Island, read some Excession by Iain M. Banks (and my god I have not had this much fun with a space opera in a while), disposed of the contraband, and deplaned. I was momentarily detained at customs but only because the agent's visa printer broke. Now it's our first full day, which as I recall is the most painful, so, that will be fun.
I haven't had a vacation in a while, so I am super excited to be here. At the risk of sounding like too much of a hopeless weeb–I've traveled a lot, I've been around, I know where my favorite place is, so why bother going anywhere other than my favorite country? So here I am. I actually started learning Japanese, too, so I can kinda sorta read the most important stuff; I'm roughly as literate as a six-year-old, though my production is a long way off.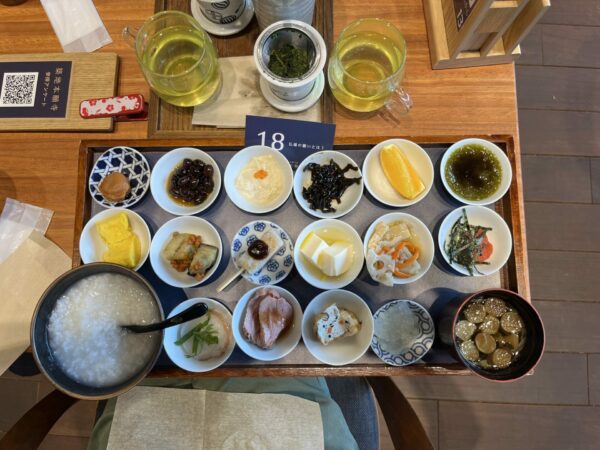 We have a very empty itinerary. Just the usual suspects–Tokyo, Hakone, Kyoto, Osaka, Tokyo again. Super open to suggestions if anybody has any! It's my fourth time, so I've done some of the Obvious Stuff, but there's so much that I can safely say there's lots more Obvious Stuff to do. My list is mostly shopping, and hiking (Takaosan, open to more ideas). I want to get a non-export model Seiko, some more jeans, Tears of the Kingdom, a bunch of the amazing Biore Aqua Rich sunscreen that AOC is obsessed with, whimsical cat collars, a yukata for my mom, some whiskey for my dad, and a bag to put it all in. The exchange rate is crazy in our favor (~¥130/$1) so this is gonna be great.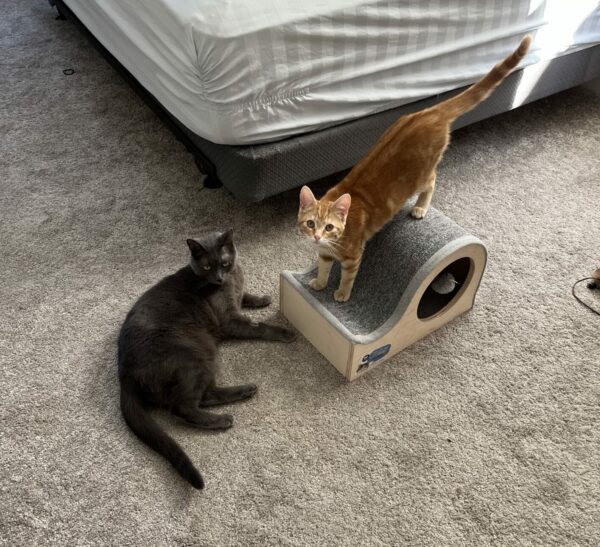 On the home front, the landscapers finally installed our front landscaping, so our contract with the builder is now complete. We have a two-story elm tree, a nice maple, a flowering pear, and a bunch of shrubs. Still need to set up the side yard, so I'll just have to do that when I get back. I will be sure to write up all my misadventures–and if anybody has advice for planting in Denver, we have everything from scorching full sun to mostly full shade to deal with. Gardeners have recommended Japanese maples, Arborvitae, Japanese rose, mountain laurel, hydrangeas, Japanese yew… I swear all the Japanese varieties were recommended unprompted… still need some ground cover and vegetables.
Oh, Samwise needed a couple teeth out, the poor guy (resorption), but he's doing a lot better now. He'd been pretty timid and cranky, which I'd chalked up to the move, so it's good that I had him in for a dental cleaning. Thank god insurance covered it–cat dentistry costs almost as much as human dentistry, wow! They're both doing great and even get along sometimes.
It feels silly to say this what with how objectively good my life is but it feels like things have really come together. I've had a fair bit of latent anxiety for the last year and a half but it seems to have abated. Which is good, because I have a lot of work to do! I'm angling for a promotion and my friend and I are buckling down on the video game we're making. It's a point-and-click adventure/dating sim set in the Lovecraft universe. You play as a student at Miskatonic University who is surrounded by assorted demigods and madmen and monsters; you have to solve a mystery and (optionally) fall in love. We just contracted with an artist for characters and backgrounds, so it really is happening. Hopefully. We'll need a bit of scratch to actually afford all the art, so look out for a crowdfunder later this year, if I may be so bold.
So yeah! Vacation time. I'll be sure to send some postcards from the road.