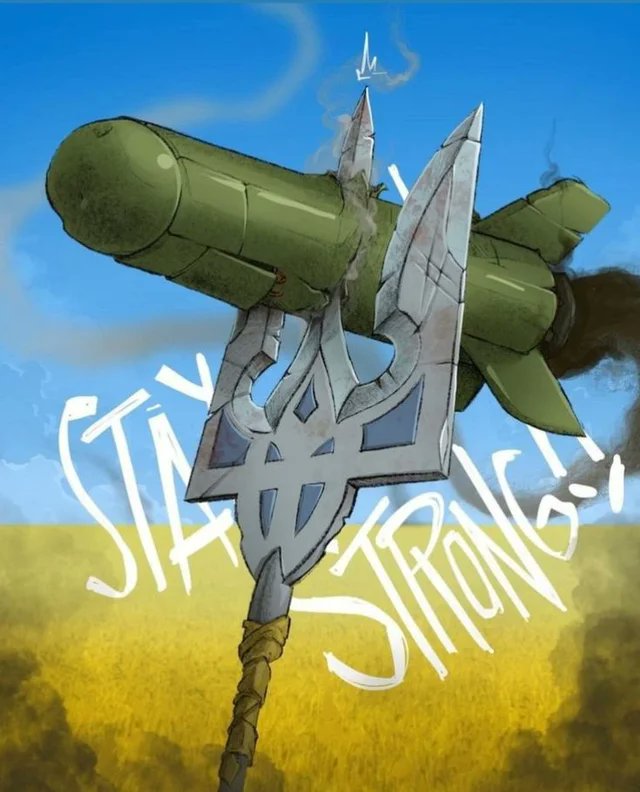 Russia has once again opened up over Kyiv:
Klitschko: Three people were injured at the site of the explosion in Solomyanskyi district and one in Svyatoshynskyi. Medical workers at the scenes.

— Christopher Miller (@ChristopherJM) May 7, 2023
Here's the current air raid alert map for Ukraine: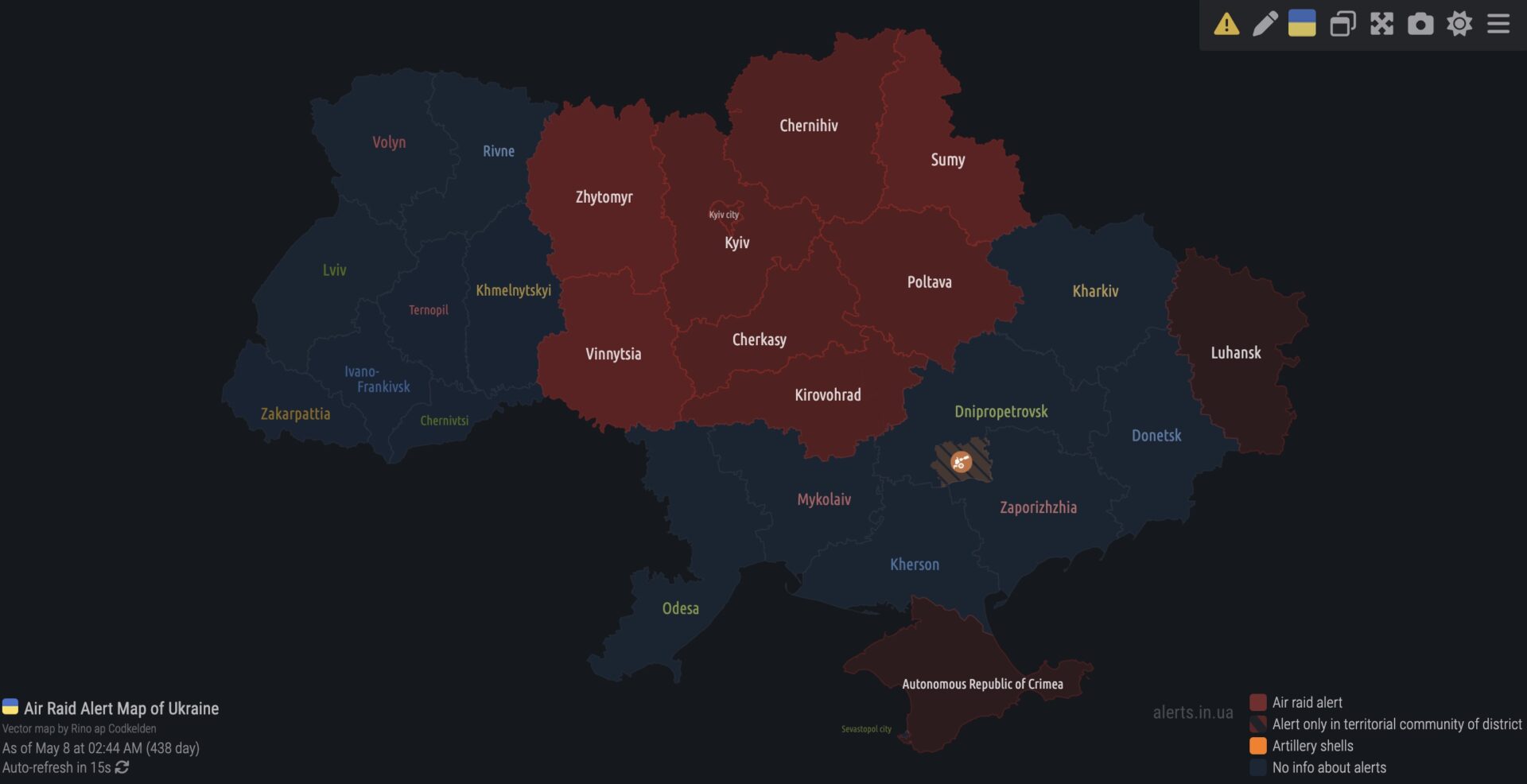 Here is President Zelenskyy's address from earlier today. Video below, English transcript after the jump:
All those who help Ukraine restore security, who put pressure on Russia – all are defenders of peace – address of President Volodymyr Zelenskyy

7 May 2023 – 20:22

Dear Ukrainians, I wish you health!

This week is coming to an end – a very fruitful one for Ukraine. And these days we are actively preparing for new events in May and June. We should make this time no less fruitful both in the supply of weapons for our soldiers, and in solutions for Ukraine, in negotiations with our partners.

An important legislative initiative for our society has been prepared. Sanction decisions against the aggressor are being prepared. We are waiting for international meetings of various levels in Kyiv. We are talking to our partners about weapons that will help us do more to restore peace.

This week, many of our partners led in helping Ukraine, helping Ukrainians. From the United States to New Zealand, from the Netherlands and Belgium to Croatia. Northern European countries – Norway, Denmark, Sweden, Finland, Iceland. I thank the partners for every decision in support of Ukraine!

We are also working out in great detail new steps to help Ukraine with our other partners, we expect them in the near future – exactly what is needed for our strength on the front lines, for the defense of our sky, for justice against terrorists and for the faster restoration of peace for the entire Ukrainian land. I will definitely inform you about those decisions that can be discussed in public.

It is very important that the world knows about every fact of Russian terror against our people, that the world talks about what the terrorist state is doing, and how we protect life. I am grateful to everyone who helps us by spreading the truth about Russian strikes and shelling, about the brutality of the occupiers, which does not stop for a day!

Endless Russian terror against Nikopol, brutal shelling of the city of Kherson and the region, strikes on the city of Kharkiv and the region, terror against villages in the border areas of Chernihiv region and Sumy region, hell in Donetsk region… Only yesterday, and only in one Russian attack on Kherson region, nine Ukrainians were killed – they were engaged in demining, restoring safety for people. My condolences to the relatives and friends of the deceased.

Security is the main goal for Russia. Both in our country and everywhere in Europe, everywhere in the free world. Destroying security, bringing death and chaos is all a terrorist state does. And everyone who helps Ukraine restore security, everyone who strengthens partnerships between countries in Europe for the sake of security, for the sake of common strength, everyone who puts pressure on the terrorist state – all are defenders of peace. I thank everyone in the world who is with Ukraine, who supports our soldiers!

Glory to all our soldiers now in battle, at combat posts, and on combat missions!

I commend the 3rd Separate Assault Brigade and the 24th Separate Mechanized Brigade for the successful destruction of terrorists in Donetsk region! Thank you, warriors!

The 57th Separate Motorized Infantry Brigade, 93rd Mechanized Brigade. Thanks to all of you, guys, for the heroic defense of the positions, and for exemplary resistance! Good job!

There are also results worth noting in the Tavria direction, there are also teams that have something to thank for today.

Paratroopers of the 79th Air Assault Brigade and gunners of the 55th Separate Artillery Brigade Zaporizka Sich – thank you, warriors, for your courage and strength!

Fighters of the 128th Separate Mountain Assault Brigade and Marines of the 35th Separate Marine Brigade named after Rear-Admiral Mykhailo Ostrohradsky – thank you!

Thank you to each of our soldiers, thank you to each of you for every success on the battlefield!

Glory to you, Ukrainian heroes!

Glory to Ukraine!
Colonel General Syrskyi visited Bakhmut. The Ukrainian MOD's Telegram channel has the details: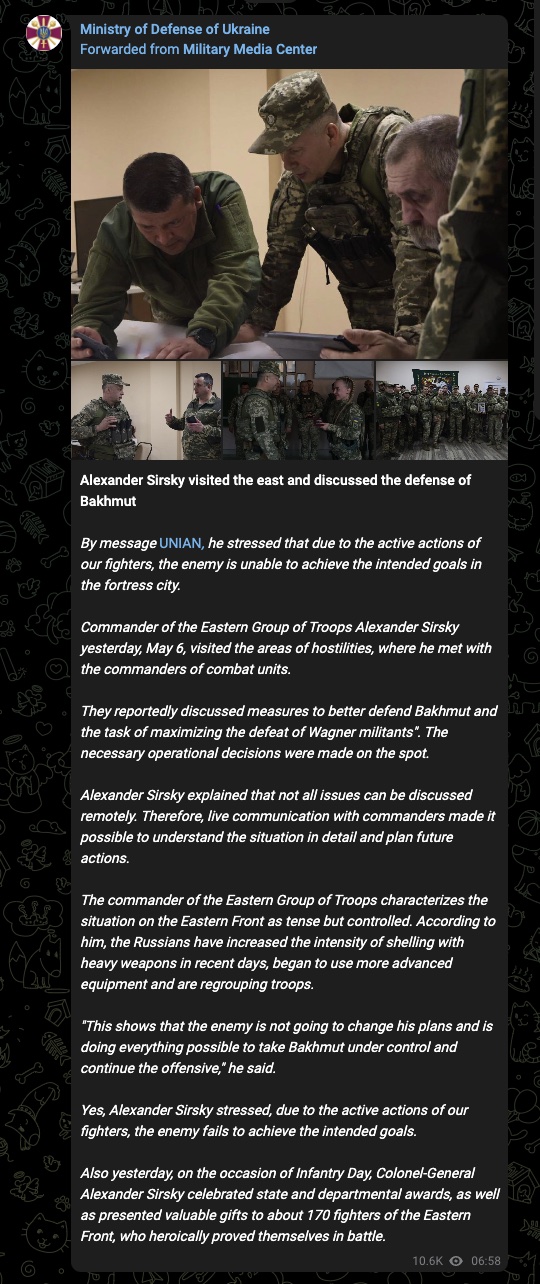 Bakhmut:
In utterly shocking news, Prigozhin now says says Russia's army is giving him everything he wants and the mutiny/withdrawal from Bakhmut seems to be off https://t.co/x9SWvSSrNH

— max seddon (@maxseddon) May 7, 2023
Guys – please consider supporting my colleague @ak2ki_ who is a Territorial Defense Force fighter, part of this aerial recon unit Sons of Thunder @SynyHromu.
They always need more and more drones for their daily work at the front.
You can help the guys here: [email protected] pic.twitter.com/zF1OG8JMlL

— Illia Ponomarenko 🇺🇦 (@IAPonomarenko) May 7, 2023
So Bakhmut it is. After a brief respite, I'm back on the frontline with my new unit – @SynyHromy aerial reconnaissance.

Please follow and support us, because drones are very expendable here. People are not.

PayPal: [email protected]
Monobank: https://t.co/g6lUsr5uYF https://t.co/4k23cJtxe9

— Artur Korniienko (@ak2ki_) May 6, 2023
Spirne:
For three consecutive days, the enemy attempted to assault Spirne, but each time they suffered losses and were forced to retreat. In the latest attack, the enemy lost one BMP and BTR, and their T-90 was damaged before they once again retreated

— Tatarigami_UA (@Tatarigami_UA) May 7, 2023
Poland:
The first footage of the training of the Ukrainian military with the Polish armored personnel carrier "Rosomak" at the Polish training grounds appeared pic.twitter.com/zSs0ZIEy2u

— Special Kherson Cat 🐈🇺🇦 (@bayraktar_1love) May 7, 2023
The Financial Times has a very good op-ed by Martin Sandbu regarding Ukraine's anti-corruption efforts. Here are some excerpts:
A spectre haunts every discussion of Ukraine's future among its partners: the spectre of corruption. They see it — sotto voce, for now — as an obstacle to granting Kyiv EU membership any time soon and providing serious amounts of reconstruction funding without onerous red tape.

The concerns do not come out of nowhere. Transparency International's Corruption Perceptions Index reliably places Ukraine far down its rankings. In 2022, it came 116th. But the clue is in the name. TI measures perceptions that have not kept up with Ukraine's change since its "Revolution of Dignity" deposed Vladimir Putin's stooge-president Viktor Yanukovych in 2014.

In Kyiv last month, Oleksandr Novikov told me surveys show many more people think corruption is prevalent than report experiencing it, and the willingness to break with a culture of graft is improving. Novikov directs the National Agency on Corruption Prevention, one of several recently created bodies which include a specialised prosecutor, court and investigative bureau.

The broader judicial sector still has to be cleaned up, but anti-corruption campaigner Daria Kaleniuk told me it is going in the right direction. "There's a lot of corruption in Ukraine, but we admit this is a problem and we are working on solving it." The very fact that it's being talked about, even in wartime, is a sign of health. "Nobody speaks of corruption in Belarus — or Russia."

Nor are Ukraine's partners entirely spotless. As one policy thinker in Kyiv told me, corruption is a woolly concept ranging from state capture to "giving your doctor a box of chocolates". (In the NACP surveys, a sixth of respondents reported encountering corruption in the past year — but the definition spans both bribery and vaguely "using connections" to secure a public service.) In economic terms, using public power for private gain is like rent extraction or barring competitors from entering a lucrative trade. And entry barriers, rent extraction and private capture of state powers exist everywhere.

Just observe US politicians' abject dependence on donations from American oligarchs, the funding scandals of one French president after another, Italy's dysfunctional judicial system, Britain's egregious Covid procurement practices and House of Lords seats for party donors, and Germany's decades-long subordination of geopolitical policy to corporate profit opportunities in dictatorships.

I was told of Ukrainian companies trying to enter large EU countries' markets, only to be given an unofficial list of local companies to partner with or the name of a specific law firm to retain before the bureaucratic obstacles to doing business would clear.

These practices are no excuse, but would hardly even register as corrupt among those who wring their hands over Ukraine. Yet they are as pernicious to a liberal market democracy as many of the challenges that Ukrainians, to their credit, are trying hard to address.
Much, much more at the link!
Last night in comments Damien asked:
One thing I would like to ask is whether there might be one evening before the offensive officially kicks off where you could offer a deeper dive into more of your professional opinion and assessment of where the war stands, and what you would expect for the counter-offensive?  I for one would deeply appreciate a trusted, experienced voice laying things out in a way that brings some measure of coherence to what we're reading and seeing.
Let me break this into the two separate questions you've asked.
The first is where do I think the war stands now. My assessment, solely from looking at all the same open source news reporting, analysis, commentary, and think tank reports I reference here and that are available to anyone who knows what to look for and where is that a lot more is going on that appears. A lot of the reporting focuses on two things: Bakhmut and wherever Russia has bombarded Ukraine on any given day. Basically we've got war reporting done like local crime reporting in the US. If it bleeds it leads. Or ledes in this case. When there was a lot of activity at Vuhledar, we got a lot of reporting and social media mentions of Vuhledar. Same for Soledar. That's why we're seeing spot reporting about stuff going on in Kherson on the banks of the Dnipro once or twice a week. Basically what we've got are closeups of the leaves on specific trees, not the trees, not the forest, and not the ecosystem or biome. As such it is hard to see the bigger picture. But we have some glimpses. The US, NATO, and non-NATO allied weapons systems are finally starting to come online even if their provision is still too slow and not enough are being provided. The Ukrainian troops that have been run through intensive combined arms training in the several different NATO member states – Britain, Poland, etc – are moving back into theater and going through their final prep for whatever is going to happen once the ground dries out and mud season ends. My professional assessment is Ukraine's defense against Russia's re-invasion looks frozen, but that it is not and it is, in reality, far more dynamic than it appears.
And this leads into my answer to Damien's second question about what to expect from the counter-offensive. The honest answer is I expect the unexpected. Every piece of reporting we have, including interviews from President Zelenskyy and Major General Budanov, as well as complaints from "unnamed US officials" make it very, very, very clear that the Ukrainians are not telling the US much of their plans. The Ukrainians have rightly surmised that America's exceedingly large national security sector is unwieldy and, as a result, leaks too often and too much. From official leaks on background to the mess made by Airman Teixiera. And because we're only seeing pieces, both in the reporting and in what the Ukrainians are showing, it is impossible to know what their actual campaign plan is. General Zaluzhny, Colonel General Syrskyi, and Major General Budanov seem to have done an excellent job moving beyond the Soviet and post-Soviet legacy professional military education and training they were exposed to over the course of their careers. Almost every Ukrainian Soldier, Marine, Airman, or Territorial Defender who has signed up to fight since 2014 were never exposed to this hidebound, hierarchical, and static system. So the Ukrainians have that going for them.
The bottom line is I'm expecting the unexpected. I do not know if what the Ukrainians are planning can be executed in such a way as to end this war in 2023 or if it will just set the conditions for it to happen in 2024, but I think after the past fifteen months that Ukraine's National Command Authority, it's military, and the personnel in them have earned the benefit of the doubt. I think it is also important to remember that whether we like it or not the Russians are going to get a vote.
The last point I would make is that the fastest way to end this is for the US and our NATO and non-NATO allies to get the sticks out, pick up the pace of the aid we're providing, and give the Ukrainians everything they could possibly need as fast as they can take it. You want to end the major aggressor in the global campaign to promote illiberalism and managed democracy, then make sure the Ukrainians can defeat Russia thoroughly and completely.
I'm not sure if those are satisfying answers, but they're honest ones.
And Damien, thank you for the kind words last night. You are most welcome.
That's enough for tonight.
Your daily Patron!
As there are no new Patron tweets, I'm going to repost Patron's Twitter appeal from last night:
Today, terrorists shot 6 of my colleagues from the SES in the Kherson Region. 2 more were wounded. My colleagues were doing their job, and the terrorists were just looking to kill another unarmed person. We will never forgive. Never. #RussiaisATerroistState

— Patron (@PatronDsns) May 6, 2023
I want to help with my Fund for the wounded colleagues. And I hope I'll also collect enough money to help the families. If you can help, I will be grateful. https://t.co/vWmpAUK81v
Pay Pal: [email protected]

— Patron (@PatronDsns) May 6, 2023
There is no new video from Patron tonight, so here's some adjacent material from the Ukrainian Army Cats & Dogs Twitter feed:
😀#Ukraine #UkraineRussiaWar #UkraineWar #Leopard #CatsOfTwitter #CatsOnTwitter #RussiaisATerroistState #UkraineWarNews #UAarmy #Zelensky #UkraineRussiaWar️ pic.twitter.com/cLGh6C4Yac

— UkrARMY cats & dogs (@UAarmy_animals) May 7, 2023
☺️#Ukraine #UkraineRussiaWar #UkraineWar #Leopard #CatsOfTwitter #CatsOnTwitter #RussiaisATerroistState #UkraineWarNews #UAarmy #Zelensky #UkraineRussiaWar️ pic.twitter.com/8kse4Nux7b

— UkrARMY cats & dogs (@UAarmy_animals) May 7, 2023
☺️#Ukraine #UkraineRussiaWar #UkraineWar #Leopard #CatsOfTwitter #CatsOnTwitter #RussiaisATerroistState #UkraineWarNews #UAarmy #Zelensky #UkraineRussiaWar️ pic.twitter.com/r02SsgfK8W

— UkrARMY cats & dogs (@UAarmy_animals) May 7, 2023
RIP.#Ukraine #UkraineRussiaWar #UkraineWar #Leopard #CatsOfTwitter #CatsOnTwitter #RussiaisATerroistState #UkraineWarNews #UAarmy #Zelensky #UkraineRussiaWar️ pic.twitter.com/wT0Ift0KT4

— UkrARMY cats & dogs (@UAarmy_animals) May 7, 2023
Squad + dog.#Ukraine #UkraineRussiaWar #UkraineWar #Leopard #CatsOfTwitter #CatsOnTwitter #RussiaisATerroistState #UkraineWarNews #UAarmy #Zelensky #UkraineRussiaWar️ pic.twitter.com/CU1llcL4jY

— UkrARMY cats & dogs (@UAarmy_animals) May 6, 2023
Open thread!