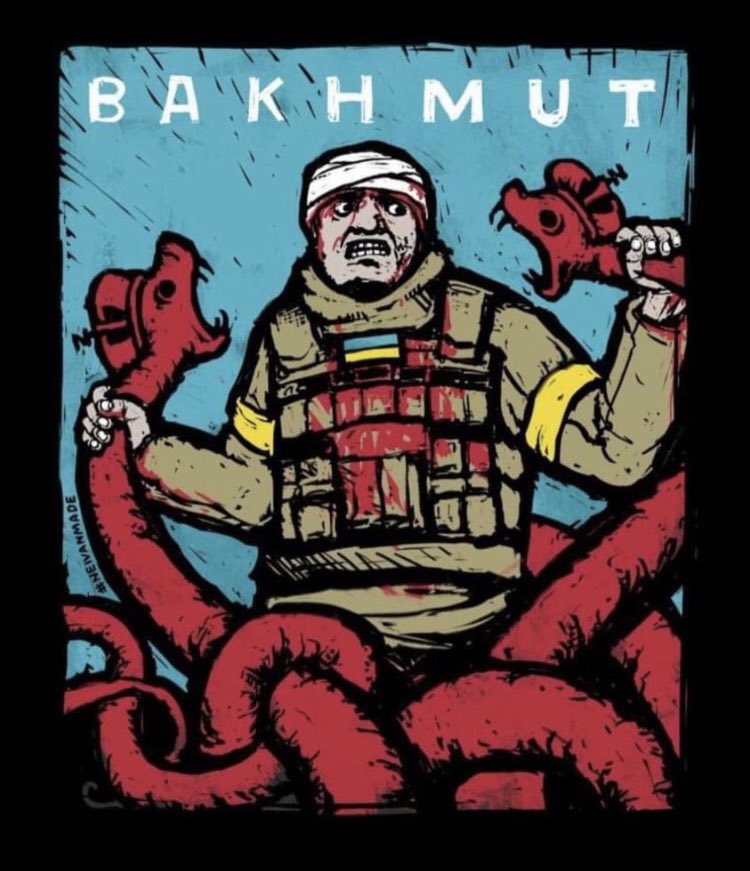 (Image by NEIVANMADE)
Ukraine has made another break from it's forced Soviet past: it has moved to join the rest of Europe and the rest of the World War II allies that are not Russia in celebrating Victory in Europe Day on the 8th of May. I expect that there will also not be any celebration of Immortals Day tomorrow in Ukraine as well.
It is on May 8 that most nations of the world remember the greatness of the victory over the Nazis. The world admires all those who were protecting and protected life. Who threw down the Nazi flags on the liberated territory and who opened the gates of the concentration camps.…

— Володимир Зеленський (@ZelenskyyUa) May 8, 2023
Here is the full statement fro President Zelenskyy's tweet:
It is on May 8 that most nations of the world remember the greatness of the victory over the Nazis. The world admires all those who were protecting and protected life. Who threw down the Nazi flags on the liberated territory and who opened the gates of the concentration camps. Who restored freedom to the nations, who destroyed and condemned Nazi evil. It is on May 8 that the world honors the memory of all those, whose lives were taken by that war. It is pure history, without ideological admixtures. And it is the history of our people, our allies, the entire free world. Today, we are returning it to our state. Today, I submitted a bill to the Verkhovna Rada of Ukraine proposing that May 8 be the Day of Remembrance and Victory over Nazism in the Second World War of 1939-1945. Eternal memory to all those who died in the Second World War! Glory to each and every one who fought against Nazism and won! Glory to all our heroes of different times, to whom we equally owe our lives!
Today, Ukraine, like the rest of the civilized world, remembers the fallen soldiers of WWII.
We honor their service, bravery, and sacrifice.
Our mission is to defeat the modern day aggressor and restore peace in Europe. pic.twitter.com/3mNULkNNxY

— Oleksii Reznikov (@oleksiireznikov) May 8, 2023
Here is President Zelenskyy's address from earlier today. Video below, English transcript after the jump:
Ukrainians' success in defense against Russian aggression is an antidote to other aggressions – address by President Volodymyr Zelenskyy

8 May 2023 – 21:39

Good health to you, fellow Ukrainians!

First of all, I would like to thank our warriors. Those who defend the Ukrainian sky and those who fight for Ukraine on the frontline.

Our defenders of the sky – the Air Force and other branches of troops involved in the defense against terrorists' missiles and Shaheds – are doing a great job these days! They inspire not only us. Our partners see what Ukrainians are capable of, what the weapons we have been given are capable of in our hands, and how effective we are when we act together for the sake of our common security.

Ukrainians' success in defense against Russian aggression is definitely an antidote to other aggressions. The world needs to see that a free nation is capable of defending freedom from invaders. If we can do it, then others can do it. If they act as boldly, as accurately, and in the same unity with other free nations. I am grateful to each of our warriors who provides Ukraine with this result! I am grateful to every partner who helps our warriors with the weapons they need to be effective!

Today I would like to especially celebrate the warriors of the 96th Kyiv air defense missile brigade. For this and the previous day, they have done an absolutely great job!

Of course, today, as always, I thank our troops who are fighting in the most fierce areas. Maryinka, Bakhmut, Avdiivka… I thank each and every one who defends Ukraine there for their grit and resilience! The occupiers have again received some new tasks from their leaders to advance somewhere by a certain date… Well, this only means that despite any dates, our heroes will, as always, destroy the occupier.

Today, I held a meeting of the Staff. The commanders of operational directions, the Commander-in-Chief and the heads of intelligence delivered reports. By the way, Budanov's and Lytvynenko's reports were particularly thorough and relevant, and we will take certain steps based on them – steps that will strengthen our defense.

There were also reports on the training of our new units and the supply of ammunition. I held a meeting with the Minister for Strategic Industries on ammunition. There is good news in this regard. Of course, now is not the time to make them public.

I also held several security meetings with government officials. The head of government, the First Deputy Prime Minister, the Interior Minister, and other ministers.

The first meeting concerned demining in Ukraine. As of now, more than 170,000 square kilometers of our territory are contaminated with mines and unexploded ordnance. In general, this is estimated in terms of time rather badly – they say it will take decades to deal with such a threat. We have to do it much faster. We are also preparing a special system of actions that will help us demine the new territory faster after de-occupation. We are also actively working with partners to increase our capabilities. In terms of equipment, training of sappers and pyrotechnicians. We will cooperate with everyone in the world who has the experience, who has the technology, who has the financial capacity to support us to make Ukraine clear of Russian mines again.

Another security meeting I held today concerned the development of a fundamental new security concept for Ukraine. We will comprehensively answer all security issues of the country. At the legislative level, at the level of government decisions, in specific practical issues. From border protection to new security conditions for schools, from the infrastructural foundations of economic security to a real opportunity to guarantee our people the kind of protection against terror that the most advanced countries in the world have. All this will be presented. All this will be implemented.

Today, on May 8, when the world remembers the words "Never again!", we in Ukraine give meaning to these words. Not only to remember, but also to protect. Not only to value life, but also to do everything to ensure that everyone who threatens life, everyone who brings aggression, everyone who resorts to terror against other nations, every such evil loses.

I thank everyone who helps us protect lives! Glory to all our warriors who are now fighting for Ukraine!

May the victory over the current evil of ruscism be the best honor to the memory of those who fought and defeated Nazism!

Glory to Ukraine!
Kyiv:
Last night, 35 of 35 russian drones were shot down!
30 of them targeted Kyiv.
On this Day of Remembrance &Victory over Nazism in WWII, today's Nazis – ruscists – are destroying peaceful cities. The empire of which they dream will fade into obscurity. Just like its predecessors. pic.twitter.com/easqvc8W17

— Defense of Ukraine (@DefenceU) May 8, 2023
A few more from Kyiv's Kyoto Park. 📸 pic.twitter.com/lMJ20vS5EI

— Christopher Miller (@ChristopherJM) May 8, 2023
Bakhmut:
📷Ukrainian troops standing near a trench overlooking #Bakhmut.#UkraineRussiaWar pic.twitter.com/K43IR8Bfq3

— MilitaryLand.net (@Militarylandnet) May 5, 2023
This is a long tweet thread in Ukrainian by a Soldier in the 93rd Mechanized Brigade. I'm going to copy and paste the machine translation of the thread into a quote box below the initial tweet in the thread. I will also post the four tweets that have still images or video immediately after the machine translation in the quote box.
Про минуле.
Пишу тільки зараз, бо планомірно розгрібали наслідки цієї історії.

Квітень. В Бахмуті на той момент вже не було безпечних місць і надійних укриттів, їх нівелювала важка артилерія росіян. Піони і Тюльпани стирали до основ все те, що мало хоч якийсь цілісний вигляд. pic.twitter.com/K0QVUXd3mu

— твій друг Стус (@slovyanskasil) May 8, 2023
About the past.
I am writing only now, because the consequences of this story were systematically raked up. April. There were no safe places and reliable shelters in Bakhmut at that time, they were leveled by the heavy artillery of the Russians. Peonies and Tulips erased everything that had at least some coherent appearance.
The territory controlled by us was getting smaller and smaller, the Russians understood and saw this perfectly, making full use of their advantage in art. Moving around the city became more and more difficult, and there was more and more work.
April 6. Our crew left the night shift and had to go to the base to get some sleep, but for some reason they didn't want to go at all. Three times I refused to go home and decided that I would rather sleep at the place of the flights. Then the peonies woke up and the desire to go home disappeared completely.
Our area was covered for three hours, and at the end of the shelling, one of the comrades, who was at the base, came out and said that they were overwhelmed. We broke away and ran to them.
Running to the spot, they saw a stacked building in front of them. They ran into the basement. The commander has already been caught. Two more boys got out on their own, they were the luckiest. Two of them were under the rubble, on top of which were floor slabs.
You yourself understand that we are not a dsns and from the available means we had a jack, a crowbar and a holy faith in the best. I will not tell in detail how everything happened, I will only say that the boys have a very serious guardian angel.

7. It all came down to a case that so often decides our destinies. At the moment they hit the building, they were all sitting at the same table, a place near the passage where the slabs did not lay flat. No one would have dug up the place where I would have slept.

8. It was the only option, among thousands of possible worst options, in which everyone remained alive. The boys have serious injuries, fractures, but the most important thing is life.
After that, we got everything that survived and continued to work in threes.

9. The boys were successfully evacuated, and now everything is fine with them. Personal belongings, equipment and work items were lost. Also, as a result of the shelling, 3 cars were damaged, which we took out, but which need to be repaired. You can get help with this here: https://send.monobank.ua/jar/8TwS1t4Ckt

10. A week after the heavy fighting, those who remained alive were taken out for rehabilitation. They began to lick their wounds and prepare for the new company, which has already started. Thus ended the third return to Bakhmut, truly the most difficult 3 months in our lives. The war continues, so there will be more…

11. PS who is interested in what exactly flies in Bakhmut.
The next day, they found the following cracks. We thought for a long time what kind of waffle it was and soon found it. Active-reactive mine 240mm 3f2. In the people – a tulip of yojana. This is the Russian projectile hunger.

P.S кому цікаво, що саме літає в Бахмуті.
На наступний день знайшли ось такі преколи. Довго думали, що це за вунлервафля така і невдовзі знайшли. Активно-реактивна міна 240мм 3ф2. В народі – йоьаний тюльпан. Ось такий російський снарядний голод. pic.twitter.com/xMLgoHqYGP

— твій друг Стус (@slovyanskasil) May 8, 2023
For Omnes:
Video of a Ukrainian M777 artillery strike on a Wagner machine gun position in a building in Bakhmut located by Ukrainian SSO. https://t.co/ZcDzqtpeIy pic.twitter.com/J5nMMRecYy

— Rob Lee (@RALee85) May 8, 2023
Bakhmut is still burning:
In #Bakhmut, we are currently supporting our troops with reconnaissance and artillery spotting. Here is a fresh look at the city destroyed by the Russian occupiers.

Video by our @Ostapenko_91. pic.twitter.com/sXYH7NxZfU

— Sons of Thunder (@SynyHromu) May 8, 2023
Bakhmut has been under fierce assault for several days now. Russia uses everything it has, including incendiary weapons. Attacks will intensify to try and show something before Victory Day parade.

This is what is left of the city. pic.twitter.com/LXvf9Bjhuv

— Maria Avdeeva (@maria_avdv) May 8, 2023
Zaporizhzhia:
A Finnish Defense Force Reserve officer has posted a very interesting open source geospatial analysis of the fortifications the Russians have built in Zaporizhzhia in anticipation of Ukraine's spring/summer campaign. First tweet from the thread followed by the rest from the Thread Reader App:
1/ Thread: Analysis of Russian defensive network and field fortifications on Kopani-Robotyne-Tokmak sector of the Zaporizhzhia front. This analysis was done using Sentinel Hub EO imagery and commercially available very high-resolution satellite imagery by Airbus DS Pléiades Neo. pic.twitter.com/6DQJLgEKvk

— Pasi Paroinen (@Inkvisiit) May 8, 2023
2/ 

Russian defenses have been constructed along dominant heights and ridgelines. Defenses have been established at depth of 25-30km from Russian forward line of friendly troops (FLOT) all the way to the city of Tokmak.

3/ 

There are several distinct layers or defensive zones. Zone 1: first 3-4km from the RuFLOT is the forward security zone consisting of individual squad or platoon outposts and individual company strongpoints.

4/ 

Zone 2: first defensive line, 2-3km deep. Company trenches and strongpoints arranged along key terrain features in continuous line. This zone has seen recent additions and is constantly being improved. Villages of Kopani and Robotyne form the linchpins of this position. 

5/ 

Zone 3: 4-5km deep zone with reserve- and possible decoy positions. This zone is also where majority of the local Russian artillery and mechanized reserves will be maneuvering behind the first defense line. Multiple shelter areas for vehicles and equipment observed. 

6/ 

Zone 4: Prepared main defensive line. Massive multilayered trench lines with anti-tank ditches and dragons' teeth obstacles. Extensive minefields are likely. These fortifications form nearly uniformly continuous defensive belt across the front. Built 3-4km deep. 

7/ 

Zone 5: Reserve and fallback positions behind the main defensive line (zone 3). Zone 6: Town of Tokmak and the surrounding AT-ditch and strongpoints form the last fallback and reserve position on this sector, prepared for all-around defense. 

8/ 

I have complied a collection of samples of different field fortification types and examples from across this sector. Note that the high resolution Pléiades Neo images are from 13thMAR 23 so they are quite old at this point. Many fortifications were under construction.

9/ 

1: Forwardmost Russian platoon (+) strongpoint 600m wide. 2: 1,20km company (-) trench line. 3: 500m wide trench in tree line + additional trenches under construction. 4: Two squad or section outposts guarding a gap between positions.

10/ 

5: Company trench system 1600m wide under construction. 6: Anti-tank ditch at the northern edge of Robotyne + small squad strongpoints. 7: Trenches, dugouts, and AT-ditches west of Robotyne. 8: Trenches under construction, northern edge of Kopani.

11/ 

9: Reserve trench under construction south of Robotyne. 10: Trenches and dugouts being constructed on heights overlooking Rivne. 11: Two 300m wide platoon strongpoints under construction. 12. 300m wide platoon strongpoint between Solodka Balka and Novoprokopivka.

12/ 

13: Around Solodka Balka, 11km behind the RuFLOT, a multilayered main defensive line is being constructed. It comprises of AT-ditches, dragons teeth obstacles, minefields, and multiple consecutive trench lines at average depth of 2-3km.

13/ 

Notice the large number of dugouts and vehicle firing positions being constructed. These positions have been completed since then. Trenches in the sample pictures 13a and 13b are roughly 3km in width and could serve as battalion strongpoint. 

14/ 

14-15: as can be seen from this sentinel image, the Russian trench lines and fortifications continue on both sides of Solodka Balka strongpoint with multiple fallback positions and reserve trenches. Russians can deploy multiple battalions of infantry along this defensive belt

15/ 

Finally before Tokmak, there is a second robust reserve line 6-7km behind Solodka Balka. Tokmak is also surrounded by circular AT-ditch and multiple separate strongpoints. Village of Ocheretuvate is also being fortified for all-around defense.

15/ 

Finally before Tokmak, there is a second robust reserve line 6-7km behind Solodka Balka. Tokmak is also surrounded by circular AT-ditch and multiple separate strongpoints. Village of Ocheretuvate is also being fortified for all-around defense. 

16/ 

But that's enough for today. You can find more about the Russian fortifications on our map at: 

scribblemaps.com/maps/view/The-…

(From the sidebar click "Russian defence lines") 

17/ 

Finally we would like to thank 

@wihurinrahasto

 for funding our research and enabling us to purchase commercial satellite imagery. This analysis would not have been possible without them. This thread will be followed by tactical-operational analysis at later date. 
The Ukrainian senior leadership is doing a good job setting, or, perhaps, resetting expectations for the predicted offensive. From The New York Times:
Ukraine is feeling immense short-term pressures from its Western backers, as the United States and its allies treat the counteroffensive as a critical test of whether the weapons, training and ammunition they have rushed to the country in recent months can translate into significant gains.

If the Ukrainians fall short of expectations, they risk an erosion of Western support. It is a source of anxiety for top officials in Kyiv, who know that beyond battlefield muscle and ingenuity, victory may ultimately come down to a test of wills between the Kremlin and the West — and which side can muster more political, economic and industrial staying power, possibly for years.

As a result, there is a sense in Ukraine that its war effort faces a ticking clock.

"In countries that are our partners, our friends, the expectation of the counteroffensive is overestimated, overheated, I would say," Ukraine's defense minister, Oleksiy Reznikov, said in an interview this past week in Kyiv, the capital. "That is my main concern."
Much more at the link!
From The Washington Post:
The planned counterattack — made possible by donated Western weapons and training — could mark the most consequential phase of the war, as Ukraine seeks to snatch back significant territory and prove it is worthy of continued support.

Offensive military operations typically require overwhelming advantage, and with Russian forces dug into heavily fortified defenses all across the 900-mile-long front, it is hard to gauge how far Ukraine will get.

The buildup ahead of the assault — the details of which remain secret — has left Ukrainian officials grappling with a difficult question: What outcome will be enough to impress the West, especially Washington?

Some fear that if the Ukrainians fall short, Kyiv may lose international military assistance or face new pressure to engage with Moscow at a negotiating table — not on the battlefield. Such talks would almost certainly involve Russian demands for a negotiated surrender of sovereign territory, which Ukraine has called unacceptable.

"I believe that the more victories we have on the battlefield, frankly, the more people will believe in us, which means we will get more help," President Volodymyr Zelensky said in an interview Monday with The Washington Post in his heavily fortified headquarters building.

The pressure comes in part from Ukraine's past battlefield wins — first repelling Russia's attempt to capture Kyiv and later dislodging the invaders from strongholds in surprise attacks in the Kharkiv and Kherson regions.

"We inspired everywhere because the perception was that we will fall during 72 hours," Reznikov said. But the track record means Ukraine's partners now have a "joint expectation that it would be successful again," he said.

Western partners have told him, he said, that they now need a "next example of a success because we need to show it to our people. … But I cannot tell you what the scale of this success would be. Ten kilometers, 30 kilometers, 100 kilometers, 200 kilometers?"
Much more at the link!
The new Czech president, Petr Pavel, also had some strategic insight to share. The Guardian has the details:
The Czech president, Petr Pavel, a decorated retired general who was previously Nato's principal military adviser, has privately warned Ukraine's leadership against the disaster of a rushed counteroffensive.

In recent meetings in Kyiv with Ukraine's president, Volodymyr Zelenskiy, and prime minister, Denys Shmyhal, Pavel cautioned that they no longer had the element of surprise that aided successful assaults on the eastern city of Kharkiv and southern region of Kherson last year.

The war hero, who was chair of the Nato military committee until 2018 and decorated by the Czech and French governments for rescuing French troops besieged by the Serbs during the Bosnian war in 1993, said there was recognition in Kyiv that gaps remained in Ukraine's capacity for a successful offensive against Russian forces.

He said Zelenskiy had asked him and his Slovak counterpart, Zuzana Čaputová, for their nations each to arm a Ukrainian mechanised brigade before the long-anticipated counter-assault.

"Apparently, they still have a feeling that they do not have everything to start successfully an operation," Pavel said.

With preparations still being made, Pavel, who was elected in January, said he had appealed to Shmyhal during meetings last week not to be "pushed into a faster pace before they are fully prepared".

"Because it might be a temptation to push them, for some, to demonstrate some results," Pavel said in an interview during a visit to London for King Charles's coronation. "It will be extremely harmful to Ukraine if this counteroffensive fails, because they will not have another chance, at least not this year."

Ukraine would inevitably face "terrible losses" no matter the strength of its forces, he said, and it could not afford for the assault to fail. "Because it's extremely demanding in terms of putting together personnel equipment, ammunition logistics, fuel financing. It will simply be one chance this year, so it has to be successful."

Pavel said Kyiv should not "underestimate the Russians because they have enough manpower, they still have enough equipment, even though it is older, probably in lower numbers, but still, they have a large amount of artillery barrels, they have a lot of ammunition."

He added: "They are not so incapable in terms of defence. And of course, being in defence makes it easier for them because Ukraine will have suffered terrible losses, even if they are well prepared. So attacking an enemy like Russia will be difficult and Russians will not be caught by surprise for the second time."
Much more at the link!
Finally, for tonight, a report on Ukrainians and their cows. More seriously, this is an excellent explainer of just how hard it is for people to flee the danger of finding themselves in the middle of a war zone. From The New York Times:
OLEKSANDRO-SHULTYNE, Ukraine — The bombardment began at night. Rockets rained down. On one street, every house blew up, scattering bricks and debris.

At dawn, medics stationed in the village ventured out of a cellar, looking for human casualties. Instead, they saw four older villagers, all apparently unhurt, leading a cow wounded by shrapnel. The medics decided to treat the animal.

"We are used to human doses and didn't know how much painkiller to inject, but figured out approximately," said Volodymyr, a combat medic in the Ukrainian Army, who asked to be identified only by his first name in keeping with military rules. "After that, we extracted all the shrapnel we could find and treated the wounds."

In Oleksandro-Shultyne, some residents stayed behind because they did not want to abandon their farm animals.Credit…Mauricio Lima for The New York Times
Home farming is widespread in Ukraine. In frontline villages where most residents have fled because of the war, those who stayed behind often did so because they didn't want to abandon dairy cows, animals so prized that they are often considered to be almost family members.

Cows are included in religious celebrations. Their milk provides a source of income. Visitors would struggle to find a cow in any Ukrainian village whose family hadn't given it a name. The animal also holds a special significance in a country with agonizing memories of the Holodomor, the famine engineered by Joseph Stalin 90 years ago, said Olena Braichenko, the founder of Yizhakultura, an independent project about the gastronomic culture of Ukraine.

Medics stationed in frontline villages were looking for human casualties.Credit…Mauricio Lima for The New York Times
Separation can be heartbreaking. Tetyana, a 53-year-old woman who fled a village near Bakhmut last May, left three cows behind. "It has been almost a year. Sometimes I think I let it go, but then I remember my cows and cry," she said by telephone from the Zhytomyr region, where she now lives. Like others interviewed for this article, she asked that her full name not be used for safety reasons.

"I ran around to the neighbors asking to take my cows, but no one wanted them," she recalled. "I ran to the butchers, asking to cut their throats as I couldn't do it myself, but they refused."

"I just left them tethered, she added. "I understood I couldn't let them go as they would destroy other people's gardens." Her village, Vasiukivka, remains occupied by Russians, and Tetyana has no idea what became of the animals.

The medics who treated the wounded cow in Oleksandro-Shultyne named her Buryonka, or Brownie. Buryonka had a concussion and multiple shrapnel injuries. For two days, she could barely stand. The medics treated her with antibiotics, and on the third day, she finally stood up.

She and four other cows whose barns had burned were brought to the yard of an abandoned house where the medics look after wounded soldiers. Now the cows are in their care, too. That allowed several families to evacuate, knowing their livestock was in good hands.

Buryonka is still very weak but is giving milk again. Her owner fled to a nearby village but still returns to milk Buryonka and the four other cows, giving some to the soldiers and other residents while keeping some for herself.
That's enough for tonight.
Your daily Patron!
A new video from Patron's official TikTok:
The machine translation of the caption is:
Remember…
Open thread!