One of the insalubrious aspects of living in a state that increasingly feels like 1930s Germany with beaches and theme parks is that lots of stuff seems too trivial to notice. But remember this stupid shit?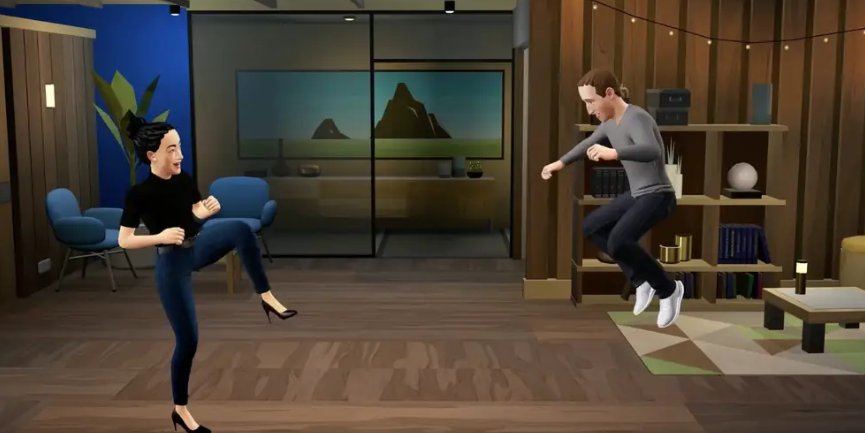 It's a still from a faked hype video for the metaverse, the immersive blah blah blah that was going to change everything and inspired Facebook's rebranding to Meta. However, despite spending well over $100 billion dollars on R&D alone, Meta boss Mark Zuckerberg has moved on from his company's metaverse project, according to Ed Zitron at Business Insider:
From the moment of its delivery, Zuckerberg claimed that the Metaverse would be the future of the internet. The glitzy, spurious promotional video that accompanied Zuckerberg's name-change announcement described a future where we'd be able to interact seamlessly in virtual worlds: Users would "make eye contact" and "feel like you're right in the room together." The Metaverse offered people the chance to engage in an "immersive" experience, he claimed…

The inability to define the Metaverse in any meaningful way didn't get in the way of its ascension to the top of the business world. In the months following the Meta announcement, it seemed that every company had a Metaverse product on offer, despite it not being obvious what it was or why they should…

Companies' rush to get into the game led Wall Street investors, consultants, and analysts to try to one up each other's projections for the Metaverse's growth. The consulting firm Gartner claimed that 25% of people would spend at least one hour a day in the Metaverse by 2026. The Wall Street Journal said the Metaverse would change the way we work forever. The global consulting firm McKinsey predicted that the Metaverse could generate up to "$5 trillion in value," adding that around 95% of business leaders expected the Metaverse to "positively impact their industry" within five to 10 years. Not to be outdone, Citi put out a massive report that declared the Metaverse would be a $13 trillion opportunity.
I'm no business genius, but maybe the Meta team's inability to get the avatars' legs right should have been a clue? Christ on a crumpet, what a colossal waste of money. And Zitron is right about the Wall Street lemmings following Zuckerberg over the cliff — there were virtual land-grabs associated with this half-baked foolishness. The amount of money and effort wasted is incalculable.
Zitron notes that while Meta isn't officially shuttering the metaverse project, Meta and key partners like Walmart and Disney closed divisions and laid off staff associated with their unpopulated virtual worlds, and Meta bosses, including Zuckerberg, now say they are chasing generative AI unicorns, so it looks like the writing is on the wall.
There probably will be compelling virtual worlds where billions of people interact for work or play in the reasonably near future. And who knows, maybe they won't launch with much fanfare as an obvious monetization scheme.
Zuckerberg's fellow tech warlord Elon Musk punctured his own carefully crafted hype balloon by overpaying for Twitter and making stupid decisions that ran that platform into the ground. The current Meta metaverse collapse probably won't get nearly as much attention because nobody used it. 
But if Zitron is right, arguably this is a worse face-plant than Musk's misadventure. It's also yet another argument for confiscatory tax rates.
Open thread.