On the Road is a weekday feature spotlighting reader photo submissions.
From the exotic to the familiar, whether you're traveling or in your own backyard, we would love to see the world through your eyes.
Dangerman
Ah, Springtime, when a young man's fancy LIGHTLY turns to thoughts of love (or, if a pharaohphile, to thoughts of the love of LIGHThouses). Admittedly, not as Romantic, but someday I'll find the woman that either understands (or, better yet, is similarly afflicted).
I figured it's about time to share a few more Lighthouse Photos and it needed to be a Central Coast Lighthouse this time, so Point Sur it is. Before I share pictures, a few notes/thoughts:
(1) I should share the background of the word "pharaohphile" as it was explained to me because I'm not at all sure that I'm spelling it correctly. The word was chosen because of the Pharos of Alexandria (or the Lighthouse of Alexandria, if you prefer), one of the 7 Ancient Wonders of the World. So is it "pharosphile" or "pharaohphile"? Beats me. Did I mention the MD has me on decaf? Stuff should be illegal.
I can talk for hours (and occasionally have) about the Lighthouse at Point San Luis (my original OTR post). The Original Docent trained me and I, in turn, trained the next generation of docents. I'm more than a little rusty on the topic, but, at one time, I likely knew the story of the PSL Lighthouse about as well as anyone alive (this will make more sense in a moment), but I really don't know THAT much about the Point Sur Lighthouse. I know the basics, but, for detail, it has been several years and many miles (figuratively and literally) since I visited. Thankfully, Huell Howser (at least Californians will know who that is) visited the Point Sur Lighthouse and the video is available here.
While the location is stunning, I'm not ecstatic about any of my photo, I'm going to draw outside the lines a little bit >and share a little bit about whale watching, wildflowers (I hear rumors of an amazing Superbloom, and another random story that came to mind recently without further delay, the Point Sur Lighthouse.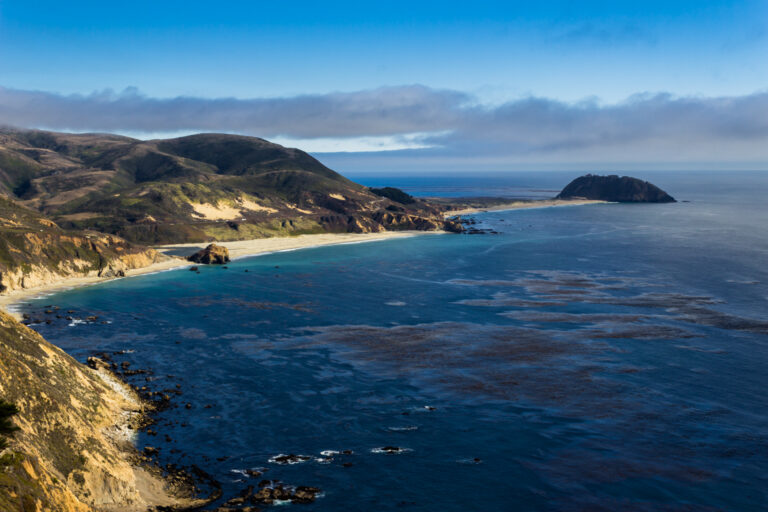 Big Sur Coastline
If you have traveled Highway 1 in the Big Sur area, this view may look familiar to you; at least, that Point has always looked different to me as I was driving along (maybe because, at one time, that lovely beach was inaccessible) and then, sometime along the way, I learned there was a Lighthouse out there.
MUST VISIT!
So, I did. To my knowledge, to the general public, there are only three ways to see the Lighthouse and all involve walking.
Method 1: Daytime Walk;
Method 2: Full Moon Walk (which MAY not be available right now; at least I don't see it on the schedule and it might have been replaced by Method 3);
Method 3: Halloween Walk (oh hell, yes, has to be done and I'll explain why in a moment).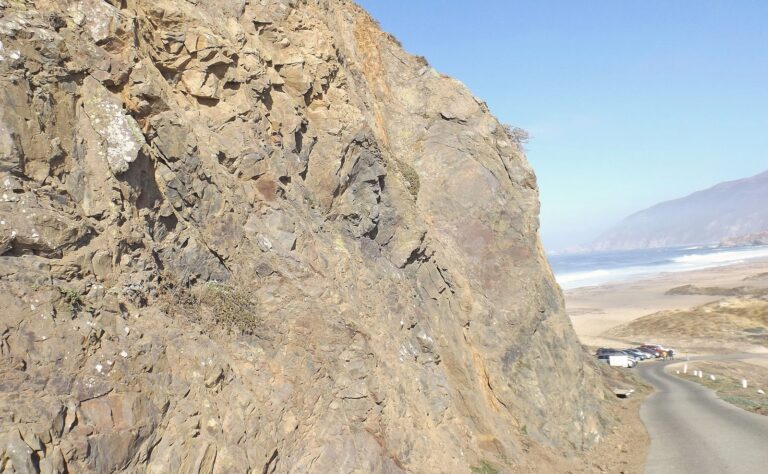 Point Sur Light Station
And the walk begins; it's about a mile round trip, with a 360 foot elevation gain. I think I wanted more of the lovely beach than the melange but I was a little off (truer words have never been spoken).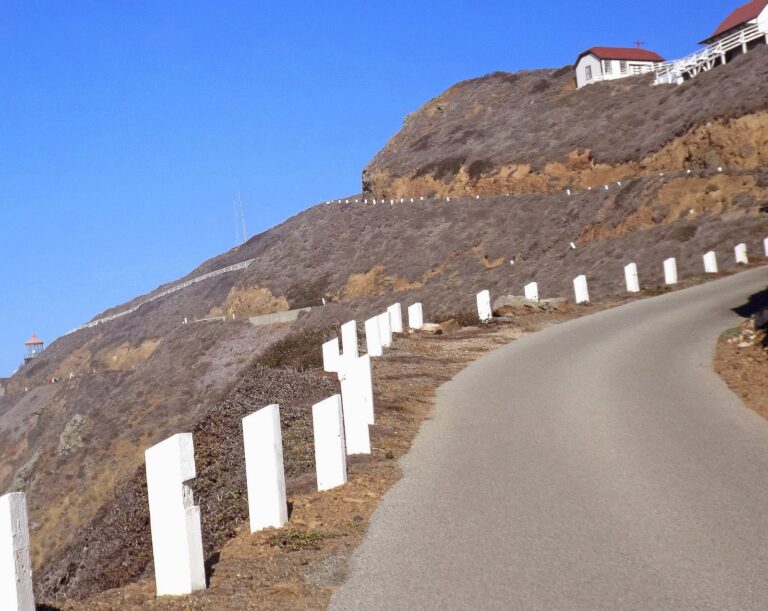 Point Sur Light Station
The first look at the Lighthouse on the walk (or, more correctly, the Lighthouse Lantern). On the right is the workshop and barn.
With the lantern showing up in this photo, I think now is a good time to switch locations…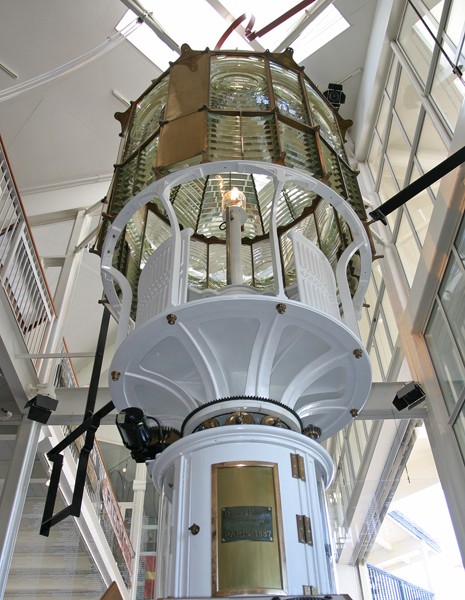 Monterey Museum
This is a First Order Fresnel Lens (FO, in this case, means the biggest lens that projects the light the farthest; I believe about 25 miles).
The cool thing about this photo, to me anyway, is it doesn't take a huge light source for a Fresnel Lens to work. It's a magnificent piece of engineering. I'm going to go Nerd on you and recommend a book called "A Short Bright Flash: Augustin Fresnel and the Birth Of The Modern Lighthouse" by Dr. Theresa Levitt.
The lens is no longer in Monterey; it's in the process of being returned to the Light Station (and may already be there). The lens needs a controlled environment and is worth A LOT so it's final resting place may still be in process. I'm entirely unsure.
If you want to get up close and personal to a First Order Lens, there is one in Crescent City (I spoke about it last time with the St. George's Reef Lighthouse) and one on Main Street in Cambria from the Piedras Blancas Lighthouse (near San Simeon).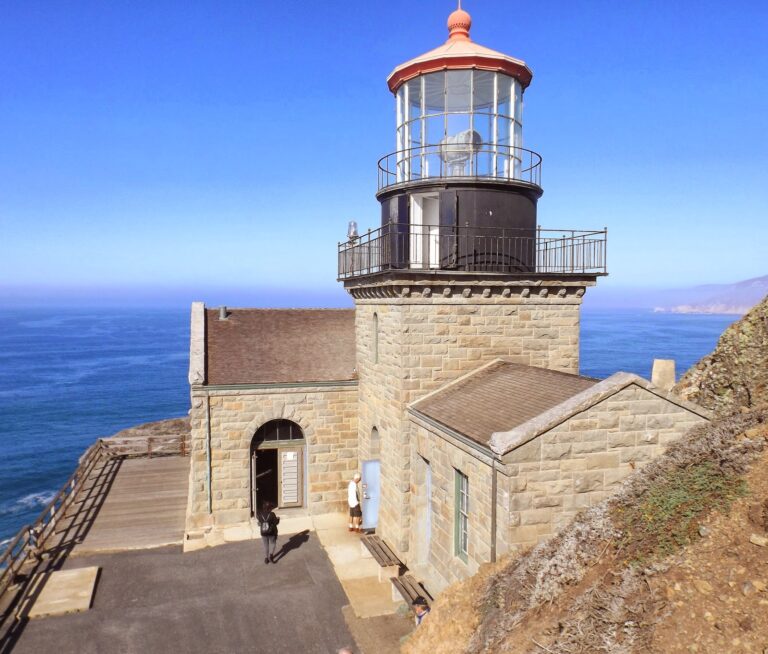 Point Sur Lighthouse
After the Lens, the star of this show.
Oh, that reminds me. I talked about the Halloween Tour and added a "hell yes" to that comment. There was a reason. This Lighthouse is reportedly haunted by a ghost. If you google "paranormal" and "California", this location pops up a lot as a place to find, hopefully, a friendly apparition. I'll repeat: Haunted Lighthouse on Halloween? Oh, hell yes.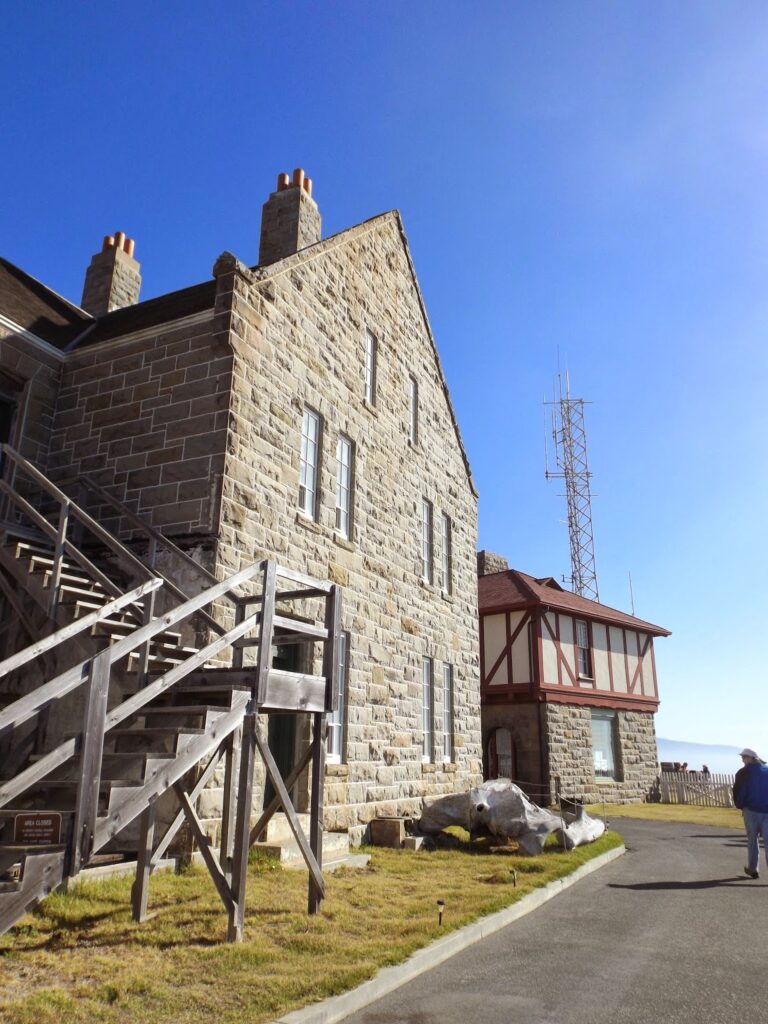 Point Sur Light Station
Living Quarters, with the Assistant Keepers House on the left and the head Lighthouse Keepers on the right.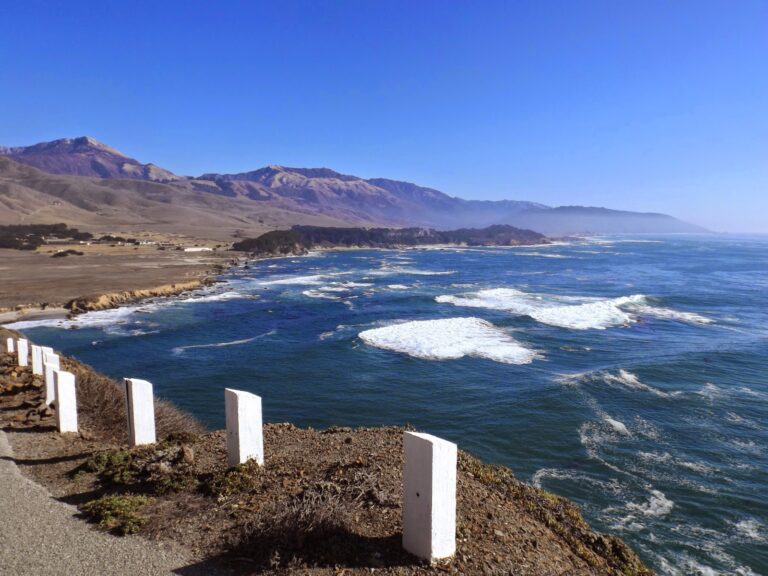 Point Sur Light Station
Living Quarters, with the Assistant Keepers House on the left and the head Lighthouse Keepers on the right.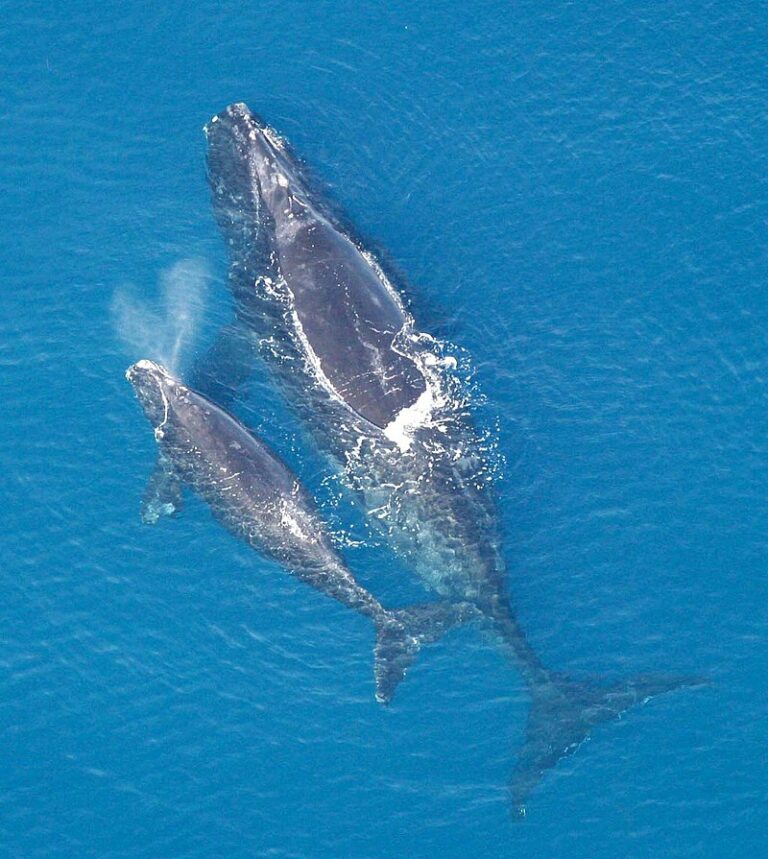 Borrowed From Wiki Commons
Well, I have 3 more spaces for photos and I might as well use the opportunity. It's almost my civic responsibility to share that the weather on the Central Coast of California, after a miserable winter, has turned reasonably nice; not great yet, but it's coming. And so are the gray whales on their Northbound migration. On the Northbound, the Mothers and Calves stay VERY close to the shore (the theory is they use the breaking waves to help hide from their predators). Full disclosure, the whales migrate when they damn well feel like it, so if you visit my Lighthouse for the purpose of whale watching, you could either have an amazing time ("Thank you, Dangerman! Thank you, thank, thank you") or be highly disappointed that no whales show up ("Dude, what the hell are you smoking?"). Trust me, I've seen the entire spectrum, from no whales showing to it looking like the whale equivalent of the 405 near the Airport (and if you an Angeleno, you get the reference).
If whale watching is your goal, I suggest going out on the hike and not by vehicle; the view towards Point Sal is better and you MAY have more time to watch for whales. It used to be that if you walked out, you could stay out there as long as you like until the last vehicle leaves (for a small donation: $10). Do check to make sure that is still the policy.
Again, if whale watching is your thing, perhaps contact the Executive Director at the Lighthouse (her office has a wonderful view; no envy there) and ask what she has seen (and do the hike in to improve your chances). I know that doesn't help if you aren't local (and, if you aren't local, don't plan to be local, but are into Lighthouses or restorations of historic buildings, please consider a virtual tour); tell the ED a tall Dude (6' 7" is tall, I guess) that is a Nerd (no doubt there) who was a friend of Brent, Walt, Ron, Richard, Marlon, Jean, and Barton (RIP all). She'll know who I am. Tell her I said "Hi".
A special RIP to Sandy, Bobby, and Bogey (two dogs and a cat that kept the Keepers endlessly entertained, between naps and for treats, of course)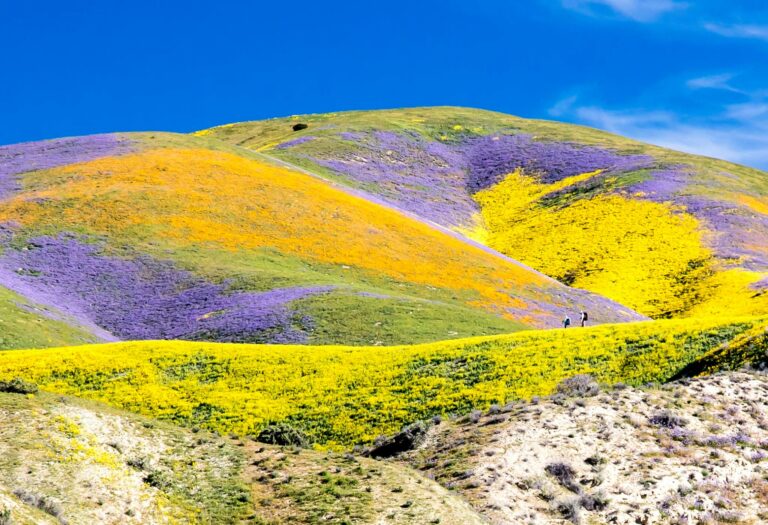 Carrizo Plains
If Wildflowers are your thing, it should be a SPECTACULAR season and the Carrizo Plains are for you. Take the road between Highway 166 and Highway 58 that goes by Soda Lake. I don't think that road has a name or a number. It also doesn't have asphalt and, after this winter, might have potholes deep enough for small vehicles to disappear. The road is perfectly safe (and I guarantee you, in wildflower season, you will NOT be alone), albeit quite slow; you don't need a 4WD, but plan to make a day of it (also, reserve a spot at the car wash for post visit needs). Also, please do a little due diligence; if for some strange reason the flowers all suddenly disappear and you are out on the plains alone, it's gonna be a long walk for help or a cell signal if you have a breakdown. The Central Coast is distractingly beautiful but you can get into a bad situation if you are careless (see, for example, "sneaker waves"; if you don't know, learn before you go tide pooling around here).
Borrowed From Wiki Commons
One last Point San Luis Lighthouse story since most all of us just survived the attacks of the Girl Scouts (for Cookies) at the local markets.
As I mentioned last time, the original groundcover was Vinca (or Periwinkle if you prefer) and it was one of my jobs to get rid of the replacement groundcover (iceplant; evil shit, took a really, really long time to die, as Bruce Willis would say in the movie "The Whole 9 Yards").
The funny thing is, many years ago, it was a GIRL SCOUT PROJECT to rip out the Vinca and replace it with the  iceplant. Good Grief.
Now, do you think I had the slightest bit of remorse of making old girl scouts potentially cry when they would visit? I think the answer is an easy one to guess (OK, the answer is "hell no, the place has to go back to it's 1890 look and feel" … ok, maybe the slightest, teeny tiniest bit of remorse, but it doesn't last).
Thanks for reading everyone. I hope you enjoyed it all.