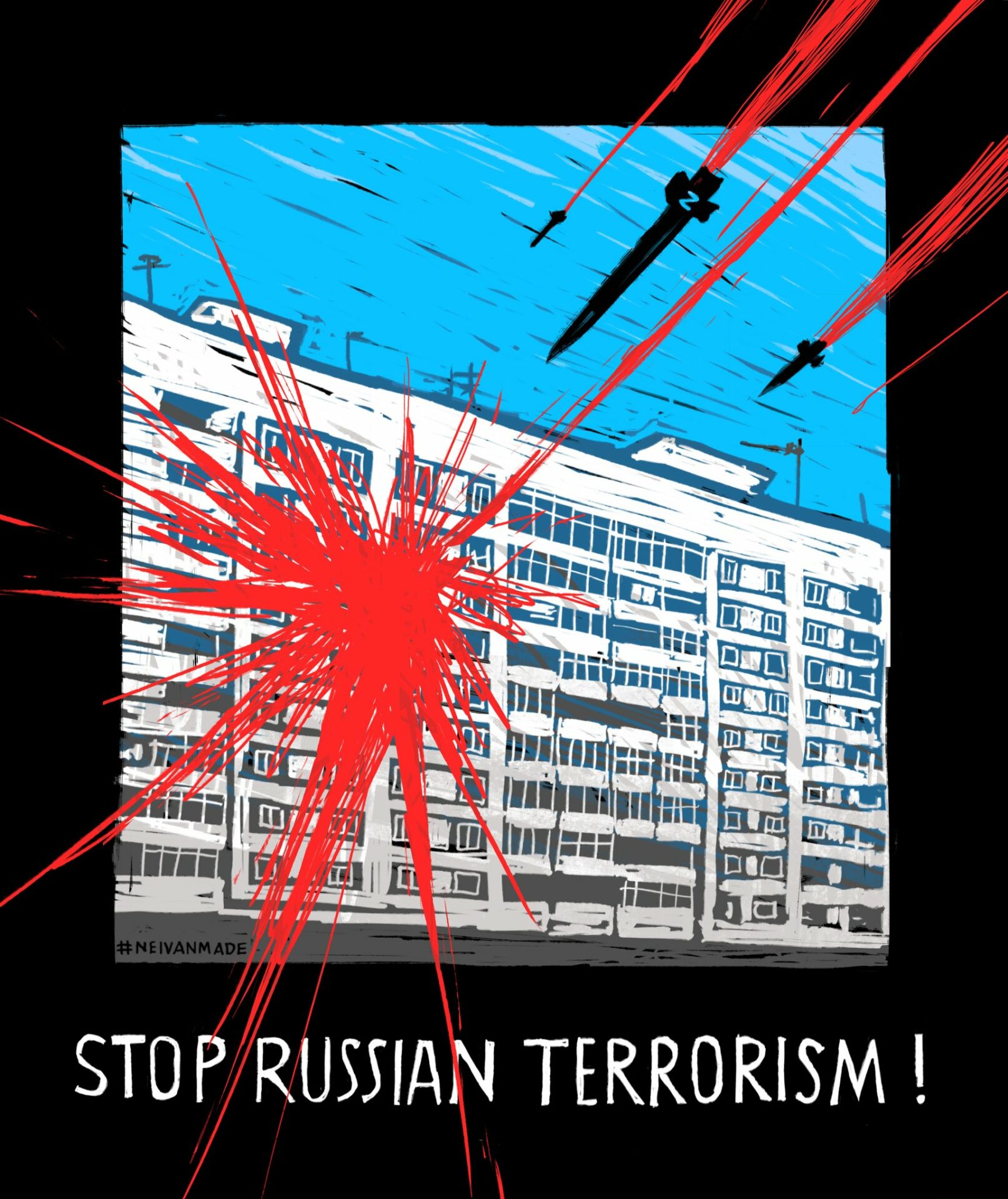 (Image by NEIVANMADE)
Today was Victory Day in Russia. Which is the day they celebrate the Soviet Union's victory over the NAZIs while the rest of the Allies did fuck all while the NAZIs attacked, victimized, and brutalized the Russians and, secondarily, the other people who made up the Soviet Union. But mostly the Russians. And the Jews were collaborating with the NAZIs.
Look I don't make this ahistorical bullshit up, I just have to write about it here. Anyhow, Putin presided over a less then underwhelming Victory Day parade, which included giving one of his ahistorical speeches with the usual list of bullshit grievances.
The two major portions of tonight's update will be President Zelenskyy's address from earlier today. Then so you can all compare and contrast, that will be followed by Putin's.
Here is President Zelenskyy's address from earlier today. Video below, English transcript after the jump:
It is only a matter of time before we can restore a just peace for our part of Europe, for Ukraine – address by President Volodymyr Zelenskyy

9 May 2023 – 21:51

Good health to you, fellow Ukrainians!

Today we have all been able to see that when the state has its honest history returned to it, the sequence of events takes on a special meaning.

Yesterday, on May 8, Europe and the world remembered the joint victory over the aggression of Nazism and the surrender of that evil. And today, on May 9, we, along with the entire free Europe, celebrate Europe Day to honor an achievement that simply would not have happened if there had been no victory over Nazism. We would not have had such a united Europe – a Europe without aggression and revanchism, a Europe that respects different cultures, that resolves disputes exclusively in the legal sphere, and that is proud of the diversity on our continent.

The more people know the honest history, the more they see the commonalities between the brutal aggressions of the twentieth and twenty-first centuries, the more they will appreciate this sequence. The Day of Remembrance and Victory over Nazism in World War II, and immediately after it, the Day of Europe, Europe as a realized dream of a peaceful continent. And it is only a matter of time before we can restore a sustainable and just peace for our part of Europe, for Ukraine. It is only a matter of time before the current aggressor loses, like the aggressor who lost 78 years ago, before Russian revanchism is crushed by the bravery of our warriors and the joint power of the free world.

Today we celebrated Europe Day in Ukraine together with Europe.

The visit of Ursula von der Leyen, President of the European Commission, was both symbolic on this day and very productive. We discussed our defense – what we need to achieve and what we expect from our partners. We discussed sanctions pressure on Russia, and we are actively preparing the 11th sanctions package against Russia together with Europe. We discussed our political prospects for European integration. Of course, we also discussed the export dispute with our neighbors in the EU. We have to overcome it in the clear spirit of the existing treaty framework between us.

I am grateful to the President of the European Commission for the participation in today's meeting of our partners who are working to establish a tribunal for the crime of Russian aggression against Ukraine. There are 37 participants in the meeting – states and international institutions. I addressed the participants and urged them to move forward without stopping on the path to full accountability of the aggressor.

Today I also met with the communities of European universities – Britain, Sweden, France, Italy, Spain, Hungary and, of course, Ukrainian students. We talked to them about the bravery that Europe will always need and how we can all work together to bring our common victory closer.

There is more good news from our partners. From what can be said publicly, there is a new defense package from the United States. The total amount is 1 billion 200 million dollars. Artillery, protection against terrorist missiles and drones, and other things to strengthen our defenders. I thank President Biden, the Congress – both parties – and every American family for their unwavering support and for the American strength that makes us stronger.

We are also working with other partners on additional defense packages to add new opportunities for our warriors.

Special thanks to the French parliament for today's decision to recognize the Russian pseudo-private Wagner group as a terrorist organization. This is something that should be adopted by the entire world – every manifestation of terrorism must be destroyed, and every terrorist must be convicted.

And, of course, today, after the terrorist state has once again tried to torture our people and lost to our defenders of the sky once again, I thank our Air Force and all our warriors of other branches of troops who ensure air defense. Truly well done!

Glory to all who defend Ukraine and Ukrainians! Thank you to everyone who helps!

Thank you to everyone who, together with us, returns peace and justice to Europe!

Glory to Ukraine!
As Putin was preparing for his Victory Day appearance and speech, his Air Force was doing this:
Dawn in Kyiv and several more explosions. All of Ukraine is under Russian air raid alert. pic.twitter.com/rfMAYnVIWr

— Christopher Miller (@ChristopherJM) May 9, 2023
Second attack on Kyiv in two days. 15 cruise missiles shot down. 23 out of 25 over Ukraine. Six S-300 launched on Kharkiv. The harder Russia tries the stronger is Ukrainian response. pic.twitter.com/6cAB96kxtn

— Maria Avdeeva (@maria_avdv) May 9, 2023
Since the beginning of May, none of the 5 massive missile and drone attacks on Kyiv have been successful.
The failed attacks on Bakhmut have lasted more than 9 months & have yielded no results.
On May 9, putin held a "Victory" Parade to commemorate his own defeats for the second…

— Defense of Ukraine (@DefenceU) May 9, 2023
Here's the full text of the UA MOD's tweet above:
Since the beginning of May, none of the 5 massive missile and drone attacks on Kyiv have been successful.
The failed attacks on Bakhmut have lasted more than 9 months & have yielded no results.
On May 9, putin held a "Victory" Parade to commemorate his own defeats for the second time in a row.
And here's Putin's bullshit. Video with English subtitles, then English transcript. You're going to want to get your hip waders out for this one…
Speech by the President of Russia at the military parade

President of Russia Vladimir Putin: Citizens of Russia,

Dear veterans,

Comrade soldiers and sailors, sergeants and warrant officers, midshipmen and sergeant majors,

Comrade officers, generals and admirals,

Soldiers and commanders participating in the special military operation,

Happy Victory Day!

Happy holiday that commemorates the honour of our fathers, grandfathers and great-grandfathers who glorified and immortalised their names by defending our Fatherland. They saved the humankind from Nazism through immeasurable courage and immense sacrifice.

Today, our civilisation is at a crucial turning point. A real war is being waged against our country again but we have countered international terrorism and will defend the people of Donbass and safeguard our security.

For us, for Russia, there are no unfriendly or hostile nations either in the west or in the east. Just like the vast majority of people on the planet, we want to see a peaceful, free and stable future.

We believe that any ideology of superiority is abhorrent, criminal and deadly by its nature. However, the Western globalist elites keep speaking about their exceptionalism, pit nations against each other and split societies, provoke bloody conflicts and coups, sow hatred, Russophobia, aggressive nationalism, destroy family and traditional values which make us human. They do all that so as to keep dictating and imposing their will, their rights and rules on peoples, which in reality is a system of plundering, violence and suppression.

They seem to have forgotten what the Nazis' insane claims of global dominance led to. They forgot who destroyed that monstrous, total evil, who stood up for their native land and did not spare their lives to liberate the peoples of Europe.

We see how in certain countries they ruthlessly and cold-bloodedly destroy memorials to Soviet soldiers, demolish monuments to great commanders, create a real cult of the Nazis and their proxies, erase and demonise the memory of true heroes. Such profanation of the feat and sacrifices of the victorious generation is also a crime, an outright revanchism on the part of those who were cynically and blatantly preparing a new march on Russia and who brought together neo-Nazi scum from around the world for this.

Their goal – and there is nothing new about it – is to break apart and destroy our country, to make null and void the outcomes of World War II, to completely break down the system of global security and international law, to choke off any sovereign centres of development.

Boundless ambition, arrogance and impunity inevitably lead to tragedies. This is the reason for the catastrophe the Ukrainian people are going through. They have become hostage to the coup d'état and the resulting criminal regime of its Western masters, collateral damage in the implementation of their cruel and self-serving plans.

The memory of defenders of the Fatherland is sacred for us in Russia, and we cherish it in our hearts. We give credit to members of the Resistance who bravely fought Nazism as well as the troops of the allied armies of the United States, Great Britain and other countries. We remember and honour the feat of Chinese soldiers in the fight against Japanese militarism.

I strongly believe that the experience of solidarity and partnership during the years of fighting a common threat is our invaluable heritage and a secure foothold now when the unstoppable movement is gaining momentum towards a more just multipolar world, a world based on the principles of trust and indivisible security, of equal opportunities for a genuine and free development of all nations and peoples.

It is crucial that leaders of the Commonwealth of Independent States have gathered here in Moscow today. I see it as appreciation of the feat of our ancestors: they fought and won together since all the peoples of the USSR contributed to our common Victory.

We will always remember that. We bow our heads in cherished memory of those who lost their lives during the war, the memory of sons, daughters, fathers, mothers, grandfathers, husbands, wives, sisters and friends.

I declare a minute of silence.

(A minute of silence.)

Citizens of Russia,

The battles that were decisive for our Motherland always became patriotic, national and sacred. We are faithful to our ancestors' legacy and have a deep and clear awareness of what it means to be up to the mark of their military, labour and moral achievements.

We take pride in the participants in the special military operation, all those fighting on the frontlines, those who deliver supplies to the front and save the wounded under fire. Your combat activities now are of paramount importance. The country's security depends on you today as does the future of our statehood and our people. You commendably perform your combat duty fighting for Russia. Your families, children and friends stand behind you. They are waiting for you. I am sure you can feel their unfailing love.

The entire country has united to support our heroes. Everyone is ready to help, everyone prays for you.

Comrades, friends, dear veterans,

Today, every family in our country honours Great Patriotic War participants, remembers their family members and their heroes, and lays flowers to military memorials.

We are standing on Red Square, a place which remembers retainers of Yury Dolgoruky and Dmitry Donskoy, the people's militia of Minin and Pozharsky, soldiers of Peter the Great and Kutuzov, the military parades of 1941 and 1945.

Today we have here participants in the special military operation – regular servicemen and those who joined the army ranks during the partial mobilisation, troops of the Lugansk and Donetsk corps, many volunteer units, personnel of the National Guard, Interior Ministry, Federal Security Service, Emergencies Ministry and other security agencies and services.

My greetings to all of you, friends. My greetings to everyone who is fighting for Russia in the battlefield, who is now in the line of duty.

Our heroic ancestors proved during the Great Patriotic War that nothing can beat our strong, powerful and reliable unity. There is nothing stronger than our love for the Motherland.

For Russia! For our glorious Armed Forces! For Victory!

Hooray!
It is important that we listen carefully and understand what adversaries, competitors, allies, and partners communicate. Especially when they communicate the same thing over and over and over again. Putin has been stating, over and over and over and over and over and over again, this same core narrative since his 2007 speech at the Munich Security Conference. Most think he initially knew that a large part of it wasn't historically or factually accurate and that somewhere along the way, sometime between 2011 and 2015 he lost the plot and actually bought into the rhetoric he was regularly pronouncing. It honestly doesn't matter whether he once knew it was bullshit and now doesn't or if he always bought into this ahistorical drek. What matters is that he has been communicated to the world that the US and NATO have attacked Russia, that the attack began over a decade, if not two decades ago, that it is ongoing, and that all Russia is doing is defending itself, its culture, its religion, and its territorial integrity. This has been the consistent theme of his speeches, rhetoric, and writing for over sixteen years. He is telling us, he is clearly communicating to us that we are in WWIII and that as far as he is concerned we started it. As I've written before this war is not evenly or normally distributed as it doesn't actually touch everyone, it is being primarily fought through non-kinetic means by the weaponization of the elements of national power aside from military power, and the places were kinetic means and military power are used are limited to places that Putin thought he could subvert American interests: Syria/the Levant, the Sahel and Libya, and Ukraine. Because no one of prominence wants to actually recognize what Putin has been clearly communicating over and over for almost two decades we are losing a world war to a state that is, for all intents and purposes, the equivalent of Mississippi with an aging nuclear arsenal.
This war can be won. It can be won in Ukraine. The Ukrainians have made it clear that they are willing to pay the cost in blood and treasure to win it for the rest of us. All we need to do is feed them what they need to win at the rate that they can ingest it, not the rate that we think they can ingest it.
We watched russia's "Victory Day" parade today with great interest. Our tribute: pic.twitter.com/56evOrTcnn

— Defense of Ukraine (@DefenceU) May 9, 2023
The US announced a new security assistance package for Ukraine today. Here are the details:
RELEASE
IMMEDIATE RELEASE
Biden Administration Announces Additional Security Assistance for Ukraine
May 9, 2023 |

Today, the Department of Defense (DoD) announced a new security assistance package to reaffirm the steadfast U.S. support for Ukraine, including to bolster its air defenses and sustain its artillery ammunition needs. This package, which totals up to $1.2 billion, is being provided under the Ukraine Security Assistance Initiative (USAI).

This USAI package underscores the continued U.S. commitment to meeting Ukraine's most urgent requirements by committing critical near-term capabilities, such as air defense systems and munitions, while also building the capacity of Ukraine's Armed Forces to defend its territory and deter Russian aggression over the long term. This includes committing additional 155mm artillery rounds and sustainment support to enable Ukraine to better maintain its on-hand systems and equipment.

Unlike Presidential Drawdown authority (PDA), which DoD has continued to leverage to deliver equipment to Ukraine from DoD stocks at a historic pace, USAI is an authority under which the United States procures capabilities from industry or partners. This announcement represents the beginning of a contracting process to provide additional priority capabilities to Ukraine.

The capabilities in this package include:

Additional air defense systems and munitions;
Equipment to integrate Western air defense launchers, missiles, and radars with Ukraine's air defense systems;
Ammunition for counter-Unmanned Aerial Systems;
155mm artillery rounds;
Commercial satellite imagery services;
Support for training, maintenance, and sustainment activities.

The United States will continue to work with its Allies and partners to provide Ukraine with capabilities to meet its immediate battlefield needs and longer-term security assistance requirements.
That's enough for today/tonight.
Your daily Patron!
There are no new Patron tweets or videos today, so here's some adjacent material from the Ukrainian Army Cats & Dogs Twitter feed:
🥺#Ukraine #UkraineRussiaWar #UkraineWar #Leopard #CatsOfTwitter #CatsOnTwitter #RussiaisATerroistState #UkraineWarNews #UAarmy #Zelensky #UkraineRussiaWar️ pic.twitter.com/VEEredTjhT

— UkrARMY cats & dogs (@UAarmy_animals) May 8, 2023
☺️.#Ukraine #UkraineRussiaWar #UkraineWar #Leopard #CatsOfTwitter #CatsOnTwitter #RussiaisATerroistState #UkraineWarNews #UAarmy #Zelensky #UkraineRussiaWar️ pic.twitter.com/1beeUXyca1

— UkrARMY cats & dogs (@UAarmy_animals) May 1, 2023
When you come home not alone.

Ukrainian soldier takes a dog home from the front.#Ukraine #UkraineRussiaWar #UkraineWar #Leopard #CatsOfTwitter #CatsOnTwitter #RussiaisATerroistState #UkraineWarNews #UAarmy #Zelensky #UkraineRussiaWar️ pic.twitter.com/Tn5PzY06gs

— UkrARMY cats & dogs (@UAarmy_animals) May 1, 2023
☺️#Ukraine #UkraineRussiaWar #UkraineWar #Leopard #CatsOfTwitter #CatsOnTwitter #RussiaisATerroistState #UkraineWarNews #UAarmy #Zelensky #UkraineRussiaWar️ pic.twitter.com/DWoHU0Qx0h

— UkrARMY cats & dogs (@UAarmy_animals) April 30, 2023
Open thread!