The report shows an overall drop of 5.3 percent in the death rate from all causes, a signal that the country last year had exited the worst phase of the pandemic. Deaths from covid dropped 47 percent between 2021 and 2022. https://t.co/rOLa79jRuk

— The Washington Post (@washingtonpost) May 4, 2023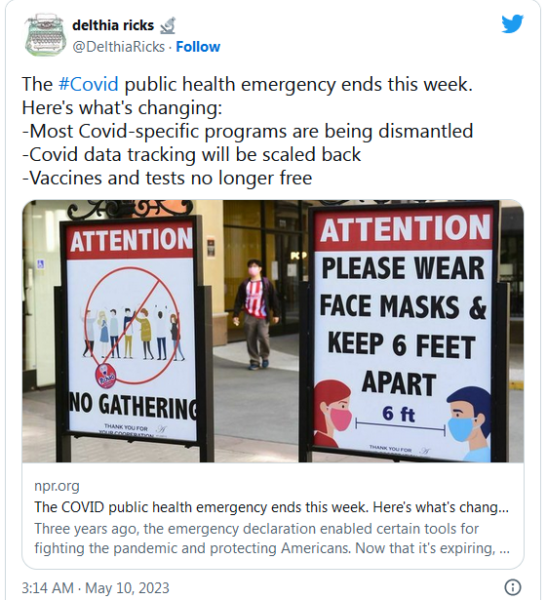 (link)
The White House recently received a warning about the coronavirus coming back, with experts reaching a consensus that there's a 20 percent chance during the next two years of an outbreak rivaling the onslaught of illness inflicted by the omicron variant. https://t.co/7HDaFAmkIv

— The Washington Post (@washingtonpost) May 5, 2023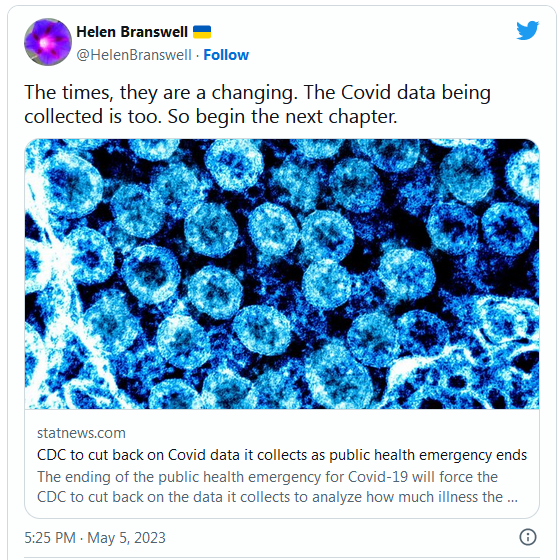 (link)
How the pandemic reshaped American life
by @sestamm @DannyDougherty @WSJgraphics team
(missing impact of #LongCovid) pic.twitter.com/KsXzWrDeQ4

— Eric Topol (@EricTopol) May 6, 2023
======
Over the past three years, #COVID19 has caused us all great suffering and taught us many painful lessons. We owe it to those we have lost to learn those lessons, and to transform that suffering into meaningful and lasting change. If not now, when? pic.twitter.com/fzRW1a7w9I

— Tedros Adhanom Ghebreyesus (@DrTedros) May 9, 2023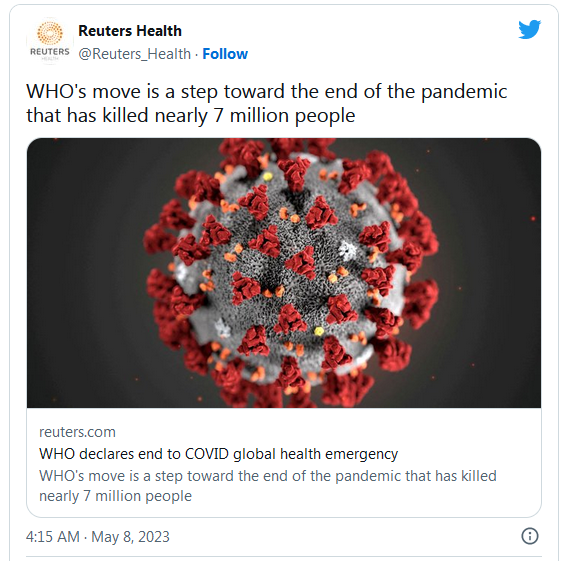 (link)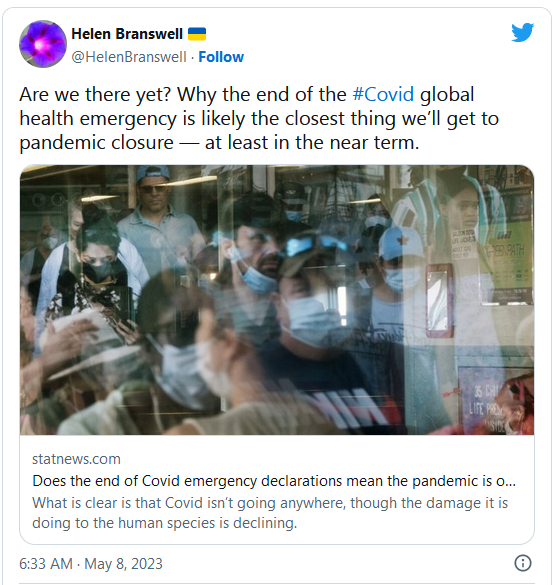 (link)
WHO ended the 'emergency' today but these images are a reminder of who got left behind & who had the worst of it

– 2.3 billion people still unvaccinated against COVID, ~90% in low and middle income countrieshttps://t.co/KehEeuAVrK pic.twitter.com/YSATMA1kan

— Madhu Pai, MD, PhD (@paimadhu) May 5, 2023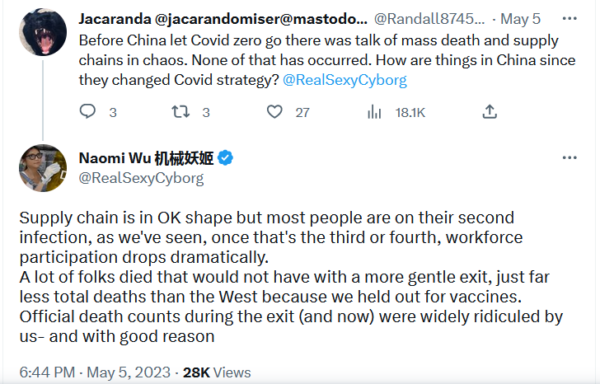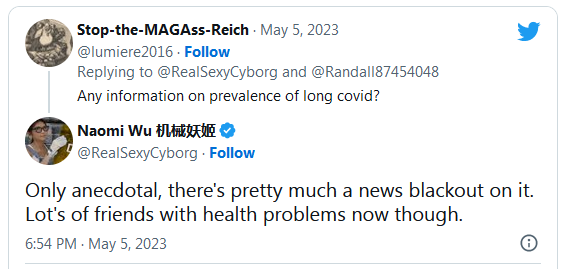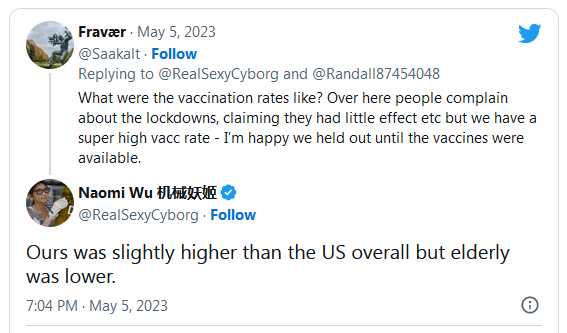 (link)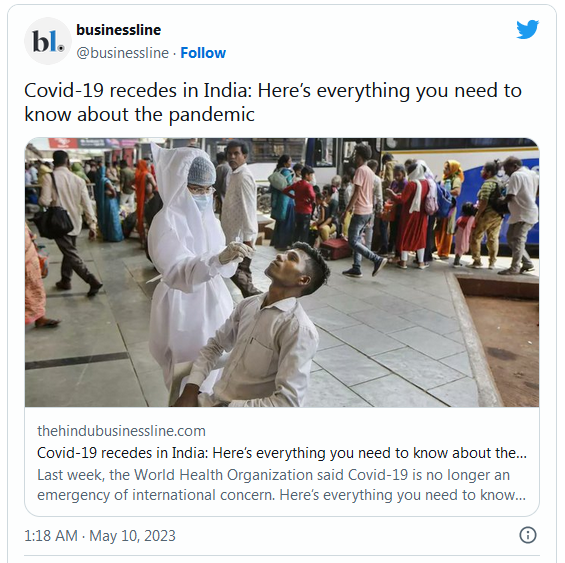 (link)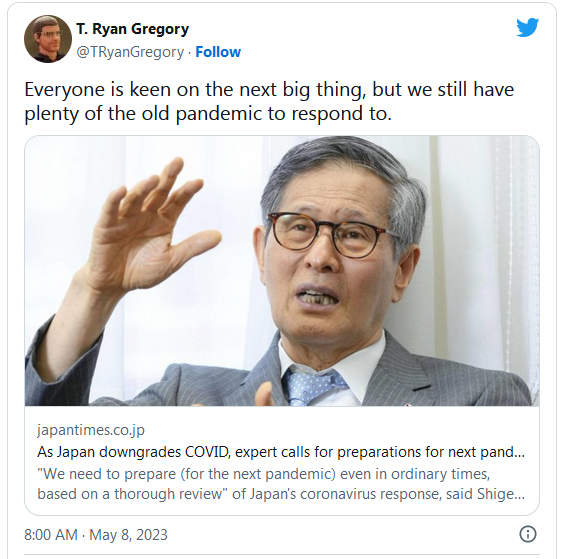 (link)
In spite of COVID-19 being cleared as a global health emergency. The Network for Genomics Surveillance in South Africa is still continuing the weekly tracking of variants and the evolution of SARS-CoV-2. Today, our weekly report showing Omicron XBB.1.5 still the dominant variant. pic.twitter.com/daCadEfTfX

— Tulio de Oliveira (@Tuliodna) May 5, 2023
Australia records rise in COVID deaths

🔹There were 144 new deaths reported to health authorities in the week ending May 5, up 22% on the previous week

🔹The most COVID-related deaths since February#COVID19Aus #PandemicIsNotOver

Source: https://t.co/fm3zDNBKxI pic.twitter.com/8uzFJMbkR3

— Denis – The COVID info guy – (@BigBadDenis) May 8, 2023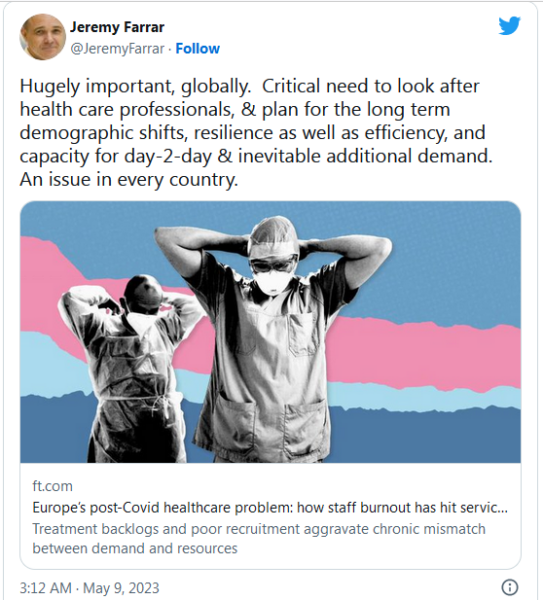 (link)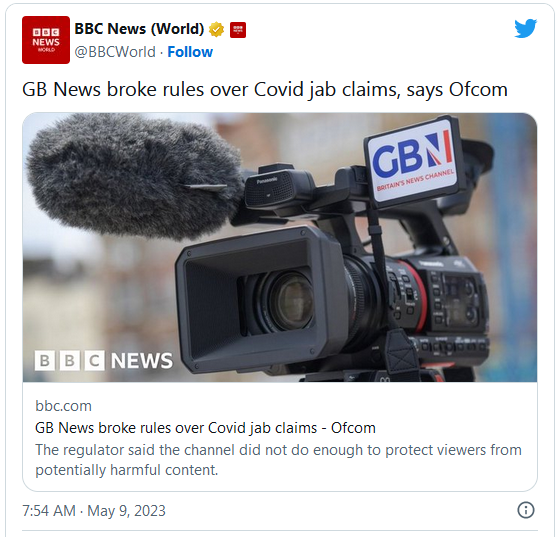 A global cast of misinformation malcontents:
A GB News programme which broadcast claims that the Covid-19 vaccination programme amounted to "mass murder" has been found to have broken Ofcom rules.

The claims were made in an interview with Naomi Wolf on a show hosted by Mark Steyn last October…

Ms Wolf, a journalist and author, was interviewed about the roll-out of the Covid vaccine during Mr Steyn's hour-long show on the news channel.

She claimed the vaccination programme amounted to "mass murder" and was comparable to the actions of "doctors in pre-Nazi Germany".

Ofcom said her claims "amounted to the promotion of a serious, unchallenged conspiracy theory which was presented with authority".

"[GB News] should have ensured that Naomi Wolf's potentially harmful comments were challenged or otherwise contextualised to provide adequate protection for the audience, which they were not."…

Mr Steyn left GB News earlier this year, claiming the channel wanted to make him personally liable for Ofcom fines.

In March the regulator found that an earlier Mark Steyn show, which aired on April 21 2022, broke broadcasting rules and was "potentially harmful and materially misleading".

It used an "incorrect claim" that UK Health Security Agency (UKHSA) data provided evidence of a "definitive causal link" between a third Covid-19 vaccine and higher rates of infection, death and people being admitted to hospital…

The Covid vaccine is safe and strongly recommended for pregnant and breastfeeding women, according to the NHS.
======
A long COVID clinical trial at Stanford Medicine is in chaos after participants felt unsafe by the lack of masking from support staff. https://t.co/YUNLywoMYj

— The Daily Beast (@thedailybeast) May 6, 2023
Join us for the National Week of Action to Keep Masks In Health Care, May 15-21, 2023! Organized by @MandateMasksUS & @COVIDSafeCampus in collaboration with many groups across the country.

Sign up to get involved! https://t.co/VTFNA8RLkD#KeepMasksinHealthCare

— COVID Advocacy Initiative and Mandate Masks US (@mandatemasksus) May 9, 2023
New hospital data highlight rise in healthcare-associated infections during COVID

The rate of 3 healthcare-associated infections hit a 5-year high in US hospitals during #COVID19https://t.co/ATOZ9H2Jvn#AMR #HAI pic.twitter.com/YqfV3ulsoM

— CIDRAP (@CIDRAP) May 4, 2023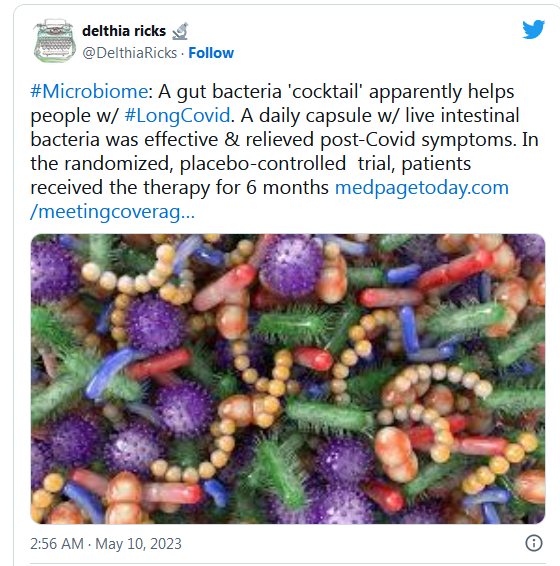 (link)
The latest #SARSCoV2 viral sequences posted @GISAID show 100% in Africa are early #Omicron strains, while No America is nearly 80% XBB.1.5 or XBB.1.1.6 . Significance? TBD. pic.twitter.com/rVO6P0UjIV

— Laurie Garrett (@Laurie_Garrett) May 9, 2023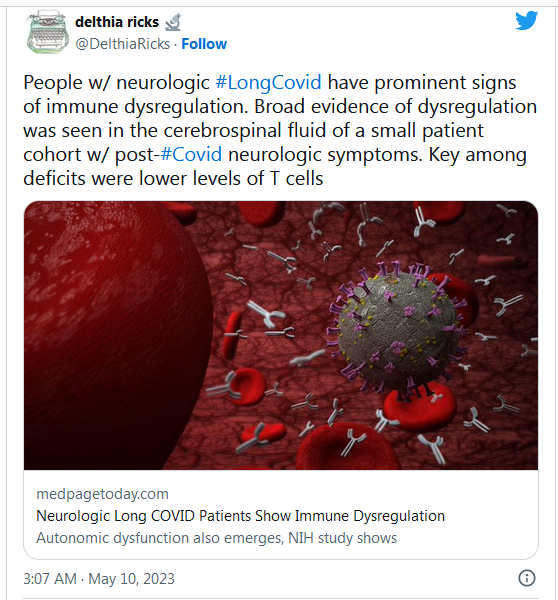 (link)
Paxlovid slashed risk of COVID hospital stay in some patients amid #Omicron, study suggests

Among recipients with weakened immune systems who had completed a primary #COVID19 vaccine series, #Paxlovid was tied to a 44% lower risk of hospitalizationhttps://t.co/OQa8h0WA0V pic.twitter.com/LipOI5bfOX

— CIDRAP (@CIDRAP) May 8, 2023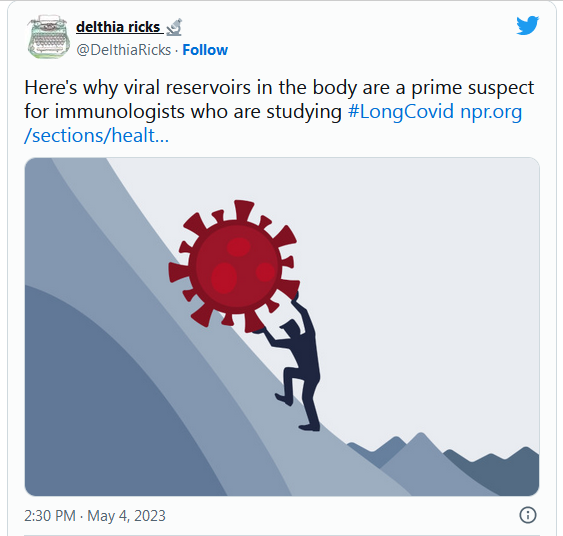 (link)
If you're looking for a comprehensive review of Covid therapies, and the challenges that remain, it's here today @NatureMicrobiol https://t.co/rFWGb3M9L5 pic.twitter.com/Nt9Auy4Zzt

— Eric Topol (@EricTopol) May 4, 2023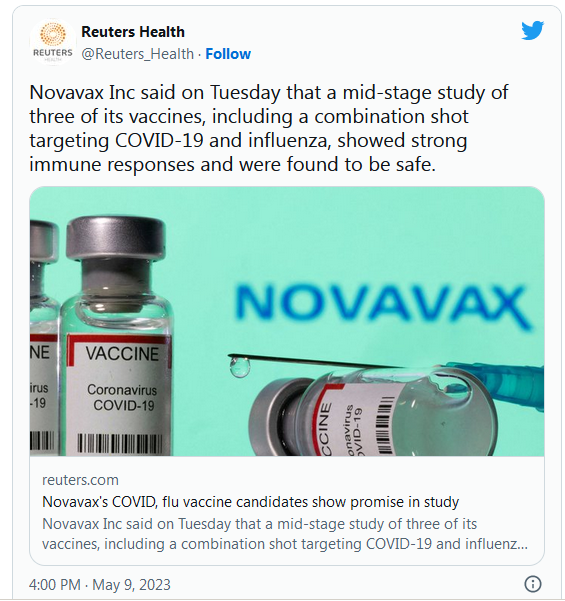 (link)
======
Now: @POTUS @JoeBiden : "Since Sept 2021, #COVID19 deaths have declined by 93%, and new COVID-19 hospitalizations have declined by 86%. Considering this progress…we no longer need a Government-wide #vaccination requirement for Federal employees or federally specified safety… pic.twitter.com/5ELqnf2qOL

— Laurie Garrett (@Laurie_Garrett) May 9, 2023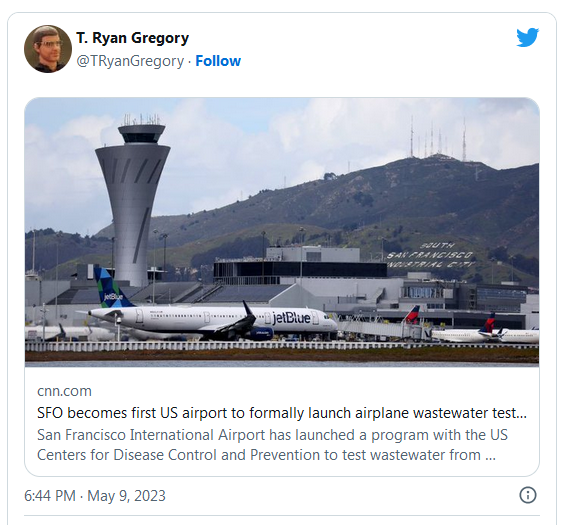 (link)
New data for American deaths in 2022https://t.co/rRZKTzWKel pic.twitter.com/mc9AZg8XjA

— Eric Topol (@EricTopol) May 4, 2023
Anti-vax activists are building a bigger network. Tech entrepreneur Steve Kirsch is now a super anti-vaxxer. He recently addressed a group of lawyers wearing a T-shirt w/ the words: "misinformation superspreader," which he says means spreading the truth" https://t.co/hPvrTv6nOX

— delthia ricks 🔬 (@DelthiaRicks) May 7, 2023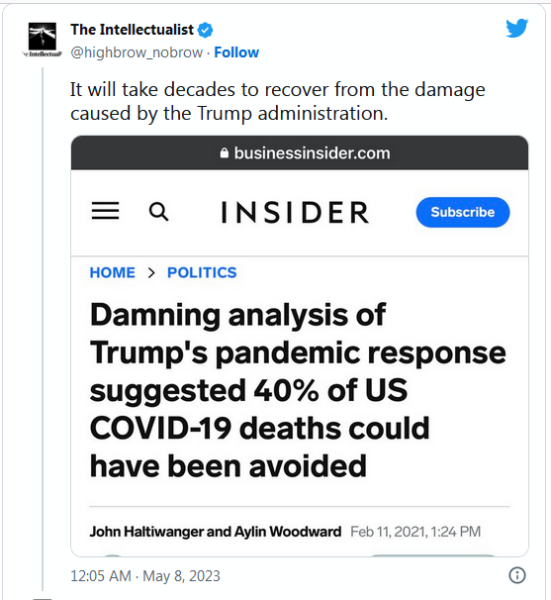 (link)
Reader Interactions