A couple years ago, I was eating some Pocky (well, Pretz), and I wondered if the little grill marks on the bottom were part of the manufacturing process or were just cosmetic. So I looked it up! Eventually this resulted in a little open thread here. Then, a few days ago in Osaka, I visited the famous Glico Running Man billboard, which reminded me, and made me wonder–does Glico offer factory tours? Well hey, you know what? They do! So we booked our free tickets (well, my husband did, the website was in Japanese), and yesterday we took the train down to Saitama for our visit to Glicopia East.
They showed us some propaganda videos, which were slightly educational. I learned that Glico is named after glycogen, the vending machines used to show little movies when you paid, and the boxes used to include toys. Then there were some photo ops, including this innovative new HIMARS design: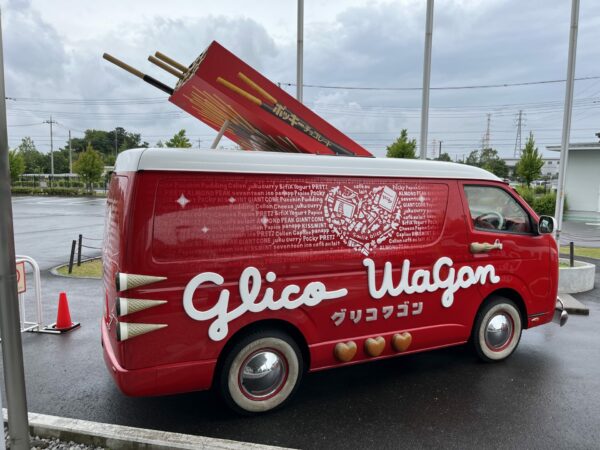 Finally we got to enter the factory itself. I wasn't allowed to take any pictures, or I'd share them, but my earlier post has an official video you can watch. Much cooler in person of course. We got to see the dough being made, and stretched, and noodle-ified, and baked; the machine that sprays the flavor onto Pretz; the quality control floor; and the whole packaging workflow, all the way to the machine that stacked the big shipping boxes onto pallets. We did not get to see the floor where they dip the Pocky sticks into chocolate, which they claimed was a trade secret, but I've seen enough Willy Wonka parodies to know that it's probably just done by a giant alien worm.
In the end they gave us a commemorative box of Pretz: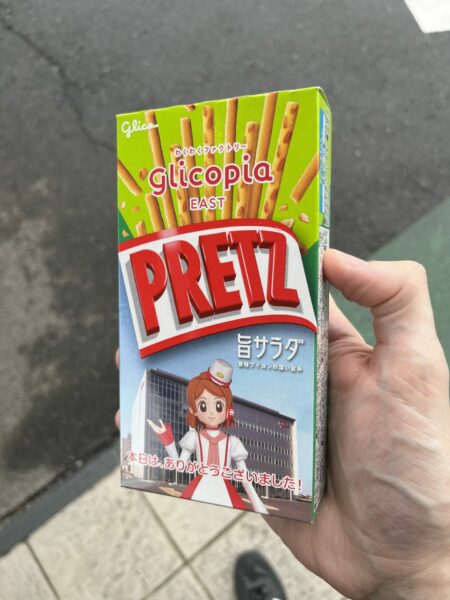 Annnd then we spent a bunch of money at the gift shop, which of course is how they get ya.
I'd forgotten how much I love stuff like this. The vaguely-threatening robots! The scale of it all! The process! Engineering can be so cool. I'm now willing to tour any factory. Might hit up the Coors brewery when I get back home.
Overnight open thread, I suppose!