"The cycle of panic and neglect is not the best way to be prepared for [a] #publichealth emergency." — @BrentEwig, of the @AIMimmunization, on #pandemic lessons about the nation's ability to vaccinate large swaths of the public.@joycefr @MedPageIDhttps://t.co/UgtPEHlxHF

— MedPage Today (@medpagetoday) May 15, 2023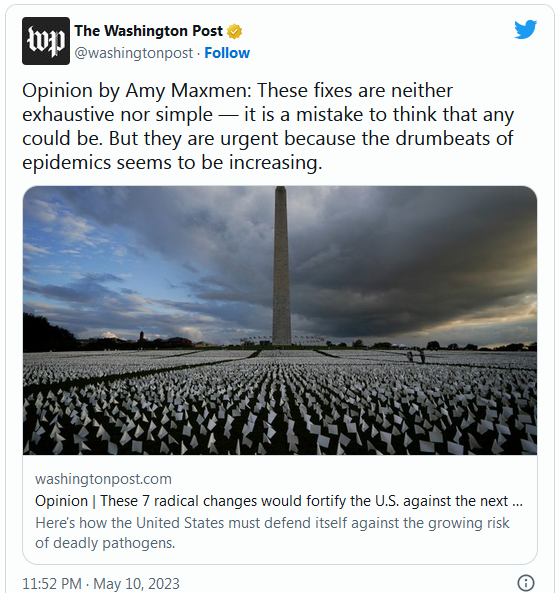 Gift link, so everyone can read the whole thing:
Nearly 380 times as many people have died in the United States from covid-19 than from the Sept. 11 terrorist attacks. Those killings sparked sweeping reforms to defend Americans from violence. In contrast, little has been done to make the country less vulnerable to deadly pathogens.

On Thursday, the United States officially ended its covid-19 health emergency. In public, many policymakers shy away from acknowledging their pandemic missteps and calling out the need for solutions that are politically complicated, such as raising low wages. But in private, they speak. After dozens of such conversations over the past few years, I compiled this to-do list.

These fixes are neither exhaustive nor simple — it is a mistake to think that any could be. But they are urgent because the drumbeats of epidemics seems to be increasing.

1 – Put tests everywhere…
2 – Staff hospitals…
3 – Reward data…
4 – Protect workers…
5 – Reduce incarceration…
6 – Develop and distribute drugs and vaccines…
7 – Commit to international solidarity…

If the United States fails to defend itself in the seven ways set out here, the toll of the next emergency could dwarf that of covid, as climate change, urbanization, migration and political instability make outbreaks of infectious diseases bigger and more frequent — from cholera to avian influenza to viruses yet unknown.
Yes, of course, our 'conservative' Republicans are allergic to every single one of theses steps. The eighth bullet point should read Elect more Democrats.
Sleep apnea patients are prone to higher #LongCovid risk. New research suggests close monitoring of adults with obstructive sleep apnea https://t.co/wgTX9n1RVm

— delthia ricks 🔬 (@DelthiaRicks) May 13, 2023
About half of the public says they would be at least somewhat likely get an annual #COVID19 vaccine if offered that way.
People who normally get a flu shot are much more likely than those who don't to say they would likely get an annual COVID vaccine: https://t.co/NQlYiYYH8c pic.twitter.com/ehUHxGzsQJ

— KFF (@KFF) May 16, 2023
Deaths and hospitalizations sit at or near lowest levels of the pandemic, but there is no room for complacency with >1,000 deaths per week, the majority of which are preventable. pic.twitter.com/kQZsjnMPmU

— Eric Topol (@EricTopol) May 12, 2023
======
#COVID19 led to the largest public health emergency response in CDC history.

Learn more about how CDC staff supported ministries of health in more than 60 countries to respond to the pandemic: https://t.co/L5mCBIj7YI. pic.twitter.com/qp5yQX8Sbi

— CDC (@CDCgov) May 16, 2023
Six-month mark is coming up on this inhaled vaccine. I haven't gotten COVID/been symptomatic (weekly RAT/daily temperature). Wonder if I can get a booster? https://t.co/UWLFFiziSG

— Naomi Wu 机械妖姬 (@RealSexyCyborg) May 16, 2023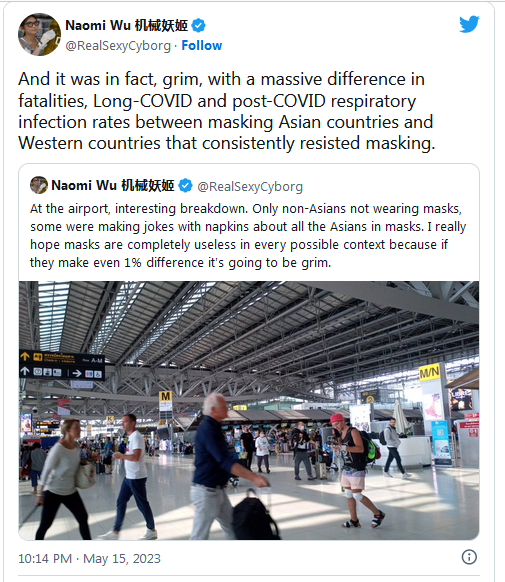 (link)
COVID-19 ALERT SPREADS ACROSS SOUTH EAST ASIA !
After the Philippines, Vietnam, now Thailand :

"Disease dept issue fresh COVID-19 alert"https://t.co/3TARDRCYvg

— Emmanuel (@ejustin46) May 16, 2023
======
The #SARSCoV2 virus is still evolving, and its ultimate trajectory is unknown. This brilliant review lays out how the #COVID19 virus has evolved to date, what selection pressures is responding to, & some clues to the future.https://t.co/ws5oHYqxwN

— Laurie Garrett (@Laurie_Garrett) May 16, 2023
2/ #COVID19 infection causes a flood of proinflammatory cytokines & chemokines in the brain. This sets the stage for profound, permanent neuro-damage.
The 1918 #influenza #pandemic was also associated with an increased rate of Parkinson's disease.https://t.co/mVi5s16669

— Laurie Garrett (@Laurie_Garrett) May 16, 2023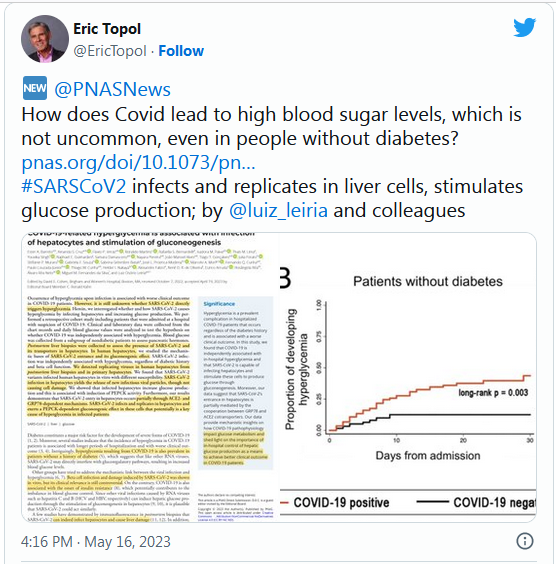 Italian researchers find that people with the "brain fog" symptoms of #LongCOVID also suffer Vitamin D deficiencies. They aren't claiming cause/effect, and don't know if Vit D supplements would be beneficial.https://t.co/8kNiKCtu9F

— Laurie Garrett (@Laurie_Garrett) May 14, 2023
Thread:
The biggest medical failure of the pandemic was denying that COVID is airborne.

The biggest engineering failure of the pandemic was not providing a clean air delivery rate required for mitigating airborne disease. That failure has been addressed. We now have good values. 🧵
1/6 pic.twitter.com/7qdrkQlbPG

— Joey Fox (@joeyfox85) May 15, 2023
This has big implications not just for Covid-19 but also other respiratory infections and broader public health. These strategies target particles in air, which affect cardiovascular disease. WHO estimates ~3 M deaths/year from household air pollution. /3

— Linsey Marr (@linseymarr) May 12, 2023
======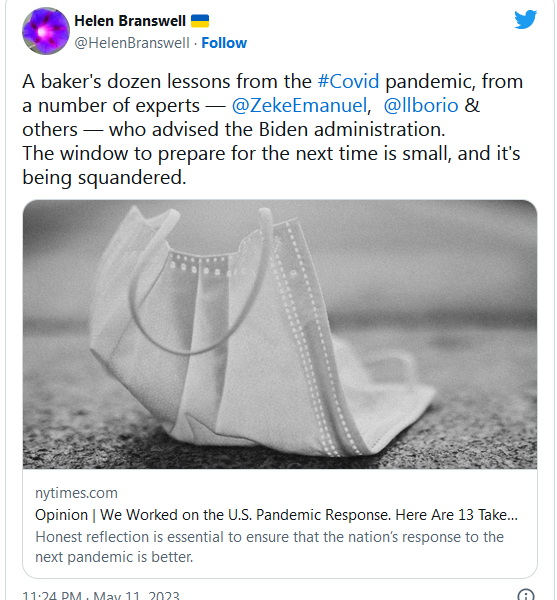 (link)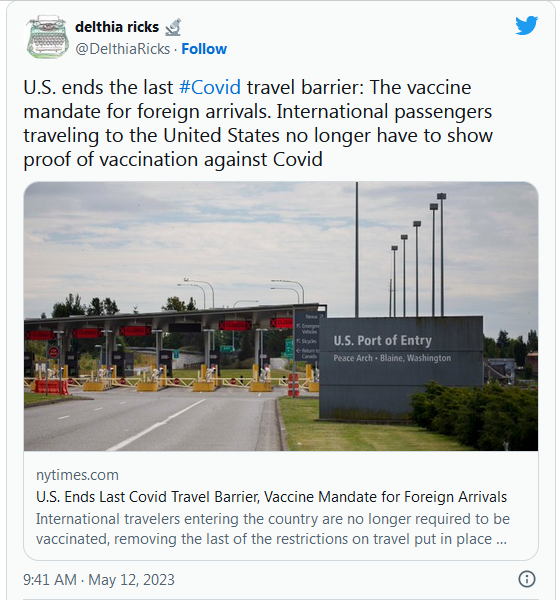 (link)
"For Patient Safety, It Is Not Time to Take Off Masks in Health Care Settings"

Yes. Correct. Please read and disseminate this op-ed published today. It goes through all the reasons and it ain't rocket science, folks.https://t.co/ItigrTignX pic.twitter.com/Va1PNTvavO

— Dr David Berger, aBsuRdiSTe cROnickLeR (@YouAreLobbyLud) May 15, 2023
More than 4 in 10 Republicans – and a third of parents – oppose schools requiring children to get vaccinated for measles & other childhood illnesses. That's up since the COVID-19 pandemic began.https://t.co/GHWetlBzkg pic.twitter.com/Ihgu2QKvYU

— KFF (@KFF) May 16, 2023
Getting health care information only from Newsmax, Facebook or Fox News is a very strong predictor of Covid-19 vaccine hesitancy https://t.co/JLZzLCCFDB

The widespread consumption of inaccurate news sources is a serious public health risk. pic.twitter.com/co5WgQsbf1

— Jay Van Bavel (@jayvanbavel) May 16, 2023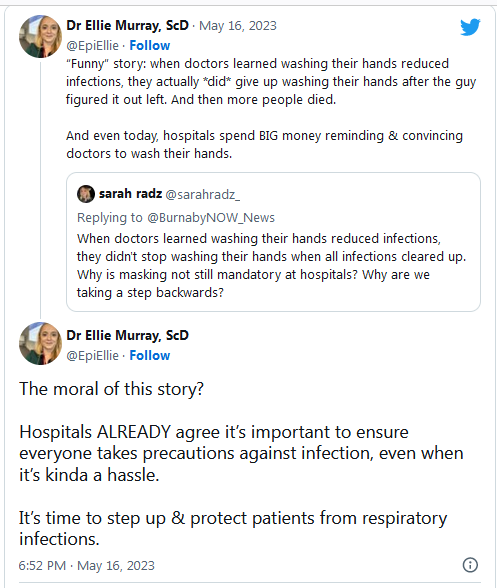 (link)
Reader Interactions