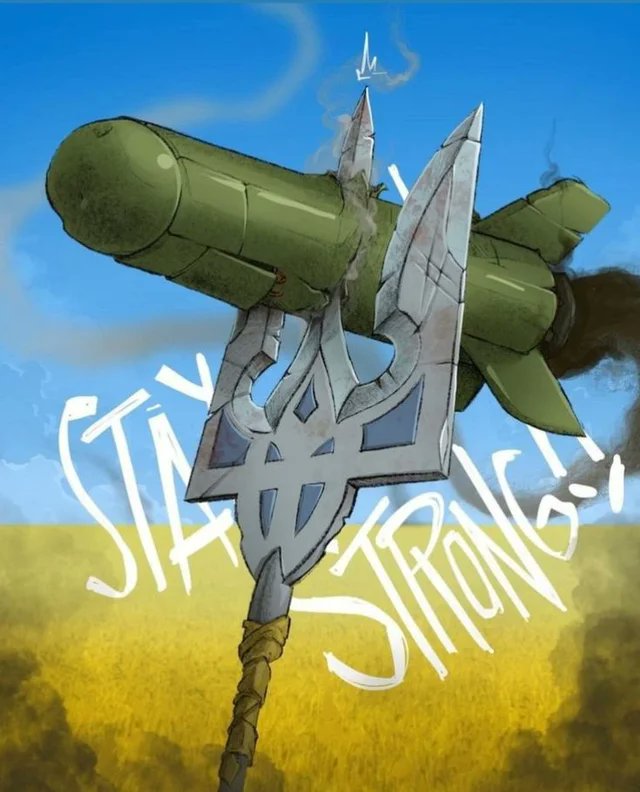 Ukrainian air defense is active!
Middle of the night and several loud explosions in Kyiv, as the capital once again comes under Russian aerial attack. So far what I've heard sounds like Ukrainian air defense working.

— Christopher Miller (@ChristopherJM) May 19, 2023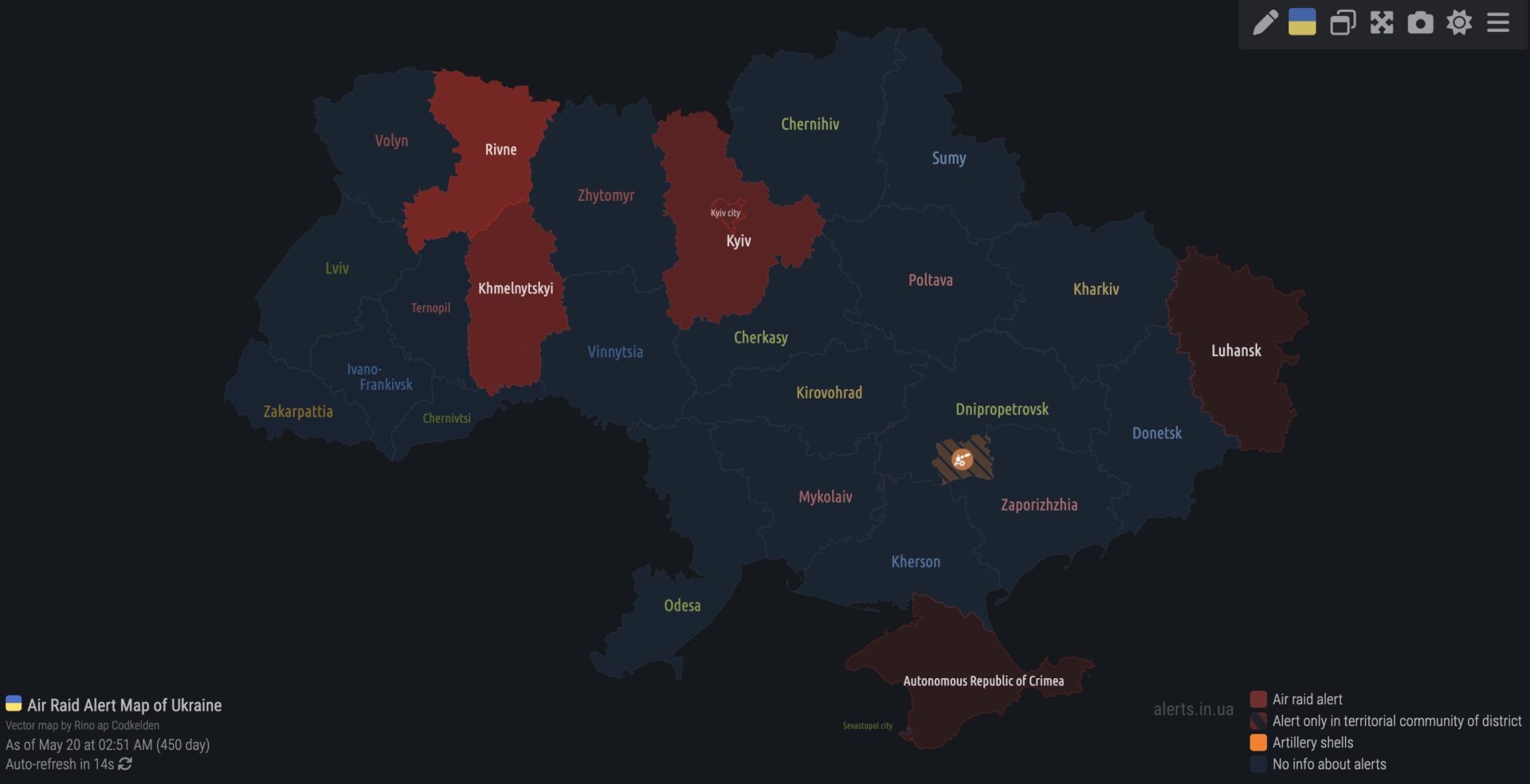 President Zelenskyy attended the Arab League Summit in Saudi Arabia today. Here is his address to the summit. Video below, English transcript after the jump. No closed captioning or subtitles as President Zelenskyy delivered his address in English.
I call on you to help protect our people including the Ukrainian Muslim community – address by the President of Ukraine at the Arab League Summit

19 May 2023 – 17:36

First, I express my gratitude for the warm hospitality to His Royal Highness Prince Mohammed, to the entire people of Saudi Arabia and the city of Jeddah which is hosting this Summit.

I hope that most of us are here for the sake of peace and justice.

Dear participants of the Summit!

Today is the four hundred and fiftieth day of the full-scale war waged against us by Russian invaders. We do not have missiles as our enemy has. We have less air power. We do not possess numerous killer drones that Iran supplies to Russia. We do not have that much artillery. But, we do stay strong, because we do have truth on our side. Moreover, we are pushing the occupiers out of our land.

Anyone who defends his native land from invaders and anyone who defends children of his nation from enslavement, – every such warrior is on the path of justice. And I am proud to represent such warriors and the entire Ukrainian people!

Ukrainians have never chosen the war. Our troops did not go to other lands, we do not engage in annexations and plunder of other nations' resources. But we will never submit to any foreigners or colonizers. That's why we fight! And I'm sure, all your nations will understand this main emotion of ours. I'm also sure, all your nations will understand the main call I want to leave here in Jeddah, a noble call to all of you – to help protect our people including the Ukrainian Muslim community!

With me here is the honorable Mustafa Dzhemilev, the leader of the Crimean Tatar people – one of the indigenous peoples of Ukraine, whose home is Crimea, the center of Muslim culture in Ukraine. For centuries, the Crimean Tatars have been and should remain an integral and strong part of the Muslim community of the world. But Crimea was the first to suffer from the Russian occupation, and until now, most of those who are subjected to repression in the occupied Crimea are Muslims.

We already have a positive experience with Saudi Arabia regarding the release of our people captured by Russia. We can expand this experience!

And even if there are people here at the Summit who have a different view on the war on our land calling it a conflict, I am sure that we can all be united in saving people from the cages of Russian prisons.

Unfortunately, there are some in the world and here, among you, who turn a blind eye to those cages and illegal annexations. I am here so that everyone can take an honest look. No matter how hard the Russians try to influence, there must still be independence.

And I want to thank Saudi Arabia, I want to thank the majority of you for supporting firm international positions and the UN Charter.

Dear participants of the Summit!

Your people have already seen that Ukrainians are a people of peace. Real peace. In 2021, we made a priority Ukraine's openness to your people, and the people of Saudi Arabia, the United Arab Emirates, Oman, Bahrain, and Kuwait got to know Ukraine. I'm happy that your tourists were able to see the splendor of spring in our capital, Kyiv, and the majesty of the Carpathian mountains! I believe that one day your people will come back also to see our Crimea free from Russian occupation and humiliation.

Our relations are also tied by the education of tens of thousands of Arab students in our universities every year. It really is an honor for us that children from Morocco, Egypt, Jordan, Iraq, Lebanon, Algeria, Libya and Tunisia went to Ukraine for education.

With you, we fullfilled one of the most honorable tasks in the world – food security. Ukraine traditionally supplies your countries with wheat and other agricultural products. We were glad to welcome the investments of the Arab nations, as well as the investments of Qatar in the port infrastructure.

First, the pandemic, and then a more terrible virus, the rabies of aggression, hit these and our other normal relationships.

I am more than sure that none of you will agree to surrender a third of your country to the invaders. I am more than sure none of you would watch without a fight how foreigners steal the children of your people; hundreds of thousands of our children are deported to Russia, separated from their relatives, and there in Russia they're trying to teach our children to hate their natives. I'm more than sure that none of you would admit the military occupation of a nuclear plant to use it to blackmail the world with nuke disaster.

Look at how much suffering the long-term wars have brought to Libya, Syria, Yemen… How many lives have been wasted by years of fighting in Sudan and Somalia, in Iraq and Afghanistan… Everyone who adds to suffering by his new aggressions, everyone who sows enmity, everyone who wants to bring back the old days of invading empires that did not count with the will of independent nations – every aggressor goes against the world and will be cursed by the people.

And I greet everyone who is ready to join us on the path of justice! Ukraine proposed the Peace Formula to end the war. You can see how it works on the example of food security, one of the points of our Formula. Even when the war is thrown into our home, we do everything so that the homes of other peoples also survive. We managed to launch the Black Sea Grain Initiative and partially lift the Russian naval blockade of our ports. This stabilized food markets and helped many, including the nations of the Arab League.

The implementation of another point of our Peace Formula will also help many – the return home of all captives and deportees.

Each of the honorable delegations was given a document in your language – with ten points of the Peace Formula. Please, you can choose the point to help that you consider appropriate. And I will be grateful to each of you who will choose exactly the direction of rescuing people held in Russian captivity. So, I invite all of you who respect peace to join the implementation of the Peace Formula and, thus, to reduce enmity and wars, suffering and evil.

Russia is weak – we beat it even when it has more weapons in its hands; its aggressiveness does not come from strength, but from the understanding that the time of empires has passed. That's because the time of free independent nations will never end, and Ukraine proves it.

I wish you peace! I invite you to cooperate directly with our country without any intermediaries. And may our and your strength act in a coordinated manner for the peace and good of people of all nations!

And please, listen to the Crimean Tatar people, listen to the Muslims of Ukraine!

May the Almighty protect our soldiers!

Слава Україні!
I think this was brilliant strategic communication. What I'm not so sure is if you can make common cause with the power centers in the Arab League to support Crimean Tatars just because the majority of Arabs are Muslims and the majority of Crimean Tatars are Muslims. The Arab League has a terrible track record of helping other Arabs who are Muslims let alone Muslims who are not Arabs. That said, sometimes you have to run the traps because the effort of undertaking public diplomacy is as important in generating positive effects that aren't the declared ones.
Everyone is really excited about the F-16 news!
I welcome the historic decision of the United States and @POTUS to support an international fighter jet coalition. This will greatly enhance our army in the sky. I count on discussing the practical implementation of this decision at the #G7 summit in Hiroshima.

— Володимир Зеленський (@ZelenskyyUa) May 19, 2023
We have a dream…
One day our pilots will protect our skies with modern F-16s.
Today, our heroic country has taken a huge step towards this goal!
The free world is launching a program to train our pilots on F-16s! Thank you President Biden for this long-awaited decision!
Thank… pic.twitter.com/d7EqXBocUp

— Defense of Ukraine (@DefenceU) May 19, 2023
Full text:
We have a dream…
One day our pilots will protect our skies with modern F-16s.
Today, our heroic country has taken a huge step towards this goal!
The free world is launching a program to train our pilots on F-16s! Thank you President Biden for this long-awaited decision!
Thank you to the American people for your unwavering support!
Welcome announcement that the US will approve the training of Ukrainian pilots on F-16 fighter jets.

The UK will work together with the USA and the Netherlands, Belgium and Denmark to get Ukraine the combat air capability it needs.

We stand united. https://t.co/36d8ffu6aa pic.twitter.com/9Us6mAieR3

— Rishi Sunak (@RishiSunak) May 19, 2023
Even the Ukrainian Air Force's MiG-29 pilots are excited!
It's Time to Finish the Job.

Thank you Mr. President!🫡

— Juice_Fighter (@_juicefighter_) May 19, 2023
I think The Kyiv Independent's Ilia Ponomarenko has the correct take on this:
Imagine how many Ukrainian lives, soldiers and civilians, could have been saved and how sooner this war could have been over if it wasn't for this endless don't-provoke-Putin thing over tank killers/artillery/air defense/IFVs/tanks/whatever…and now F-16s.
At every step, Ukraine…

— Illia Ponomarenko 🇺🇦 (@IAPonomarenko) May 19, 2023
Here's the full text of his tweet:
Imagine how many Ukrainian lives, soldiers and civilians, could have been saved and how sooner this war could have been over if it wasn't for this endless don't-provoke-Putin thing over tank killers/artillery/air defense/IFVs/tanks/whatever…and now F-16s.
At every step, Ukraine had to pay with thousands of its troops to prove it that hiding one's head in the sand just doesn't work — and that irrational fears, lack of resolve, and high-minded Realpolitik theories are only making things worse.
When this war is over, there will be decades of bitter mourning for those who died to make the West wake up and go on doing the right thing, one step at a time.
I asked Ukraine Defense Minister Reznikov in Kyiv about Zelensky's G7 visit. He said a "top priority" is to discuss "aerial support" — jets. But he said more of everything is needed. Asked if he'd confirm reported Patriot shoot-down of a Russian jet, he said "no," with a grin. pic.twitter.com/IEc9hps4si

— Christopher Miller (@ChristopherJM) May 19, 2023
Ouch!
Privet 👋 pic.twitter.com/FHWiJSIpKP

— Defense of Ukraine (@DefenceU) May 19, 2023
Bakhmut:
Heartbroken by the death of five members of the Belarusian Kastus Kalinouski Regiment @belwarriors fighting for 🇺🇦 in Bakhmut.

The regiment reported that a commander was killed as he enabled the evacuation of the wounded.

Four dead soldiers remain buried under the rubble… pic.twitter.com/PCXLwpkawz

— Sviatlana Tsikhanouskaya (@Tsihanouskaya) May 19, 2023
Luhansk:
Damage from a recent strike in Russian-controlled Luhansk is visible in new satellite imagery.

Ukraine reportedly used Storm Shadow cruise missiles to hit this site, which is located more than 80 kilometers from the front line. pic.twitter.com/vtg8NhX7R8

— Brady Africk (@bradyafr) May 19, 2023
Mariupol:
/2. Right before that, Russian air defense activity was reported over Mariupol. pic.twitter.com/TXY3upZySU

— Special Kherson Cat 🐈🇺🇦 (@bayraktar_1love) May 19, 2023
With the view from the second video of the blast, it seems highly likely that this is the location hit. https://t.co/OFd35j79uR pic.twitter.com/6Ydz0u6FFN

— Oliver Alexander (@OAlexanderDK) May 19, 2023
The Prospect has a very important piece regarding the human toll of the re-invasion:
"Have a lovely and peaceful day", says a woman in a little corner shop. The shop is crammed with an eclectic collection of items: from tissues and shampoo bottles to sweets and toys. A miniature tank and rocket launcher sit prominently atop a small mound of plastic trucks for kids. The packaging reads in large letters: "ready to attack". I ask for several candles, pay and hear the shop assistant wish me a peaceful day as I leave.

Peace is hard to come by in a country that is in the tenth year of defending itself from Russian aggression. But there is one place where I find perfect peace, and that is the place I head to from the corner shop.

The Lychakiv Cemetery in the city of Lviv can tell the complex history of this part of Ukraine. All you need to do is walk through the paths between the graves. Old Austrian tombstones, overgrown with ivy, rise elegantly in their dilapidation. Carefully restored graves of Polish dignitaries boast red and white ribbons. A few headstones without crosses stand over the remains of the Soviet troops and officials who invaded these lands when they were part of Poland in the first half of the 20th century. One of them belongs to a "Bolshevik who died liberating the peoples of western Ukraine from their Polish lords", according to the epitaph. A local legend captures the arrival of the Soviets in 1939 through the words of a Lviv-based composer: "We've been liberated, and it can't be helped."

The recent attempt at "liberation" enforced upon the people of Ukraine resulted in an expansion of the Lychakiv Cemetery. Since Russia's full-scale invasion, the military part has become too full to fit in the new war dead. The overflow is now accommodated in the adjacent section. The last time I visited, in September 2022, I counted around 100 new graves. This time, I am met by a sea of blue and yellow, now covering half of the large field. Each fresh grave has a Ukrainian flag next to it. There are at least twice as many as I saw in September. It turns out Ukrainians would rather die than be "liberated" by the occupiers again. Unlike in 1939, this time it can be helped, but the cost grows daily.

I walk through the rows between the flags, look at the photos of the dead and read the inscriptions. So many of them had only just entered adulthood before the Russians cut their lives short. Here and there are living bodies. A parent, a fellow soldier, a sibling, a partner. They all assume the same pose: arms folded around the stomach, spine curled up, head bowed low. Some are rocking slightly; others are stiff as stone. These are bodies in pain. The pain is phantom: what hurts only exists in memory. The living body above the grave adopts the pain the body six feet under can no longer feel.

I know that phantom pain intimately. My own body has been a vessel for it for over six years, though mine eases somewhat by my brother's grave. He's one of the lucky ones: he is buried in the main part of the military pantheon inside the old cemetery and not in the crowded new field. There's a bench nearby, and I come and sit here to regain peace, to collect my thoughts and begin to make sense of the senseless violence imposed by Russia on my country.

Since my brother was killed in action in 2017, so much has changed. Russia scaled up its "liberation". It is fighting not only the military, but also terrorising civilians by targeting hospitals, schools, and ordinary family homes as their inhabitants catch some sleep in between air raid sirens. It has left vast areas uninhabitable, by razing cities and towns to the ground; by turning what was once a place into post-apocalyptic territory. Village after village stands empty; forests, littered with mines, are abandoned; fields are wounded with explosions and covered in gaping craters instead of crops. These places have been liberated from life by the Russians and recovery will take years, demining will take decades, and forgiveness will take generations, if it ever comes.

For the past 14 months, I've been asked many times in the media and in public discussions to provide a "human angle" to Russia's war. As well as feeling frustration at being pigeonholed into the category of "grieving woman", I also wonder which part of the war these people consider to be not human. The trenches where soldiers, covered in spring mud, overcome boredom and fear by reading history books or flicking through social media? The war rooms where high officials make decisions on strategy, knowing full well the human cost of their choices? The train stations where couples say their goodbyes, as earth-shattering as any explosion? The cemeteries where the war dead find eternal peace and the living acquire eternal pain? The question is incomprehensible to me because the human angle is found in all aspects of a war that has disturbed all aspects of life. I see it in every encounter and hear it in every conversation I have when I return to Ukraine.

Speaking to my uncle, I ask how his grandson is doing after his father left for the front.

"He's doing great. He's got such excellent imagination," says my uncle. "When he's not building barricades out of chairs, he's shooting at the enemy from behind the sofa."

For a moment, I wonder if I should have bought the "ready to attack" toy for the boy as a present. But there's so much war in his childhood already that he doesn't need a plastic tank to play with. He wants his father back, and for that, real tanks are needed. Lots of them.

"Half of my phone book is empty now. The numbers belong to people who no longer live," says a friend who himself is serving in the armed forces. "I don't even save anyone's numbers anymore. I don't want another entry that won't answer."

I have nothing to say to that. So, we drink our tea and watch the kids play. He's on leave; it's a rare chance for him to see them. His younger son runs up to him and grabs his military cap. "Can I put it on my head, daddy, pleeease?" he shouts excitedly. "I want to be a soldier like you."
More at the link!
That's enough for tonight!
Time for your daily Patron adjacent material:
Who let the dogs out? pic.twitter.com/HVxdkfzcUy

— Defense of Ukraine (@DefenceU) May 19, 2023
And for your daily Patron!
A new video from Patron's official TikTok!
@patron__dsns

Дякую @Fan Karta Svitu за подаруночки😊 А лінк на збір у шапці профілю!🐾
Here's the machine translation of the caption:
Thank you @Fan Karta Svitu for the gifts 😊 And the link to the collection is in the profile header! 🐾
Open thread!