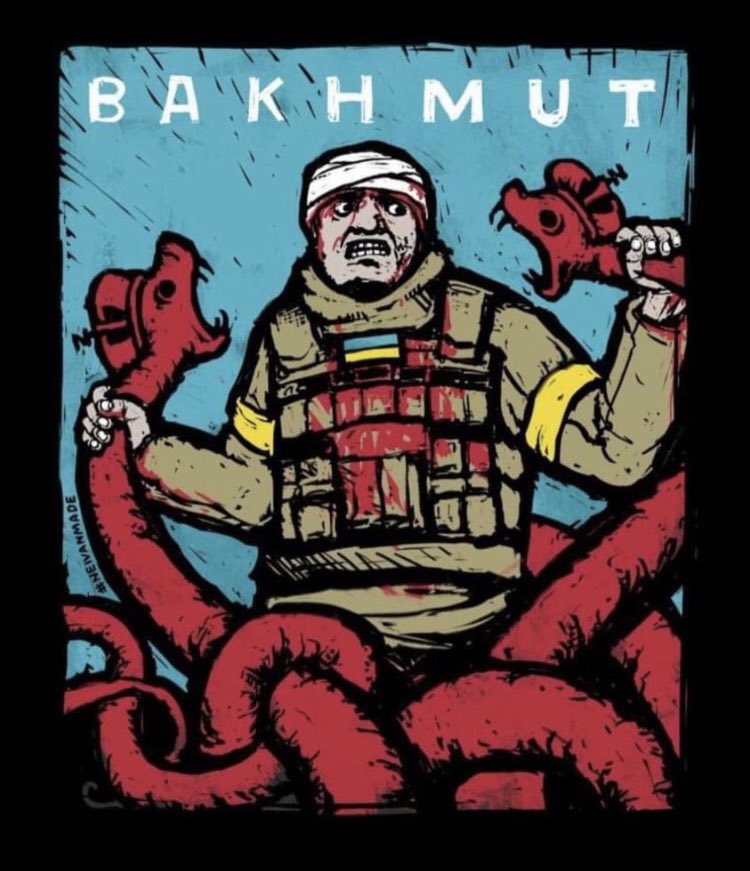 (Image by NEIVANMADE)
I just want to follow up on my comment from WG's de-lurking post earlier. Specifically I want to post it here:
Just want to let everyone know that even when I'm busiest and don't hang out in the comments of my Ukraine war update posts, I still read all the comments. And as I mentioned, I'm basically not around for doing other posts or commenting in other front pagers' posts because between the projects I'm working for work and those updates, I've got no time to do so.
Unfortunately I only have so much time and energy/bandwidth. In terms of Balloon Juice, this is the priority to spend it on.
Last night in comments, commenter Maxim asked:
It is very frustrating that we have been so slow to reach this point with the jets and training. Was there some myopic thinking that Russia would give up, or that Ukraine would win without this becoming a necessity? (Rhetorical questions.) Risk aversion, sure, don't rattle the loony-nukes dictator too much, but we should have understood this was inevitable and been better prepared. And not waited until there was the risk of it being too little, too late.
My professional opinion is that the beltway consensus was that the Russian army was what we had assessed it to be: professional, properly resourced and equipped, and powerful. Another part of the beltway consensus was that despite Ukrainian resolve their was no way they would withstand having the bulk of that force thrown at them. These two beliefs, which we now know like much of the beltway's deeply held convictions are just wrong, were exacerbated and enhanced by the fact that Russia won the information war around Ukraine back in 2014 and almost every policy discussion and almost all of the news reporting was being done within the informational shaping that Russia had successfully undertaken. This includes everything from views of Russia's military to views of Ukraine and the Revolution of Dignity to taking Russia's nuclear weapons and usage doctrine exactly as Russia wanted us to. And that's not an inclusive list.
The first strategic assessment I did on Russian and Ukraine was started in January 2014 for my boss, the Commanding General of US Army Europe. I began it because we had an initially meeting to discuss what was going on on, if I'm recalling correctly, the evening of 14 January 2014. And that meeting's discussion was held within Russia's framing of what it was doing, what the EuroMaidan Movement/Revolution of Dignity was, etc. I knew something was off based on what I knew about Putin, his ties to Soviet and post-Soviet Russian organized crime, his rise through politics as a result, his activities in Chechnya and Georgia and Syria, his remarks at the Munich Security Conference in 2007, and his rhetoric regarding the Russian elections in 2011. So I went to work to make sure that the Old Man, the Deputy Commanding General who is now the Commanding General at USAREUR, the rest of the command group, and the senior staff had the proper context to understand what was going on. I also assessed what Putin would likely try to do once he got past the Sochi Olympics and the spring gave way to summer and mud season ended. My boss pushed this up to his boss – the Commanding General of US European Command/Supreme Allied Commander Europe – and I was notified by one of the colonels on the latter's staff that it was made the read of the week for the command. Despite having far more knowledgable subject matter experts than I on these issues, such as Dr. Hill, working in even more senior appointments than my non-political one back in 2014 (her National Security Staff political appointment was at least at the SES 3 level, my Office of Secretary of Defense and Department of the Army non-political appointments were supervisory GS15), my impression is far too few people are able to recognize that the vast, vast majority of news reporting from legitimate news outlets and far too much of the discussion of what is going on in, to, by, and with Ukraine is being done from within Russia's informational framing.
I don't think that problem has been resolved. And when you combine it with the risk aversion of President Biden's folks you get the problem we've been discussing. Frankly, it is one of the major reasons I do these updates so that there is one (more) place that is working to push back on Russia's framing and shaping of the information domain.
Here is President Zelenskyy's address from earlier today. Video below, English transcript after the jump.
In Hiroshima, Ukraine was indeed an honored participant in the G7's work, and the topic of Ukraine was principal – President Volodymyr Zelenskyy's address.

21 May 2023 – 21:02

Fellow Ukrainians!

We are finishing this very difficult yet very important week. On Friday, we had the Arab League. On Saturday and Sunday – G7 plus Ukraine and an expanded format – seven plus partners, including the Global South, plus Ukraine. It was intense.

The world hears our position. Protection and security guarantees, the return of all our territories, all our people, justice, the implementation of our Peace Formula… We have an understanding with the world majority on every important point for Ukraine. And together we will increase Ukraine's potential.

This Saturday was Science Day in Ukraine, and the more opportunities we give to Ukraine, the more we give to everyone who works in this noble field. I congratulate all our scientists!

Today, on Sunday, here in Hiroshima, Ukraine was a truly honored participant in the work of the G7. The topic of Ukraine is principal, the respect for all Ukrainians is special. I am thankful to the G7!

Meeting with President Biden – and, as always, we become stronger after such talks. Meeting with the leader of Indonesia – meaningful. Meeting with the President of the Republic of Korea – there is potential for strong relations. Meeting with Canadian Prime Minister Trudeau – thank you, Justin. I also spoke with the leaders of Vietnam and Australia. We spoke separately and in detail with the Prime Minister of Japan – we will enhance cooperation.

There was also a very important ceremony and address at the Peace Memorial Museum in Hiroshima…

Our unity with the world, our protection for Ukrainians, and our strength – the strength of the Ukrainian state – will also be the most worthy tribute to the memory of our people of different generations, whose lives have been broken and trampled by Russian evil, by this long-standing tyranny that changes its form but kills equally brutally.

Today is the Day of Remembrance of the Victims of Political Repression… the Day of Remembrance of all those who were killed in times of the Soviet regime. Let us not forget what happened, let us not forget whom we lost, and let us not forget that we must be strong.

And we will always be.

Glory to Ukraine!
Mr. President, what the people of Ukraine are defending and what you've achieved is a matter for the entire world to observe.

I speak for America when I say that we're in awe of what you've done so far. pic.twitter.com/uPKsTXAJW0

— President Biden (@POTUS) May 21, 2023
This is the correct framing:
Here's the video: https://t.co/GM5Grxob7r

— Michael Weiss (@michaeldweiss) May 21, 2023
As is this and, frankly given the source, I am very surprised:
Russian propaganda is going crazy over the fact that Sullivan calls the strikes on Crimea legitimate as this is Ukrainian territory. These guys keep getting funnier. pic.twitter.com/cBRUYH17n7

— Maria Avdeeva (@maria_avdv) May 21, 2023
This gets to what I was referring to in my answer above the jump. These are exactly the answers that should be given every time Putin, Lavrov, whomever makes a threat or declares a red line. However, until recently this has not been the case. While hope is not a strategy, it would be nice if they've finally recognized that the US, NATO, our non-NATO allies and partners have to work within and promote our own framing of Russia and its actions and not work within Russia's.
Bakhmut:
We have a statement from Colonel General Syrskyi posted at the Ukrainian MOD's Telegram channel: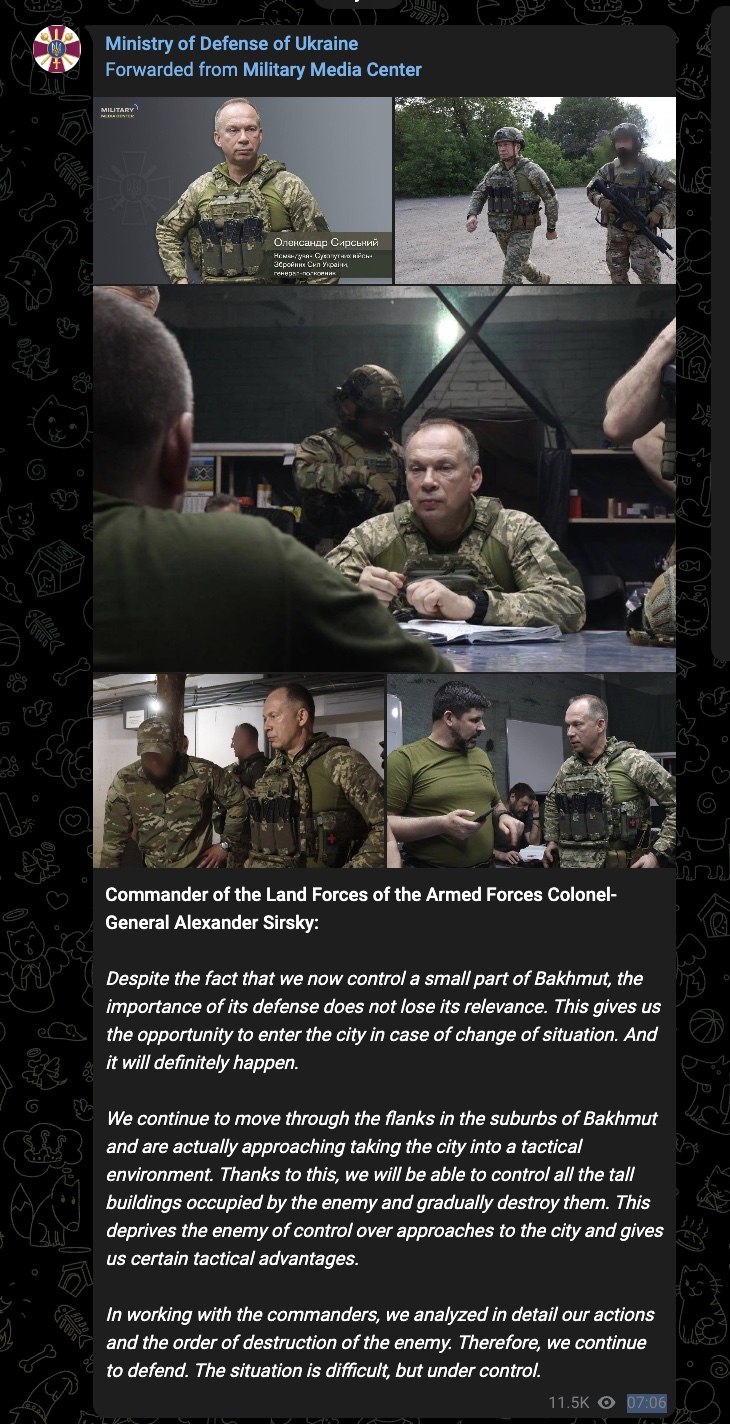 Is there anyone who is old enough to remember that was the original goal of this 10-day special military operation featuring a year-long battle for (what's left of) an average regional town?

— Illia Ponomarenko 🇺🇦 (@IAPonomarenko) May 21, 2023
The 93rd Separate Motorized Brigade, the Kholodny Yar Brigade, brings us this update from Bakhmut:
Наші "очі" в Бахмуті – оператор дрона із позивним "Єнот" – не лише розвідує місце знаходження противника і коригує нашу арти. Він ще фіксує, як гине місто від дій російських окупаційних військ. pic.twitter.com/gGNdzxJOeX

— 93ОМБр (@93OMBr1) May 21, 2023
Here is the machine translation of their tweet:
Our "eyes" in Bakhmut – a drone operator with the call sign "Raccoon" – not only scouts the location of the enemy and adjusts our artillery. He also records how the city is dying from the actions of the Russian occupying forces.
Unbelievably, there are still civilians, even children trapped in Bakhmut. Some are desperate to escape. Others are what Ukrainians refer to as "zhduny," meaning "the waiting ones," those waiting for Russia. I also know a few people are left in Ivanivske, where I used to teach. https://t.co/8tMSSpPEYG

— Christopher Miller (@ChristopherJM) May 21, 2023
Here is a machine translation of the Ministry of Internal Affairs tweet that Christopher Miller is retweeting:
❗️ Bahmut. Operational information.

Police and military personnel continue to evacuate people under the target fire of the enemy. This time — ten people, including a 14-year-old child.

The rescue operation was successful, but it was difficult because of the mined road and shelling by the occupiers.
Video of Ukrainian SSO during the battle of Bakhmut. https://t.co/4dSRY6aAKMhttps://t.co/xFCfxVhlgs pic.twitter.com/SLkFc1DyzY

— Rob Lee (@RALee85) May 21, 2023
Since the author of this account uses a pseudonym, I can't validate his statement about covering a lot of wars or what his expertise for doing so would be, but based on my own professional education and experience I think this is a good take.
In all honesty, I have covered many wars in several decades and I can say that I haven't seen in a long time a more hysteric way to declare "victory" as we see now around Bakhmut. And I'm not even into the semantics whether Russians hold 95%, 98% or 100%. The very fact that they… pic.twitter.com/zYrHZ2Cwox

— (((Tendar))) (@Tendar) May 21, 2023
Full text of Tendar's tweet:
In all honesty, I have covered many wars in several decades and I can say that I haven't seen in a long time a more hysteric way to declare "victory" as we see now around Bakhmut. And I'm not even into the semantics whether Russians hold 95%, 98% or 100%. The very fact that they phrase it that way is hilarious in its own.

As I have mentioned already few days ago, Russians do not intend to move any further, or more precisely, they are not capable to move any further, which simply begs the question what was this all about. What strategic value offers Bakhmut in itself? The answer is simple. None. This fact was even stated by Prigozhin, Strelkov and others. It is a military travesty, aiming only for political games of the involved Russian warlords.

The Ukrainian strategy on the other side has been coherent and quite clear. First, to deny Russians entry to Sloviansk and Kramatorsk, secondly, bind Russian forces and prepare for their counteroffensive and, third, in the process decimating their ranks, which – when reflecting 100,000 Russian casualties – they have achieved with flying colors. The only threat was a potential encirclement of Bakhmut with the subsequent destruction of the Ukrainian armies in it, but that was averted and Russians were forced to run against the heaviest fortification, a stupidity in itself and exactly how Ukrainian strategist can ask for.

Ukrainians have even achieved additional tactical advantages by binding additional Russian forces in Bakhmut. Russians were so obsessed with Bakhmut that they were depleting lines and more importantly ammunition in Kreminna, Svatove, Avdiivka and Vuhledar. Literally every single one of those named areas ended in total disasters. Especially, Vuhledar can be called an epic fail.

However, when you look at the numbers than you can see that Bakhmut was actually the worst sector for Russians, because for the sake of just "staying in this area" it makes literally no difference whether you stay inside Bakhmut or 7km more to the East, because this is their pathetic "progress" in almost 10 months. It is however a complete difference when you have those 100,000 men and millions of artillery shells at your disposal. Even some Russians are starting to realize this.

You do not have to take my word, the developments in battlefield will say this in the clearest language. History is full of examples where political lunatics forced their military leaders into steps which any sane military commander would never have done. The terms "pyrrhic victory, second Stalingrad etc." have been used more than once. Maybe we will even add "Bakhmut victory" to the books. It certainly deserves a place in military idiocy.
Russia will:

C̶a̶p̶t̶u̶r̶e̶ ̶K̶i̶e̶v̶ ̶&̶ ̶a̶l̶l̶ ̶o̶f̶ ̶U̶k̶r̶a̶i̶n̶e̶
̶J̶u̶s̶t̶ ̶K̶h̶e̶r̶s̶o̶n̶,̶ ̶O̶d̶e̶s̶s̶a̶ ̶&̶ ̶t̶h̶e̶ ̶D̶o̶n̶b̶a̶s̶
̶J̶u̶s̶t̶ ̶K̶h̶e̶r̶s̶o̶n̶ ̶&̶ ̶t̶h̶e̶ ̶D̶o̶n̶b̶a̶s̶
̶J̶u̶s̶t̶ ̶t̶h̶e̶ ̶D̶o̶n̶b̶a̶s̶ ̶
Bakhmut which was the plan all along

— Darth Putin (@DarthPutinKGB) May 21, 2023
Bucha:
In Bucha, Vokzalna Street, where a column of russian tanks was destroyed in February 2022, has been rebuilt.
The column was passing through Bucha to Irpin, and from there the russians planned to go to Kyiv to "take it in 3 days."

📷Ruslan Kravchenko pic.twitter.com/sYC19kBHX2

— Defense of Ukraine (@DefenceU) May 21, 2023
Marinka:
Video of UAVs operated by Ukraine's SSO dropping grenades on Russian soldiers in Marinka. https://t.co/nhWU7fGSqK pic.twitter.com/EpMEN7SlIo

— Rob Lee (@RALee85) May 21, 2023
Bilohorivka, Donetsk:
The 8th battalion of the 10th brigade of Ukraine repels Russian attack near Bilohorivka, Donetsk region. As said, 3 Russian BMPs destroyed, 1 damaged. https://t.co/srnImPEaR7 pic.twitter.com/HA3pZLFeZY

— Special Kherson Cat 🐈🇺🇦 (@bayraktar_1love) May 21, 2023
Pevomaiskoye:
The 9th battalion, the 59th brigade of Ukraine repels the attack of Russians in Pervomaiskoye, near Donetsk. https://t.co/zleLStsv57 pic.twitter.com/G86YRZY3p8

— Special Kherson Cat 🐈🇺🇦 (@bayraktar_1love) May 21, 2023
Ouch!
The Black Sea:
THIS IS RUMINT, BUT I'VE NOW SEEN IT POSTED BY SEVERAL RELIABLE SOURCES, THAT SAID CONTINUE TO TREAT IT AS RUMINT!
Unofficial reports appear that Ukraine downed Russian Su-35 over Black Sea. Prior to this, plane bombed Kherson Region. pic.twitter.com/kLVFGXm9D1

— Maria Avdeeva (@maria_avdv) May 21, 2023
Former Naval Aviator and now think tanker Brynn Tannehill has some more detailed thoughts on the F-16 news. First tweet is from her thread, the rest of the thread is copied and pasted from the Thread Reader App:
Lot of virtual ink being spilled on F-16s to Ukraine over the past few days. It's looking like it will become a reality. So, let's discuss some of the capabilities, challenges, limitations, and best potential uses of the aircraft. 1/n

— Brynn Tannehill (@BrynnTannehill) May 21, 2023
The thread below provides a fair bit of technical information on the aircraft. But the short version is that ~60 former NATO F-16A/B Mid-Life Update aircraft are in storage, and are the most readily available airframes. 2/n

The big things to take away that are important to further discussion at that they're AIM-120 AMRAAM, JASSM, and LINK-16 capable. They also use the AN/APG66V2A radar, which is close to obsolescent (Pulse Doppler, not phased array, PESA, or AESA like modern radars). 

3/n

 

So, some things that represent challenges for Ukraine to employ F-16s were written up by the Congressional Research Service (CRS) in a report from March 2023. Well worth a full read, but I'll summarize here. (Thanks to you-know-who for sending) 4/n

* Adapting Defense Structure: Ukraine was still in the process of changing from Soviet military doctrine to something closer to NATO when the war started. This includes their air force. This could impact effective employment of a NATO aircraft. 

5/n

 

* Pilot training: This was highlighted, but is one of the most surmountable problems. Putting Ukrainian pilots through just the training they need appears to take about 4 months, and lots of countries are volunteering. 6/n

Maintaining and Sustaining Aircraft: I did a thread about this. It takes time and a mountain of parts to fully sustain an aircraft. Maintainers take time to train as well. This could be partially mitigated by contract maintainers, and leaning on Poland and Romania for support 

7/n

 

However, I would caution that electronic parts for elderly aircraft like these F-16 MLUs are hard to come by, as they've been out of production for a decade+. If they break, and you run out of spares, you're going to have to micro-manufacture it in a workshop. 

8/n

 

Munitions: Who is going to provide what? AIM-120s are $1.2M a copy. The 2023 NDAA didn't allocate any $$ for HARM. Is the US willing to provide early model JASSM? Thankfully, the F-16 Block 20 doesn't need mods to employ them, but it is a challenge. 

9/n

 

Financing: Where will the money for operation and sustainment come from? Operating these aircraft is likely to be more expensive than older MiG-29s, Su-24s, and Su-27s in Ukrainian inventory. This has to be budgeted for, w/legal authority. Surmountable, but a consideration. 

10/n

 

The other piece that gets lost in this is more technical considerations. Simply put, neither Ukraine or Russia wants to go in each others air space because the air defenses are so lethal. Ukraine has scored kills with Patriot and S-300s. Russia has lots of even nastier stuff 

11/n

 

Russian ground based air defenses are lethal enough that the idea of flying old F-16s within their envelope is suicidal. Drawing them down with legacy aircraft not optimized for the SEAD mission with HARM would be long, brutal, and have a significant chance of failure. 

12/n

 

This is why we see Ukrainian aircraft nap-of-the-earth flying, lobbing munitions, and getting out of dodge without ever crossing the front lines. They're using terrain to mask them from defenses. 13/n 

The other massive threat is Russian MiG-31s and Su-35s flying with long range R-37 missiles. These have been particularly lethal against Ukrainian MiG-29s and Su-27s. These Russian aircraft can see further and shoot at longer range than the F-16 MLUs 

14/n

Most people imagine modern air combat to look like Top Gun. In reality, it's mostly fought Beyond Visual Range (BVR). The guy with the more powerful radar and longer range missiles usually wins. Dogfighting is something of an afterthought, even in training. 

15/n

 

While we paid a price for this thinking in Vietnam, radars and missiles (and the situation) have evolved such that in Ukraine air-to-air combat has played out as BVR only, and the Russians are consistently winning fights with bigger better radars and longer range missiles. 

16/n

 

The F-16 MLU doesn't change this equation. It's small, antique APG-66 radar can't see as far as bigger, more modern Russian radars on the MiGs and Sukhois. The R-37 has a significantly longer range than the AIM-120C. And it (potentially) gets worse. 

17/n

 

Russia has A-50 AEW&C aircraft for long range detection, targeting and cuing. Ukraine doesn't have an equivalent. If they did, it might allow Ukraine to fire AIM-120s at data-linked targets without turning on their APG-66 radars, mitigating radar counter-detection. 

18/n

 

The video below explores how this might play out in a simulated environment, even assuming that something (like a Patriot Battery) can provide data link cuing for an F-16 equipped with AIM-120s vs a MiG-31 with R-37s. 19/n 

Mind you, I think the F-16 driver in this did just about all they could. Another sim with "Growling Sidewinder" (who is very good) has him getting splattered over and over again like Tom Cruise in Edge of Tomorrow. 20/n 

I used to work for the Air Force on their sims to train F-16 pilots in air-to-air combat, from 2012-2015. These videos (particularly the first) are (in my opinion) a fair representation of the challenges faced by F-16s in Ukraine. 

21/n

 

I do not believe that giving Ukraine F-16s is sufficient to allow them to achieve even temporary, local air superiority with pulsed ops. However, I do see several potential tactical advantages over the current situation. They aren't useless. 

22/n

 

1. 

First is that the combination of Patriot's modern radar, plus data link of targets, will increase survivability of the F-16s, and improve lethality against targets such as cruise missiles, improving Ukrainian defenses against attack. 

23/n

 

2. 

Somewhat improved long term sustainability. As hard as it is to obtain F-16s parts and technical expertise from the manufacturer, it's still easier than obtaining it for Russian made MiG-29s and Su-27s. 

24/n

 

3. 

It continues the work of integrating Ukrainian equipment, tactics, doctrine, and data sharing with NATO standard systems. If there is to be long term security for Ukraine, I believe NATO membership is a must. One of the requirements for joining is compatibility. 

25/n

 

4. 

Most important, to my mind, is it facilitates Ukraine obtaining and using the AGM-158 Joint Air to Surface Standoff Missile (JASSM). Broadly similar to the StormShadow, JASSM would provide additional long range strike capability against difficult targets. 

26/n

 

It would also facilitate use of the LRASM missile, which is basically JASSM but for anti-shipping work. Even a relatively small number of either of these could dramatically shift the balance of power in the Black Sea (particularly LRASM). 

27/n

 

Thus, I'm not opposed to moving F-16s to Ukraine. I think its a good thing overall. But, I think people need to be clear eyed in their assessment of the capabilities and limitations of the system. This is not a wunderwaffe. 

28/n

 

It's a 35-40 year old lightweight multi-role fighter with a mid-90s upgrade to some mission systems. It is capable of linking to other NATO standard systems, and can carry some more modern weapons. It is not going to grant air superiority. 

29/n

 

Ukraine isn't going to be loitering over the battlefield dropping JDAMs the way the US did in Afghanistan and Iraq. It may potentially help with the SEAD (suppression of enemy air defenses) mission, but it won't draw down most of Russia's air defenses. 

30/n

 

But, in combination with JASSM, LRASM and AIM-120, it could significantly improve Ukraine's position overall in areas that are critical (defense against cruise missiles, long range strike, and sea control). – fin 

31/n

 
On the third Sunday of May, Ukraine marks the Day of Remembrance of the Victims of Political Repression.
The great terror, which claimed the lives of hundreds of thousands of people in Ukraine alone, was the major tactic used by the communist state to hold power over conquered…

— Defense of Ukraine (@DefenceU) May 21, 2023
Full text of the above tweet:
On the third Sunday of May, Ukraine marks the Day of Remembrance of the Victims of Political Repression.
The great terror, which claimed the lives of hundreds of thousands of people in Ukraine alone, was the major tactic used by the communist state to hold power over conquered peoples for 70 years. Today, the putin dictatorship has adopted it.
May 21 marks the anniversary of the Circassian genocide and exile. As a result of the russian empire's conquest of the Caucasus, up to 1.5 million Circassians were slaughtered or forced to flee. Since the 19th century, nothing has changed. The only choice given by the russians to… pic.twitter.com/VvHftUKuo0

— Defense of Ukraine (@DefenceU) May 21, 2023
Here's the full text of the MOD's tweet:
May 21 marks the anniversary of the Circassian genocide and exile. As a result of the russian empire's conquest of the Caucasus, up to 1.5 million Circassians were slaughtered or forced to flee. Since the 19th century, nothing has changed. The only choice given by the russians to the conquered peoples is forced assimilation or genocide.
That's enough for tonight.
Your daily Patron!
For whatever reason, the link of the new video at Patron's official TikTok still won't embed properly here, so just click through to watch it.
Open thread!