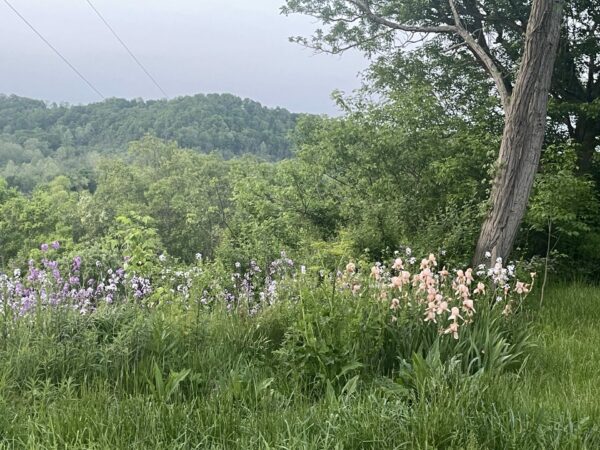 I have driven by these flowers several times and kept forgetting to take pictures, and finally did today. They're just on the side of the road- bunch of wildflowers and some amazing irises.
This morning as I was walking the compost out to the compost pile, I heard this horrible screaming coming from the phlox bushes. I immediately dropped the compost and ran over to investigate, looked into the bushes and out trots Thurston with a SCREAMING baby rabbit in his mouth. I yelled at him and he dropped it and I chased him into the house, came back and the rabbit was unharmed but wet from Thurston drool, and after coming out of shock took off. Apparently he found a hole under the fence and came in. Will have to plug that.
It's been beautiful the past few days, and it feels like I am going to have a slow, relaxing summer. I'm kinda broke with a lot of big expenditures coming up (ring and wedding come to mind, as well as that god damned roof), plus I am on a diet. So I am just going to chill, soak up sun, and not plan any big trips.
Also, fuck Republicans.