I think I've mentioned here before that we've been watching Limpkin parents raise a trio of chicks this spring. Here they are as fluffy little darlings in early April: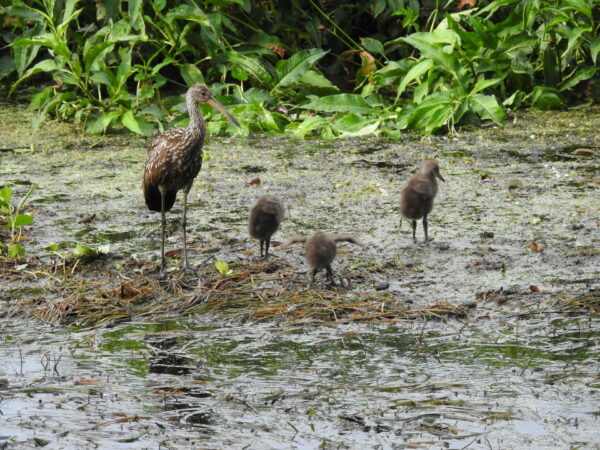 The chick in the middle is having a tantrum and screeching its head off — note the outstretched wings. The chicks are highly competitive; for weeks, they've charged each other to fight over the snails and mollusk the poor parents work 18 hours a day to provide. That's why I named the chicks Kendall, Roman and Shiv after the awful, screechy, cut-throat kids in HBO's Succession.
Now they've become more self-sufficient. They still screech for food sometimes but spend most of the day seeking their own snails and mollusks. Pretty soon, the Limpkin parents will be able to reconnect over shared interests apart from childrearing and maybe even remove the chicks from their mobile phone plan!
We've been calling the Limpkin parents Logan and Lady Caroline after the terrible parents in Succession, but based on their parenting style, the adult birds deserve better. Their parenting seems 100% egalitarian, and they've been tirelessly devoted to their chicks.
The chicks have grown to the point where I can no longer tell them apart from the parents unless I can see all at the same time and make inferences from size differences. This is a photo from this morning featuring either one of the grown chicks or Lady Caroline. I think it's the latter: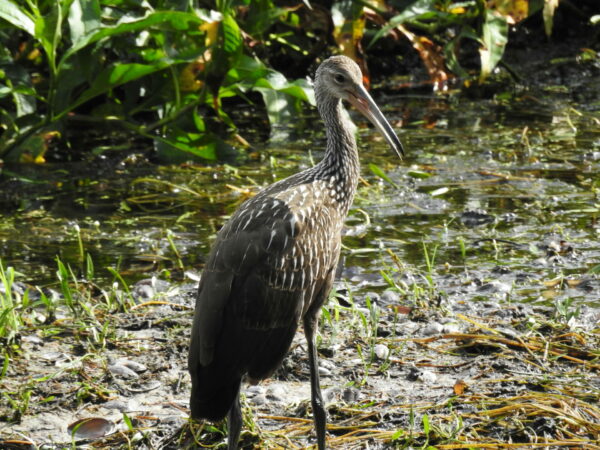 My hat's off to those Limpkin parents because raising three chicks to adulthood in a swamp with alligators, snakes, hawks, eagles and other predators must be difficult. Well done, Logan and Lady Caroline!
As for their fictional human namesakes in the TV series, presumably we'll find out who the successor is next week in the series finale. I was thinking terrible Shiv would outmaneuver her horrible brothers, but last week's events make me think probably not?
Anyhoo, open thread to discuss whatever, including that you never watch shows like Succession and can't understand how any thinking person could possibly find it entertaining or that you find it more fulfilling to train hamsters to perform the works of Henrik Ibsen.