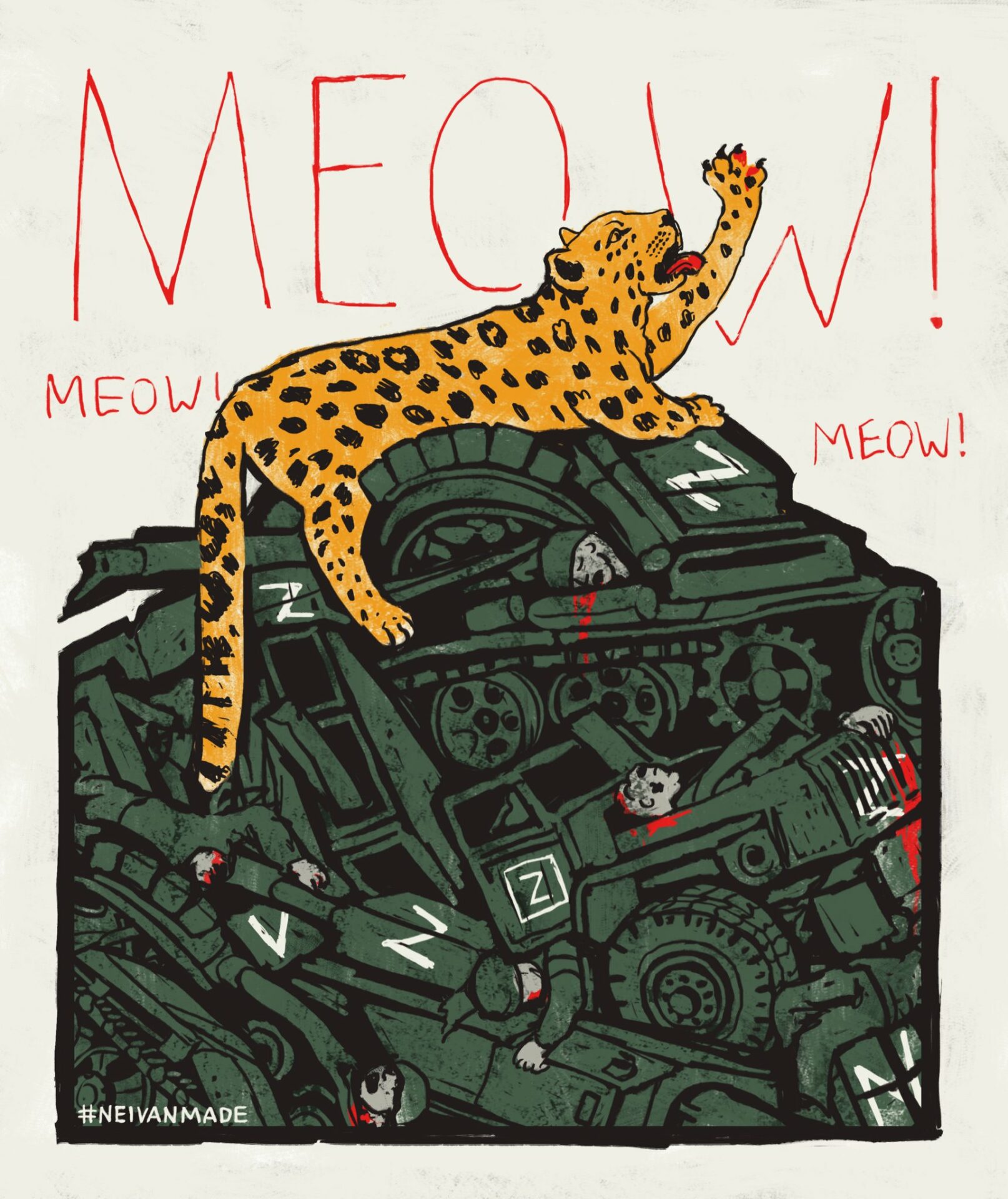 (Image by NEIVANMADE)
Leopard-2 in Ukraine. In the wild. pic.twitter.com/mSKRIikfT7

— Defense of Ukraine (@DefenceU) May 23, 2023
Here is President Zelenskyy's address from earlier today. Video below, English transcript after the jump.
The key task of our state is to strengthen Ukraine and enhance our defense capabilities – address by President Volodymyr Zelenskyy

23 May 2023 – 22:24

Good health to you, fellow Ukrainians!

Today I was in the Donetsk region, at our frontline positions near Vuhledar and Maryinka. I had the honor to congratulate our marines on their professional holiday, the Day of the Ukrainian Marines.

I presented state awards to the warriors and ribbons "For Courage and Bravery" to the best units defending this part of the frontline. I'm sure you remember these units – in my evening addresses, I often thank them for the extraordinary results they ensure for Ukraine in combat. Today I have awarded them personally. These are the 35th separate marine brigade named after Rear Admiral Mykhailo Ostrohradskyi, the 406th separate artillery brigade named after Brigadier General Oleksiy Almazov and the 140th separate reconnaissance battalion. These are very powerful units, and I am grateful to each of you, warriors!

And thank you for the chevrons, it's really a great honor!

Today, exactly on the frontline, it was the right thing to announce the creation of a Marine Corps in Ukraine. New marine brigades will be added to our existing units, and we will provide them with modern weapons and equipment.

In fact, this trip to the frontline was the final component after numerous meetings and negotiations with partners that took place these days and in the previous weeks.

Everyone should understand this: the key task of our country and the purpose of virtually every international communication of ours is to strengthen Ukraine, to bolster our defense, to increase the capabilities of our warriors and our country as a whole. Every foreign visit and almost every negotiation allows Ukraine to become stronger.

Of course, I would also like to thank our 36th separate marine brigade named after Rear Admiral Mykhailo Bilynskyi. This unit, fighting now, often deserves gratitude for its strength and efficiency. And it is fair to mention them now as well. Thank you and congratulations on your day!

Warriors from the 137th separate marine battalion – I thank you today personally – every soldier – for the very good results you are achieving on the frontline. Well done! And congratulations on your holiday!

Congratulations to everyone who is gaining respect for the title of Ukrainian marine!

Today I also have the honor to thank other units of our defense forces who are fighting in the most violent areas…

The 55th separate artillery brigade "Zaporizhzhia Sich" is always good, always effective. Thank you, warriors!

The 59th separate mechanized infantry brigade named after Yakiv Handziuk is, as always, the strongest! Thank you!

The 74th separate reconnaissance battalion – thank you, warriors!

The 5th separate Slobozhanska brigade of our National Guard, which is fighting in the Luhansk region together with other units of the defense forces, defending its positions and destroying the Russian occupiers in the way that is necessary… Thank you, our warriors!

I thank everyone who gives Ukraine strength! The strength of our state now, the strength of our defense now, is the basis of the strength of the rules-based international order.

We will win together!

Glory to Ukraine!
Today is Ukrainian Marine Corps Day.
Today, Ukraine honors its brave Marines.
On sea, land, and coast, they fight for our freedom.
Thank you for your service. Always Faithful!
📷 https://t.co/E9KDk4Rq9n pic.twitter.com/J0dkO2wART

— Oleksii Reznikov (@oleksiireznikov) May 23, 2023
President @ZelenskyyUa visited the front lines, where he congratulated our defenders on Ukraine's Marine Corps Day. pic.twitter.com/eiUh4lSnBQ

— Defense of Ukraine (@DefenceU) May 23, 2023
I looked, but could not find any reporting on the flavor of the crayons served as refreshments.
Zelensky discloses that he visited and and awarded medals to troops at the frontline near Mariinka and Vuhledar, eastern Donetsk oblast. pic.twitter.com/657V3ygkBN

— Christopher Miller (@ChristopherJM) May 23, 2023
Bakhmut:
(Adjacent…)
We believe in our Victory.
Near Bakhmut, Donetsk region, Ukraine, Tuesday, May 23, 2023.

📷AP Photo/Efrem Lukatsky pic.twitter.com/3LvgP9eL3t

— Defense of Ukraine (@DefenceU) May 23, 2023
Vuhledar-Maryinka:
.@ZelenskyyUa
Vuhledar – Maryinka defense line in the Donetsk region. I awarded the strongest. We honored the memory of the best.
I would like to wish our warriors to take care of their lives, for the life of Ukraine depends on their lives. pic.twitter.com/9vTyOCSvDa

— Defense of Ukraine (@DefenceU) May 23, 2023
Avdiivka:
A large unit of 28 Russian soldiers surrendered to Ukrainians together with officers. After a defeat in Avdiivka by the UAF's 59th Motor Rifle Brigade on 21 May, surviving soldiers of the Russian 110th Brigade, assault platoons specifically, surrendered, and recorded a video… pic.twitter.com/Lxsl2DRhk5

— Dmitri (@wartranslated) May 23, 2023
Here's more on Belgorod:
Col General Lapin leads the operation in Belgorod. Under his command Russian army withdrew from 10 cities in Kharkiv region. Now I see why. pic.twitter.com/z4PgSShuhQ

— Maria Avdeeva (@maria_avdv) May 23, 2023
Russian MOD claimed to have wiped out the anti-Kremlin groups who raided Belgorod region. But Russian Volunteer Corps says it suffered "no losses."

"We do not know what columns of equipment Mr. Konashenkov says we're destroyed, but the Russian Volunteer Corps has no losses." pic.twitter.com/3bt6O5Wqyr

— Christopher Miller (@ChristopherJM) May 23, 2023
From The Financial Times:
Far-right militias who stormed a Russian region bordering Ukraine this week used US-made tactical vehicles in the attack, raising questions over Kyiv's support for the Ukraine-based Russian extremist groups.

Ukraine has denied direct involvement in the raid on Monday, but one military official acknowledged "co-operating" with the nationalist groups, who on Monday entered Russian territory to "liberate" a village.

Denis Nikitin, leader of the Russian Volunteer Corps, told the Financial Times that his fighters assaulting the Belgorod region were in possession of American-made military vehicles. These included at least two M1224 MaxxPro armoured vehicles and several Humvees, he said, while declining to disclose how they were obtained.

Some but not all images of US-made vehicles in the raid were taken on the Russian side of the border, according to FT analysis of the videos and photos. Russian defence ministry footage separately showed the US-made tactical vehicles damaged by gunfire and apparently abandoned.

Ukraine has received the same military vehicles from the US as part of the $37bn worth of assistance provided to the country in response to Russia's full-scale invasion.

American officials have repeatedly stressed that they are not encouraging or enabling Ukrainian forces or their allies to attack inside Russia using US equipment. One US official said: "We are sceptical about the veracity of such reports and remain in close contact with our Ukrainian counterparts."

State department spokesman Matthew Miller said it was up to Ukraine to decide how to conduct their military operations but that the US opposes attacks in Russian territory. "We have made very clear to the Ukrainians that we don't enable or encourage attacks outside Ukrainians' borders," he said.

Initially, Ukrainian officials publicly kept their distance from the Russian sabotage units.

But on Tuesday, Andriy Chernyak, an official from Ukraine's military intelligence directorate, HUR, acknowledged for the first time some form of co-operation with the Russian Volunteer Corps and Free Russia Legion.

"Of course, we communicate with them. Of course, we share some information," Chernyak said. "And, one might say, we even co-operate."

However, he said that Ukraine's military was not directly involved in the attack, suggesting that it was the Russians' own initiative.

"They are rebelling," he said. Chernyak also denied having supplied the militias with any equipment. All western weaponry obtained by the Ukrainian armed forces remains "under . . . the toughest control", he said.

President Volodymyr Zelenskyy's office declined to comment on the Belgorod incursion and the use of American equipment.

The Russian Volunteer Corps, founded by Nikitin last summer to fight against his home country's invading army, includes self-avowed neo-Nazis. Born in Moscow, Nikitin also uses the surname Kapustin and goes by the call sign White Rex. This is also the name of his white nationalist clothing brand, which is popular among western far-right extremists.

"Nikitin is a real self-promoter, an intelligent, educated man who seems to be primarily interested in his own power, image, and standing," said Michael Colborne, a journalist at the open-source investigative group Bellingcat who leads its research on the global far-right.

Colborne identified another member of the Russian Volunteer Corps in photographs posted by the group during its Belgorod operation as Russian Aleksandr Skachkov, a rightwing extremist. Skachkov was arrested in Ukraine in 2020 during a raid on people selling translations of the manifesto of the gunman behind the 2019 mass shooting in Christchurch, New Zealand, according to Bellingcat.

The Free Russia Legion says it was formed after the full-scale invasion in spring 2022, "based on the desire of Russians to fight against [Vladimir] Putin's armed gang". The legion claims to be officially recognised by the Ukrainian military "and under the leadership of the Ukrainian command".
Much more at the link!
And if anyone is still unclear, the plan is to not stop with Ukraine. It is to also take the Baltics and Finnland and Poland and Moldova and Romania, etc, etc, etc.
Notice the words "quasi-state developments" he used: he is not just talking about Ukraine, he is also talking about the Baltic countries, perhaps Finland, Central Asia, and other nations and territories that were fully or partially annexed by the Russian Empire. For this…

— Dmitri (@wartranslated) May 23, 2023
Here is the full text of the first tweet:
Self-proclaimed "fighter against nazis", the president of the so-called Russian Federation had a lackey bring him a 17th-century map to show that no Ukraine existed back then. Typically, this is enough grounds for him to kill several hundred thousand of foreign and own people in the 21st century. After over a year of getting beaten, having ran his country into the ground, and leaving it with no future, the accused child kidnapper continues pushing the line he made up just to stay in power for the rest of his life.
And of the second:
Notice the words "quasi-state developments" he used: he is not just talking about Ukraine, he is also talking about the Baltic countries, perhaps Finland, Central Asia, and other nations and territories that were fully or partially annexed by the Russian Empire. For this individual, none of these states should exist, they should be eliminated and annexed back to Russia.
That's enough for tonight.
Your daily Patron!
A new video from Patron's official TikTok!
Here's the machine translation of the caption:
I love catching up! 🤭 #песпатрон
Open thread!