On the Road is a weekday feature spotlighting reader photo submissions.
From the exotic to the familiar, whether you're traveling or in your own backyard, we would love to see the world through your eyes.
Elma
Some pics from an impromptu trip I took in April 2023. It was impromptu in the sense that that there was only 2 months of planning, not the usual 18 months. My sister and brother-in-law had booked a Panama Canal cruise ending in Los Angeles. The ship they were going on was then going to reposition to Vancouver BC to spend the summer cruising Alaska. They suggested that I join them in LA and do the repositioning leg. I had done the Panama Canal before and was not interested in repeating it. The cruise was relatively cheap, but the flights and other travel expenses were ridiculous.
Oh well, what is money for?
It was unseasonably warm when I left home, 80+ for several days. So I was unprepared for 40 degree temps when I landed in LA. The atmospheric river had wiped out one of the scheduled ports of call, Monterey; so we were going to have two nights in San Francisco. This was highly unusual for cruising. Ships are normally in port for 10 to 12 hours. Fortunately, as the weather was good in San Fran, sunny and warm, we didn't miss the Aquarium and the whale watching too much.
We left Nor Cal after two very pleasant days and sailed express to Victoria BC. That is a very long stretch of uninterrupted sea; but we were promised whale sightings since this was the prime migration route and time. And there might have been whole armadas of whales out there; but the rain and fog limited visibility to less than a quarter mile for most of the time. Have you ever been on a ship that is sounding its foghorn? Jarring.
Victoria is a beautiful city, even in the rain. The ship was docked at a freight terminal away from the city center. But they had a very efficient system of shuttles to take people into downtown. The Canadians, we could learn something from them. Our adventure in Victoria was High Tea at the Empress Hotel. There were ladies wearing fascinators!!!
Our last port was Vancouver BC, which is a thirty minute ferry ride from Victoria. Our ship took 12 hours. I swear that there were times when the Captain was sailing us in reverse. Vancouver is a beautiful city, even in the rain. Our cab driver gave us a nice tour of the city. The Vancouver airport is one of the nicest I have EVER seen.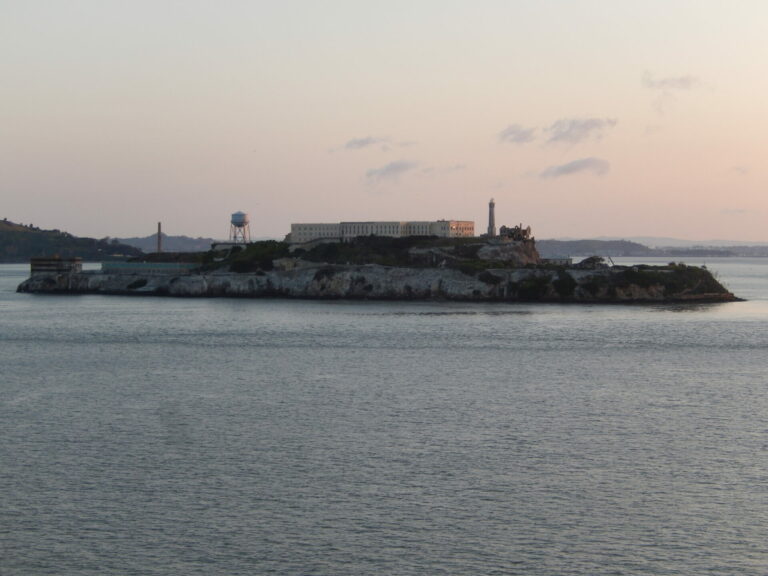 San Francisco CA
April 19, 2023
Sailing into San Francisco Bay. Alcatraz Island at sunrise.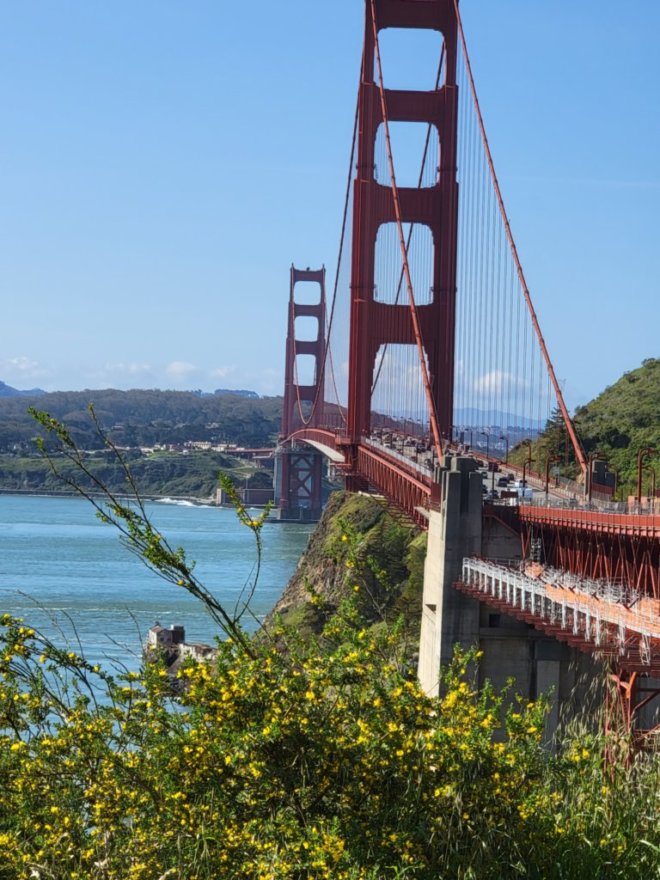 San Francisco CA
April 19, 2023
On our first day in San Francisco, we took a wine tasting bus tour to Napa and Sonoma. View of the Golden Gate Bridge from the Marin County side.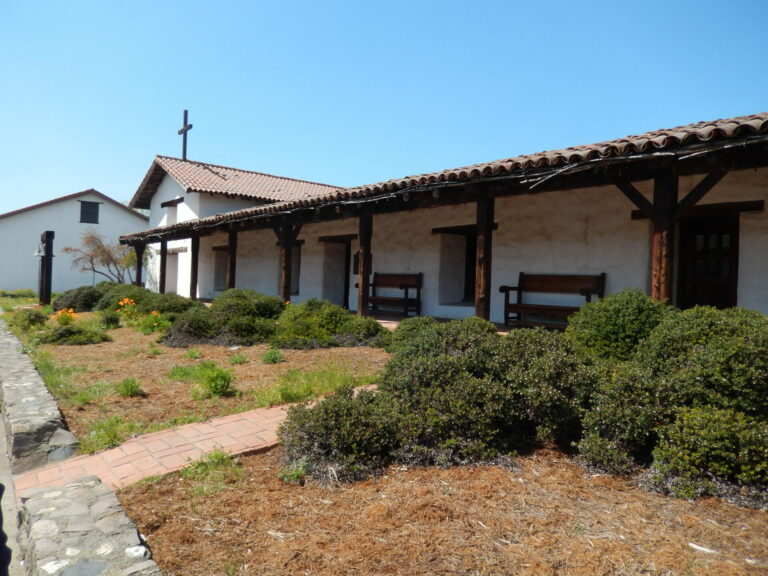 Sonoma CA
April 19, 2023
We stopped for lunch in the Village of Sonoma and ate at a wonderful little Mexican place called, La Casa, where I discovered they charge you for chips and salsa in Cali. Who knew? Across the street was the Mission San Francisco Solano. It is the northern most of the missions and is run as a state park.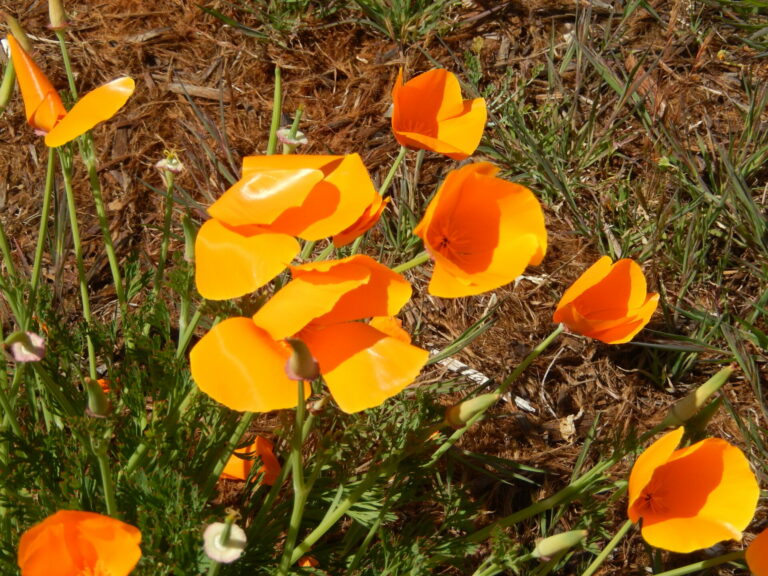 Sonoma CA
April 19, 2023
We saw the super bloom of California poppies,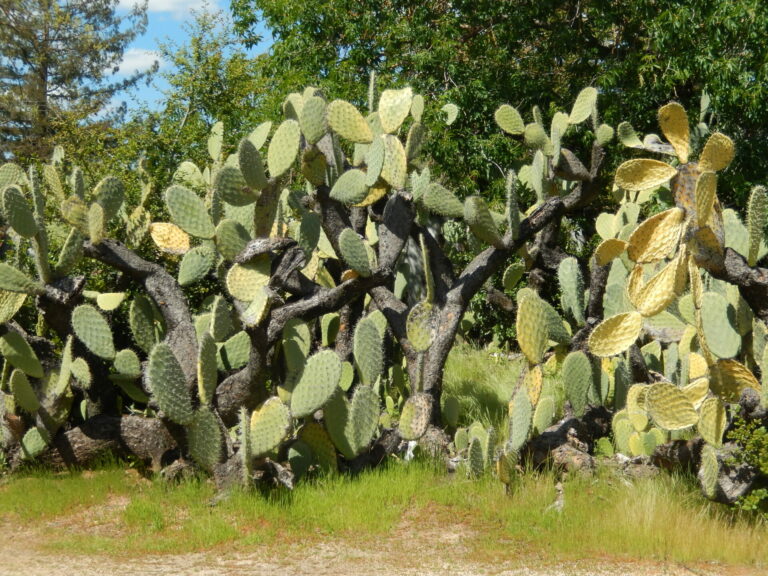 Sonoma CA
April 19, 2023
This Prickly Pear cactus in the Mission courtyard was obviously ancient.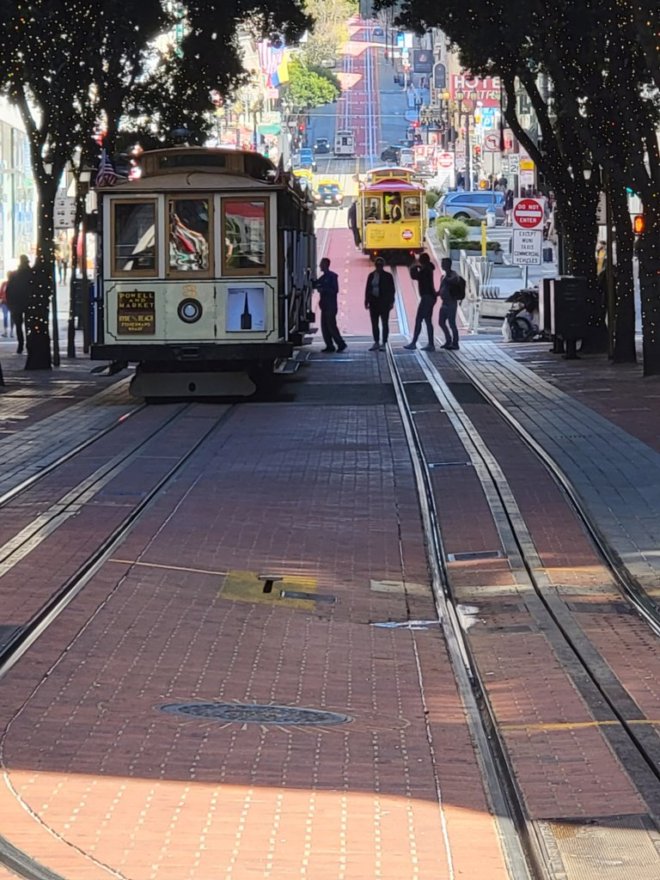 San Francisco CA
April 20, 2023
On the second day in San Francisco, we rode cable cars.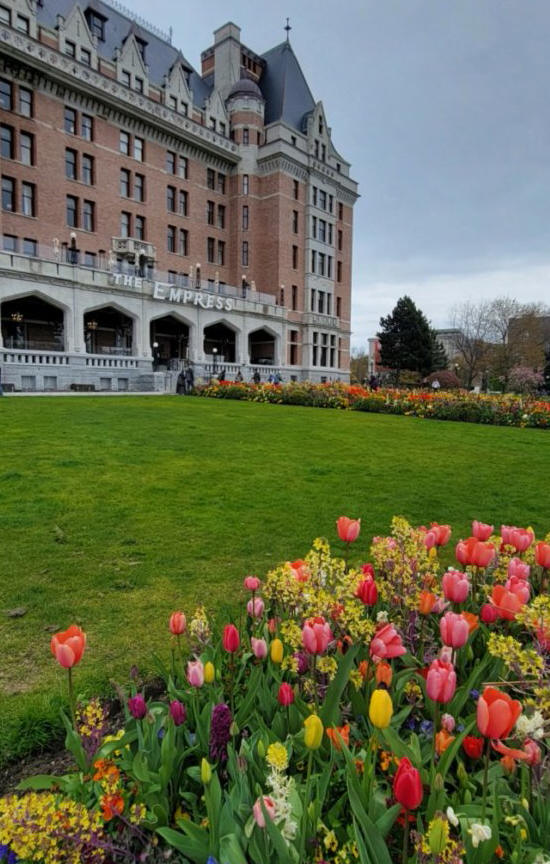 Victoria, British Columbia, Canada
April 22, 2023
The original façade of the Empress Hotel. There is now a modern entrance hall off to the left.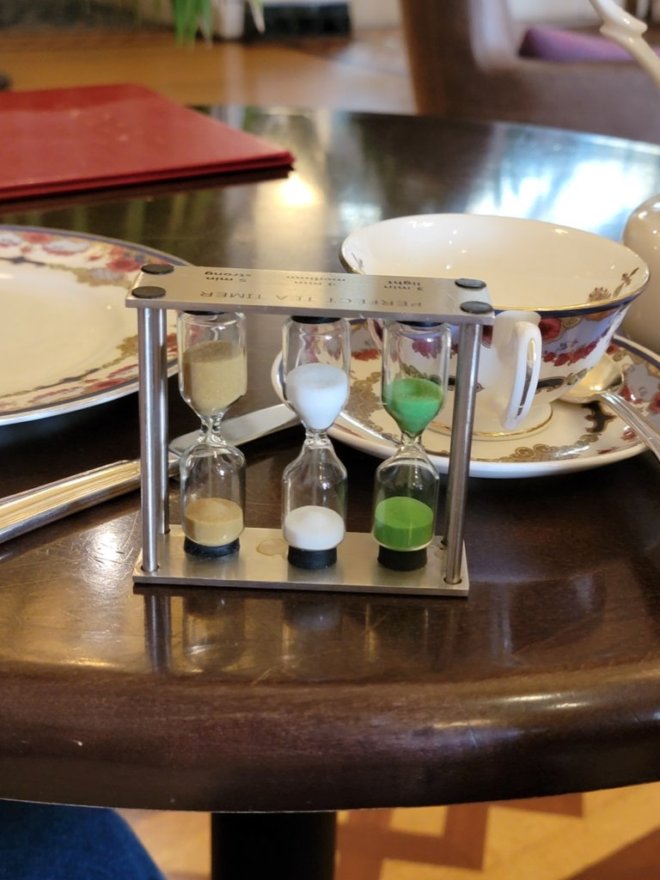 Victoria, British Columbia, Canada
April 22, 2023
High tea. I forgot to get a pic of the three tiered food stand until we had devoured most of it. Sorry. When the server brought out our individual tea pots she turned over the tea timer. When the green sand ran out the tea was mild, the white sand for medium, and the tan sand for robust.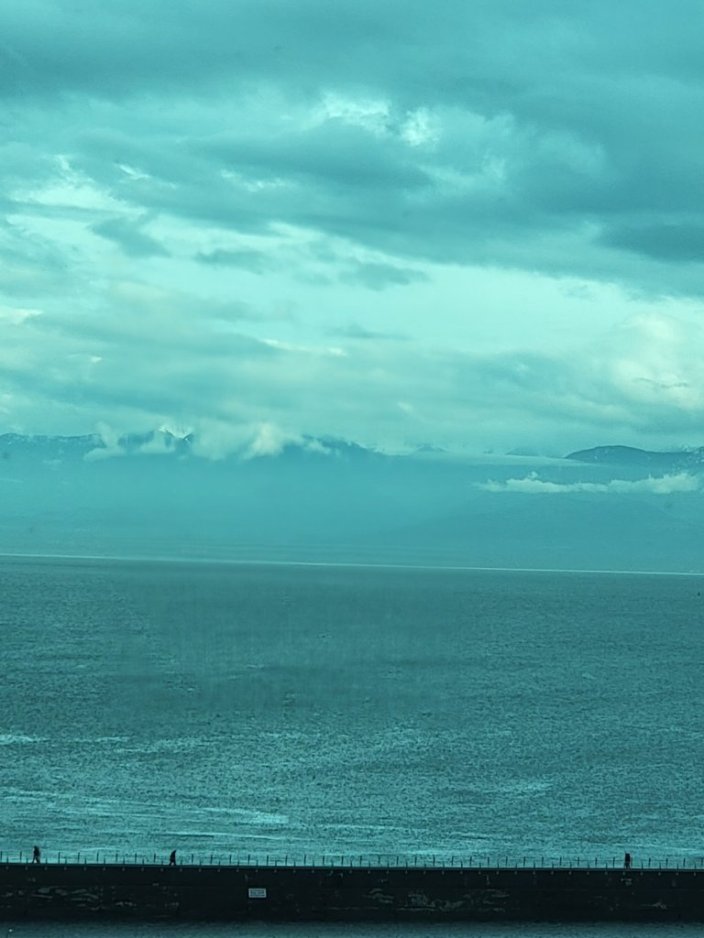 Victoria, British Columbia, Canada
April 22, 2023
Sailing slowly out of Victoria, the clouds lifted enough so we got glimpses of the surrounding mountains.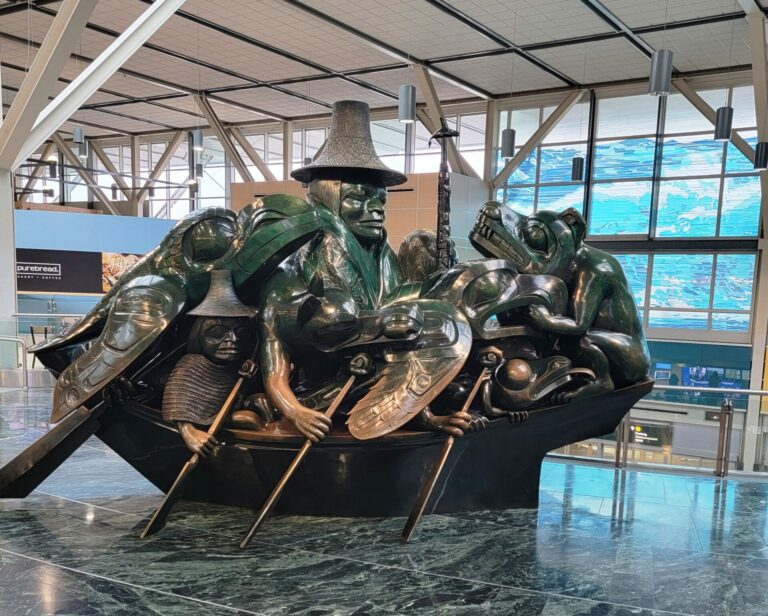 Vancouver, British Columbia, Canada
April 23, 2023
Public art at the Vancouver Airport