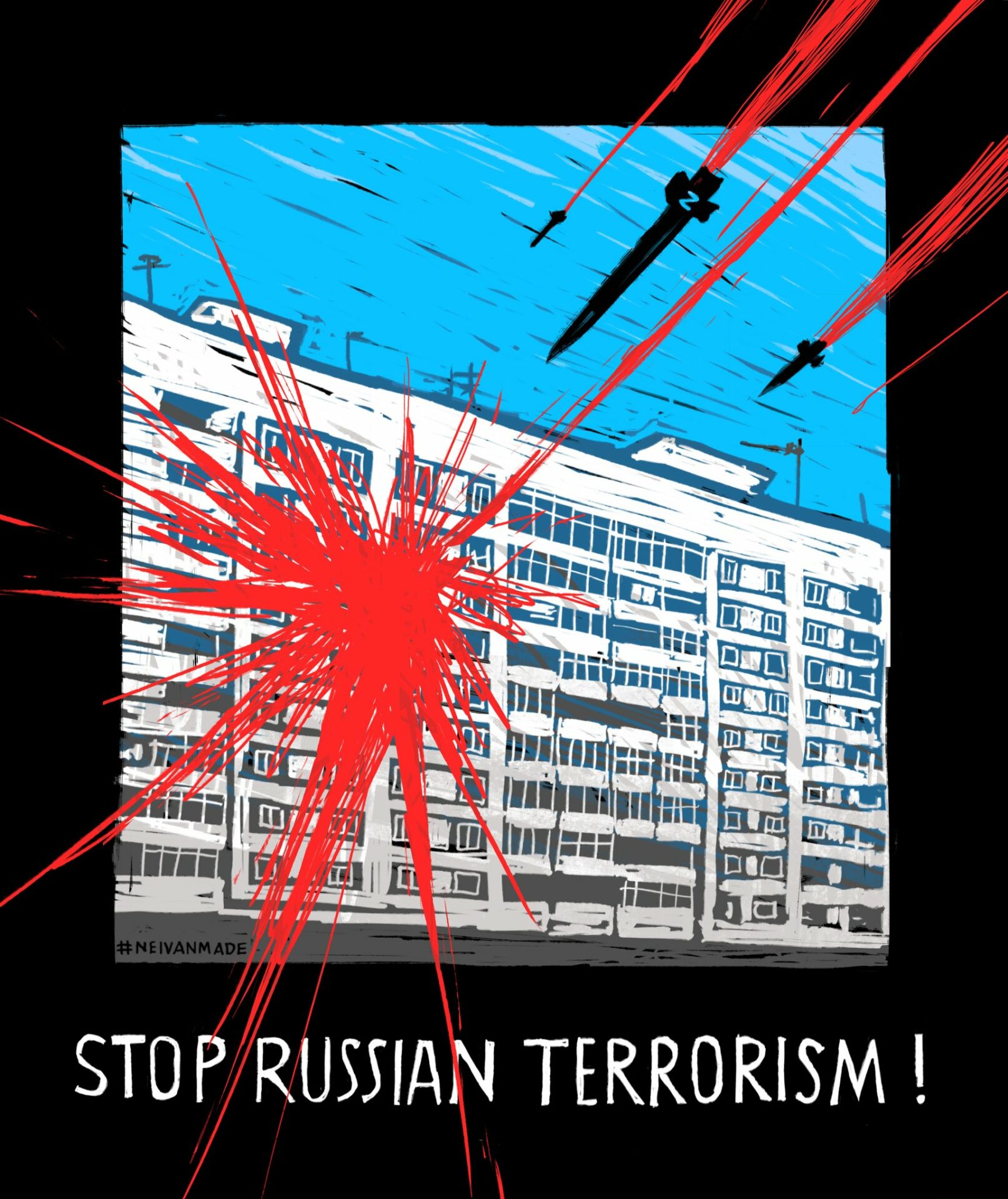 (Image by NEIVANMADE)
Earlier today the Russians decided to unload on civilian targets in Dnipro.
Residential quarters, a clinic, and a veterinary hospital. This is a complete list of "military facilities" damaged today by a russian missile attack on the city of Dnipro.
Two people were killed and 30 were injured, including two children aged three and five. pic.twitter.com/JkhBOxEGKu

— Defense of Ukraine (@DefenceU) May 26, 2023
Russia attacked Dnipro in the daytime. 2 children, boys aged 3 and 6, injured. At least 11 people in the hospital, one person killed. pic.twitter.com/aK5j3V2xL5

— Maria Avdeeva (@maria_avdv) May 26, 2023
We'll cover the other areas that Russia targeted after the jump.
I've just checked the Ukrainian air raid tracker and there does not appear to be anything currently active. I've also poked around on the flight trackers and they're not reporting anything currently in the air for Russia. For now things are quiet over Ukraine. Unfortunately, this can change very quickly.
Here is President Zelenskyy's address from earlier today. Video below, English transcript after the jump.
During this week, we have also made substantial progress in providing modern aircraft for Ukraine – address of President Volodymyr Zelenskyy

26 May 2023 – 19:23

Dear Ukrainians, I wish you health!

I just held a meeting of the Staff of the Supreme Commander-in-Chief.

The questions are obvious. The front line, our defense, and our active actions, providing our soldiers with weapons and ammunition, equipment.

Air defense and protection against terror. During the day, I receive reports on the situation in the city of Dnipro and the elimination of the consequences of another strike. It is a pure atrocity: a Russian missile, ballistics – against a hospital and a veterinary clinic. Absolutely sick creatures.

As of this minute, two people have been killed in this strike. My condolences to families and friends! Debris clearance has not yet been completed. More than 30 people have been injured, including two children.

We will do everything possible, everything impossible, to speed up the supply of more air defense systems of a higher quality to Ukraine – this is literally a daily issue for work with partners.

During this week, we have also made substantial progress in providing modern aircraft for Ukraine, which will become a key component of our defense in the sky. We are moving faster in defense modernization than could have been predicted six months ago.

General Syrsky made an important report at the Staff meeting – regarding the relevant directions in Donbas. Our soldiers are doing incredible things there, and every position retaken from the occupiers, every height occupied by our forces are new and new arguments for the world that Ukraine can, can win. Thanks to every soldier! Tavria, Odesa, Pivnich, defense of Kharkiv region – attention to each direction. Supplying equipment to offensive brigades.

The Minister of Defense reported to me about the results of the Ramstein meeting – good results.

Today, I also held a meeting with international experts regarding our movement in NATO – a more conceptual one. We have to use it – and we will use it! – every opportunity this month and next month, in general, this year, to fill our relations with the Alliance with real political content.

I had an important conversation with Senator Graham, one of the most influential and experienced U.S. senators. We discussed the situation in our defense today, our needs in the near future. Thank you for understanding Ukraine!

We are preparing several international appeals to increase support for our state and our struggle for freedom – support among our traditional allies and partners and in the countries of the Global South.

I held a meeting devoted to new sanctions against those who support Russian aggression.

And one more.

Today Georgia celebrates Independence Day. I greet all the people of Georgia and wish them to be together with us and all other European nations in a free, peaceful and united European family. I wish this for the entire Georgia – and those parts of your country that are still under Russian occupation. Yet! Georgia is one of the ancient and respected historical forces, and this force CANNOT be defeated, I am sure of it. The occupier will lose. გაუმარჯოს თავისუფალ საქართველოს!

Glory to Ukraine!
The Ukrainians have commissioned a new gunboat!
A small armored artillery boat (project 58155) entered into service with the Naval Forces of Ukraine today.
It was named "Bucha" in honor of the town on the outskirts of Kyiv, which, in the early days of the full-scale invasion, became a symbol of an indomitable Ukraine. pic.twitter.com/uHNvHslqmD

— Defense of Ukraine (@DefenceU) May 26, 2023
The Bucha is a Gyurza-M class gunboat. Her official name is BK-08 Bucha and its pennant number is P181. Her hull number is 01036 and it was laid down on 8 FEB 2019. Would one of our Ukrainian speakers please let me know if I should be referring to the Bucha as a he, which, if I'm recalling correctly, was the standard usage in the Soviet and now the post Soviet Russian Navy?
Regardless, fair winds, following seas, good hunting, and if I may cross Service lines and use my brigade combat team's motto: Strike Hard!
Here's some more on the Bucha from the Ukrainain MOD's Telegram channel: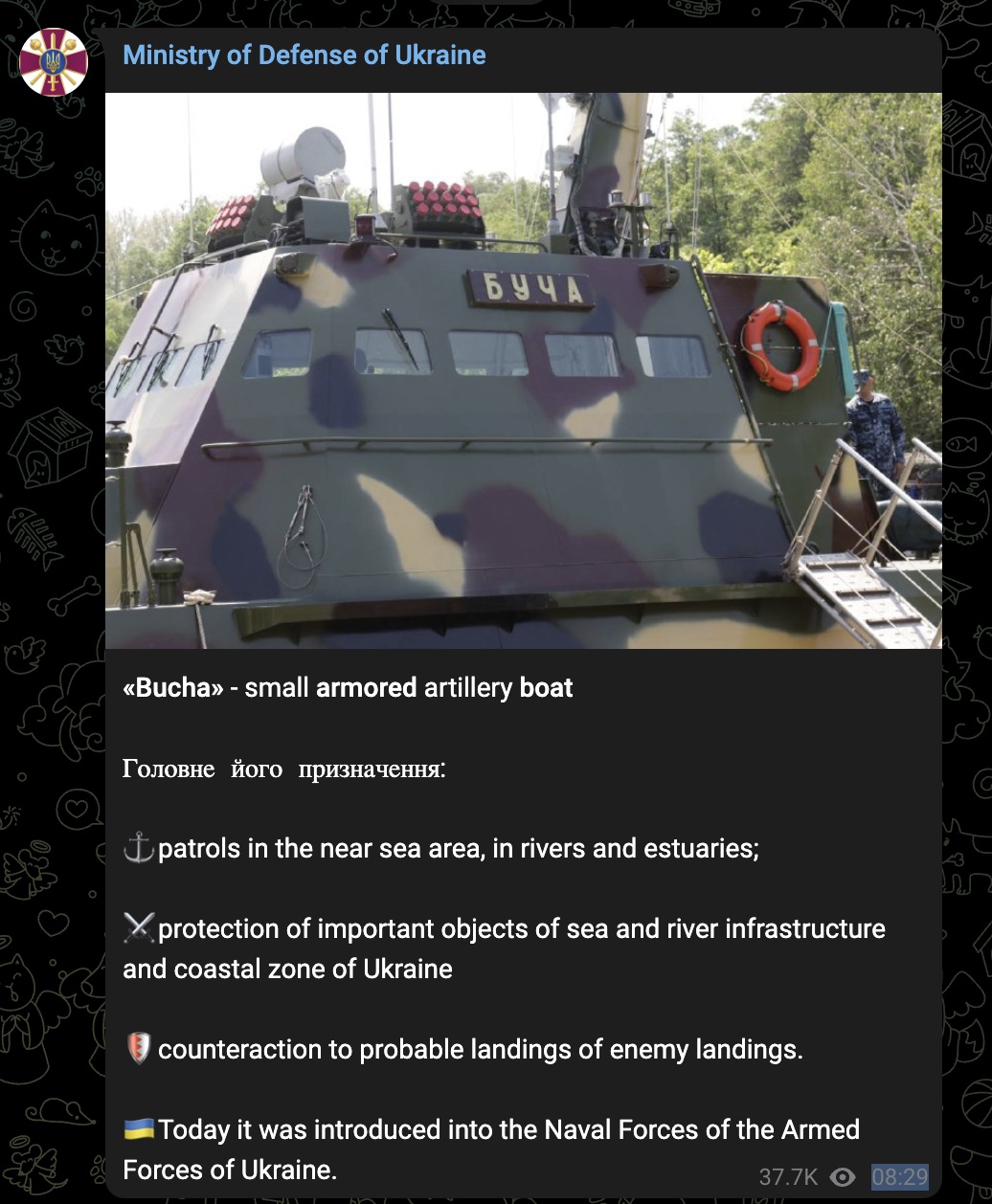 And another one: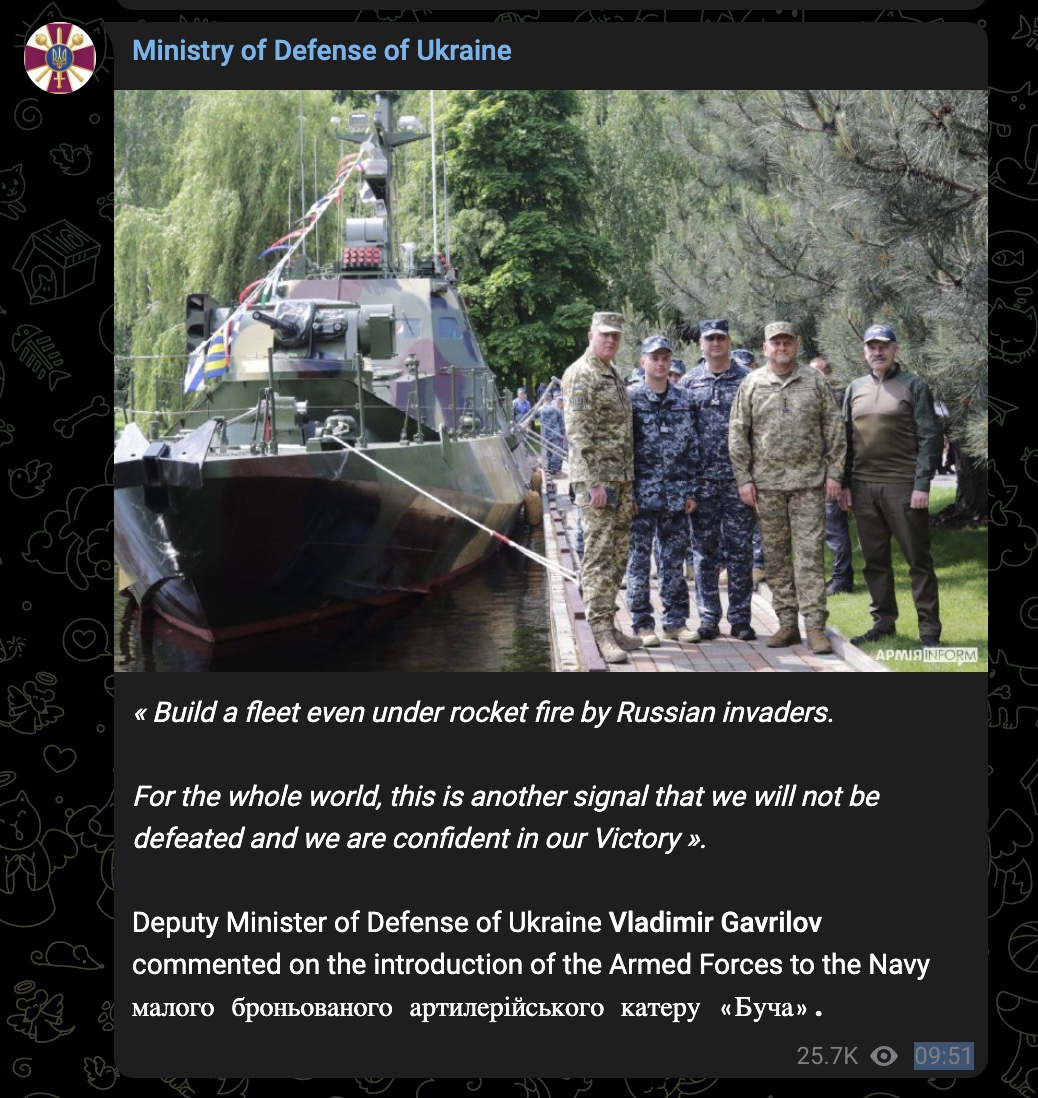 Bakhmut:
Awful, apocalyptic scenes of the ruins in Bakhmut after 10 grueling months of Russian attacks using some of the most brutal weapons and tactics. Video comes from Russian state propaganda outlet RIA.pic.twitter.com/gH5eLM6PIZ

— Christopher Miller (@ChristopherJM) May 26, 2023
More from Dnipro:
A missile strike on a medical clinic has left at least one person dead and 16 injured in Dnipro.

A difficult couple of weeks for Ukrainian cities under Russian missiles. pic.twitter.com/JQyTCMTEV3

— James Waterhouse (@JamWaterhouse) May 26, 2023
⚡️Zelensky: 1 killed, 15 injured in Russian strike on clinic in Dnipro.

According to President Volodymyr Zelensky, the rescue operation is ongoing at the site of the missile strike that Russian forces launched on the morning of May 26.

Video: President's Office pic.twitter.com/AWoJfZa1J1

— The Kyiv Independent (@KyivIndependent) May 26, 2023
Mariupol:
Strike/Explosion reported in Mariupol. Somewhere in Azovstal area. https://t.co/J655BgSkWg pic.twitter.com/0UeTPSPtJd

— Special Kherson Cat 🐈🇺🇦 (@bayraktar_1love) May 26, 2023
Explosions in Mariupol. Possibly a missile strike around Azovstal. Where will Russia store the ammo now? pic.twitter.com/UdwcJE9Ead

— Maria Avdeeva (@maria_avdv) May 26, 2023
Merefa:
This is how Russia is killing Ukraine's economy. Modern oil refinery in Merefa totally destroyed. pic.twitter.com/tcCToIi6z2

— Maria Avdeeva (@maria_avdv) May 26, 2023
Trotsnoyets:
The Mondelez International factory in Trostyanets after russian occupation.
But at the same time, this company's three factories continue to operate in russia, and contributed $61 million in taxes to the terrorist state's budget in 2022, allowing it to continue to wage war. pic.twitter.com/GSsqG2zX5Y

— Defense of Ukraine (@DefenceU) May 26, 2023
Marinka:
#Ukraine: The Ukrainian 79th Air Assault Brigade destroyed a Russian T-62MV tank (Possibly Obr. 2022) in the vicinity of Marinka, #Donetsk Oblast. pic.twitter.com/gn54ytNGHZ

— 🇺🇦 Ukraine Weapons Tracker (@UAWeapons) May 26, 2023
Kyiv:
13th missile attack on Kyiv in May. And no, you don't get used to it. My whole neighborhood was awake when a missile was shot down nearby. So instead of debris I post these Irises for the incredible Ukrainian air defense. pic.twitter.com/CB0zdBrrJE

— Maria Avdeeva (@maria_avdv) May 26, 2023
Spirne, Donetsk Oblast:
Russian most modern working tank T-90M tried to hide underground from Ukrainian drones but failed. 54th Brigade of Ukraine. Soledar-Siversk direction. https://t.co/NJuT62UH5o pic.twitter.com/Kvu6xlIzoH

— Special Kherson Cat 🐈🇺🇦 (@bayraktar_1love) May 26, 2023
From Dmitri of War Translated, an interview of a Ukrainian Gepard operator with English subtitles:
Ukrainian serviceman talks about his experience commanding the Gepard air-defence system crew. pic.twitter.com/scAEWVHNRx

— Dmitri (@wartranslated) May 26, 2023
Krasnodar Krai, Russia:
Footage of one of the UAVs that struck Krasnodar. 3/https://t.co/evM3PJfiXF pic.twitter.com/aTlMtG5pFU

— Rob Lee (@RALee85) May 26, 2023
Footage of two unidentified drones waking up the residents of Russian Krasnodar this morning. pic.twitter.com/n1vstsv7Sk

— Dmitri (@wartranslated) May 26, 2023
The Kyiv Independent's Ilya Ponomarenko has published a new and very timely op-ed. Here are some excerpts: (emphasis mine)
You're closely following the living history of a nation bravely resisting an imperialistic war of aggression that has inspired the world when, all of a sudden, you come across a picture of a Ukrainian soldier wearing a Totenkopf "skull and crossbones" patch or giving the Nazi salute.

Rightfully so, the use of Nazi or neo-Nazi-related symbols by Ukrainian combatants is shocking and almost always causes controversy.

These symbols, reminders of some of history's worst crimes against humanity and the attempt to exterminate entire groups of people, are deeply offensive.

Of course, seeing these symbols on soldiers is always distressing, to say the least. While these soldiers do not represent a widespread practice in the Ukrainian military, the use of these symbols nonetheless discredits Ukraine and scares away some potential supporters worldwide.

After almost a decade of reporting on this war, I'd like to chip in with a couple of thoughts on why you might see these symbols on the battlefield in Ukraine. Not to justify these soldiers' decisions — as any use of Nazi symbols should always be condemned — but to offer my explanation for this phenomenon.

So, why are these symbols present on the battlefield?

First of all, let's establish one fact. No, Ukraine does not have "a Nazi problem."

Ukraine is no more "Nazi" than any country that has its small number of misfits who admire Adolf Hitler and form fringe groups and gangs based on those views. Ukraine has its groups like the U.K. has the neo-Nazi organization Combat 18, the Scandinavians have the Nordic Resistance Movement, and the United States has the Aryan Brotherhood.

With absolutely no proof, the Kremlin's war propaganda created the absurd narrative that Ukraine is a full-fledged, World War II-style Nazi nation that needs to be "de-Nazified" as justification for its brutal full-scale invasion of Ukraine.

Just like in many places around the world, people with far-right and neo-Nazi views, driven by their ideology, are prone to joining the military and participating in conflicts. One also has to take into account that in Ukraine, nationalism with deep historical roots is tied to a desire for independence from Russia. It has driven many to take up arms to fight in what they believe is an existential war against a neighbor that seeks to subjugate and destroy their country.

Among them, people with far-right views.

This feeling was very real back in 2014, in the early days of Russia's war in Ukraine's eastern Donbas. Ukraine's military was deeply disorganized and disoriented. Ultra-nationalist and far-right groups were among the many others that organized volunteer battalions to fight Russia's invasion in the east.

These groups were aggressive and highly motivated. It is, of course, true that, for instance, the Azov Battalion was originally founded by neo-Nazi and far-right groups (as well as many soccer ultra-fans), which brought along with it the typical aesthetics — not only neo-Nazi insignia but also things like Pagan rituals or names like "The Black Corps," the official newspaper of Nazi Germany's major paramilitary organization Schutzstaffel (SS).

But as with any country, real neo-Nazis in Ukraine were and still are a tiny minority.

All former guerilla groups with far-right ties were quickly absorbed into Ukraine's Armed Forces or the National Guard between 2015-2016 as linear, disciplined, and fully-controlled combat units.

From my experience observing this war over the years since 2014, the Ukrainian military has done a rather good job of "secularizing" and isolating these units from their far-right origins, largely due to pressure from the West.

This policy could be described as "keep your views to yourself and train hard."

This is what happened with Azov. Far more moderate servicemembers rose to prominence (and even to fame during the Battle of Mariupol and the siege of Azovstal), along with military specialists from other branches of service, who joined Azov because they wanted to serve with a highly professional combat unit.

It hasn't helped that, since 2014, some Western journalists have made the supposed "rise of the far right" a staple of their coverage of Ukraine, as headlines of supposed neo-Nazis in the country are consistently attention-grabbing.

And right before the full-scale invasion, certain American journalists wrote about how Ukrainian neo-Nazis were allegedly using the threat of Russia's full-scale invasion to seize power in the country.

But guess what — the Russian invasion did happen, and the neo-Nazi power grab never did. Not only was there no serious evidence ever presented to support claims of an attempted "coup," these fringe elements are nothing compared to Ukraine's state and military machine.

A drop in the ocean, as the saying goes.

Nevertheless, notorious Nazi and quasi-Nazi symbols are sometimes used by soldiers who do not come close to having any extremist or hateful views.

Nevertheless, notorious Nazi and quasi-Nazi symbols are sometimes used by soldiers who do not come close to having any extremist or hateful views.

So why is this happening? In the oversimplified memory of some around the world, particularly within various militaristic subcultures, symbols representing the Wehrmacht, Nazi Germany's Armed Forces, and the SS are seen to reflect a super-effective war machine, not the perpetrators of one of the greatest crimes against humanity in human history.

While this, of course, does not absolve these soldiers of wearing extremely offensive insignia, it offers a partial explanation as to why, in my opinion, these symbols have become an integral part of global militaristic subcultures that embrace different historical symbols of war, particularly Nazi ones.

As these insignia were absorbed into militaristic subcultures around the globe, many who wear Nazi patches on their uniforms have come to disassociate these emblems from the crimes committed by their original users 80 years ago.

Although the presence of Nazi symbols on the battlefield generates the most controversy, they are just a fraction of the militaristic emblems embraced by combatants worldwide. Norse and pseudo-Norse, or Viking, symbols of war — the very symbols that the Nazis themselves used to create their own insignia — are also very common.

The culture of modern war patches, a strange, pseudo-art form in militaristic subcultures, has developed into a standalone phenomenon in which those who bear them sometimes completely divorce their modern use with any former ideology. And some symbols hardly have any ideology behind them at all – such as the ubiquitous Punisher skull patch coming from the famous Marvel show.

This phenomenon is hardly unique to Ukraine.

One might remember a scandal over the fact that U.S. Marines Scout Snipers used the SS runes as their unofficial symbol. In 2012, they thought it was a good idea to take a picture of themselves posing next to an SS flag in Afghanistan, prompting swift action from the Corps.

Russia's propaganda created and cultivated for years the myth about the Ukrainian far-right, inflating their numbers and so-called power within the country. Many Western journalists have built their entire careers feeding off of Moscow's narrative.

The irony is that Russia has long promoted not only Nazi-style symbols but Nazi practices, morphing into a fascist state that has made war crimes part of its foreign policy.

The Russian far-right and neo-Nazi paramilitary unit Rusich uses both the swastika and the 88 symbol, a neo-Nazi numerical code for "Heil Hitler."

Dmitriy Utkin*, the alleged co-founder and top commander of the notorious mercenary army Wagner Group, has a large swastika and the Wehrmacht symbol tattooed on his body. And yes, he goes under the nom-de-guerre Wagner not because he's a big fan of the opera. Hitler was a great admirer of the 19th-century German composer Richard Wagner and glorified him during his reign.

Russia's official policy is ethnic cleansing, killing those speaking Ukrainian, kidnapping Ukrainian children and raising them as Russian, and denying a nation of 40 million the right to exist.
More at the link!
* If you want to know if anyone talking about Wagner knows anything about Wagner, ask them the following question: how many Dmitriy Utkins are there? If the answer is one, they don't know what they're talking about. I'll put the correct answer in the first comment.
Also, you'll notice what Ponomarenko is describing in his op-ed: that this entire discussion, including that being done in legitimate news reporting, is occurring within Russia's informational framing. As I wrote the other night, Russia won the information war on this and a number of other issues – many not related to Ukraine at all – way back between late 2011 and 2014. The result is that far too much of our policy discussions are occurring within Russia's framing. And that includes the domestic moral panics that just miraculously reignited in time for the 2020 election and have been artificially amplified and boosted ever since. Does anyone really think a loser like Chris Rufo – failed career, failed political bid – actually managed to create the overlapping anti-CRT, anti-woke, anti-trans (the "grooming") moral panics on his own? Of course not, don't be naive.
Our last bit of serious stuff for tonight is an op-ed by RAF Air Marshal (ret) Edward Stringer published in The Financial Times:
Many have questioned why President Volodymyr Zelenskyy so determinedly pressed for the supply of F-16 fighter planes to his forces in Ukraine. Can one particular aircraft make such a difference? The answer, in the case of the F-16, is yes.

In using the G7 summit to announce that the US would help train Ukrainian pilots to fly the aircraft, Joe Biden tied his allies into the decision. In effect, Zelenskyy hijacked the event so that major nations swung in behind Ukraine, just as the Russian military leadership appeared to be turning on itself.

Biden's initial reticence on F-16 training was the fear of escalation. That the White House has overcome this caution suggests that their risk appetite has increased. Its other concern was that the Ukrainians would not be able to operate these jets effectively. Nato would usually package F-16s with a full range of supporting aircraft that are considered essential to their operations: electronic warfare, suppression of enemy air defences and airborne command and control. Without these, critics argued, the planes would be of little use.

The easiest charge to dismiss is that it would take 18 months to train Ukrainian pilots. Recent US Air Force trials proved that even though the F-16 is a high-performance fighter, experienced Ukrainian pilots could learn to fly it in four months.

In fact, Ukrainian forces have integrated western weapons on ex-Soviet aircraft in timescales that should embarrass our own peacetime processes. There are legitimate questions about who does deep maintenance on this western aircraft, but maintaining the F-16 on the frontline should not be an issue: it is a straightforward, single-engine aircraft, produced in great numbers, and so spare parts are plentiful.

The far bigger issue is who sustains the supply of western air-to-air missiles. The US Amraam is very capable but cost an estimated $1mn each. The longer-range European Meteor is even more expensive. While national war stock levels are understandably classified, it is an open secret that most Nato air forces are short. Allies would do well to accelerate their missile supply chains as a matter of urgency.

The lack of supporting air power is harder to remedy. Of course, Ukraine cannot replicate Nato support functions. But it doesn't have to: Kyiv is not seeking a package of expeditionary air power, operating at range, deep into enemy territory. It only needs to keep the Russian air force (VKS) on the back foot in the skies over Ukraine.

The war has so far revealed that the VKS is restricted to operating in very small formations and only in airspace over land it controls. But it is shielded by extensive surface-to-air missiles and has longer-range air-launched weapons that give it the advantage over Ukrainian equipment.

The F-16, with its longer-range radars, sensors and missiles, would restore the Ukrainian air force's edge both qualitatively and quantitatively — and push the VKS back into Russia. That will, in turn, protect both Ukraine's ground forces and its critical infrastructure. But boosting its effectiveness in the absence of wider air power packaging will require imagination.
For me this is the heart of the Air Marshal's argument, not the technical discussions: (emphasis mine)
Finally, there is a moral dimension to consider. Nato would fight Russia by winning the air battle first, and then using air superiority to drive a more efficient land battle. Given the weakness of the VKS, this is no pipe dream. But the west's constrained donations to date have forced Ukraine to pursue grinding land tactics. We have restricted Kyiv to fighting in a way that we would not, and to take casualties that we would not.
This is, perhaps, the best articulation of what has been frustrating and angering me for the past 15 months! Especially as all Ukraine asked for was the means to defend itself rather than asking us to come fight for them. And our response has been we support Ukraine completely all while forcing them to fight in a manner so constrained that we would never even remotely consider fighting that way. For all the aid we and our allies have provided, for all the encouraging statements of moral support, if we had any self awareness at all we will look in the mirror and find ourselves morally wanting. Unfortunately, as a society we don't have any self awareness and will likely applaud ourselves for our moral courage, when in reality we should be repenting our moral cowardice.
That's enough for tonight.
We have more Ukrainian strategic wildlife assets!
A Ukrainian kamikaze titmouse, grown in a bio-lab, eats plastic explosives before a sortie. pic.twitter.com/vfaRg0fBO4

— Special Kherson Cat 🐈🇺🇦 (@bayraktar_1love) May 26, 2023
Your daily Patron!
I'm just going to repost last night's tweets about the Patron boxes for Ukrainian children:
🙁made a typo: PatronBox will be given to orphans or children in hospitals (depending on how many boxes can be collected)

— Patron (@PatronDsns) May 25, 2023
And a new official video from Patron's official TikTok!
The machine translation of the caption is:
That's the kind of makeba we have now! #песпатрон#патрондснс
Open thread!