In my opinion, airboats are the most unlovable and obnoxious of vessels. They are fun to ride in and so much more fun to drive — probably the closest you can get to driving a pod-racer from the shitty Star Wars movies. But, like leaf blowers, they degrade the quality of life for people nearby who are not immediately benefiting from their operation. BTW, here's a short video I took while driving my dad's airboat last year:
Florida woman drives airboat, doesn't pitch passengers into swamp. pic.twitter.com/jWYUaeIbNJ

— Betty Cracker 🐊 (@bettycrackerfl) May 1, 2022
Woohoo! Such fun!
Anyhoo, airboats are common in the swamp where I live and especially numerous on holidays. It's illegal to operate them late at night, and while it's rare, we do see them at night sometimes since the law really isn't a thing this far in the woods. But generally they're headed somewhere fast and the noise is temporary.
Around midnight last night, an airboat slowly and loudly passed our house. The speed was unusual, and then it doubled back, which was even more unusual. My husband, who can sleep through anything, slept through it. So did the dogs, which doesn't say much for their utility as watchdogs.
I got up to investigate and saw that one of the airboat passengers was operating a spotlight to search the shoreline. I figured they were gator poachers. They traveled upriver for a bit, turned around and made another pass. I turned the riverside floodlights on and off to politely signal to the poachers that they were disturbing my sleep, but they kept traveling upriver a bit, turning around and passing by repeatedly.
It was clear they were looking for something, and maybe not gators, though I could hear them talking about past gator hunts because they had to shout at each other over the din of their goddamn motor. Could be they were searching for an overboard comrade.
It wouldn't be the first time that's happened around here. There's a disreputable tavern upriver that caters to the airboat set, and it's not unusual to see drunken antics on a Friday night. So maybe someone or something fell off their boat, and they were trying to recover it.
But I worried that they might be looking for other types of valuables, such as our outboard, so I kept watch in the dark from the porch. Eventually the airboat went away. The only sounds left were the wind in the trees, frogs singing, insects trilling and owls hooting.
Then I heard something crashing through the leaves near the shoreline. I turned on the floodlights again and saw two large armadillos, walking along the waterline and companionably snuffling on the ground. It's unusual to see a pair of armadillos because they're solitary creatures. Figuring it must be mating season, I turned off the light as any decent person who believes in love would do.
Moments later, a friend I had texted early in the evening must have accidentally pressed call instead of reply because my phone rang once — sounding impossibly loud in the early-hour silence. He realized his mistake and hung up before I could answer, but the noise scared the shit out of me and probably doused any armadillo amor that was happening downstairs.
I noticed it was 2 AM, so I figured I better hit the sack. I tiptoed into the pitch-black bedroom, felt my way to the bed and flopped down on dog, who yelped in alarm, causing the other dog to growl and bark hysterically. The mister snored through it all. At that moment, all the accumulated pratfalls struck me as insanely funny, and I couldn't stop laughing. It's a good thing the mister sleeps like a rock.
At daybreak, I looked around to see if there was a body floating in the river or a cooler full of meth and/or Busch washed up onshore. Nope! But I did see this gorgeous Wood Stork peacefully foraging with the Limpkin sibs.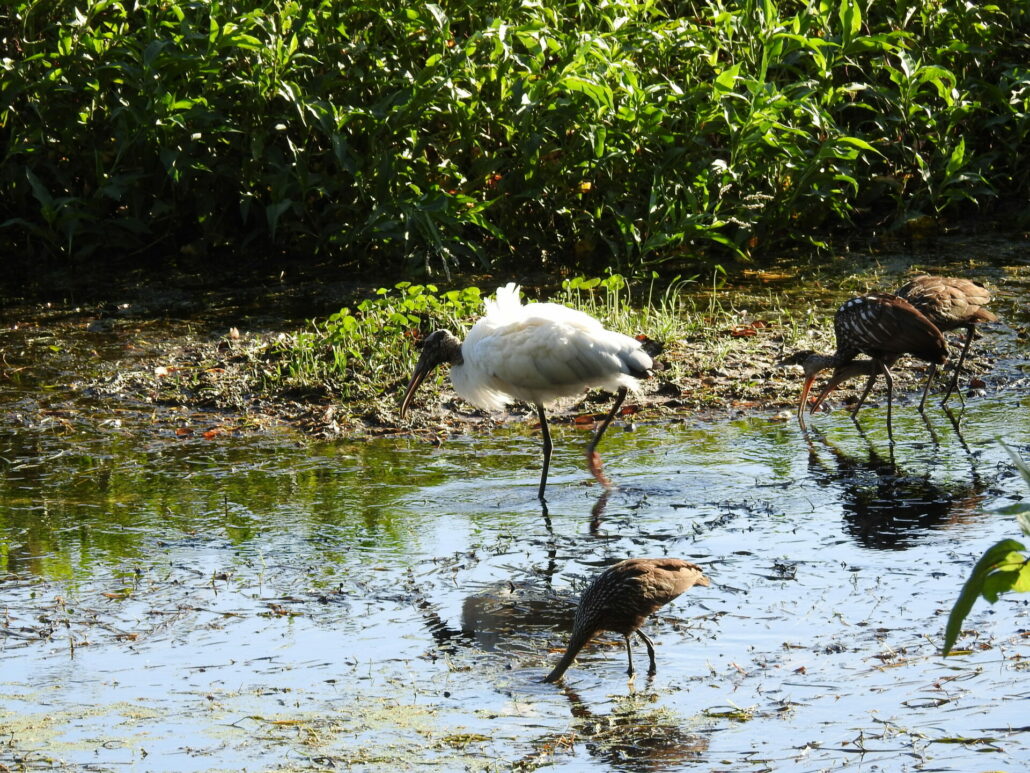 The end.