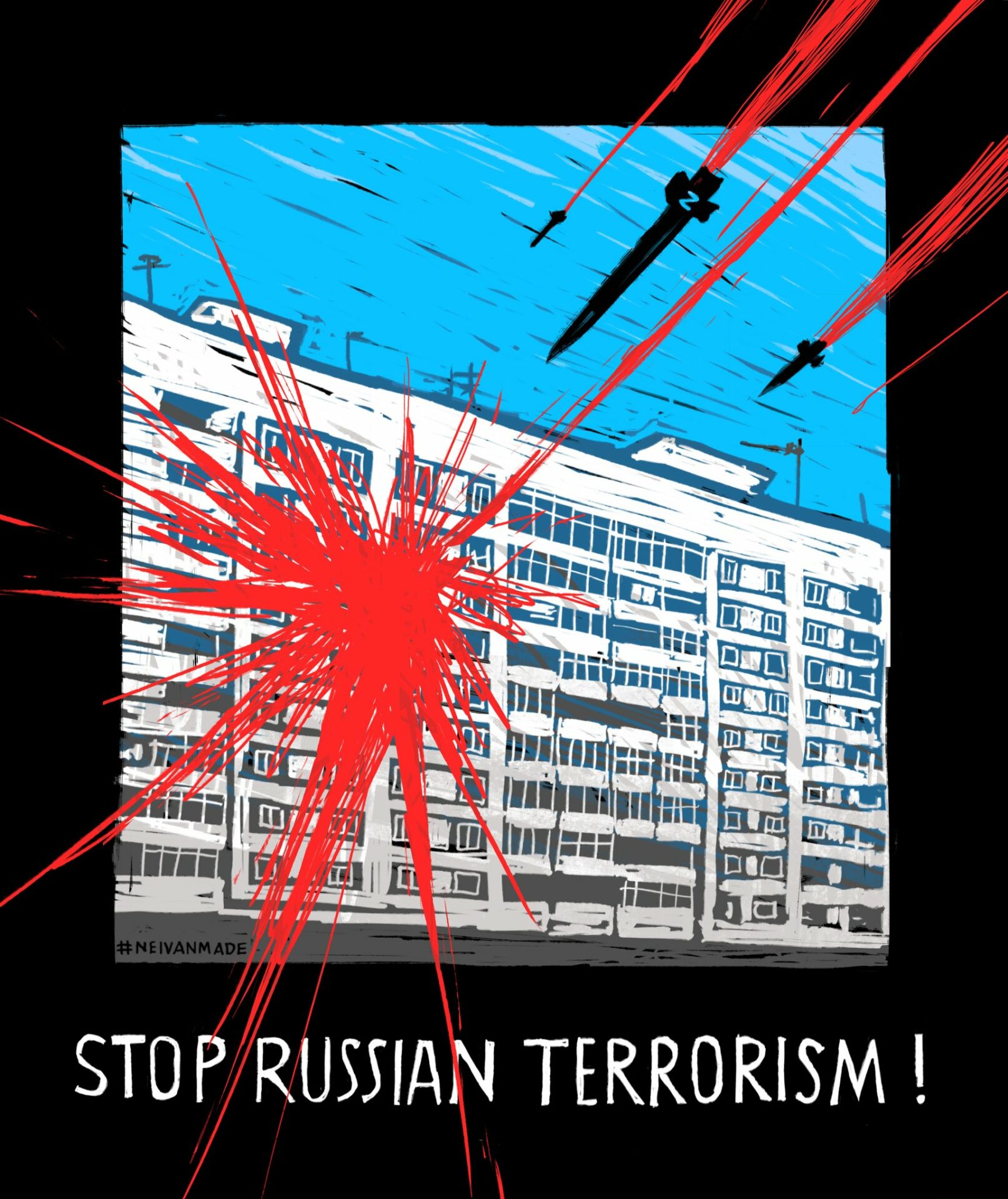 (Image by NEIVANMADE)
A quick housekeeping note: I have a family event that I cannot get out of tomorrow afternoon. So tomorrow night's post might be a bit later than usual. It may also be a bit briefer than usual as well.
Also, commenter Bex* sent me a video – I did not miss it or forget about it – but because I can only access the Balloon Juice email Alain set up for me on my iPad as its the only device I didn't need to set back up when I switched MacBook Pros, I need to forward it to myself so I can get it into a post.
* If it wasn't Bex, please correct me in the comments and take credit.
Last night in comments, dimmsdale asked:
Just wondering if any of the informed commentators here would care to speculate on the odds (and/or the means) of keeping the Rooskis' military broken, reduced, and hopefully impotent once peace in Ukraine is achieved? I realize this is a VERY speculative question, and maybe it's way too soon to put any intellectual energy into considering it, but isn't it clear to the entire world that they can never ever again be allowed to raise a military with any offensive capability at all?
The model here should be what we did to reestablish the German military and establish the Japanese Self Defense Forces after World War II. Unfortunately, that would require treating Ukraine's self defense against a genocidal re-invasion as the (most) kinetic element of a largely non-kinetic world war. Which we are most definitely not doing. As a result, whatever Ukraine is able to achieve is what will be achieved. And Russia will limp along under Putin or whomever takes over. All while nursing its ahistorical grievances and doing whatever it can to rebuild its military and its economy so it can then begin the cycle of revenge all over again.
Here is President Zelenskyy's address from earlier today. Video below, English transcript after the jump:
Kyiv and all our cities, the whole of Ukraine will put an end to the history of Moscow's despotism – address by President Volodymyr Zelenskyy

28 May 2023 – 19:05

Good health to you, fellow Ukrainians!

Today, our country went through one of the largest Russian attacks by Shaheds – 54 drones at a time. Almost all of them were shot down… Almost! Unfortunately, there were some hits in the Zhytomyr region. We will do everything to help restore what has been destroyed.

But still, most of the destruction was averted, and most of the lives that could have been taken by these Shaheds were saved. I am grateful to each and every person who made it possible! Anti-aircraft missile troops and aviation of the Air Force, air defense of the Ground Forces and our mobile fire groups… Thank you, warriors!

During this terrorist attack, the most powerful strike was aimed against the Kyiv region. Within the city of Kyiv and the region, 36 drones were shot down. This is how Russia celebrates the day of our ancient Kyiv…

Throughout its history, Kyiv has seen various meannesses from invaders. It has survived them all, and it will survive the ruscists. None of them will be here! Kyiv and all our cities, our entire Ukraine, will put an end to the history of Moscow's despotism, which has been bringing enslavement to many different peoples for a very long time. Neither Shaheds nor any other means of terror that it humiliatingly seeks around the world will save it. Because strength is in people, it is in cities, it is in life, and when life, people, and the most important cities for culture are despised, Russia will only face defeat. And even hundreds of Shaheds will not save it from this. They will only enlarge Russia's disgrace.

These days, we congratulate Kyiv and Oleksandriya, Severodonetsk, Kalush, Kryvyi Rih… Cities of different destinies, but of our equal respect. Our Ukraine. Our faith that we will pass this extremely difficult stage of history… We will, and all our cities will be free, and our people will be protected from any evil that may threaten our country.

Today I want to thank all our people who have fought and are fighting for Ukraine – all our warriors, all branches of the Armed Forces and all kinds of troops, every brigade, every unit. Thank you! To all those who are in combat, to all those who are on combat missions, to all those who are at combat posts!

And I thank everyone without whom we cannot imagine effective resistance of the state and effective defense of our cities. I am grateful to each and every one who trains our warriors and heals their wounds. Who produces and supplies weapons. Who provides our logistics and communications. I thank everyone who provides Ukraine with intelligence information and who spreads the truth about the war and Russian terror around the world. I am grateful to each and every one who ensures our rescue operations after enemy attacks and eliminates their consequences.

I am grateful to everyone in the world who cares and who wants freedom to win as much as we do.

All our power engineers and transport workers. Thank you! Ukrzaliznytsia. Defense industry. All our volunteers. United24 and our ambassadors. Thank you! Our law enforcement officers. Local authorities. Employees of public utilities. Our education system. Our cultural figures. Our historians. All those who keep jobs and all those who create jobs – no matter what. Our farmers, workers of our agricultural sector. Our industry. Our IT specialists. Our civil servants. Our diplomats. I thank everyone who strengthens our defense, our state, and our people!

The fact that our capital is free, the fact that our cities defend themselves with dignity, the fact that we will liberate every currently occupied city – all this is the merit of many people. All those who are fighting and working for Ukraine. This is the merit of our powerful nation that knows how to do historic things. When it is united. When it realizes its strength. When it forgives the enemy nothing. And when it inspires the whole world.

We are going forward until we liberate all of our Ukrainian land… We are defending every city… We take care of each other and remember all our people whom we have to bring home from Russian captivity to their cities and villages.

Glory to our beautiful people!

Glory to all who care about our country!

Glory to Ukraine!
Today is Kyiv Day.
Today we celebrate #KyivDay!
Kyiv, a city of free and brave people, has become a symbol of Ukraine's unbreakable spirit and the Kremlin's failed imperial ambitions.
Last night, Kyiv survived one of the largest russian air attacks since the beginning of the war.
They have failed… pic.twitter.com/ex9tPQcxe8

— Oleksii Reznikov (@oleksiireznikov) May 28, 2023
Full text of Minister of Defense Reznikov's tweet:
Today we celebrate #KyivDay!
Kyiv, a city of free and brave people, has become a symbol of Ukraine's unbreakable spirit and the Kremlin's failed imperial ambitions.
Last night, Kyiv survived one of the largest russian air attacks since the beginning of the war.
They have failed yet again.
Kyiv stands strong.
They didn't take you in 3 days. They couldn't intimidate you in 459 days. They will be defeated.
Happy birthday, Kyiv!
From the Ukrainian MOD's Telegram channel: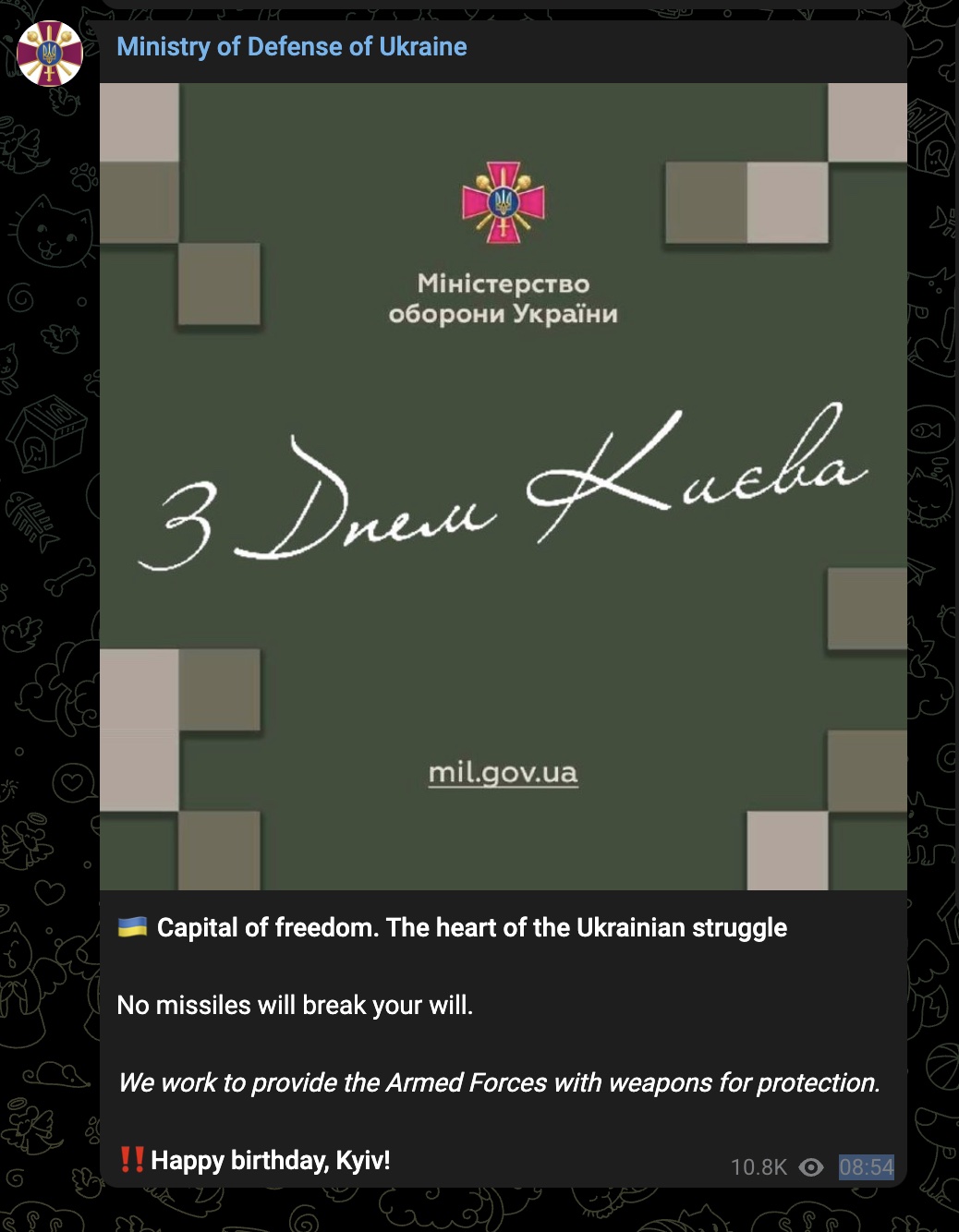 More than a year, since they tried to capture it in 3 days, more than 7 months since they tried to plunge it into darkness, more than 1541 years, since it was founded
Happy birthday, my Kyiv 🤍 pic.twitter.com/mljlAX3IRu

— Mira of Kyiv 🇺🇦 (@reshetz) May 28, 2023
Evenings of velvet,
Joy crashing like waves,
How can I not to love you,
My Kyiv!

🎥 Moisei Bondarenko pic.twitter.com/Ohpmw4K7oH

— Defense of Ukraine (@DefenceU) May 28, 2023
The Russians also opened up on Ukraine, especially Kyiv, overnight.
Be brave like Ukraine.
Be strong like Kyiv.
Happy #KyivDay! pic.twitter.com/BkDjnMjGwx

— Defense of Ukraine (@DefenceU) May 28, 2023
Last night, russian terrorists carried out the largest drone strike on Ukraine to date.
Ukraine's air defense shot down 52 out of 54 Iranian-made Shaheds.

— Defense of Ukraine (@DefenceU) May 28, 2023
Russia: attacking Kyiv with Shaheds for five hours
Kyiv: celebrating #KyivDay

They say we do not exist, but here we are, and Russia will follow the ship. pic.twitter.com/l4hVCBNsCg

— Maria Avdeeva (@maria_avdv) May 28, 2023
Largest drone attack on Kyiv yet. At least 40 drones downed. No surprise Russia attacked on Kyiv Day, it can't get used to the fact that thousand-year Kyiv has stood and will stand. Unlike Russia. pic.twitter.com/vnauv5fVun

— Maria Avdeeva (@maria_avdv) May 28, 2023
Kyiv is preparing to celebrate it's Day. I love this dancing girl. It's like all of Ukraine now. pic.twitter.com/kLNsyOaocd

— Maria Avdeeva (@maria_avdv) May 27, 2023
There is something going on in southeastern Ukraine. By something I mean strikes on Mariupol, as well as reports of strikes on Avdiivka and other locations as well. Which might provide the context to this somewhat cryptic statement of Minister of Defense Reznikov.
.@oleksiireznikov
🚀 Storm Shadow long-range missiles have hit 100% of the targets identified by the General Staff.

— Defense of Ukraine (@DefenceU) May 28, 2023
/1. Activity of Russian air defense was reported in Mariupol and Berdyansk areas.
Allegedly, in Mariupol area, strike was on recreation center "Solnechny" in Yurivka. https://t.co/hg9xALFGpG pic.twitter.com/sDIrBqqOFN

— Special Kherson Cat 🐈🇺🇦 (@bayraktar_1love) May 28, 2023
/3. Also Yurivka. pic.twitter.com/u8RG7g81l9

— Special Kherson Cat 🐈🇺🇦 (@bayraktar_1love) May 28, 2023
Tymofiy Mylovanov, the president of the Kyiv School of Economics, had a very good and informative thread on what life is like in Kyiv right now. First and second tweets from the thread followed by the rest from the Thread Reader App:
Here is the rest of the thread. Apologies. Twitter did not want to upload it at once and was giving repeated errors. https://t.co/caCUaLxkHf

— Tymofiy Mylovanov (@Mylovanov) May 28, 2023
Here is the McDonalds video. Some popular accounts retweeted it separately, others just copied the video without attribution.

Many of them are anti-Ukrainian, some are skeptics.

One of the frequent comments: there is no war in Ukraine, it doesn't look like a war zone. 2/

Let's debunk this "no war zone" argument.

The last night, I woke up to the sound of explosions. There were three loud pops real close outside our apartment. The windows shook but held. Believe me it is not pleasant. There was a largest ever drone attack on Kyiv. People died. 3/

My sister, who lives in a different area, said they could not sleep. It was very loud, explosions, air defense, sound of shaheds.

Russia sent 54 attack drones, and 52 were intercepted. Again, civilians died.

You can read more here
ukrinform.net/rubric-ato/371… 4/

So, take me. I am the person who took that video in McDonalds on Friday night, and who could easily been hit by a drone on Saturday night. So, yes, it is a war zone. Even if McDonalds or other businesses don't convey that impression. 

5/

 

But they actually do so if you are perceptive. First, there are many more women than men in the video (approximately 27/17). Second, out of 27 men, two are wearing uniform, and another one is semi plain cloth military (hat, belt). That's 18%. 6/

Two more males give a military vibe. Military intelligence is often plain clothed. This applies also to territorial defense and to people on rotation or on vacation. There are several high school aged males who are not eligible to draft yet. And there are servers. 

7/

 

So, if you watch the video carefully, about 1/3 or more are military or likely to be military related.

But it is also true that we try not to show military in the videos here, unless it is officially authorized. For obvious security reasons. 8/ 

For example, in this very video, there are two military men at the end. Later they turn around and you can see their faces. Then, they join a larger group of military. I cut that part off for security reasons. 

9/

 

I put pictures of destroyed buildings and videos of civilian life, but I never take videos on military equipment or personnel. For example, in the video above, in the first tweet, the intention is to show no military, even if there were some. I trimmed the video accordingly. 

10/

 

Now, let's get to the second myth or argument: the fighting age males should be on the front line / otherwise it doesn't look like an existential fight.

This is false. If we send all males to the front our economy will collapse. We are 40 m nation, 3m are involved directly. 11/ 

Many millions of others are involved indirectly in defense effort, but they are civilians – volunteers, analysts, donors, logistics, R&D, diplomacy, cyber warfare, etc.

So, no, not every fighting age male should be sent to the front of the war is existential 12/ 

Then, there is an argument that the vibe is too good for the wartime.

This is one is silly. Look carefully at the faces of people. Many of them are grim. They are not carefree. People are looking for normalcy, and McDonalds offers a semblance. 13/ 

A McDonalds trip on a Friday night is something from the pre war time. Something good, from the life without bombs.

Yes, my wife and I go to movie theaters. I guess the same people would be shocked to learn the theaters work and their popcorn and we watch Marvel. 14/

It helps us forget about the war for a couple of hours but it is not quite the same. There is curfew, the theaters shut down early, and you can see a lot of people in uniform or wounded.

The train shows the most in children. Anything can trigger a panic attack in them. 15/ 

Let me address the complains about good service and hygiene, better in the US.

You should not assume Ukrainians don't clean or are not polite because of the war.

It is more of the reflection on the IS that their McDonalds are not always in a good shape. 16/ 

Then, there is this argument "our tax payers money goes to Ukraine so they can eat in McDonalds".

The opposite is true. Because economy is operating, because people go to restaurant, Ukraine has its own tax base to defend itself and requires less support than otherwise. 17/ 

So, McDonalds on Friday night is complementary to the defense effort. Because a good economy help to have stronger military. 

18/

 

Now, people also said "why should we send any money to Ukraine if our people are suffering more than those in this McDonalds".

This is an important question. First, both in Ukraine and in the West there are poor people and there are well off people. 19/ 

Everywhere around the world we should work on reducing power Ty and inequality. But this argument is irrelevant to the support of Ukraine.

What happens if Russia wins? There will be more spending on defense on the West and funds will be taken away from education, social support 

A more fundamental question is why the West should support Ukraine. Many people said "we don't care, it is not our fight". Well, yes and no. Of Ukraine falls it will mean that the West is weak. The consequences – a more coloration world, weaker standing of the US and NATO. 

21/

 

The consequences are clear – more terrorism, more political polarization and radicalization, threats in Europe and Asia, hurt global economy, disrupted supply chains, higher prices.

So, if we are honest to ourselves, then Ukraines victory is national interest of the West 22X. 
That's enough for tonight.
Your daily Patron!
Happy Sunday☺️ pic.twitter.com/liDTn75wPJ

— Patron (@PatronDsns) May 28, 2023
There's a video(ish) version at Patron's official TikTok, but we've got the embedding issue again. So just click through on this link to see it.
Open thread!