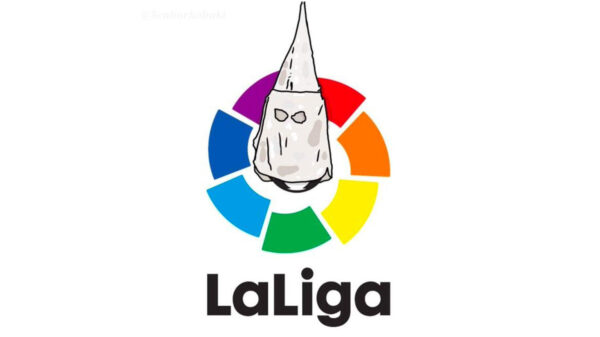 It's Not Football, It's La Liga
by Valdivia
If you don't usually watch Spain's La Liga week in and week out, the World Cup last December might have been the first time you really got to watch the young Brazilian forward Vinicius Jr play.
Or you might have gotten an earlier glimpse of him scoring the winning goal for Real Madrid in last year's Champions League Final.
Vini Jr is currently one of the most exciting players to watch. He is fun to see on the pitch, leaning heavily on the Brazilian style of dribbling.
Vini is super fast, fearless and most importantly, relentless. He will continue trying past superior defenses creating opportunities and spaces when other players can't.
And on many of those occasions he manages to dribble past opponents in ways that makes them look like they are stuck in molasses.
When The Athletic did a profile on him last year ahead of the Champions League Final, Carlos Abrantes, the Director of the Flamengo Escolinha (the fútbol academy for one of the main clubs in Rio) and the man who discovered Vini said that the parents of the other kids used to joke the only way the other players could catch him was to ride a motorcycle.
Vini Jr was already a star with Flamengo in Brazil when he joined Real Madrid (in 2018 for a record signing fee of €46 million—at the time the second most expensive sale of a player in the history of Brazil behind only Neymar).
Though he began playing with the third division Castilla team, soon enough he was playing with the first Real Madrid team, making an impact in important games, changing the pace and creating opportunities for scoring. Last season he evolved from a crucial changemaker to one of the team's most crucial goal makers with  22 goals and 16 assists.
At 21, Vinicius the star had arrived.
Unfortunately this is not just a story about Vini's deserved success but one about the racist discrimination he has been subjected to in La Liga.
Although he had been subjected to racist comments since the moment he arrived,  the racist attacks against him began in earnest last September ahead of the derby against Atletico Madrid thanks to the Spanish football press (a group that is craven in the same way that the WHPC is when a dem is in the WH).
The leading football show in Spanish tv, El Chiringuito (think a hybrid of TMZ, Hello magazine and Fox's The Five) had one of its pundits say that if Vini wanted to celebrate by dancing and wanting to "hacer el mono" (an expression that can mean act like a fool, but noteworthy because it uses the word mono, monkey to describe a black player)  he could go back to Brazil to dance at the Sambodromo.
The message was received and hours before the game began against Atletico, their fans could be heard singing Vinicius is a monkey in the outskirts of the stadium, making monkey noises and a group was holding a toy monkey with Vini's shirt as if the chants were too subtle and the point needed to be graphically made.
Though there was official condemnation from La Liga (and even a referral to a local Madrid court) the case ended making things worse when they ruled that the chants could only be heard for a few seconds and because it was "in the context of maximum sports rivalry" you really could not consider it a racist act.  I kid you not.
So the racist chants continued, not just on the outskirts of rival stadiums but also inside.
As the press continued to cultivate this image of Vinicius as a provocateur who deserved whatever abuse he got it was not just the fans who verbally abused him but also rival players and referees who began to treat him differently
If you are a dribbler who makes other players feel like fools it is natural they will try to stop you any way they can. What is notable is how unwilling the Spanish referees are to punish this and how violent the Spanish players are with Vini.
When Vinicuis plays with Brazil or in European championships there is never the kind of violent fouling he receives in Spain.
In Spain the referees have seemed happy for Vinicius to be fouled and fouled and fouled again, only rarely punishing the other players. If he complains about this, he is the one who gets a yellow card. And because he complains, both about the violence against him on the pitch  and the lack of action by the referees, the Spanish press gets to feed the narrative that he is showing bad sportsmanship.
La Liga knows there is a problem. Each club plays 19 games away, and they have had to file complaints of racist abuse against Vini in 11 of them. But sure, it is just a few bad apples, as they like to say when asked about the problem
The best part? Only one of these complaints has made it to court so far and the person found guilty is now countersuing Vini for being a player who 'behaves in ways that provoke' racist chants.
Though this has been pretty untenable all year long, this toxic brew of press campaign, fan racism, and lax refereeing came to a head last weekend during the May 21st match against Valencia. There were hours of monkey chants, death wishes yelled at him during the game and a referee who failed to defend a player who was pleading with him to stop the game. After a melee on the pitch, in which Vinicius was being held in a chokehold by a rival player, it was Vini who got a red card and was expelled for trying to extricate himself by pushing the other player away.
Summary of todays game:

Vini got fouled all game, reff didn't back him. Got racially abused by Valencia fans, reff didn't back him. Then he was held in a chokehold by a Valencia player. He pushed him away rightfully so. Reff decides to give Vini a red card.

BIGGEST JOKE OF A… pic.twitter.com/XHRiJJEhox

— 𝗜𝗰𝗼𝗻𝗶𝗰 𝗕𝗹𝗮𝗻𝗰𝗼 (@IconicBlanco) May 21, 2023
This seems to have been the last straw for Vini, who published a long post on social media asking La Liga once again to do something about it and saying that it was now characterized by racist behavior. He also hinted he might end up having to leave Spain, which would be disastrous for La Liga in PR and sponsorship terms. Here's the tweet.
Não foi a primeira vez, nem a segunda e nem a terceira. O racismo é o normal na La Liga. A competição acha normal, a Federação também e os adversários incentivam. Lamento muito. O campeonato que já foi de Ronaldinho, Ronaldo, Cristiano e Messi hoje é dos racistas. Uma nação…

— Vini Jr. (@vinijr) May 21, 2023
What ensued might be familiar from our own racial backlash dynamics here in the US. While there was a wave of sympathy for Vini and global condemnation from all corners (FIFA, the Brazilian government, the international football press—who know Vini, follow La Liga and say they have never seen anything so revolting—even from the US State Department), in Spain what Vini got was backlash.
The press is unrepentant. They continued with their campaign blaming Vinicius for the racist chants (why must he be so uppity and defend himself?)
Valencia FC think they are the victims. They had a big sign in their game this weekend defending their fans as the best in La Liga.  Yeah, totally the best!
This is the scene that greeted Vinicius Jr at Valencia. 100s of fans. Widespread monkey chanting. Widespread chanting of "Vinicius you're a monkey." (shocking footage obtained by La Sexta)

These are the faces of racism.

Identify them. Ban them. Prosecute them. pic.twitter.com/rlNVz5aVon

— Colin Millar (@Millar_Colin) May 23, 2023
One silver lining seems to be that La Liga may be finally reacting and looking to change and apply their racism protocol to punish teams whose fans engage in this behavior (closing the stadiums, financial fines, losing points). But this came only after its leader Javier Tebas had initially taken to twitter to lecture Vinicius about being tricked into believing there is racism in Spain.  He later half apologized and then gave an interview to the Brazilian press announcing the changes they plan to make.
But I am sincerely not very optimistic.
I would prefer Vini gets to play in a football league where he is protected and appreciated, and not one where on his first game a rival player bit him on the head and he was the one who got a yellow card.