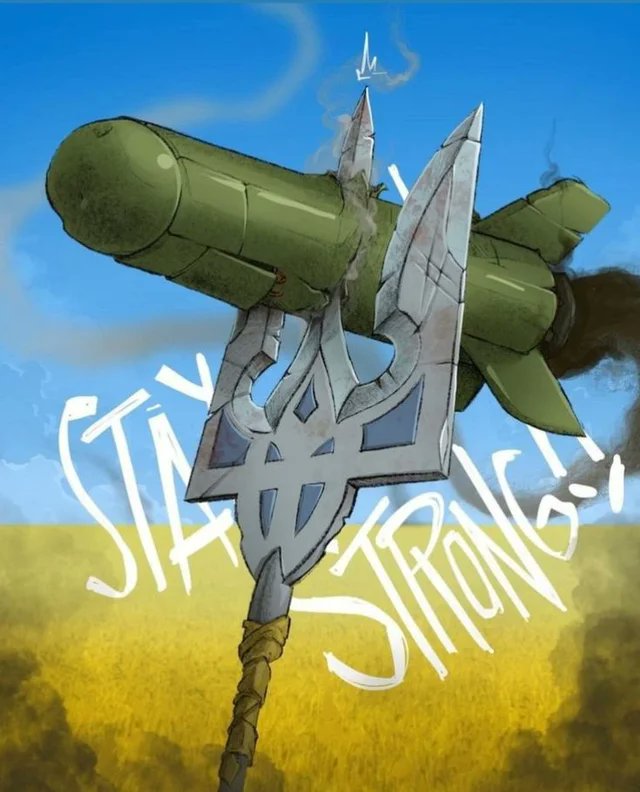 My family event got cancelled, so we're on our usual schedule.
Once again, overnight, Russia opened up on Ukraine. Ukrainian air defense was up to the task.
Today, russian terrorists attacked Kyiv again by ballistic and cruise missiles. Metro became the largest city shelter for thousands of Ukrainians.

🎥@suspilne_news pic.twitter.com/4GqWFCApB5

— Defense of Ukraine (@DefenceU) May 29, 2023
According to @CinC_AFU, on May 29 russians attacked Kyiv and Kyiv region with 11 missiles (Iskander-K and Iskander-M).
ALL MISSILES WERE SHOT DOWN.
Excellent work of the Ukrainian air defenders!

— Defense of Ukraine (@DefenceU) May 29, 2023
Here is President Zelenskyy's address from earlier today. Video below, English transcript after the jump:
With our success, pressure and Patriots we will respond to all manifestations of Russia's evil – address by the President of Ukraine

29 May 2023 – 21:48

Good health to you, fellow Ukrainians!

Today was a very long day, and it started very early for many of our people.

Several Russian terrorist attacks in one day. Shaheds, cruise missiles, ballistic missiles. Guided bombs. Thanks to our air defense, to all the defenders of the sky, at least hundreds of lives were saved today. In just one day. Most of the Shaheds and missiles were shot down.

But each such terrorist attack brings us and the whole world to an obvious conclusion: Russia wants to follow the path of evil to the end, that is, to its defeat, because evil cannot have any other end but defeat.

The world must see that terror is losing.

When Patriots in the hands of Ukrainians ensure one hundred percent downing of any Russian missiles, terror is losing.

When the world increases pressure on Russia, including sanctions, when the terrorist's isolation grows, when its former partners are ashamed of any closeness with Moscow, terror is losing.

And, of course, there is no greater humiliation for a terrorist state than the success of our warriors.

In fact, with our success, our pressure, our Patriots we must and will continue to respond to all manifestations of Russia's evil.

And we will destroy this evil.

No one else in the world uses weapons against evil more effectively than Ukrainians.

Today, I held a meeting of the Staff. The reports are very specific.

Supply of new air defense systems and missiles to them, relevant agreements with partners.

The effectiveness of our air defense and what can make our air defense stronger.

Hits that, unfortunately, took place.

Our defense forces are able to learn and will do everything to make it much more difficult for terrorists.

As usual, the Commander-in-Chief and the commanders of the operational directions reported to the Staff.

Not only the supply of ammunition, not only the training of new brigades, not only our tactics.

But also the timing. This is what is most important. The timing of how we will move forward. We will. The decisions have been made.

I thank every soldier and sergeant, officer and general, and every prepared brigade.

Today I also had a very informative meeting with our international staff.

We are preparing new joint steps with our partners to strengthen our defense. And for our active actions. There is no alternative to the complete liberation of our land. There is no alternative to the full protection of our values.

And I am grateful to all our partners who understand that respect for every human life, human freedom and international law are values on which no compromise is possible.

I would like to thank Denmark today – the entire nation, the entire Danish political class. Thank the Parliament, the Government and Prime Minister Frederiksen personally for the decision to increase financing of the Danish Fund of support for our country by more than USD 3 billion.

The total amount of defense assistance from Denmark will now reach more than $4 billion 700 million. This is very significant.

Such decisions make the defeat of Russian terror faster. Thank you for this!

Today I spoke with Prime Minister of Cambodia Hun Sen. I thanked him for his principled support of international rules, of everything for which nations are united by the UN Charter and conventions binding for all.

I invited Cambodia to join joint efforts with various countries of the world in implementing our Peace Formula.

This is a common global task – to prevent Russia from making terror something usual to the world so that it leads to someone else catching this evil virus.

And just before recording this address, I had two more conversations.

I spoke with Prime Minister of the Netherlands Mark Rutte. I informed him about the terrorist attacks. I thanked him for his readiness to continue helping us protect people.

The Netherlands is among the leaders in helping protect against terror and bring terrorists to justice.

We discussed our defense cooperation – our new aviation coalition, a coalition of modern fighter jets that we are creating. And we will create it! Of course, we also discussed strengthening our air defense.

I spoke with President of Türkiye Erdoğan. I congratulated him on winning the elections.

I am confident that our further cooperation – Ukraine and Türkiye – at all levels will bring even more benefits to our people and international stability.

The security of our region and the whole of Europe, global food security, and the protection of fundamental norms of international law are what we did, do and will continue to do together.

Thank you to everyone in the world who helps! Glory to all our warriors!

Thanks again to the Air Force and all our defenders of the sky.

Glory to Ukraine!
Here's more on Ukraine's air defense efforts over night:
Call sign Pokémon.
Last night, this brave soldier serving in @ng_ukraine shot down a russian missile with an Igla MANPADS.
Well done, Pokémon! Gotta catch 'em all! pic.twitter.com/TnvCgyqYAT

— Defense of Ukraine (@DefenceU) May 29, 2023
They were infants when russia invaded Ukraine in 2014.
Today in school, they not only study math, Ukrainian language, and history but also learn how to behave during an air attack.
A stolen childhood… and incredible resilience

🎥 @United24media pic.twitter.com/L427qrmLsC

— Defense of Ukraine (@DefenceU) May 29, 2023
Another ordinary day in Kyiv. Thank God, no one was hurt, the missile fell on the road and did not hit the bus. pic.twitter.com/J3XHvEn9yq

— Oleksiy Goncharenko (@GoncharenkoUa) May 29, 2023
Here's the details for Ukraine's air defense overall:
And Ukriane's tally after a loud & long night:

Between midnight & 5am…

Air Force reports ~40 air-launched cruise missiles fired from 9 Russian Tu-95MS aircraft from Caspian Sea; 37 shot down by air defenses.

~35 Shahed drones, of which 29 were downed.

1 recon drone downed. pic.twitter.com/dQShQ0I3bE

— Christopher Miller (@ChristopherJM) May 29, 2023
According to Agence France Press, republished at Barron's, five Ukrainian planes were damaged in the overall barrage:
In the western city of Khmelnytsky regional authorities said Russian troops attacked a military facility overnight.

In a rare admission of the damage, they said "five aircraft have been put out of action."

Work was underway to localise fires at fuel and lubricant warehouses, the statement said.
President Zelenskyy has Memorial Day wishes for those of us here in the US:
My special gratitude on this Memorial day goes to all Americans of different times – sons and daughters, fathers and mothers, brothers and sisters, who became the warriors and whose strength turned into the strength of freedom and who were destined to show to the world that… pic.twitter.com/98kpAGApIw

— Володимир Зеленський (@ZelenskyyUa) May 29, 2023
Here's the full text of his tweet:
My special gratitude on this Memorial day goes to all Americans of different times – sons and daughters, fathers and mothers, brothers and sisters, who became the warriors and whose strength turned into the strength of freedom and who were destined to show to the world that freedom will always shine bright on the hill. Let our victory, of the Ukrainian warriors, make this light shine brighter!

Your freedom stood, thanks to those who fought for it. Our freedom will stand, thanks to those who are fighting for it.

🇺🇦🇺🇸
The Ukrainian MOD also has a Memorial Day message:
On this Memorial Day, Ukraine joins our American friends in honoring the memory of those who made the ultimate sacrifice to protect freedom. Ever grateful for 🇺🇸 support in ensuring the victory of our shared values of liberty and peace. pic.twitter.com/jGcg8JQuq0

— Defense of Ukraine (@DefenceU) May 29, 2023
And from their Telegram channel: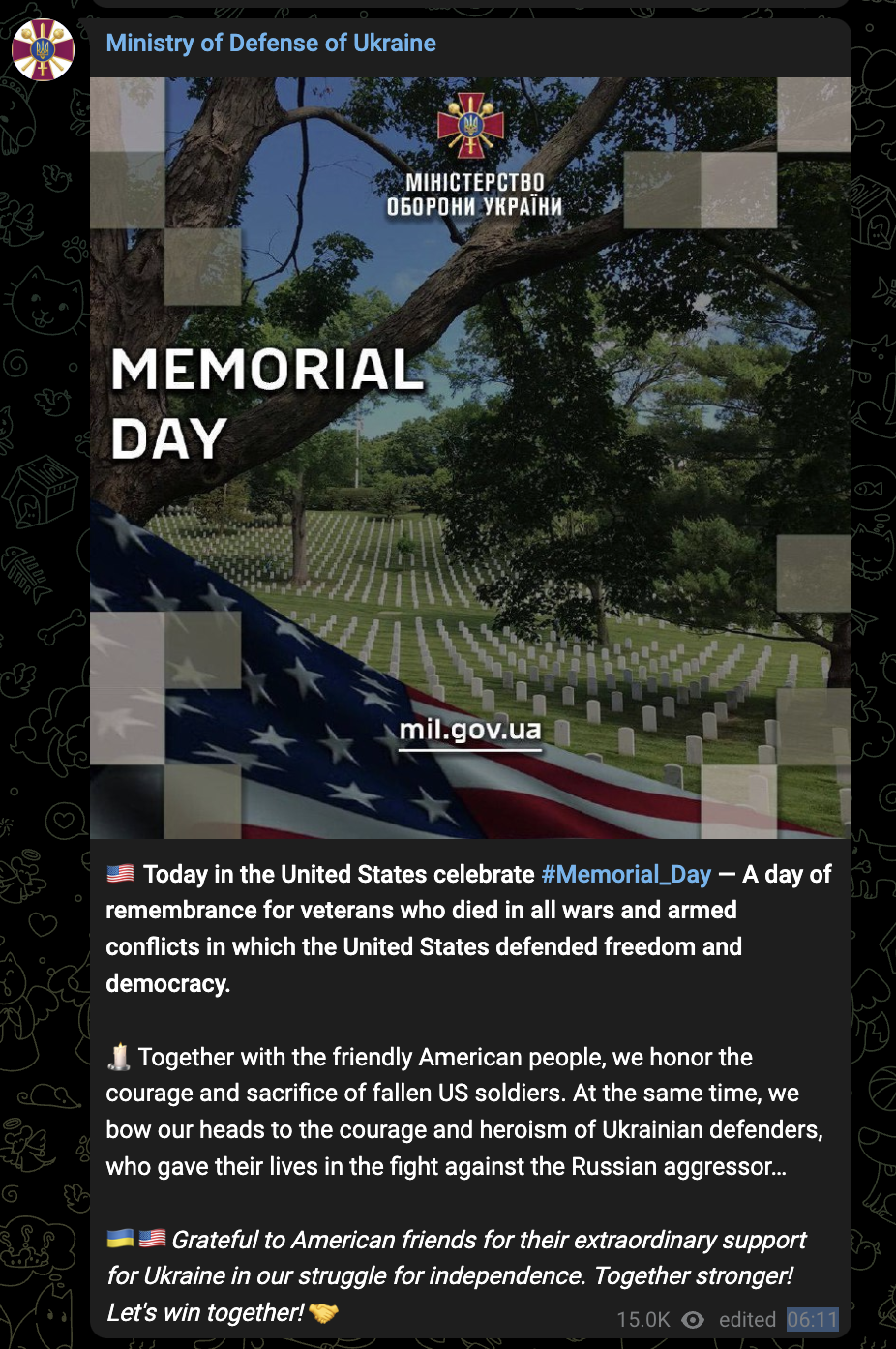 It's really sad that the Ukrainians seem to have a better understanding of what today is supposed to commemorate than most Americans do.
The Washington Post did a nice article about Americans who had died helping to defend Ukraine from Russia's genocidal re-invasion. Here's an excerpt:
The two military officers, crisply attired in blue dress uniforms, ascended the front porch of a single-family home. One clutched a vinyl case containing an ornate white urn and, within, the ashes of Army veteran Andrew Peters.

The scene that April evening in Marshfield, Wis., was strikingly similar to the thousands of casualty assistance calls made by members of the U.S. military over 20 years of war in Afghanistan and Iraq, with the officers offering condolences on behalf of a grateful nation as the soldier's parents, John and Heather, shuddered with grief. But there was a significant difference: Peters, 28, had died in February while fighting as a volunteer with the Ukrainian Foreign Legion, and the respects paid to his father and mother were delivered not from the U.S. government but by Ukrainian military personnel dispatched from their embassy in Washington.

"It's a weird, mixed feeling," John Peters said, recalling the experience. "It's great to have him home and his remains, but it's finally sunken in: He's never going to come back."

As America's most recent wars fade into history, some veterans have chosen to take up arms in Ukraine and, in at least 16 instances, given their lives while either defending its people from Russia's onslaught or aiding those trapped in the violence. They've done so as private citizens, disregarding repeated official warnings from President Biden and others in his administration that grave danger awaits anyone who steps foot on the battlefield.

Survivors of those killed say the decision to trade the relative safety of home for a cause in a country not their own was inspired by the same democratic ideals that undergird service in the U.S. military: love of liberty, disdain for tyranny. Sometimes the choice was influenced, too, by a desire to escape personal turmoil, or a lust for action.

Memorial Day, by tradition, is a remembrance of those who've fallen fighting America's wars. This year, for these families, it surfaces a complicated set of emotions as they are forced to reckon with the meaning of service under one flag and sacrifice under another.
Much, much more at the link including profiles of 1/2 a dozen Americans killed while serving in Ukraine.
That's enough for tonight.
Your daily Patron!
Commenter Bex sent along this video of President Zelenskyy and Patron, as well as Patron's owner Mykhailo, visiting children in Irpin. It is from September 2022. I can't remember if I posted it at the time, so here it is:
There are no new videos posted today at Patron's official TikTok.
Open thread!