Trying to rejoin the living. I was waylaid by a terrible flu at the end of April/beginning of May and it's just dragged on for weeks. Meanwhile, adulting didn't stop – broken dishwasher, mysterious code on the car that the service techs can't figure out, topped off with back-to-back wind/hail storms that shredded my roof. AND I had just planted my tomatoes and peppers – luckily I only lost one tomato. The walls of water saved the day.
So, I've been busy. Right now making quick decisions on house colors so we can get the right gutters up that won't need to be painted. The roof is a no-brainer – it's very light grey now and we'll be going as light as possible because light roofs make life better (see info here).
Don't know how much posting I'll be doing, but hopefully, this will remind you there are good things out there.
I've been trying to stay far from Twitter, so lots of YouTube – I don't usually recommend blocking ads, but it really helps if you're watching a lot of videos. YMMV.
Let's get started!
Nibby!
====================
An Ohio dad found a sweet way to ensure that his kids with special needs have employment opportunities — and now their business has become a community favorite!

Joel Wegener told NBC affiliate WLWT that he decided to buy an ice cream truck in April after realizing that it may be a challenge for his two adult kids, Josh, 18, and Mary Kate, 21, to receive a job offer because they both have Down syndrome.

"It started out as an idea to sell ice cream, now it's so much bigger than that," explained Joel, who also shares eight other biological children with his wife Freida.

"Mary Kate just finished up at Pathways [a program for individuals with varying abilities] and when people asked her, she's always said, 'I wanna work with Papa,'" he added to the outlet. "But then when we started talking about this ice cream business, it was just a natural [thing] to bring her in and also bring Josh in."
====================
I swear, in my head, I posted a full thread about Great Dane therapy dogs, but it looks like that never happened, so I'll sprinkle all the videos I have through subsequent kindness posts. Here's the first one:
====================
Steve Hartman bringing the kindness, as always. Also, this story on Doreen Ketchens is worth your time especially if you like jazz and happy endings.
====================
Trigger alert – lost dog reunited with widowed owner:
====================
Finish up with this – one of my favorite follows. Patrick Dexter plays his cello outside, showing off the great landscape of Ireland.
One thing I learned from the recent storms, my pups can sleep through anything – but raccoons bothering their ducks, of course.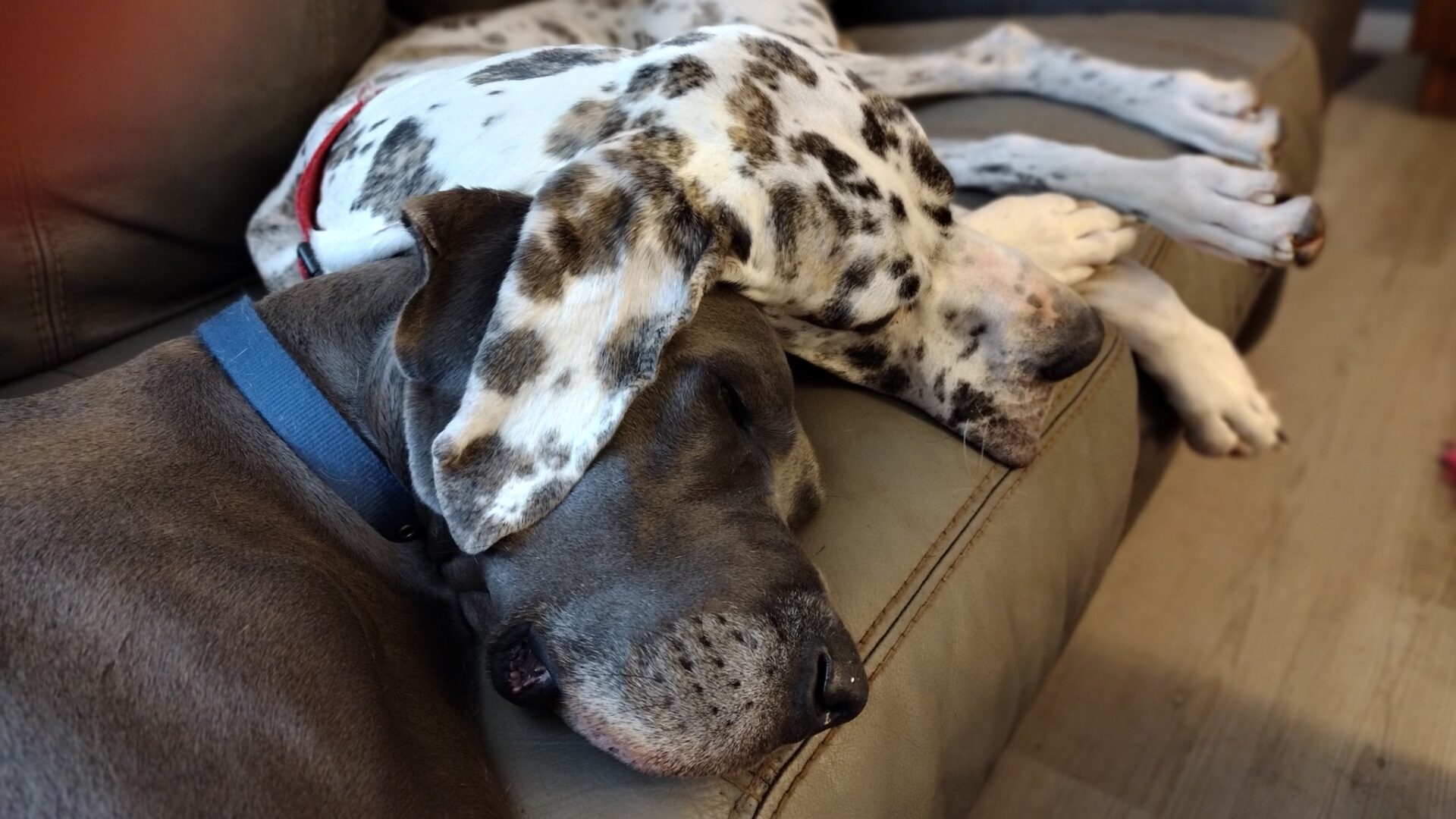 Jasper and Trixie demonstrating their sleeping skills.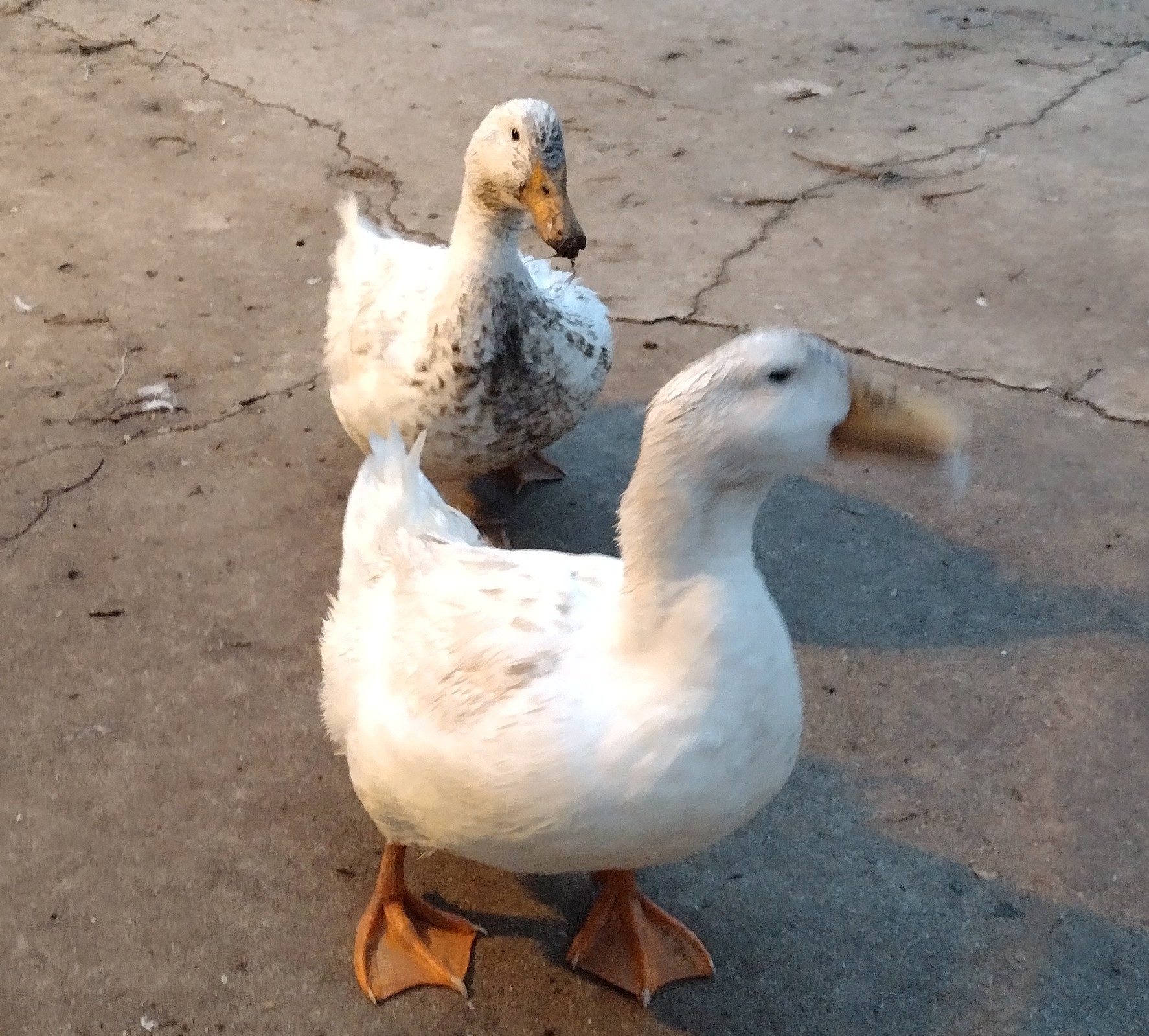 Nora (muddy one) and Nick are not fans of the hail. Luckily the worst storm happened after they were in bed. The second one happened in the afternoon, with gale-force winds just slamming us. I couldn't get outside to help them, nor could I coax them into the house. But being smart ducks, they finally figured out if they snuggled up under the bushes next to the fence that was blocking the wind, they could manage. I thought they were quite clever to figure out which fence to hide next to – because only one length of fencing blocked the gusts.
Okay, that's it for tonight. Remember to be kind to yourself. Share any good news in the comments.