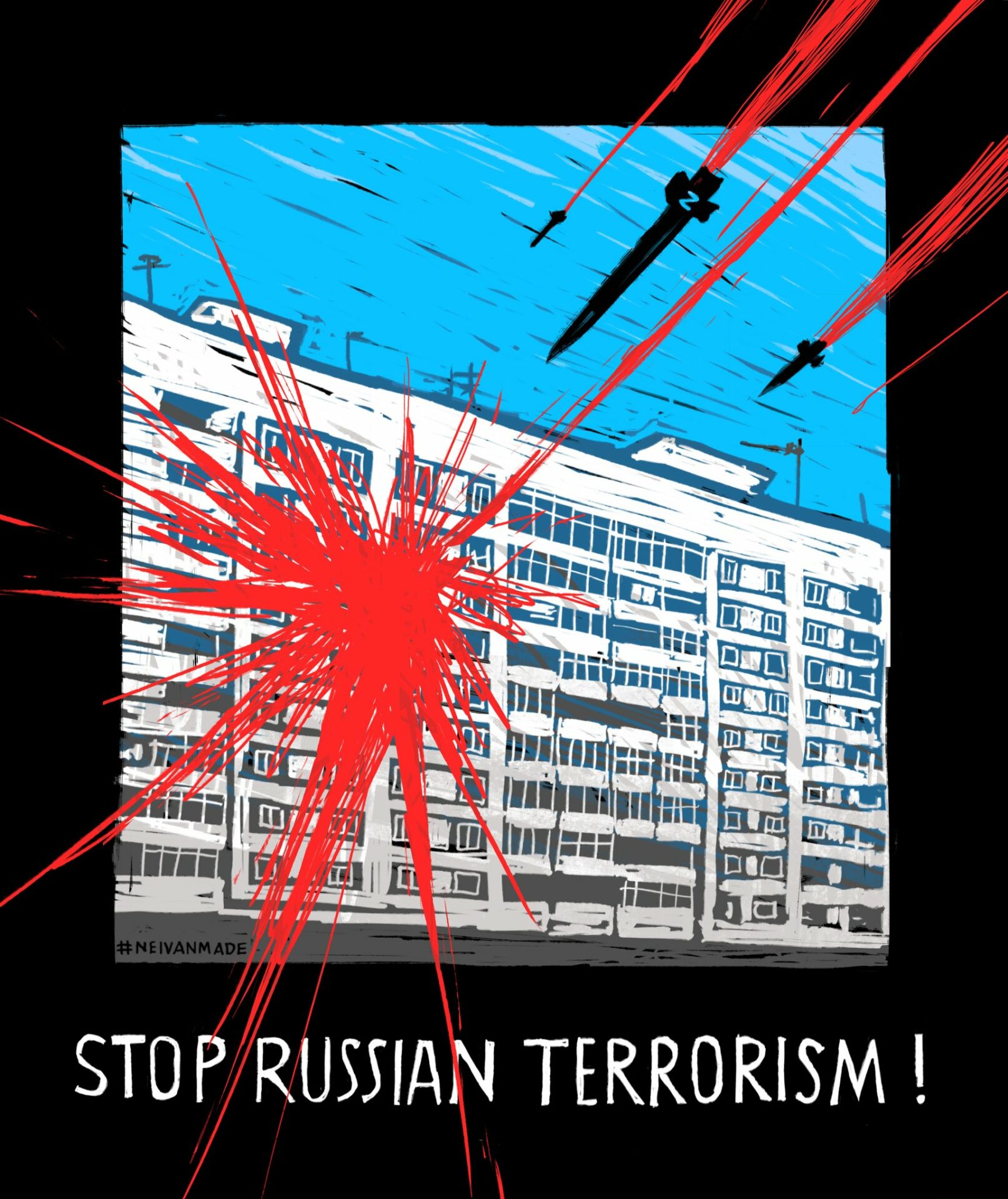 (Image by NEIVANMADE)
Something I've wondered about, and seen no reporting on: how does Ukraine's cell network continue to work?  I mean, I understand how it continues to work in the West.  But in the East?  Near the line of control?  How?  B/c I'd think that Ukraine would have blown up all the cell towers long ago, just to hamstring Russia.  And I can't believe RU are actually  competent enough to keep the damn things running under fire ….
The short answer is that both the Ukrainians and the Russians have had reasons for keeping the mobil network up and running. The Russians have also, at times, tried to turn it off in areas they've occupied. Both sides use the mobil networks for signals intelligence (SIGINT) capture of the other side's calls, positions, and movements. They use it for targeting via drones equipped with cell site simulators. On Ukraine's side of things, they've also got a dedicated and hard working cadre of engineers that work exceedingly hard under exceedingly difficult conditions to ensure that cellular towers are quickly repaired, that power is restored to them, so that they just keep running. For those wondering, here's the link to the cellular network coverage maps for Ukraine's three mobil providers: Kyivstar Mobil, Lifecell, and Vodafone Mobil.
It's beginning to become weird, even astonishing, that Russian missile targeting committes still think that their highest-value targets are civilian infrastructure in major cities such as Kyiv, when UA offensive assets are necessarily gathering at mustering points in preparation for the offensive.

Either (1) their tactical intelligence is really fecally bad, and they don't actually know where to address missile and drone salvoes so as to hit sensitive UA C3 and logistic nodes, or (2) there is bureaucratic resistance by the rocket and aviation forces to adjust their targeting to assist the ground forces.

I think (2) is more likely, but it's just an intuition.
Leaving aside that Carlo answered his own question, I think there is another answer. Russia's targeting is intended to force Ukraine to deplete its air defense capabilities and keep those assets around population centers and civilian sites rather than put them farther forward in support of actual military operations, as well as stretching them thin and overworking them. This is part of a larger strategy with the objective of sapping Ukrainians morale by terrorizing the civilian population way behind the front lines. These two objectives overlap. Destruction of morale and will to continue the fight in order to end the terrorism via aerial bombardment combined with depletion of air defense resources. It is important to remember that the re-invasion is genocidal. It seeks to destroy not only as many Ukrainians as necessary to achieve the strategic objective of taking Ukraine and integrating it into the Russkiy Mir, but to destroy everything that makes Ukraine distinctive from Russia. If that means you have to kill or drive everyone off and reduce everything to rubble, then that's what you do because you can always repopulate with real Russians and rebuild Ukraine into a properly Russian territory.
Here is President Zelenskyy's address from earlier today. Video below, English transcript after the jump:
Ukrainian air shield must continuously have all it needs – President Volodymyr Zelenskyy's address

2 June 2023 – 19:50

Dear Ukrainians, I wish you health!

A summary of the day.

The first thing was to hold the Supreme Commander-in-Chief's Staff meeting. Urgent security issues. An obviously harsh response to the death of people in Kyiv due to a closed shelter. I gave instructions for having the shelter facilities in Kyiv and throughout the country inspected. Ministers Kamyshin and Klymenko are in charge of this.

Unfortunately, even today – after everything has happened – Kyiv residents repeatedly post information about the lack of access to shelters. Not just about closed shelters but about brewed entrances to shelters, about the absence of shelters at all in some parts of the city. This level of negligence in the city cannot be covered with any excuses.

All the details regarding our air defense system – its further development, supply, and production of the necessary missiles in Ukraine were also discussed at the Staff meeting. The Ukrainian air shield must continuously have all it needs. We are engaged in the coalition of Patriot systems and the coalition of modern fighters – actively every day.

The situation on the front line was discussed carefully in detail, in all those points where it is the toughest situation now. I will not talk about it in more detail – the actions of our state, the active actions of our troops will say what is needed. And I separately held a meeting devoted to the training of our new brigades, those that are accumulating strength from the north to the south of our country.

The second item for today – negotiations with the President of Estonia, who arrived in Kyiv. Security comes first, and that's what's about our defense now, and what's about our long-term security. Estonia fundamentally helps us with weapons and equipment, supports our movement in NATO, it is aware of how crucial it is that we prevail over ruscism right now and on our Ukrainian land. It is crucial for every nation neighboring a terrorist state. I'm sure we will provide this security, which is so necessary, we will provide victory over Russian aggression to Ukraine, all of Europe and the free world.

It is also noteworthy that we are developing our cooperation with Estonia and the export of solutions – our digital solutions. Earlier, it was from Estonia that Ukrainians took an example in the development of digital solutions. And now, we have reached such a level that on the basis of our Ukrainian Diia a government application will be created in Estonia. What is convenient and useful for millions of Ukrainians will obviously be convenient and useful for other nations. And it is another component of our leadership, Ukrainian leadership. We discussed further cooperation with Mr. President of Estonia, in particular, in digitalization.

And, by the way, I will make the following announcement: Diia will help develop government services in other countries, not only in Europe – in Latin America and Africa.

The third for today from the various activities worth saying. I held several meetings, long and meaningful, regarding shaping our comprehensive policy for the future. The things that concern the further transformation of the state. The things that concern our participation in global processes. As always, we are preparing news and solutions that will give Ukraine and Ukrainians even more strength.

I'm thankful to everyone who helps our country! Glory to all our warriors! To everyone who is currently fighting for Ukraine.

Today, I especially want to mention the 92nd Separate Mechanized Brigade – all the soldiers of this brigade, who are is extremely resistant in defending the Svatove direction and successfully repelling enemy attacks while moving forward. Thank you, warriors!

Avdiyivka direction… 110th Separate Mechanized Brigade – thank you, soldiers, for your bravery and your ability to be strong in destroying the invaders. Well done!

I would like to mention the border guards who proudly defend the state on the front lines together with all our defense and security forces. Lviv, Donetsk, Zhytomyr border guard units fighting at the front. Thank you! And I also thank the soldiers of the Chernihiv border detachment, who are actively opposing the Shahed drones. The speed and accuracy of our soldiers are critical. Thank you, warriors, for your speed and for your accuracy!

Today, I signed the decrees on honoring our soldiers with state awards. A total of 263 servicemen of the Armed Forces of Ukraine.

Glory to all our heroes!

Glory to Ukraine!
russian aggressors continue their unsuccessful attempts to terrify Ukrainians.
Last night, russians attacked Ukraine with 15 cruise missiles and 21 drones.
UKRAINIAN AIR DEFENDERS SHOT DOWN ALL TARGETS!
Glory to the Ukrainian Air Force and other defenders of our skies!

— Defense of Ukraine (@DefenceU) June 2, 2023
The Ukrainian Air Force says it shot down all 15 Kh-101/Kh-555 cruise missiles launched by Tu-95MS bombers and 21 Shahed/ Geran-2 drones launched overnight.https://t.co/OcE7a9LHeO pic.twitter.com/Gp4MQc8qP4

— Rob Lee (@RALee85) June 2, 2023
From the Swedish Ambassador to Ukraine:
Air alert just over, me coming out of the shelter. #SleeplessMay sucks, but watching how #Ukrainians handle a month of relentless Russian terror bombing just strengthens my conviction that #Ukraine will triumph. pic.twitter.com/tRcjqNXJ2H

— Tobias Thyberg (@TobiasThyberg) June 2, 2023
I'm not sure why everyone has decided to turn the tragedy of Thursday night to morning into a political drama, but I'm not sure things are as simple as everyone likes in terms of responsibility for the shelters not being open during Thursday's air raid.
Asked who's responsible for the air raid shelter being locked, leading to the deaths of 3 Ukrainians, including 2 children, in yesterday's Russian missile attack, Zelensky appears to take a jab at Kyiv Mayor and former boxing champ Vitali Klitschko. "There may be a knockout." https://t.co/cZE4TTJ7gb

— Christopher Miller (@ChristopherJM) June 2, 2023
Here's a machine translation into English explaining the Military District of Kyiv on the official site of the Kyiv City Council:
Military administration of Kyiv

The Kyiv Military Administration – is a temporary state body established in case of hostilities in the city.

The main tasks of the military administration are to prepare the city for defense, to ensure public order and the security of the civilian population, to control the legal regime of martial law and to ensure the life of the city.

The head of the military administration of Kyiv has been appointed Decree of the President of Ukraine Colonel-General Sergei Nikolaevich Popko.
And here's a machine translation into English of the presidential decree appointing Colonel-General Popko:
DECREE OF THE PRESIDENT OF UKRAINE NO. 733/2022
On the appointment of S. Popko as the Head of the Kyiv City Military Administration

In accordance with Article 4 of the Law of Ukraine "On the Legal Regime of Martial Law", to appoint Colonel-General Popko Serhii Mykolaiovych as the Head of the Kyiv City Military Administration.

President of Ukraine V. ZELENSKY

October 21, 2022
Somebody is obviously going to get held accountable here. I don't know if this is Mayor Klitschko's responsibility or Colonel-General Popko's or someone else's. But turning a scandal into a US style political news feeding frenzy isn't going to help anyone stay safe in the future, it isn't going to bring those killed in the attack back, make whole those wounded, or heal the loss of the survivors.
The Ukrainian MOD has published a Telegram post about Ukraine's demining efforts including a link to the interactive map of those efforts. If you don't read Ukrainian, you'll need to machine translate the page with the actual interactive map.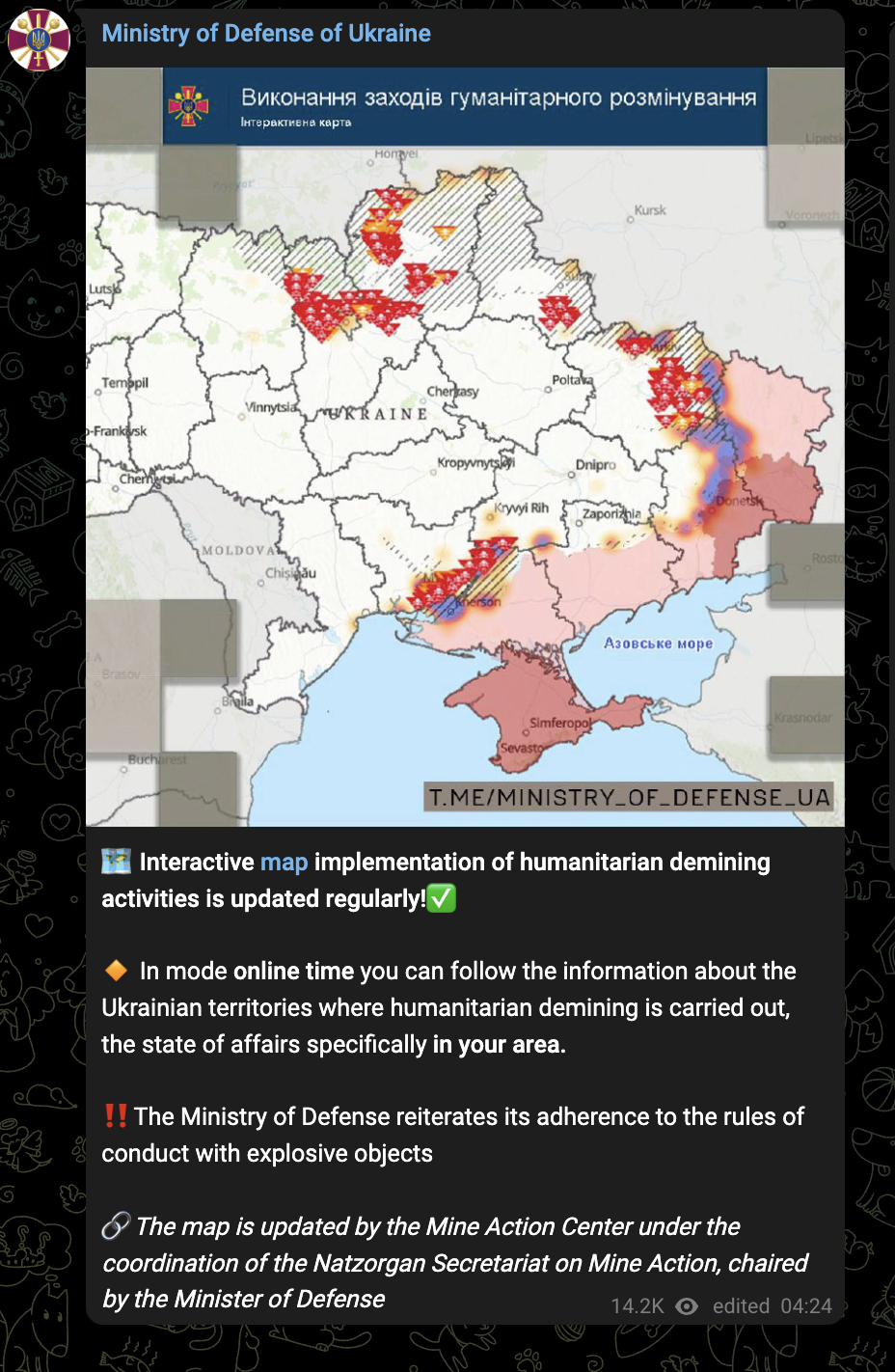 Well this is awkward:
HOLY SHIT I can't belive Blinken actually said it out loud LMFAOOOO #RussiaIsCollapsing pic.twitter.com/QV5nxESVtt

— Fella Uchiha (@KadirHama) June 2, 2023
Berdyansk, Zaporizhzhia Oblast:
/2. An explosion in the port of Berdyansk from a different angle pic.twitter.com/i0jmhaMJD2

— Special Kherson Cat 🐈🇺🇦 (@bayraktar_1love) June 2, 2023
Gin & Tonic sent me this video of two women liberating an Ukrainian icon stolen from (most likely) Mariupol from a church in Moscow:
⚡️⚡️⚡️ У москві викрали незаконно вивезену з Донбасу ікону. pic.twitter.com/RRzgCa3qmd

— Apocalypto 🇺🇦 ❤️‍🔥 (@Apocalypto321) May 31, 2023
You do NOT see that every day!
The Financial Times has taken a deep dive into Gazprom's Private Military Contractors (PMCs) deployed in Ukraine. Here are some excerpts:
The late Erast Yakovenko, a barrel-chested veteran of the 1990s war in Chechnya, hailed from a long line of Russian military men. So it was no surprise to his family when he signed up to fight in Ukraine — even at 53.

What was more unusual than his age — and his demise on the frontline — was the way he joined the war this spring: as a member of a Gazprom-backed military battalion. The Russian state gas company employed Yakovenko in life, and is expected to compensate his widow for his combat death.

His unit, which is named Potok, or stream, like Gazprom's Nord Stream pipelines, includes recruits from among Gazprom's security guards, many of whom were signed up at work, promised job perks, pay and equipment provided by the company.

The battalion forms part of a web of semi-independent military units that have mushroomed under Russia's war effort after the regular army's offensive flopped last year.

The Financial Times has traced the rise of Potok and another Gazprom-linked battalion called Fakel, through more than a dozen interviews with soldiers' relatives, current and former Gazprom staff, military recruiters and associates, as well as a Ukrainian intelligence document on Russian militias.

Although formally attached to competing branches of Russia's secret services and armed forces, the groups are turning the country's fighting force into a messy patchwork of units with a plethora of elite sponsors, according to western and Ukrainian intelligence officials.

"There are various chess pieces on the board. They are trying to work out what to do to preserve their wealth, position, and power," a western security official said.

Known as volunteer battalions, since men enlist for a salary rather than under conscription, such smaller units have begun to rival the notorious paramilitary group Wagner for prominence on the front lines, irritating its founder Yevgeny Prigozhin.

Battalions with nicknames such as "Demon" and "Sparta", each with their own logos and patches, share enlistment ads online, while potential recruits can shop around for the best salaries and sign-up bonuses. Some are raised by Russian satraps in occupied Donbas or Crimea, others with the backing of rich sponsors or individuals affiliated with the security services. Most hide their financial arrangements.

Gazprom has never acknowledged involvement in the formation of frontline battalions. In previous years, it was keen to project a traditional western corporate image to its trading partners in Europe, making environmental, social and governance pledges and plastering its name across football stadiums through its sponsorship of the Uefa Champions League.

Although the company was placed under some sanctions after the start of Russia's full-scale invasion, its gas flows to Europe do not face export curbs, though volumes have sharply declined.

For Russia, the battalions provide a way to meet military manpower needs through private recruitment, without launching a new wave of forced mobilisation; a conscription drive last September caused widespread panic and led hundreds of thousands of people to flee the country.

That mobilisation was to bolster the invasion of Ukraine, an operation that began in February 2022 and was expected to take just weeks; soldiers packed ceremonial attire in satchels for a planned parade in Kyiv. Since then, about 200,000 Russian troops have been killed or wounded. Instead of pushing deeper into Ukraine, Russia is now digging in, keen to hold the 20 per cent of the country it still occupies against an expected counter-offensive.

Ruslan Pukhov, director of the Moscow-based Centre for Analysis of Strategies and Technologies, said the emergence of a plethora of battalions at this stage of the war was "logical" given the desire to avoid a second mobilisation. "The Russian authorities are looking for some palliative solutions," he added.

For oligarchs and corporations, setting up these military units is a way to demonstrate their fealty to the war effort, according to a former senior Russian official. It also enables companies such as Gazprom to keep control over who on their payroll is drafted — with low-skilled workers considered more expendable than gasfield engineers.

"There's an order out to sign up volunteers in various ways, including through wealthy state and private structures that have enough money just to recruit people," the former official said.
Much, much, much more at the link.
Last time I did a count, there were ten or eleven of these different Russian PMCs operating in Ukraine including Wagner.
That's enough for tonight.
Your daily Patron!
There is a new video from Patron's official TikTok, but we're back to the intermittent won't embed in the update post problem. So just click across and watch for yourself.
Open thread!