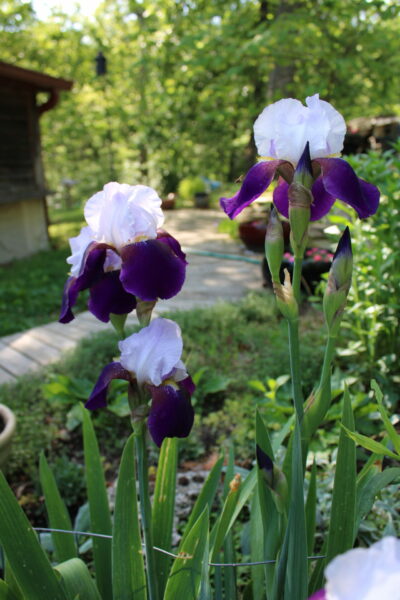 Iris are among my favorites — the (almost) perfect 'set 'em and forget 'em' flower, in every color except true red. Thank you, ace photographer & estimable gardener Ozark Hillbilly!
It was a good year for my Irises. Thought I'd share a few pics with the Jackaltariat.

The Dime Store Irises are so called because one can get them damned near anywhere.

I like the Yellow one but the other 2 [including top photo] are a little too gaudy for my tastes.

I got the Double Date and Brief Beauty Irises at the MO Botanical Garden Iris show.
The Salmon Pink Iris, I am unsure of where I got it from. I've had it for a couple years and this is the first time it bloomed. I think I'm in love.

My white iris was a no show this year, made me sad. This last pic is just Percy photo bombing my pics as he always does…
***********
The unseasonably mild winter actually played hell with our irises. A bunch of the Spousal Unit's favorite dwarf varieties disappeared entirely (I suspect varmints), and the others — including the indestructible generic 'van Gogh' irises — just aren't blooming with their usual vigor. But there's always *next* spring…
So far (largely by accident), I've kept my resolve; only ten mail-order tomato plants in the rootpouches this year. Most of them are starting to set blossoms, and I need to install the tomato ladder supports later today.
What's going on in your gardens, this week?