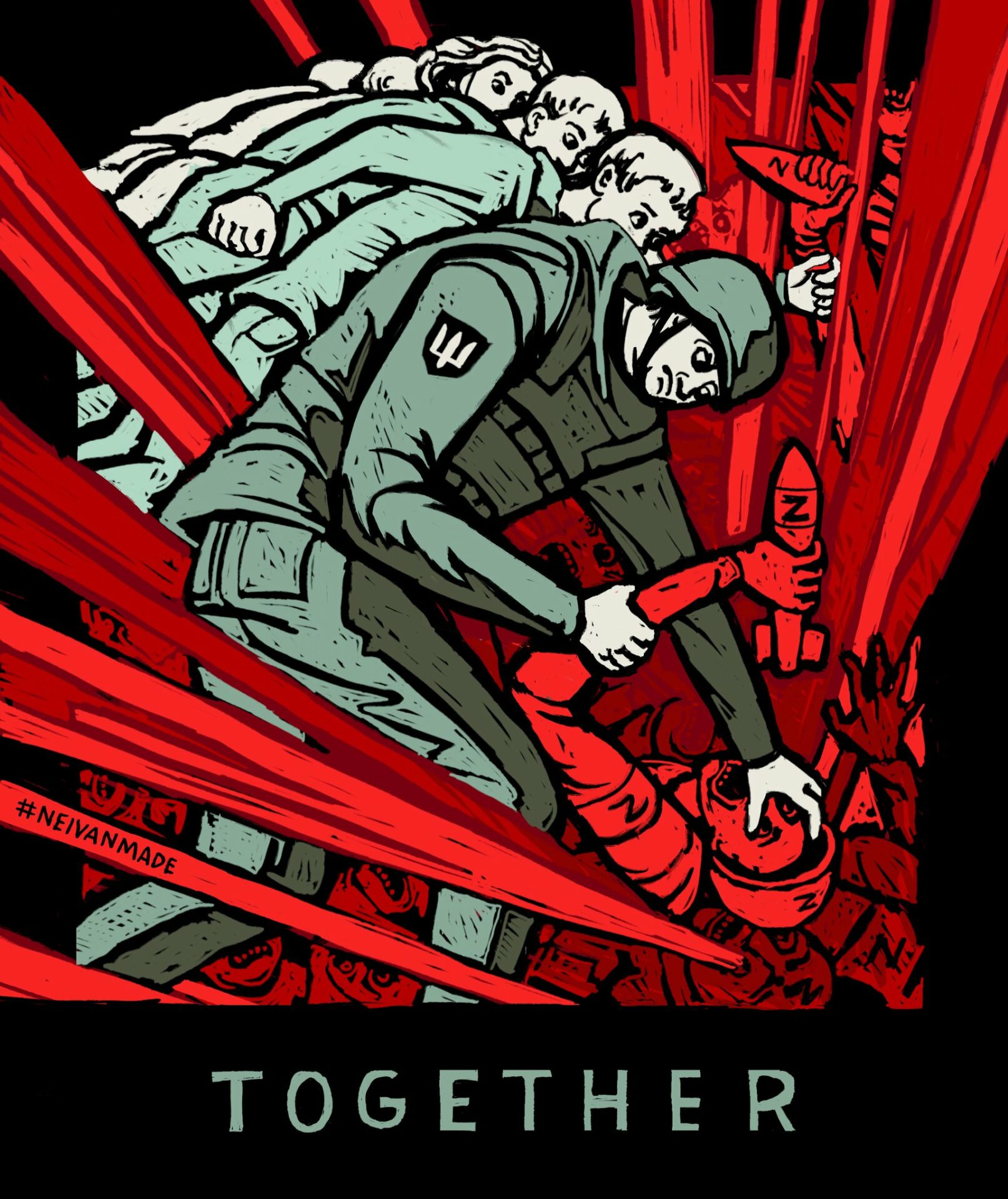 (Image by NEIVANMADE)
The cost:
When 21 year old Ostap Onistrat joined the Ukrainian army to defend his country, his father Andriy, a well-known Ukrainian banker, had no second thoughts: he had to be there on the battlefield with his son. He wanted to protect him, to shield his heroic boy from the brutalities… pic.twitter.com/aHncGx94UJ

— Defense of Ukraine (@DefenceU) June 5, 2023
Here's the full text of the MOD's tweet:
When 21 year old Ostap Onistrat joined the Ukrainian army to defend his country, his father Andriy, a well-known Ukrainian banker, had no second thoughts: he had to be there on the battlefield with his son. He wanted to protect him, to shield his heroic boy from the brutalities of the war… Two days ago Ostap's life was cut short by enemy shrapnel. Another Ukrainian father has lost his son. Ukraine has lost her son. The loss is irreparable. Victory is inevitable. We all owe it to Ostap.
Here is President Zelenskyy's address from earlier today. Video below, English transcript after the jump. Just a heads up, they've overdubbed the video in English.
The enemy knows that Ukraine will win – address by President Volodymyr Zelenskyy

5 June 2023 – 21:55

Good health to you, fellow Ukrainians!

A report on the day.

First of all, I am grateful to each of our warriors, to all our defenders who gave us the news we expect. Bakhmut direction – well done, warriors!

We see how hysterically Russia perceives every step we take there, every position we take.

The enemy knows that Ukraine will win. They see it. They feel it thanks to your strikes, soldiers, and in particular in Donetsk region. Thank you for that!

Today, I would like to particularly celebrate several combat units of ours. These are the 5th separate assault brigade and the 57th separate motorized infantry brigade, which skillfully, decisively and efficiently defend our positions, destroying the occupiers and, most importantly, moving forward.

Thank you, warriors! Thank you all!

Second, we continue our work on sanctions against Russia.

Although the global trend is clear – Russia will lose this war, Russia's rulers continue to deny reality. They continue to try to deceive the world, to circumvent sanctions, to produce more weapons, to ensure more resources and people are spent on this aggression.

We are preparing our steps, new steps to further limit Russia's military potential. Everyone in the world who helps the terrorist state circumvent sanctions in one way or another, everyone in the world whom Russia uses for the supply of weapons, components, equipment – each such entity must feel the full force of the free world.

And we will ensure this.

It is a common task of the world to stop terror. And the main prerequisite for fulfilling this task is to stop any ways in which terrorists are still trying to get something for themselves.

More news to come soon.

Third. Today I held a long and very informative meeting on the transformation of our country and our lives – now and after the victory.

Objectively, there are fundamental security, economic, energy, technological, and simply human issues that require full and effective answers.

These answers will determine what Ukraine will be like and what life will be like for Ukrainian children when they become adults and inherit the state from the current generations.

A strong state, a free state, a modern state, a state pleasant to live in.

We are laying the foundation for this now. Everyone who fights for Ukraine. Everyone who works for Ukraine. Everyone who helps.

For example, today the government, the Office, and the National Security and Defense Council discussed the energy sector and agricultural production in a broad sense. Not only restoring what Ukraine had, but developing and expanding it, taking into account Ukraine's global role for the food and energy security of Europe and the world.

We will present all these details. It will be thorough. In particular, we will present them at the London International Conference on the Reconstruction of Ukraine, which will take place this month.

And, of course, we do not stop our international work with partners for a single day.

Today the British Secretary of State for Foreign Affairs was in Kyiv. A good meeting, useful negotiations and a new strengthening of our countries and our security.

I thanked for all the defense support provided to Ukraine, and especially for the Storm Shadow missiles, which have proven to be extremely effective on the frontline. We continued the conversation about a new coalition to protect life – the Patriot Coalition. Step by step, we are moving with our partners to make this coalition as effective in protecting life and freedom as all our other defense coalitions that have already been established.

We also talked with Mr. Secretary of State about preparations for the NATO Summit in Vilnius. The Summit must be meaningful. Then it will become historic.

Thank you to everyone who helps Ukraine! Thank you to everyone who is bringing the defeat of Russian terror closer!

Glory to our warriors! 

Glory to all our heroes!

Glory to Ukraine!
Don't forget:
Shhhhhh

— Defense of Ukraine (@DefenceU) June 5, 2023
Release the Hornets! From The Australian Financial Review:
Australia, the US and Ukraine are discussing sending 41 Royal Australian Air Force F/A-18 Hornets to Kyiv helping fulfil part of President Volodymyr Zelensky's request for fighter jets, rather than sending them to the scrapheap as planned.

Sources have told The Australian Financial Review that the US, which recently gave permission to other Western allies to supply Ukraine with advanced fighter jets, including US-made F-16s, is favourably disposed to the idea of gifting Ukraine the F/A-18s.

Washington's approval is needed because it owns the intellectual property on the jets that have been retired by the RAAF and which are being replaced by F-35s, of which Australia has ordered 72.

The retired F/A-18s are sitting in a hangar at the Williamtown RAAF base outside Newcastle and unless sent to Ukraine, will either be scrapped or sold to a private sector aviation company, RAVN Aerospace, to use in the US as "enemies" for military aviators to train against

Robert Potter, an Australian security expert advising the Ukrainian government, confirmed negotiations were underway, but a specific deal is yet to be finalised.

"However, the United States and Ukraine have an active and specific interest in the acquisition of fourth generation fighters for the Ukrainian Air Force," he said.

"Australia operates a large stockpile of retired planes which are otherwise scheduled for destruction.

"There are multiple formal approvals required to conclude a procurement of these planes, but it is likely an idea whose time has come."

A separate source close to the discussions agreed it made no sense to destroy perfectly good aircraft that he said could be operational within four months and used to help repel the Russian invasion.

While a handful of planes would only be good for cannibalising parts, the vast bulk would take little work to be brought up to flying condition and have a couple of years left on their airframes. The Australian Hornets are in good shape because they didn't operate at sea.

Ukrainian pilots and ground crew could be quickly brought up to speed to operate the Hornets with Ukrainian language training manuals to be produced.

And with an influx of western fighters to help Ukraine, that would include ex-Hornet pilots.

Defence Minister Richard Marles, who met his Ukrainian counterpart on the sidelines of the weekend's Shangri-La defence summit in Singapore, declined to comment, but his office pointed instead to comments he made at the weekend about Australia's next contribution to the war effort.

"There are specific requests that Ukraine has made of us, I am not going to go into the details of those, but we are working through them with the government of Ukraine," he said.

"Being there for as long as it takes means that we will have another iteration of support for Ukraine, that won't be long before we announce that, obviously, we're in conversation with Ukraine about how we can best contribute, as we are in a conversation with both the UK, the US and other allies about the best kind of contribution we could make.

"The starting point here is that we see what's at issue in the war in Ukraine is really the sanctity of the global rules-based order itself."

Experts said there are several reasons why the Australian Hornets would help make a difference.

First, the Hornets would play an important role in defending Ukrainian civilians. Western air defence systems such as Patriot missiles are doing an effective job stopping the worst of Russia's nightly bombardments of major cities, but there are still gaps, with less built-up areas lacking those systems.

Hornets flying around could be used to intercept and shoot down enemy missiles.

With their twin engines, the Hornets have a much greater chance of survivability if they were damaged. A pilot can land on one engine, and Ukraine cannot afford to lose pilots. And the Hornets are better suited than other fourth-gen jets to the rougher airfields of Ukraine.

Australia going first with an initial delivery of fighter jets would give the Americans (and other nations) cover to provide hundreds from its own fleet of F/A-18s.

It could also be a bad look for Australia if it were not prepared to give up ageing planes at the same time the Americans are preparing to share the crown jewels of their military, nuclear-powered submarines with Australia when the US doesn't really have them to spare.

To prevent the risk of escalation, Australians (and the Americans) could make clear that the Hornets could only fly within Ukrainian airspace, warning if they were used to bomb Russia, the allies would stop maintaining the aircraft, effectively grounding them.
More at the link!
Bakhmut:
By the way, I'm still waiting to see what is the effect of Russia's grand, strategic, definitive victory at Bakhmut, for the sake of which it spent A YEAR throwing waves of convicts and mercenaries at what was left of the city.

— Illia Ponomarenko 🇺🇦 (@IAPonomarenko) June 5, 2023
Bakhmut adjacent:
PMC Wagner detained and interrogated no other but the commander of the 72nd Brigade, Roman Venevitin. Wagner and the 72nd Brigade shared positions in Bakhmut.

They detained the man, beat him, broke his nose, and forced to record a video admitting to firing at a car of PMC… pic.twitter.com/BY3PhEV60q

— Dmitri (@wartranslated) June 4, 2023
First tweet from from Tatarigami's thread, the rest from the Thread Reader App.
🧵Thread:

The news of the arrest of the senior officer, who serves as the commander of the russian 72nd brigade, by Wagner, took many by surprise. However, this situation has been unfolding for some time now, as I mentioned in a thread over a month ago.https://t.co/jmBoMshPxc pic.twitter.com/fcBJ9rB6Ah

— Tatarigami_UA (@Tatarigami_UA) June 4, 2023
2/ 

Although some people dismissed the information I previously provided as propaganda or lacking evidence, the ongoing power dynamics and events serve as evidence. Let's closely examine the situation 

3/ 

While many soldiers in the Ministry of Defense either respect or would like to join Wagner, mostly due to higher payments, which are typically disbursed more reliably than those from the MoD, the sentiment among Russian senior officers is quite the opposite. 

4/ 

On average, Wagner tends to view officers from the Ministry of Defense (MoD) as inefficient bureaucrats who waste paper and fail to effectively carry out missions. Conversely, senior Russian MoD officers generally regard Wagner as an unreliable and uncontrollable private gang. 

5/ 

This latest incident between the MoD and Wagner is not the first known incident of its kind. While previous conflicts, primarily resulting from friendly fire between the MoD and Wagner, have been resolved in the past, the situation continues to worsen 

6/ 

The conflict between the 72nd brigade and Wagner dates back to when the Ukrainian 3rd assault brigade successfully pushed the 72nd brigade from positions that were previously under Wagner's control. 

7/ 

Wagner's ability to administer justice and deploy its own police force in occupied territories, undermines the state's monopoly on violence. While some assume the state has full control over Wagner's activities, we can observe a more complex power dynamic. 

8/ 

Evgeniy Prigozhin does not operate as an isolated individual in this power dynamics and enjoys significant support from certain circles within the Kremlin. Situation is unlikely to improve in the near future and will continue to escalate as central power looks weaker 
The Liberty of Russia Legion/Legion Svoboda has thoughts:
Liberty of Russia legion offers Prigozhin to exchange Russian pows for Lt Colonel Venevitin, commander of the 72nd Brigade, captured by Wagner yesterday. Unclear why Prigozhin would have any interest in this, it's very likely a PR move to attract attention. pic.twitter.com/GPCsu7Cm4O

— Dmitri (@wartranslated) June 5, 2023
Russia:
A deep fake Putin announcing mass mobilisation in Russia may be one part of what seems to be a hacking attack coinciding with Ukrainian counter-offensives in the east & south today. TVs in Crimea were reportedly broadcasting Ukrainian propaganda yesterday pic.twitter.com/Bm01RtZgrw

— Matthew Luxmoore (@mjluxmoore) June 5, 2023
Russia has the advantage in manpower and equipment. But Ukraine has outwitted it from the outset in terms of tactics. No actual confirmation these deep fakes are Ukraine's work, of course.

— Matthew Luxmoore (@mjluxmoore) June 5, 2023
This is sauce for the goose. Part of how Putin was able to come to and consolidate power was by orchestrating a disinformation campaign against the prosecutorial investigator who had him in his sights. The heart of that campaign was doctored imagery of the prosecutor with prostitutes.
And Russia has a rich tradition of political blackmail. The Russians even have a word for it: компромат (kompromat, a contraction of the phrase "compromising materials"). One of the more famous incidents in recent Russian history involved Yury Skuratov, the country's top prosecutor. In April 1999, Russian state television broadcast footage of a man resembling Skuratov in a three-way romp with a couple of prostitutes; the incident cut short the career of Skuratov, who had been investigating high-level corruption inside the Kremlin.

The head of the FSB, the successor to the KGB, held a press conference claiming that the man caught on tape was indeed Skuratov. The FSB chief at the time? None other than former President (and current Prime Minister) Vladimir Putin.
Belgorod Oblast, Russia:
Governor of Belgorod Gladkov confirms Russia doesn't control Tavolzhanka. Is there anything at the moment that Russia still firmly controls? pic.twitter.com/kyxRPbz01K

— Maria Avdeeva (@maria_avdv) June 5, 2023
And speaking of what is going on in Russia, CNN brings us a deep dive on Ukrainian Unconventional Warfare.
Ukraine has cultivated a network of agents and sympathizers inside Russia working to carry out acts of sabotage against Russian targets and has begun providing them with drones to stage attacks, multiple people familiar with US intelligence on the matter told CNN.

US officials believe these pro-Ukrainian agents inside Russia carried out a drone attack that targeted the Kremlin in early May by launching drones from within Russia rather than flying them from Ukraine into Moscow.

It is not clear whether other drone attacks carried out in recent days – including one targeting a residential neighborhood near Moscow and another strike on oil refineries in southern Russia – were also launched from inside Russia or conducted by this network of pro-Ukrainian operatives.

But US officials believe that Ukraine has developed sabotage cells inside Russia made up of a mix of pro-Ukrainian sympathizers and operatives well-trained in this kind of warfare. Ukraine is believed to have provided them with Ukrainian-made drones, and two US officials told CNN there is no evidence that any of the drone strikes have been conducted using US-provided drones.

Officials could not say conclusively how Ukraine has managed to get the drones behind enemy lines, but two of the sources told CNN that it has established well-practiced smuggling routes that could be used to send drones or drone components into Russia where they could then be assembled.

A European intelligence official noted that the Russian-Ukrainian border is vast and very difficult to control, making it ripe for smuggling – something the official said the Ukrainians have been doing for the better part of the decade that they've been at war with pro-Russian forces.

"You also have to consider that this is a peripheral area of Russia," the official said. "Survival is everyone's problem, so cash works wonders."

Who exactly is controlling these assets is also murky, the sources told CNN, though US officials believe that elements within Ukraine's intelligence community are involved. Ukrainian President Volodymyr Zelensky has set general parameters for what his intelligence and security services are allowed to do, two of the sources said, but not every operation requires his sign-off.

Asked for comment, a spokesperson for the head of the Ukrainian Security Service suggested to CNN that the mysterious explosions and drone strikes inside Russia would continue.

"We will comment on instances of 'cotton' only after our victory," he said. Quoting the head of the Security Service, Vasyl Malyuk, the spokesperson added that regardless, "'cotton' has been burning, is burning, and will continue burning."

"Cotton" is a slang-word that Ukrainians use to mean explosions, usually in Russia or Russian-occupied territories in Ukraine. Its origins date back to the early weeks of the war and stem from the fact that the Russian word for a "pop" is very similar to the Ukrainian word for cotton.

There has been a steady drumbeat of mysterious fires and explosions inside Russia over the last year, targeting oil and fuel depots, railways, military enlistment offices, warehouses and pipelines. But officials have noticed an uptick in these attacks on Russian soil in recent weeks, beginning with the attack on the Kremlin building. It appears to be "a culmination of months of effort" by the Ukrainians to set up the infrastructure for such sabotage, said one of the sources familiar with the intelligence.

"There has been for months now a pretty consistent push by some in Ukraine to be more aggressive," this person said, speaking anonymously because of the sensitivity of US intelligence. "And there has certainly been some willingness at senior levels. The challenge has always been their ability to do it.

Ukraine's military intelligence chief, Kyrylo Budanov, has consistently proposed some of the most brazen plans for operations against Russia and values symbolic acts, US officials told CNN.

"All I will comment on is that we've been killing Russians," Budanov told Yahoo News last month when asked about the car bomb attack that killed the daughter of a prominent Russian political figure in Moscow's suburbs last year. The US intelligence community assessed that that operation was authorized by elements within the Ukrainian government.

"And we will keep killing Russians anywhere on the face of this world until the complete victory of Ukraine," Budanov added.
Much more at the link!
That's enough for tonight.
Your daily Patron!
A new video from Patron's official TikTok!
Here's the machine translation of the caption:
And this. :))
Open thread!