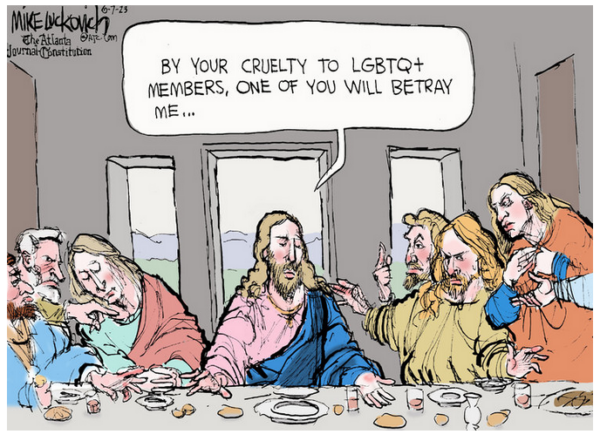 (Mike Luckovich via GoComics.com)
Speaker Emerita Nancy Pelosi throws out the first pitch at tonight's Nats game during Nats night out. ?????? pic.twitter.com/Hj240wc8HS

— Christian Sierra (@CSierra92) June 6, 2023
These folks, for instance:
House in stalemate after hard-right Republicans defy McCarthy, block legislation Via @MariannaReports @LACaldwellDC @amybwang https://t.co/rVOYSWSMm8

— Annah Aschbrenner (@AnnahBackstrom) June 7, 2023
The Freedom Carcass, as a child therapist might frame it, is having some really big feelings (also known as: throwing a public meltdown). Per the Washington Post, "House heads home after hard-right Republicans defy McCarthy, block legislation":
A two-day stalemate between hard-right Republicans and GOP leaders has effectively frozen the House from considering any legislation for the foreseeable future, as both groups failed to find a resolution to the standoff that would allow the majority to vote on bills.

Just past 6 p.m. Wednesday, after GOP leaders gave up on resolving the impasse this week and canceled the remaining votes for the week, House Speaker Kevin McCarthy (R-Calif.) addressed reporters and explained that part of the ongoing frustration is the hard-line faction's inability to articulate their demands.

"This is the difficult thing," he said. "Some of these members, they don't know what to ask for."

McCarthy met with several members of the House Freedom Caucus on multiple occasions Wednesday to negotiate on their demands after 11 lawmakers — still angry over McCarthy's handling of the debt ceiling bill — voted with Democrats against passing a rule Tuesday that would have set parameters for debate of several noncontroversial bills this week.

The blockade presents a high-stakes challenge for McCarthy as he seeks to assuage the myriad demands by the far-right faction of conference; previous Republican speakers have had to confront similar challenges before they were eventually forced out of the position. The conflict not only threatens McCarthy's tenure with the speaker's gavel, but also the House's ability to take up any legislation, contributing to growing irritation within the razor-thin majority…
At the center of the far-right's concern is an argument that McCarthy violated an agreement several of them struck in January in exchange for supporting his speakership bid. No list of those promises made exists publicly, so it's unclear exactly what lawmakers and McCarthy agreed to. But several members of the Freedom Caucus have claimed he violated three main components of the agreement: Supporting legislation that reduces spending back to 2022 appropriation levels; putting legislation on the floor that is not passed overwhelmingly by Democrats; and not taking up bills that don't have unanimous support from Republicans on the House Rules Committee…

Throughout Wednesday morning, the group of disrupters met and spoke with McCarthy and his team. Leadership remains unclear what exactly the group of 11 Republicans want, and different members want different things, making it more difficult to address their concerns, according to four people close to leadership who spoke on the condition of anonymity to discuss private conversations….

Meanwhile, other Republicans waiting to be told of what happens next were growing frustrated. Several governance-minded Republicans privately expressed their frustration that a small faction of their conference continues to hold up "the majority of the majority" from doing their basic job in elected office and voting — with little optimism that things change when lawmakers return on Monday.

"This is, in my opinion, political incontinence on our part. We are wetting ourselves and can't do anything about. This is insane," Rep. Steve Womack (R-Ark.) said. "This is not the way a governing majority is expected to behave. And frankly, I think there'll be a political cost to it."…
One can but hope!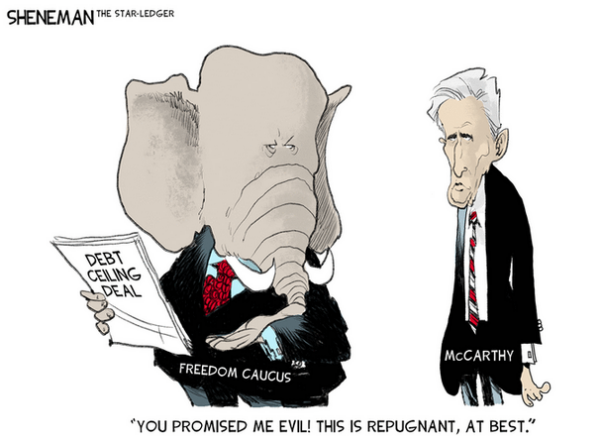 (Drew Sheneman via GoComics.com)