Here is a picture of Steve in his end table/bed/box: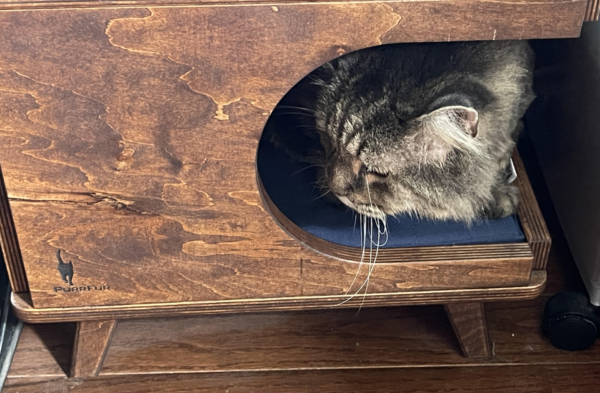 Loading up the family truckster in a little bit to make the three hour trek to Cleveland Airport and back to pick up the other half. She's flying in there because it was a boatload cheaper than heading into Pittsburgh, and both of us are on a budget because we have a lot of expenses coming up and I still need a god damned roof done plus retirement is right down the road and we both make the same amount or less than last year but it's worth a shitload less because our corporate overlords suck and fuck Ronald Reagan. Phew. Had to get that venom out of my system.
At any rate, this is her first two week vacation in forever, and we have lots of plans and fun things to do (or she alleges they will be fun, I will reserve judgment until afterwards). I'm like a midwesterner when it comes to driving and can do three hours standing on my head, but I'm curious to see how the missus behaves. Since we plan to drive to Arizona from Bethany this Christmas to move a bunch of stuff to the winter chateau, three hours will be a good test run. I'm sure she will be fine, although if she isn't I have a tarp and rope in the back and will Aunt Edna her ass to the roof for the remainder of the drive.
I'm excited to see her and I am sure Thurston (who adores her because she gives him the NONSTOP ATTENTION HE CRAVES) will be over the moon. I'll give you all an update tomorrow.