Been a busy couple of days. Yesterday, we took a trip up past Greensburg, PA, to visit Joelle's horse that she used to share with her friend back Stacy when she worked at CMU. His name is Skipper and they used to ride and take care of him, and one day after Joelle had moved to Arizona, Stacy learned he was going to be made into meat for human consumption, which I found shocking, and Stacy said "NOT ON MY FUCKING WATCH," bought him, then quit her job and became an animal rights activist and worked to get that outlawed. At any rate, here is Skipper with the girls: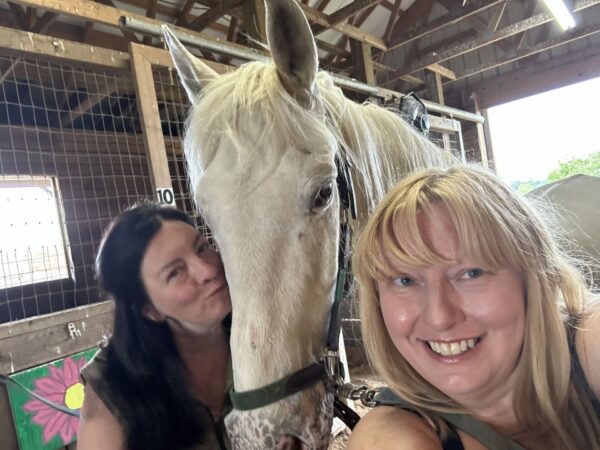 On the way there, I stopped at one of my secret places in Washington, PA, a tiny Mexican grocery which sells street tacos and burritos and is the real deal (I'm usually the only white person there and I look like I am standing among liliputians), and got some tacos and a Mexican coke.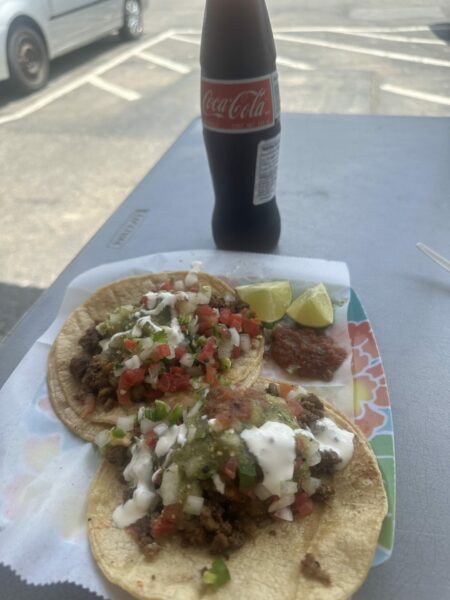 I don't tell anyone about this spot because I don't want white people to fuck it up coming in there asking for unseasoned chicken or vegan refried beans and karening up the fucking place.
Today we headed over to have another visit with her mom and go out to eat. They took me to a local place called the Elmton Pizza, which apparently is one of those legendary places. It's interesting (and that is not a passive aggressive "that's interesting." I really just mean it was interesting and not like pizza I had had before):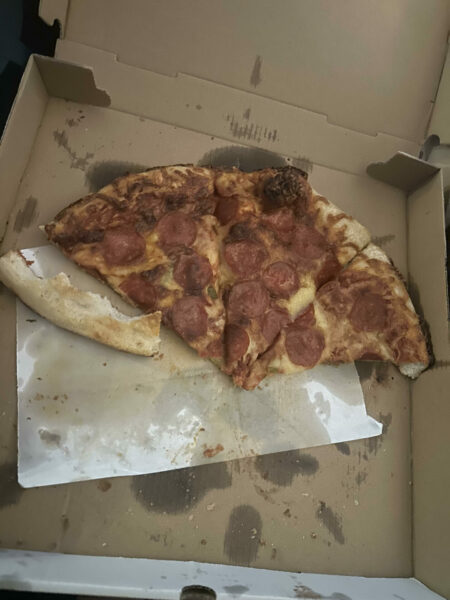 It's also where Joelle's father proposed to her mother, so that was neat. After that we went ring shopping, and since this is a small town, this also happens to be where Joelle's father bought her mother's ring. We looked around for a bit, and Joelle's mother picked one out that she really liked, and Joelle like it to. We then left, and on the way home, her mother then told Joelle we should not buy a ring, that Joelle should just take hers, which was just "sitting in the kitchen- I haven't worn it in years." Joelle was over the moon: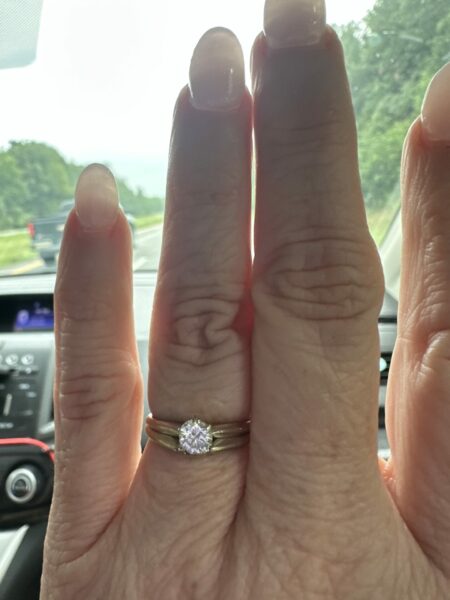 I'm still getting a ring, but Joelle and I realized on the ride home after dropping off her mom that her mother had probably planned the entire thing- taking us to the same restaurant, then the same ring place, then casually saying "why not just take mine." Those old ladies are crafty like that. Never take yer eye off them.
And, of course, we stopped at Handel's ice cream and got a quart for mom and dad and a quart for us.
So that's what we have been up to.
Fuck Republicans.