I assume no one can see this post but a bee tried to pollinate this hat today https://t.co/D1Pj4T35FM

— love & barley ?????? (@loveandbarley1) July 1, 2023
BREAKING: the US economy is doing pretty damn well https://t.co/7eShgLvbcY

— John Harwood (@JohnJHarwood) July 7, 2023
Wow, the Biden Regime is lying and says inflation is down to about four percent when the more reliable private sector data says it's actually much lower. https://t.co/wCsGtidoce

— Matthew Yglesias (@mattyglesias) July 3, 2023
When Trump AND @marwilliamson Both tell you that they are going to "turn the economy around" and do a "180".. this is what they want to stop …. This is the opposite of what they want to do.. https://t.co/h8EnZAKxj1

— Hal Sparks (@HalSparks) July 6, 2023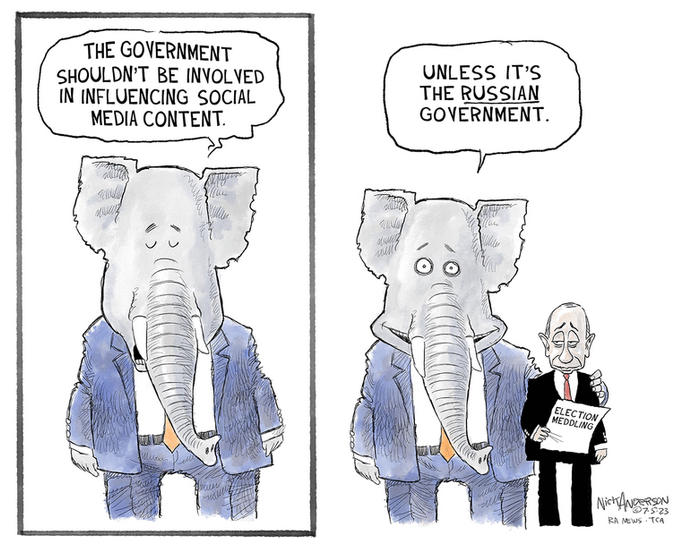 Anyone with a better grasp of The Cyber want to comment on this ruling?
A federal judge is limiting the Biden administration's discussions with social media companies as part of a lawsuit alleging the U.S. overstepped in its efforts to persuade companies to address postings on vaccines and elections. https://t.co/UB1L8Bt8RD

— The Associated Press (@AP) July 4, 2023
A judge on Tuesday prohibited several federal agencies and officials of the Biden administration from working with social media companies about "protected speech," a decision called "a blow to censorship" by one of the Republican officials whose lawsuit prompted the ruling.

U.S. District Judge Terry Doughty of Louisiana granted the injunction in response to a 2022 lawsuit brought by attorneys general in Louisiana and Missouri. Their lawsuit alleged that the federal government overstepped in its efforts to convince social media companies to address postings that could result in vaccine hesitancy during the COVID-19 pandemic or affect elections.

Doughty cited "substantial evidence" of a far-reaching censorship campaign. He wrote that the "evidence produced thus far depicts an almost dystopian scenario. During the COVID-19 pandemic, a period perhaps best characterized by widespread doubt and uncertainty, the United States Government seems to have assumed a role similar to an Orwellian 'Ministry of Truth' "…

The Justice Department is reviewing the injunction "and will evaluate its options in this case," said a White House official who was not authorized to discuss the case publicly and spoke on condition of anonymity.

"This administration has promoted responsible actions to protect public health, safety, and security when confronted by challenges like a deadly pandemic and foreign attacks on our elections," the official said. "Our consistent view remains that social media platforms have a critical responsibility to take account of the effects their platforms are having on the American people, but make independent choices about the information they present."

The ruling listed several government agencies, including the Department of Health and Human Services and the FBI, that are prohibited by the injunction from discussions with social media companies aimed at "encouraging, pressuring, or inducing in any manner the removal, deletion, suppression, or reduction of content containing protected free speech."…

The plaintiffs in the lawsuit also included individuals, including conservative website owner Jim Hoft. The lawsuit accused the administration of using the possibility of favorable or unfavorable regulatory action to coerce social media platforms to squelch what it considered misinformation on masks and vaccines during the COVID-19 pandemic. It also touched on other topics, including claims about election integrity and news stories about material on a laptop owned by Hunter Biden, the president's son…
Are we still allowed to call Hoft 'The Dumbest Man on the Internet'?
Alternate headline: "Trump Judge Bars FBI From Warning Social Media Sites About Sex Abuse and Terrorism" https://t.co/WE4ZgqVw8C

— Dan Froomkin (PressWatchers.org) (@froomkin) July 4, 2023