Seems to me the story isn't that DeSantis fired the Nazi guy. The story is that DeSantis hired a Nazi guy that he now has to fire

— Will Bunch (@Will_Bunch) July 25, 2023
Ron and his kkkrew of 'mischevious' young groypers have rent the GOP's flimsy scrim of plausible deniability (Of course I'm not a racist, but many people are saying… ) to flinders! Those careless bastards!!!
Rod Dreher is saddened…
It's truly heartbreaking to see bright young conservatives get distracted by internet edgelord behaviour from the pressing struggle to use the coercive power of the state to violently purge society of degenerate elements and reorient the national community for the common good. https://t.co/km2imaz6JG

— Nathan Goldwag ???? (@GoldwagNathan) July 26, 2023
Because, see, Rod has a Black Jewish friend:
I've talked to a couple of ppl who know him, including a Jew, & they both believe Nate. They think he was truly naive. I hope that is true. I spent some of this afternoon in Budapest in the Dohany Street Synagogue, in the garden of which Hungarian Nazis buried 2,200 Jews in 2/

a mass grave, during the Holocaust. It's just up the street from the hotel where Eichmann set up HQ to direct the Budapest deportations. It disgusts me that these young right wingers play around with these symbols to be edgelords. I'm going to choose to believe my friends, & 3/

accept that Hochman sincerely didn't know what he was doing. He's wrecked his career, bec after once praising notorious Jew-hater Nick Fuentes, Hochman makes all those who defended him look like suckers. A tragedy all around — Hochman is a super-bright guy. Which is why it's so difficult to believe that he was so naive about the Nazi sun symbol. But I'll accept that it's true, because I don't want to believe the worst about somebody I respect, and the two friends I know who vouch for him are trustworthy. /end
Rod, it looks exactly like a Nazi symbol even to somebody who didn't already know it was a Nazi symbol.

— The Fig Economy (@figgityfigs) July 26, 2023
There are a lot of reasons to not believe this, and the biggest one is that the Sonnenrad is incredibly difficult to randomly "find" online without even a slight allusion to what it actually is.

Placing the symbol against a military background just confirms the intent. https://t.co/MX5ekLZkgX

— Lakshya Jain (@lxeagle17) July 26, 2023
Bethany Mandel, rightwing-talking-pointperson and professional Mommy, somersaults into the convo…
guess who previously defended Nate Hochman, the fired DeSantis staffer who created the video featuring the sonnenrad nazi symbol, the last time he was involved in a "scandal" when he praised Nick Fuentes pic.twitter.com/8IRJONynm7

— Matt Binder (@MattBinder) July 26, 2023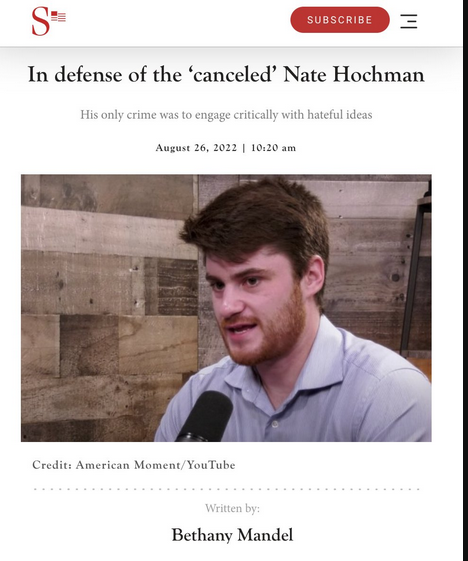 Rich Lowry wants DeSantis to get smart and use the proper euphemisms, dammit!
the idea that people don't want an unhinged fascist with zero charisma never enters this column's brain pan https://t.co/Ro2LOWvMXD

— Karl Bode (@KarlBode) July 27, 2023
Look, accidents happen!
What's the size of the neo Nazi constituency in America in your estimate?

— Wesley Yang (@wesyang) July 26, 2023
Ok but it looks worse for DeSantis the smaller the neo Nazi constituency is. If it's big, you can try to explain having some in prominent positions as random bad luck. If it's small, well, it starts to look more intentional. https://t.co/PB5sKJ2msI

— River_Tam (@RiverTamYDN) July 27, 2023
Matt Yglesias, Captain Obvious:
Turns out that the average GoP staffer is a 4chan groyper, just like everybody in the comments was telling him. https://t.co/uSBmF5WKFq

— Connor Mulhern (@connoramulhern) July 28, 2023