The Biden administration plans to urge all Americans to get a booster shot for the coronavirus this autumn to counter a new wave of infections, a White House official said https://t.co/D8NY90tTa7

— Reuters (@Reuters) August 21, 2023
… The official said that while the Centers for Disease Control and Prevention are reporting an increase in infections and hospital admissions from the virus, overall levels remain low.

On Thursday, Moderna (MRNA.O) said initial data showed its updated COVID-19 vaccine is effective against the "Eris" and "Fornax" subvariants in humans.

Moderna and other COVID-19 vaccine makers Novavax (NVAX.O), Pfizer (PFE.N) and German partner BioNTech SE (22UAy.DE) have created versions of their shots aimed at the XBB.1.5 subvariant.

Pending approval from health regulators in the United States and Europe, the companies expect the updated shots to be available in the coming weeks for the autumn vaccination season.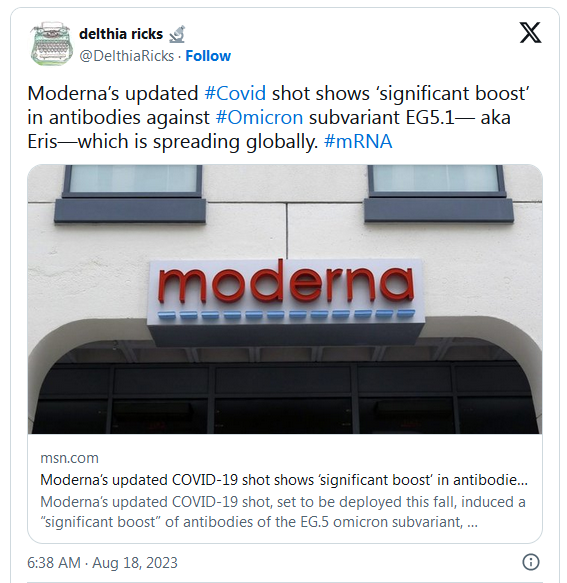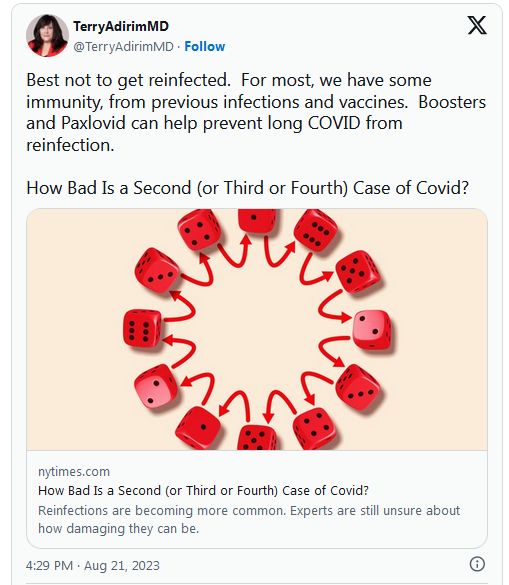 The NYTimes tends to be *very* cavalier about pandemic risks, but still:
… There is a dearth of data on Covid outcomes, including what proportion of people with repeat infections go on to develop longer-term complications, said Dr. Marc Sala, co-director of the Northwestern Medicine Comprehensive COVID-19 Center. But here's what we know so far.

The severity of repeat infections
For many people who get Covid multiple times, subsequent infections will be as mild as or milder than their first, emerging data shows, likely because of partial immunity from previous infections, vaccination and the fact that the latest circulating variants generally cause less severe symptoms. There are a few exceptions — notably, among some people who are immunocompromised, older or had particularly severe previous infections. People who had a severe first infection are more likely to end up hospitalized or to require medical attention for a reinfection, said Emily Hadley, a research data scientist at RTI International who studies long Covid.

Reinfection and long Covid
The chances you will get long Covid from a reinfection are fairly unpredictable — several experts interviewed for this story used the metaphor of Russian roulette. The milder your symptoms, the less likely you are to get long Covid, said Dr. Peter Chin-Hong, an infectious disease specialist at the University of California, San Francisco. But every time you get infected, no matter the severity, there is always a chance that you can develop longer-term symptoms.

A buzzy paper that was published in Nature Medicine last fall showed that people with two or more Covid infections were more than three times as likely to develop lung and heart issues, and over 1.5 times as likely to have a neurological disorder, including brain fog and strokes, than those who were only infected once. The study used data collected from U.S. Department of Veterans Affairs health care centers, which meant the participants tended to be older than the general population, and overwhelmingly male. But it showed, in pretty stark terms, that multiple infections are worse than one, said one of its authors, Dr. Ziyad Al-Aly, the chief of research and development at the V.A. St. Louis Healthcare System.

Dr. Sala said he frequently sees patients who were more or less fine after their first couple of infections wind up with long Covid in the wake of a third or fourth infection…

OK, so now what?
It's easy to feel a sense of fatalism about reinfection, said Dr. Davey Smith, an infectious disease specialist at the University of California, San Diego. But he stressed that you can reduce your risk with common-sense measures like eating dinner outside while the weather's warm and not hanging out with friends when they're feeling sick…

He also noted that there are ways to lower the risk of long-term complications from Covid: An updated vaccine, which can help buffer against reinfection, will be available this fall, and antivirals like Paxlovid may reduce the risk of developing long Covid…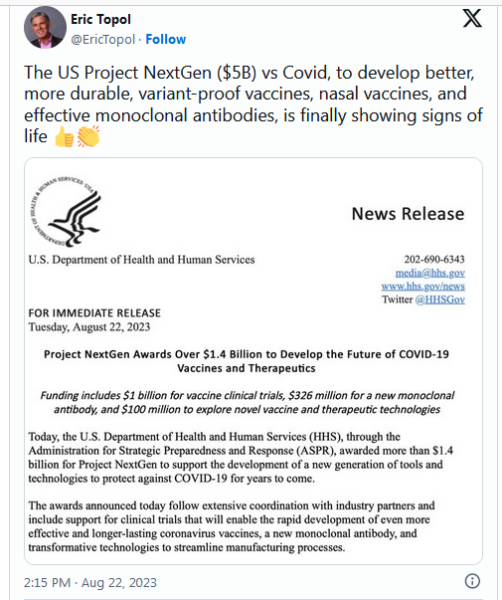 US govt awards $1.4 bln for development of new COVID therapies, vaccines https://t.co/5auexw69Y8

— Reuters Health (@Reuters_Health) August 23, 2023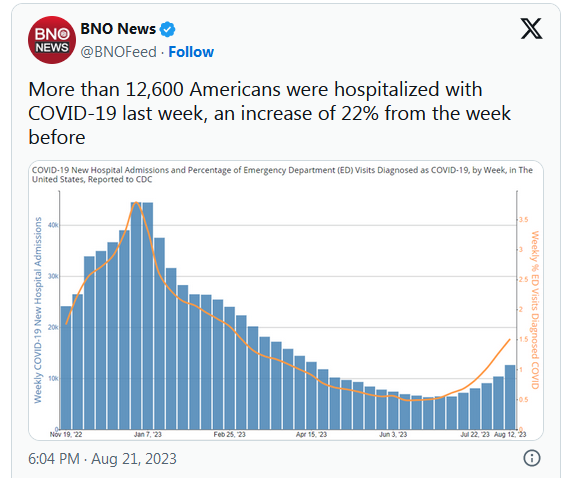 (link)
August 17th update (Biobot): US community spread is back up to "high" with an estimated 610,000 daily new infections.

Similar levels in all 4 US regions.

🔸610,000 new infections/day⬆️
🔸1 in every 550 new people were infected today
🔸1 in every 55 people currently infected pic.twitter.com/SusI25KCAR

— JWeiland (@JPWeiland) August 17, 2023
======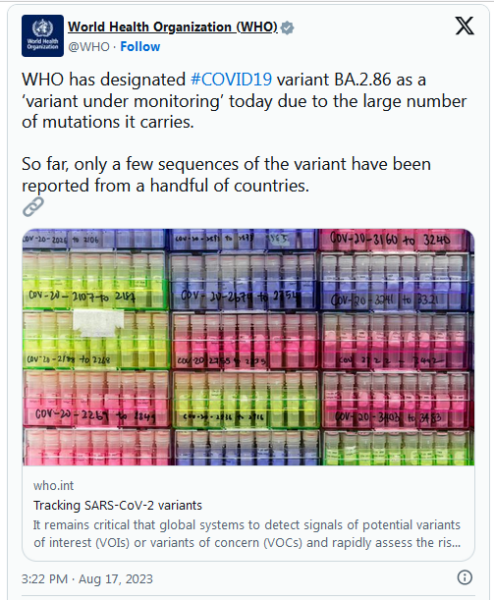 (link)
At a minimum, I feel it must be at least somewhat more transmissible than the background variants to pop up with 6 sequences in short succession across different parts of the world. The million dollar question is… how much more?

— JWeiland (@JPWeiland) August 20, 2023
The World Health Organization and the U.S. Centers for Disease Control and Prevention are tracking a new, highly mutated lineage of the virus that causes COVID-19. https://t.co/hKlLlfGnrl

— Reuters Health (@Reuters_Health) August 19, 2023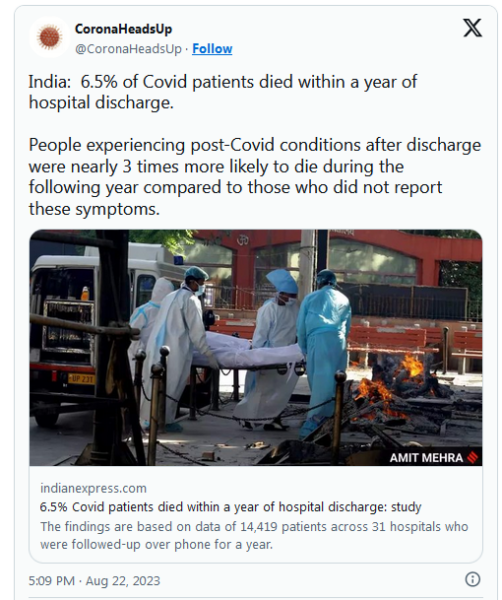 (link)
Japan: EG.5 "somewhat more infectious" than prior strains.

According to the WHO, EG.5 accounted for 21.1% of infections worldwide between July 24th and 30th.

The World Health Organization recently designated EG.5 as a "variant of interest."https://t.co/wUKvjkcoZ2

— CoronaHeadsUp (@CoronaHeadsUp) August 21, 2023
While governments pretend that COVID has gone away, death data tell a different story. Australia has had 5,589 COVID deaths & 194 flu deaths so far in 2023. The death rate from COVID is 28 times higher than the death rate from flu. How much longer will Australia remain in denial? pic.twitter.com/eEqWwZLsgN

— Prof Kathy Eagar (@k_eagar) August 21, 2023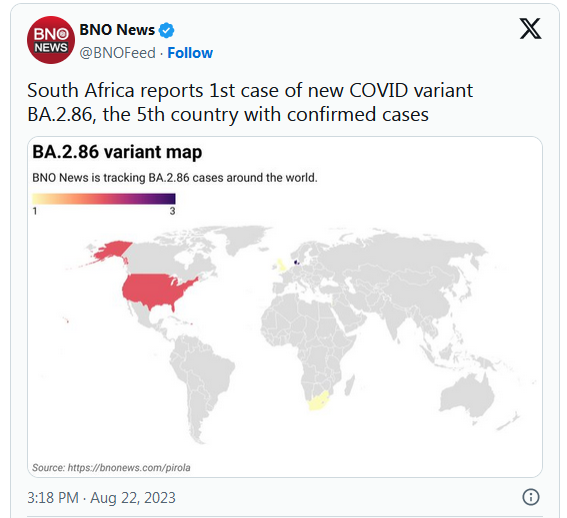 (link)
From the article: "The profile of the infected person that continues to reach hospital emergencies and primary care centers (CAP) is that of a old person, with chronic pathologies, which is decompensated by the mixture of covid-19 and heat" —
Spain: Catalonia has almost 500 hospitalized for Covid.

"500 admitted in the middle of summer is worrying."https://t.co/DPoVi9MsrN

— CoronaHeadsUp (@CoronaHeadsUp) August 22, 2023
France: Covid incidence rate rises 24.6% in one week.

"Between July 31 and August 6, the incidence rate of the virus was 7.7 per 100,000 population, an increase of 24.6% compared to the previous week,"https://t.co/OcdgQVy7oD

— CoronaHeadsUp (@CoronaHeadsUp) August 19, 2023
UK releases first risk assessment for new COVID variant BA.2.86 pic.twitter.com/kCCWbTd00u

— BNO News (@BNOFeed) August 19, 2023
======
A bit surprised at the venue, but this (long) essay appraising the SARS-CoV-2 origins debate is a spectacular dismantling of the lab leak hypothesis https://t.co/62Jue0mtrd

— Dr. Angela Rasmussen (@angie_rasmussen) August 19, 2023
I don't particularly trust Quillette's editorial board either, but it's worth reading the whole thing:
… Some lab-leak sympathisers were simply persuaded by the presence of a virology lab in Wuhan and considered the question no further. Others embraced the hypothesis because they loved Trump (or rejected it because they hated him). Some liked it because (for a long list of very good reasons) they despise and distrust the CCP. Others just want to see Anthony Fauci's head on a pike, either because he recommended social restrictions to control the pandemic or because he was unable to stifle a smirk during one of Trump's incoherent press conferences (or both). Some decided that public-health authorities and other experts are simply credentialed frauds who had screwed the pooch on public masking and various other aspects of pandemic messaging, thereby forfeiting any reasonable expectation of trust. All allowed themselves to be seduced by a heroic narrative in which humble internet gumshoes, armed only with a laptop and a commitment to the truth, humiliated arrogant elites and exposed a cover-up that reached all the way to the top of the US medical establishment…

The lab-leak hypothesis may also be appealing for a more human reason—just as many people were reluctant to believe that someone as important as Kennedy could be murdered by someone as unimportant as Lee Harvey Oswald, perhaps the search for a human agent who can shoulder the blame for the pandemic relieves us of the idea that we live on a dangerous and chaotic planet, fraught with natural risks we do not yet properly understand and which we are presently powerless to control.

While these may all be compelling reasons to find the idea of a lab-leak appealing, they do nothing to prove that the SARS-CoV-2 virus escaped from a Wuhan lab. The lab-leak hypothesis is not a moral or political matter, it is an empirical question. The answer may have consequential moral and political implications, but first we need to establish what happened. That answer is emerging, albeit more slowly than any of us might like. And when it finally arrives, it will be the product of laborious and painstaking research by people who know what they are talking about, not of investigations by amateur sleuths and agenda-driven activists who don't.
An inhalable vax: Yale Univ scientists are developing an #mRNA #Covid vaccine made w/ nanoparticles, no shot needed. An inhalable vax in early tests guards against #SARSCoV2 & paves the way to delivering mRNA therapies for other medical conditions this way https://t.co/QRXPvRy3OR

— delthia ricks 🔬 (@DelthiaRicks) August 21, 2023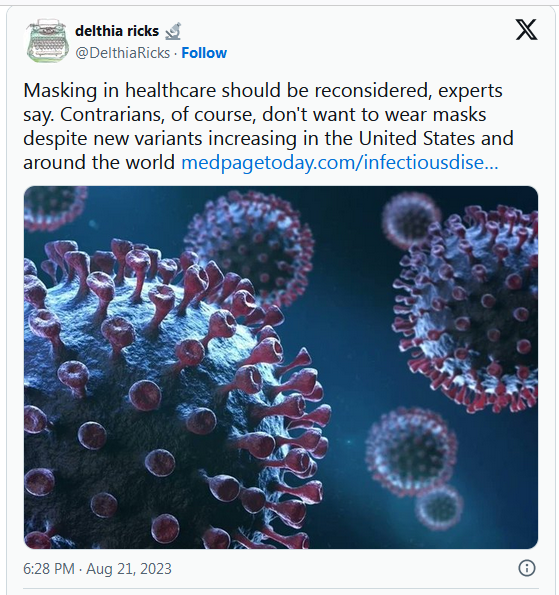 (link)
People who endured even mild cases of covid-19 are at heightened risk two years later for lung problems, fatigue, diabetes and certain other health problems typical of long covid, according to a new study that casts fresh light on the virus's true toll.https://t.co/zs8LIQM3ns

— The Washington Post (@washingtonpost) August 21, 2023

(Unpaywalled)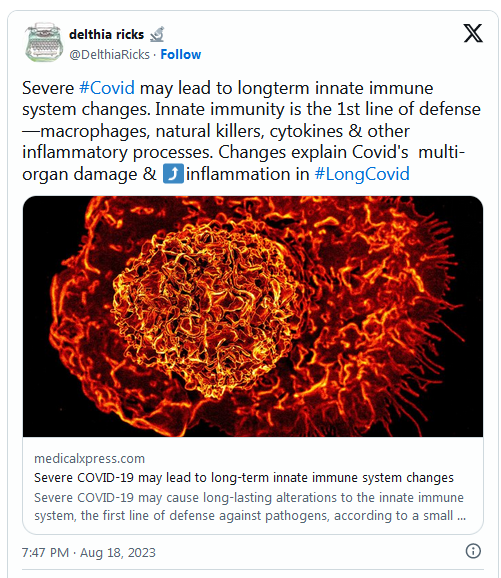 (link)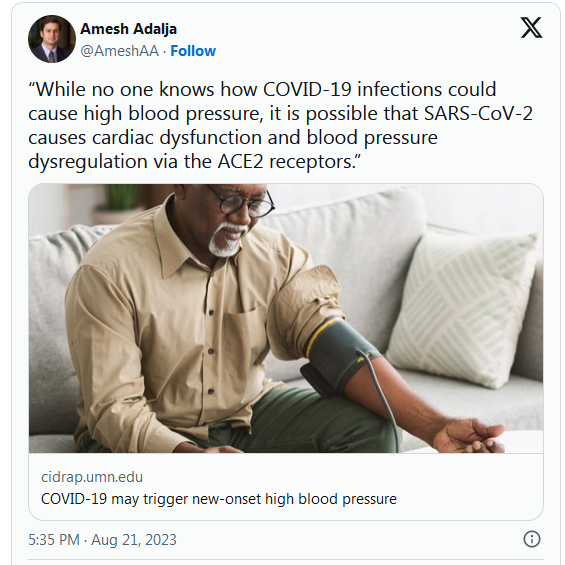 (link)
Cognitive research on #LongCovid needs an overhaul, the NeuroCOVID Internat'l Neuropsychology Taskforce says. Panelists made 3 recommendations to improve life for #LongCovid patients. Problems caused by the disorder include brain fog, which can last months https://t.co/1HAltW9RnS

— delthia ricks 🔬 (@DelthiaRicks) August 20, 2023
Ending the emergency phase of the pandemic has contributed to a drop in genomic surveillance, further reduced willingness to implement mitigation measures, and delayed approval of updated vaccines. Remember that as fall hits.

— T. Ryan Gregory (@TRyanGregory) August 20, 2023
======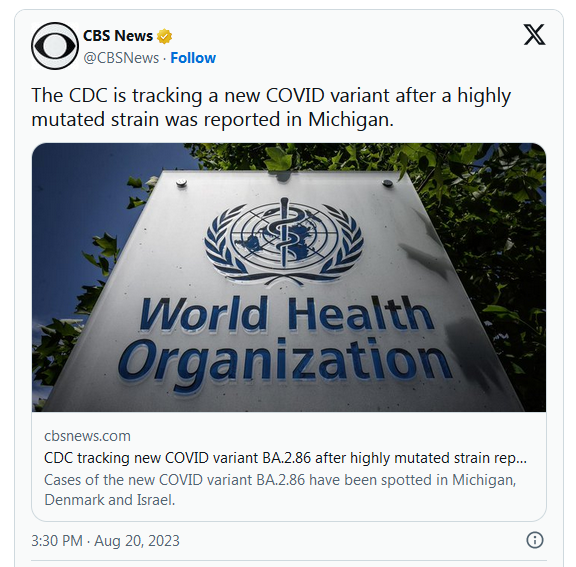 (link)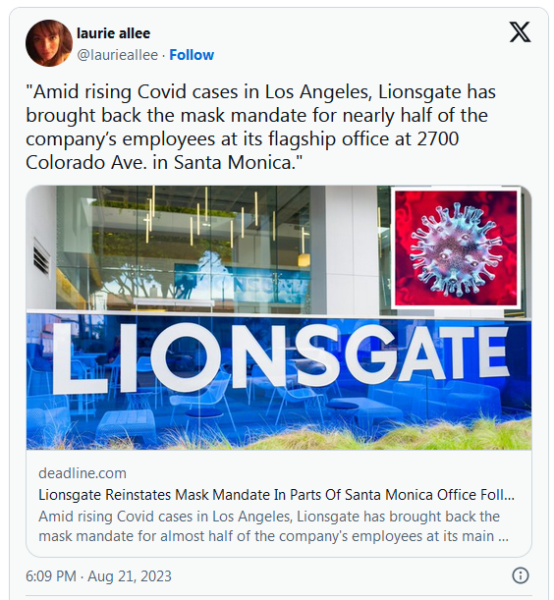 (link)
False claims about racial susceptibility to COVID by RFK, Jr. and others are dangerous and reveal a widespread misunderstanding of our shared vulnerability to disease | Opinion https://t.co/hX2se0vt6m

— Scientific American (@sciam) August 16, 2023
sitting U.S. Senator

up at 1am sharing InfoWars stories

that he found via the account for the COVID conspiracy movie Died Suddenly, which falsely claimed people died from the vax who in reality are still alive

— Matt Binder (@MattBinder) August 19, 2023
"I'm striking a blow for freedom!" Bruh, you're whining because you have to wear a surgical mask for the ten minutes you're in Harris Teeter. Nathan Hale would think you're a huge weenie.

— Gary Legum (@GaryLegum) August 19, 2023
Snark, perfectly pitched to mimic the bad-vaxx sites: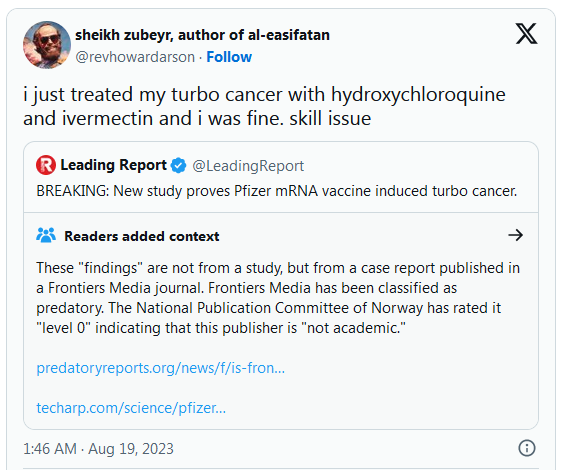 (link)
Reader Interactions