Sometimes you *really* want to Read The Whole Thing, first…
For the uncultured folk who still don't know what gagging is. pic.twitter.com/syJ4Y4oP65

— Renee (@PettyLupone) September 9, 2023
It's still wild to me to see her be VP after years of defending her.

Proud of her. Proud of us.

— Renee (@PettyLupone) September 9, 2023
I know and I love that for them ??

— Renee (@PettyLupone) September 9, 2023
It's NOT new.
And just bc you haven't heard of something doesn't mean it doesn't exist.
The word has literally been around since the late 80s and EVERYONE was using it.

— Cj (@Jenaine77) September 9, 2023

It's a good thing I like to learn new things, because social media will never stop introducing me to them.
——
Speaking of social media, a report from The GOP Trial Trail (of slime):
New photos are emerging showing the crowd at an Iowa football game flipping off Trump as he waved from behind glass. pic.twitter.com/XXykfgthJa

— No Lie with Brian Tyler Cohen (@NoLieWithBTC) September 9, 2023
Iowa State is now my favorite team. pic.twitter.com/gN1HOWPkLf

— Ron Filipkowski (@RonFilipkowski) September 10, 2023

I'm saving this image for future use: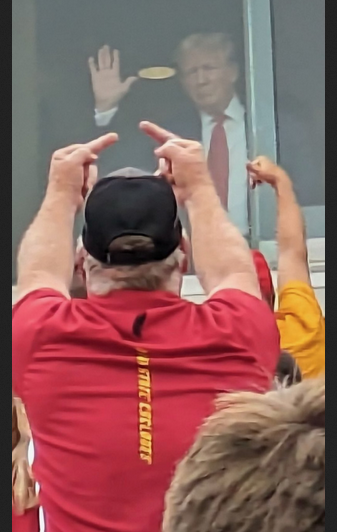 Donald Trump booed loudly by the crowd while entering a college football stadium in Iowa. pic.twitter.com/5k0d8w4HP2

— Republicans against Trump (@RpsAgainstTrump) September 9, 2023
Ron DeSaster was also present, and his (on)crack political team released a revoltingly transphobic ad for the big event (seriously: multiple trigger warnings).
enlarge https://t.co/gAfEotbIb2 pic.twitter.com/oU7SVcy5Ps

— Ben Sharpe (@iamsharpe) September 9, 2023
So, basically everywhere the advance men for Trump and Desantis could control at the Iowa State game there were cheers and every place they couldn't people were booing and flipping birds.

— Ron Filipkowski (@RonFilipkowski) September 10, 2023
Also-ran (over):
Vivek Ramaswamy gets a warm greeting from a fan giving him a one-finger salute at the Iowa – Iowa State game. pic.twitter.com/T04YQtBs7L

— Ron Filipkowski (@RonFilipkowski) September 9, 2023

(More at Filipkowski's twitter feed.)