On the Road is a weekday feature spotlighting reader photo submissions.
From the exotic to the familiar, whether you're traveling or in your own backyard, we would love to see the world through your eyes.
stinger
No, not the 1932 novel by Phil Stong, nor the several movies based on it, but the real thing. Now 169 years old, it runs for 11 days and attracts more than a million visitors.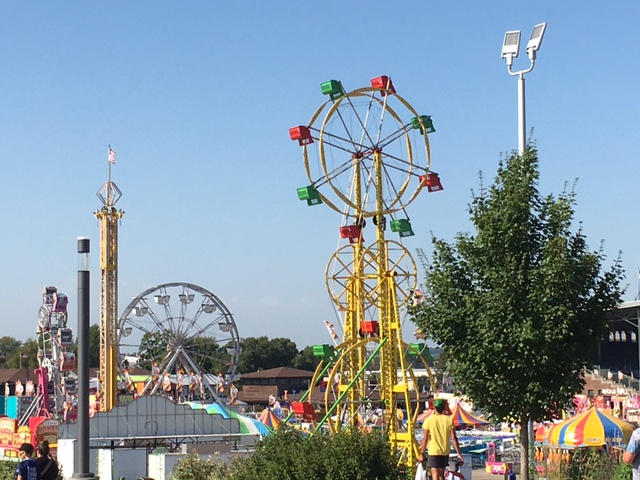 Des Moines
August 19, 2023
The north entrances to the fairgrounds look out across a small valley, so that you're actually standing higher than some of the midway attractions. I don't like crowds, don't care about "rides" and never go in the midway area, yet a frisson tickles my tummy when I first come in and see, hear, and smell The Fair.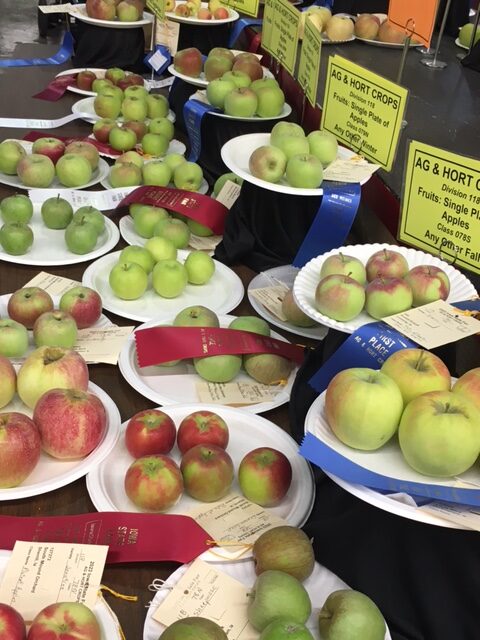 August 19, 2023
State and county fairs across the country originated as places to exhibit and be judged on your best produce, livestock, pies, quilts, jams, etc. It's so old-fashioned and charming, yet there's a lot that is contemporary. Especially fun are the 4-H exhibits (kids grades 4 through high school) in all the above categories and more.
The Agriculture building is for produce, including rows and rows of fruits, vegetables, herbs, seed corn and other grains. and a great display on Weed Identification. This photo shows about a tenth of the apples that were on display.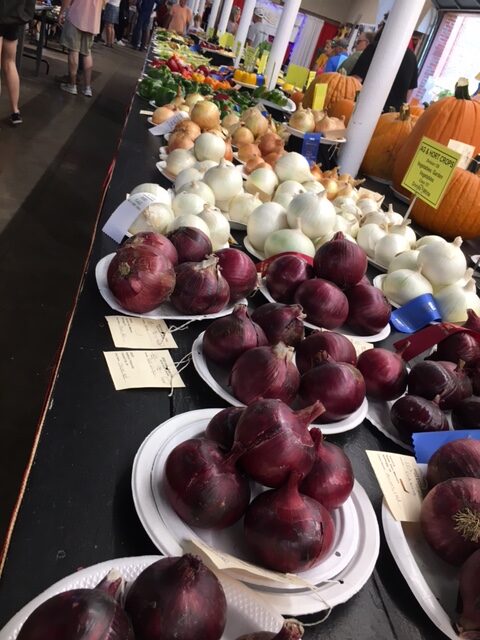 August 19, 2023
Onions and other produce. I spent too long in the Agriculture building, amazed at and admiring the amount of prize-winning food within! The pumpkins on the right were entered for quality; the pumpkins entered for size were displayed out of doors.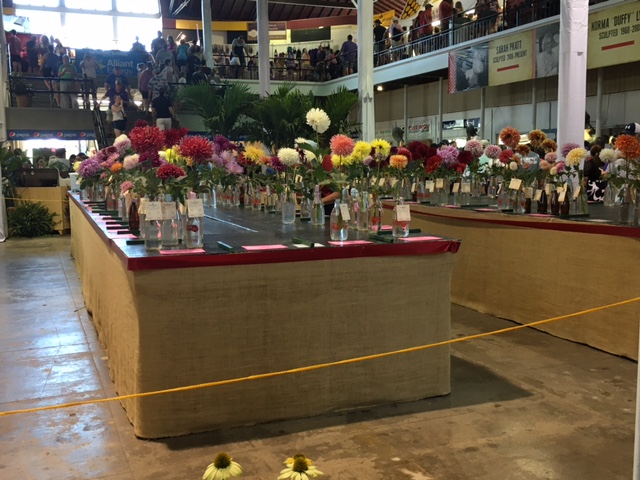 August 19, 2023
At the other end of the same building were flowers. This photo shows two of the three counters holding small floral arrangements — roped off to keep the tall glass vases full of water from being elbowed to the cement floor by over-enthusiastic fairgoers.
A nearby section held larger floral arrangements, table settings with flowers, potted plant arrangements, etc.
The upper level is mostly informational and vendors — things like honey, wood crafts, and other agricultural products. I didn't even go up there, as I knew I still had a long day ahead.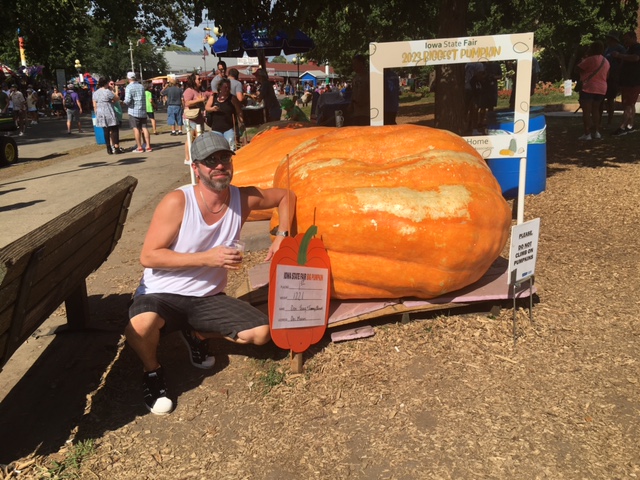 August 19, 2023
This is this year's Biggest Pumpkin winner, with a human beside it for size. The pumpkin weighed more than 1,200 pounds, outweighing the Champion Boar by more than 200 pounds, which surprised me. I didn't get a good pic of the boar, which was lying down indoors, so you are spared that — but just so you know, it was a Red Wattle named Sasquatch and sold at auction for $150,000, proceeds to an ag scholarship fund.
If you're not into growing or making things, you can still enter contests, such as beard growing, husband calling, backgammon, fiddling, pie eating, twins/triplets, arm wrestling, spelling bee, and the Bill Riley Talent Search, held annually since 1959.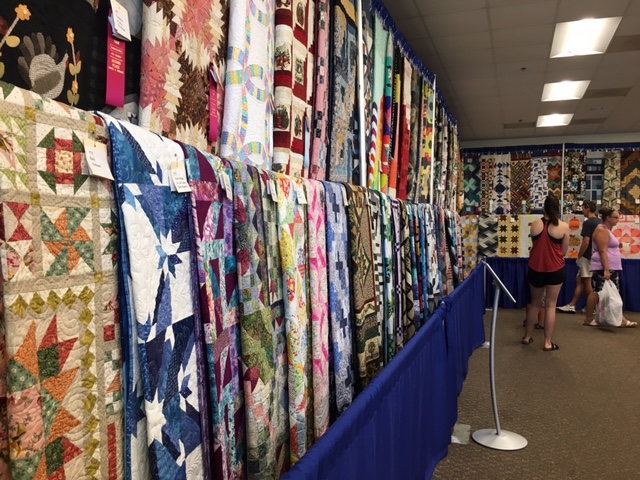 August 19, 2023
This is a fraction of the quilts entered this year, more than 600 altogether. Another large space had long tables with sewing machines and piles of fabric. Volunteer quilters worked throughout the eleven days at the State Fair Sew-In, making more than 200 quilts that were then donated to family services groups, adoption centers, homeless shelters, and other organizations serving children and families.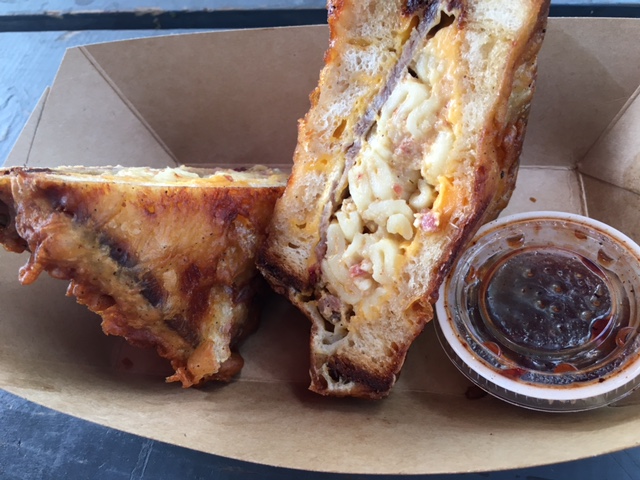 August 19, 2023
Despite the acres of healthful produce on display, one of the biggest attractions at the fair is fried food.  Every year, the best "new" food entry is voted on (it doesn't have to be fried, but I suspect it usually is). This year's winner: Deep Fried Bacon, Brisket, and Mac-and-Cheese Grilled Cheese Sandwich.
Slices of bacon, beef brisket, and American cheese, with a layer of mac-and-cheese, stacked between two slices of bacon cheddar bread, then dipped in egg and deep fried. Served with raspberry chipotle dipping sauce. Heart attack on a plate. I stood in a long line to get it. It was tasty, and only $12, but would have served four, so I didn't finish it.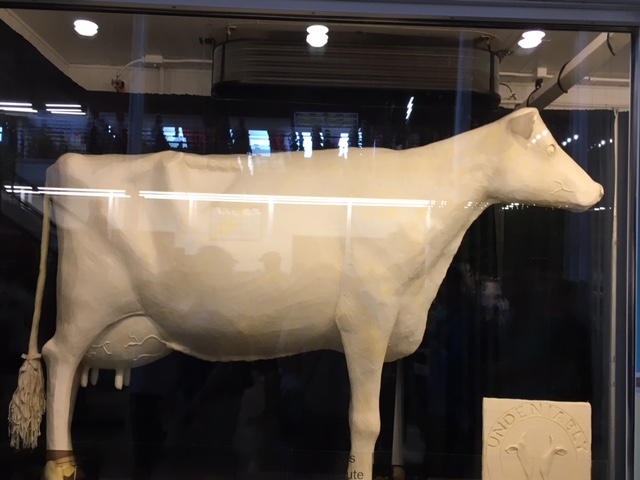 August 19, 2023
It would not be the Iowa State Fair without the Butter Cow. Larger than life-size, it's been one of the Fair's attractions since 1911. During that time, only 5 people have been the sculptors, including two women.
It is built on a wood and metal frame and takes 600 pounds of butter to complete — enough for 19,000 slices of toast or all 30,000 missing emails.
Since 1996, the butter cow has had "companion sculptures", honoring a variety of American individuals and cultural markers.
These are, to me, the most iconic images of the fair, but I took a million photos, so if there's interest, I can share more!