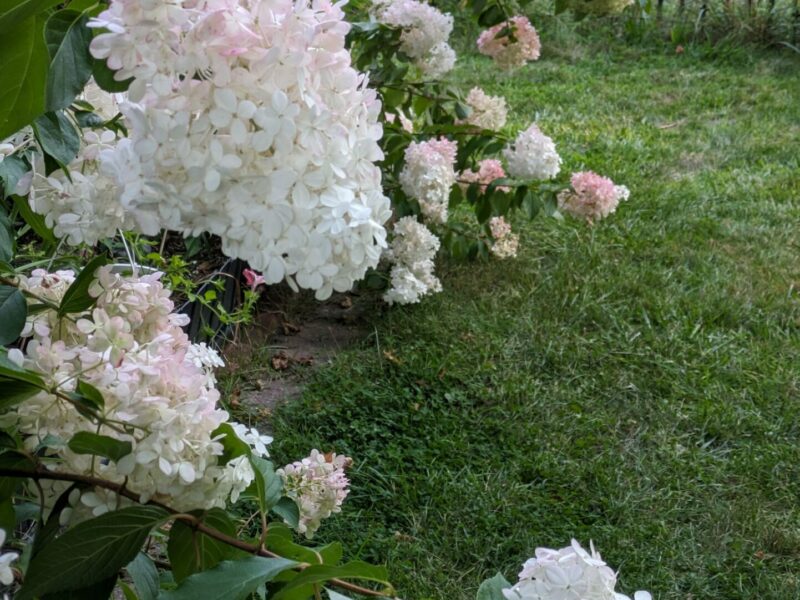 Master gardener and beloved commentor Satby, with an update:
I thought it might be fun to look at how my hugelkultur flower bed project looks in year 4, and talk about the successes and failures.

Reminder, here's how it started in 2019; and my bed is pretty half-assed for a hugelkultur because I didn't make a mound, just filled the flat bed left after I took the scraggly evergreens out with wood, leaves, grass clippings, and garden bed soil.

After the basic bed was in, I planted my anchor shrubs: two Vanilla Strawberry hydrangeas on each end and a tiny Rose of Sharon center.

(Also: tulips, daffodils, and hyacinth bulbs put in later.)

I followed that up with some bedding plants (dahlias, cannas, and geraniums) and filled in the holes with potted plants. It looked pretty good by that August.
The following spring 2020 looked pretty good too, but I decided not to replant the cannas and dahlias there, no full sun.

So started a series of years of planting different annual flowers with limited success, and usually resorting to pots of begonias to fill in. Too dry for impatients, too shadowy for daylillies after 2021, ditto petunias, geraniums, nasturtiums. I tried them all.

And as for why it's so shadowy: now in year 4, I'm really pleased with the hugelkultur bed, because I've never had shrubs grow so quickly or successfully. All of them are taller than me at 5-6 feet, and lush! Unlike other shrubs I've planted in this sandy soil, the organic matter composting in the bed provided nutrients AND some badly needed water retention. Long view below, close-up at the top:

They keep most of the ground below and between them shaded, and I don't want to grow ferns. So great success on my shrubs and spring bulbs, pretty much total failure on flowering annuals / perennials planted there.

This fall, all three shrubs are getting pruned back by a third, with the goal of having them fill in more horizontally. Then I won't need to fill any gaps. 😉
***********
It finally, definitively, feels like Fall around here. The Spousal Unit is very happy that his favorite season is behaving 'as it should', at last…
What's going on in your garden(s), this week?