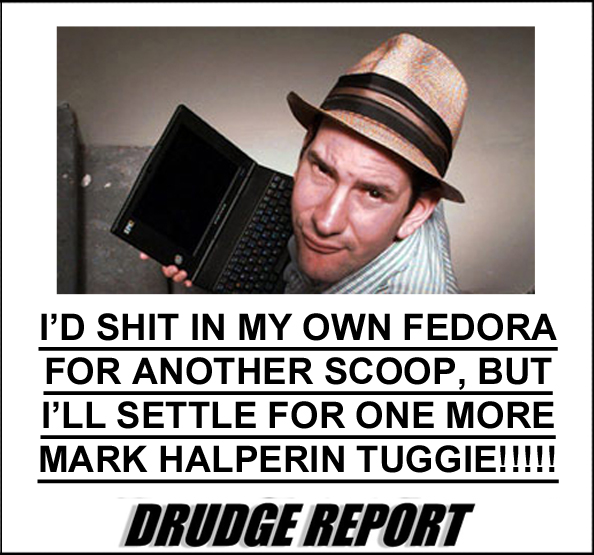 My Rumproast co-blogger StrangeAppar8us used to do an occasional series on One-Scoop Wonder Matt Drudge. I thought of Strange when I saw the OOGA BOOGA headline below, so I decided I'd revive Strange's regular feature.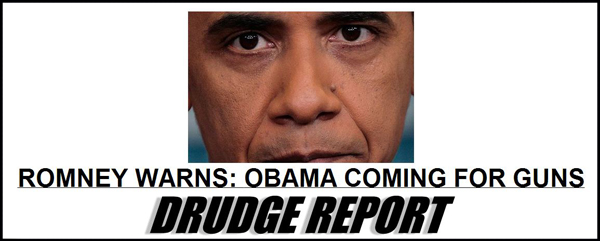 Here's the story it links to, which covers Mittens' NRA speech. In that speech, Mittens regurgitated the NRA's own paranoid fantasy about Obama, which goes something like this: Obama does fuck-all about guns for four years as part of a fiendishly clever scheme to lull gun owners into a false sense of security and win a second term. And then, just as quick as his hand leaves the bible on his Second Inauguration Day, Obama orders jack-booted ATF agents to go door-to-door to forcibly disarm the populace.
Of course, Mittens himself was all for sensible gun control measures when he was running for and serving as governor of Massachusetts, and unlike the president, Mittens has actually signed gun control legislation. If the NRA were a bipartisan interest group, it would support the president over Romney for that reason.
But the NRA is actually a dismal, dishonest collection of Republican hacks and barrel-stroking, pinwheel-eyed lunatics who believe open-carry permits are required to protect them from rogue turkeys, so it's entirely in the bag for Gun-Grabber Willard.
As for Mittens himself, who the hell knows what he really believes on the gun issue. He believes he should be president, and he believes there's no lie too shameless to utter in pursuit of that goal. And his lies will be swallowed, digested and excreted as truth by fellow liars and hacks like Drudge, and the resulting turds will be polished to a high gloss by bottom-feeders like Halperin.
[X-posted at
Rumproast
]
What If Matt Drudge Accidentally Told the Truth?Post + Comments (81)