Currently New York State's individual insurance market is structured with only one of three major components of the Obamacare exchange products.  New York state requires insurance companies to sell insurance to anyone who applies for it.  This is community rating and it is a shared policy with Obamacare.  However, New York state has no mandate so the only people who are looking to buy insurance are those who are either currently sick or very strongly believe that they will soon be using a lot of medical services.  New York also has no subsidies to help people pay for their insurance.
Predictably, the New York state individual insurance market is dominated by people who are ill as no one else sees the value in buying insurance that is way too expensive for regular risk.  Below is a screenshot of the individual market rates for a single county for September 2013.  The rest of the file is here: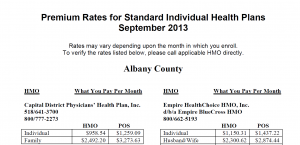 The New York Times last June reported on the projected Exchange policy's premiums.  The cost differential is significant:
State insurance regulators say they have approved rates for 2014 that are at least 50 percent lower on average than those currently available in New York. Beginning in October, individuals in New York City who now pay $1,000 a month or more for coverage will be able to shop for health insurance for as little as $308 monthly. With federal subsidies, the cost will be even lower…

 Because the cost of individual coverage has soared, only 17,000 New Yorkers currently buy insurance on their own. About 2.6 million are uninsured in New York State.

State officials estimate as many as 615,000 individuals will buy health insurance on their own in the first few years the health law is in effect. In addition to lower premiums, about three-quarters of those people will be eligible for the subsidies available to lower-income individuals….
The politicians are praising the competitive aspect of the exchange marketplace.  That is most likely a mild factor, but it is a secondary factor.  The big difference between Obamacare individual policies and current New York community issue without mandate policies is the composition of the risk pool.  The current risk pool is older and much sicker than the general population.  The new Obamacare Exchange risk pool is relatively young and relatively healthy.  These people will be jumping into the risk pool because they are mandated to do so and the subsidies in Obamacare makes it possible for them to do so.