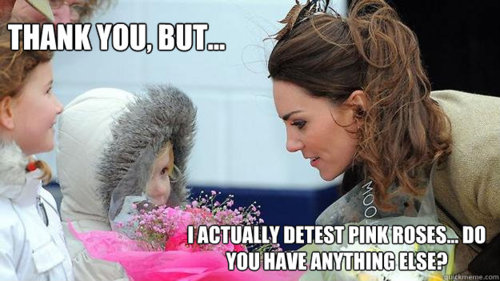 Note: What with Donald Trump behaving like David Duke and the many terrible tornado deaths, I feel a little guilty joking about anything.
However, as some fine young women once sang "Some Days You Gotta Dance". On with the badinage.
9.52am BST – Well, my little carbuncles, I'm finally seated in the Abbey after being patted down for twenty minutes by a most obliging young Pakistani policeman. I haven't had that much fun in months.
I was a little sad that he took my little Beretta away, even though I explained that I was a trained marksman and might need it if any revolutionary outrages were to be perpetrated during the ceremony. He was lovely though, and said he would put it somewhere safe and I could pick it up before I went to the lunchtime reception at the Palace, just in case Camilla got out of hand. Which was nice.
On my way in I was screamed at hysterically by several young women who apparently thought I was Tara Palmer-Tomkinson. It must be because the monkey-gland facial I had on the plane coming over made my nose go all wonky. The poor dear has had so many years of chronic cocaine abuse she can barely breathe without a short length of Louis Vuitton-branded hosepipe up each nostril, and with me in this new wig we look like twins.
The atmosphere in London is quite extraordinary, what with the street parties and the bunting and the crowds of nylon-clad chavs waving flags to celebrate the fact that a bunch of elitist wankers with no chins can spend more on a wedding cake than any of them will earn in their entire life. As a result, I admit that I'm quite excited to be here, even though I would normally be in sympathy with the 75% of London residents who are apparently cowering in their homes with the music turned up loud pretending the whole thing isn't happening.
You may have read that the police are using special signal-blocking technology to stop the punters tweeting or calling from inside the Abbey. Never fear, I didn't work in the CIA for 42 years and not learn a few things about sneaking information past the officialdom of third world countries. I'm carefully concealing my iPad under the most gorgeous stole made of dead badgers. It looks a bit like Robin Williams' wedding night, but I think it's fooled the police so far.
I'm sitting next to that nice Gareth Thomas, the rugby player – real football, dears, not that padded-up excuse for a game Americans play. I must say that William and Skinny Kate do appear to like their gays, what with Gareth and Elton and Edward and that young Australian swimmer in the pearls. There's even a whole group of queens in dresses up at the front of the South Nave.
Just minute, dears.
Oh. Really? Gareth is telling me that the men in dresses are actually Archbishops and Cardinals and suchlike. Who'd have thought that Cardinal Brady would look better in a beaded Givenchy gown and Jimmy Choo pumps than I do?
10 am – Bear with me for a minute, dears. I've just spotted an empty seat next to that lovely David Beckham and I'm going to nip over for a minute to chat him up.
10.05am – How embarrassing. I'd been sitting chatting to David about his balls for a few minutes before I noticed the muffled squeaking coming from somewhere underneath me and realised the seat wasn't empty and that I'd been sitting on little Vicky Beckham. I offered her a breath mint to make amends. She accepted, even if she did put half of it away for later. A girl has to watch what she eats.