Our featured artist today is Betsy!  Let's give her a warm welcome.

If you would like your talent featured in the Artists in Our Midst series, send me an email message.  Don't be shy!  This is the final Artists post in the queue, so please get in touch if you would like to be featured.
Betsy
I paint landscapes in watercolor.
I have a couple of favorite subjects.
One is the sense of a  particular ecosystem or plant community. I want to be able to remember the sound of the insects buzzing in the beach dunes, or make you imagine the coolth of the air sifting down a shaded hillside in a northern forest.
My other main interest is structures in their setting — a town or rural village.  I'm especially interested in the spaces between buildings.  
I've also painted a few house portraits for friends and clients.  Right now I'd like to do more work on commission, since I just left a "real" job due to coronavirus concerns.
I hope you enjoy these paintings!
Update from Betsy:
I am is available to take commissions for art.  I specialize in house portraits, but if you would like a different subject, let me know and I may be able to do something a little different for you.  I would love to do some art for you!

Previously I have mostly done commissions for friends and neighbors, so bear with me as I start to scale up — this feels like a good moment for it.

My email for commissions is BetsyMakesArtForYou at the google email place.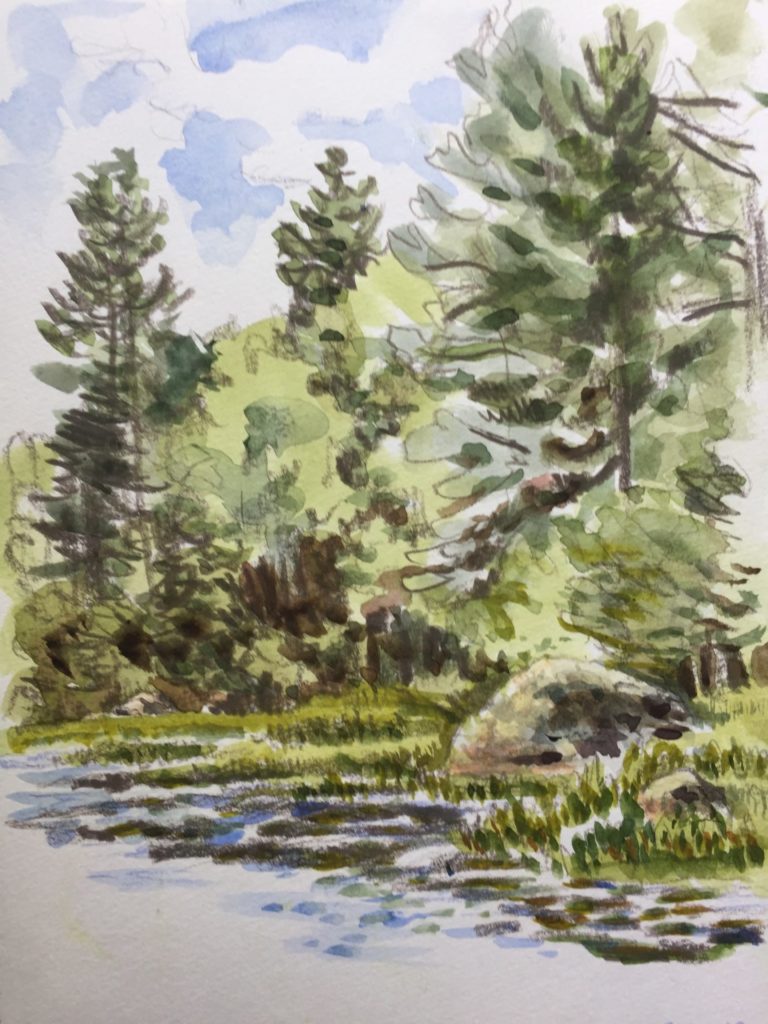 Adirondack Mountains
Mixed hardwood-conifer forest and pond edge
Betsy – Watercolor Landscapes and House Portraits!Post + Comments (103)