Our featured writer today is Martha C. Franks. 
Let's give her a warm welcome!
If you would like your talent featured in the Artists in Our Midst series or Authors in Our Midst series, send me an email message.  Don't be shy!  I have no more Artists posts in the queue, so please get in touch if you would like to be featured.
Conversing with the Middle Kingdom
by Martha C. Franks
Books without Borders: Homer, Aeschylus, Galileo, Melville and Madison Go to China tells the story of my two years teaching the liberal arts at a high school in Beijing from 2012 to 2014.
My time in China came at an exceptionally interesting moment in Chinese education.  The decades-long Chinese nationwide educational obsession with STEM training was failing to produce the technological creativity that the Central Committee wanted to gain parity with the West. In response, some Chinse educational leaders began timidly to offer the idea that the way to produce such creativity was to encourage students to think and converse more freely, more broadly and more critically, in short, to adopt some form of "general" education.  Some advocated return to teaching Confucian classics; others pressed for adapting Western liberal arts teaching to Chinese classrooms.  It was a politically risky notion, but for just a few years, an experiment in teaching liberal arts was allowed. The Chinese authorities' feelings of ambivalence about the liberal arts experiment hovered uncomfortably over my students' conversations.  At a more general level, there was a similar ambivalence hovering over the whole society. Life in China seemed to be unsure what it wanted. Songs of the Communist Revolution contended with exploding commercialism.
I came to China with the methods I had learned as a student and teacher in the
"Great Books" program at St. John's College, which relies extensively on open, free-form discussion of classic texts, Eastern and Western. Recounting conversations as they occurred in my Chinese classroom, my book displays how the students got over their initial reluctance to speak in class and entered fiercely into passionate exchanges about the central ideas in great human writing—the questions of how our short human life is best lived, of how we can govern ourselves, of what part science plays in how we think and the heartfelt issue of meaning.
Xi Xinping came to power while I was teaching in Beijing, and since I left his hand has grown stronger.  There has been a crackdown on the kind of education that I was able to offer to my Chinese students. Nevertheless, I like to think that what my students and I did together will find a way toward a growing global conversation that will allow all of us to speak and respond to each other, spurring a creativity that spills into the biggest possible ways of understanding.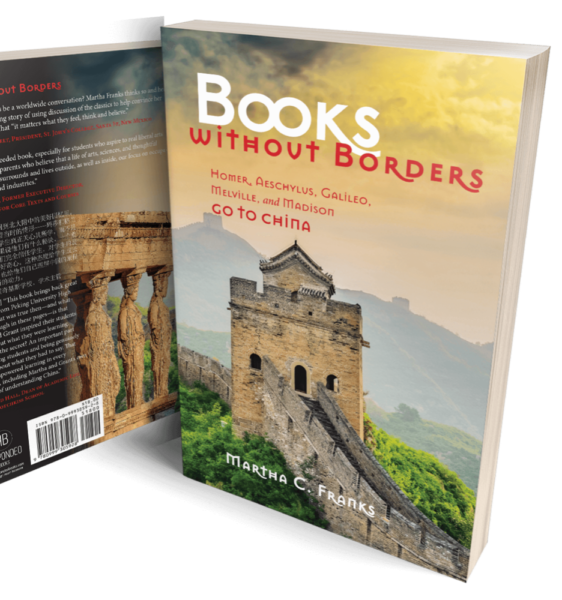 Martha C. Franks, Books without Borders: Homer, Aeschylus, Galileo, Melville and Madison Go to China (Respondeo Books 2019)
You can get the book at the Respondeo website or on Amazon.
About Me
I am a long-time lurker at Balloon Juice and feel pretty shy about coming out into the open.  I love the place. I got started here just when John found Lily by the side of the road and was unsure whether adopting her would work. Listening to that uncertainty develop into such a giving and getting of love has made stronger my diffident but stubborn hope that we can all, human and non-human, learn to see each other.  So, please keep writing, complaining, quarreling and questioning—you are having great effects on the world!
I am a part-time faculty member at St. John's College in Santa Fe, New Mexico. I am also a lawyer, specializing in Southwestern water law (as I describe in the book, I taught a class on American law in China and did not find out until afterwards that the subjects I taught had been expressly forbidden by the Central Committee—sheer luck that no one noticed).
I write a little legal column for a magazine published through Respondeo Books.  The magazine is called the Minimum Wager.  https://respondeobooks.com/our-books/the-minimum-wager/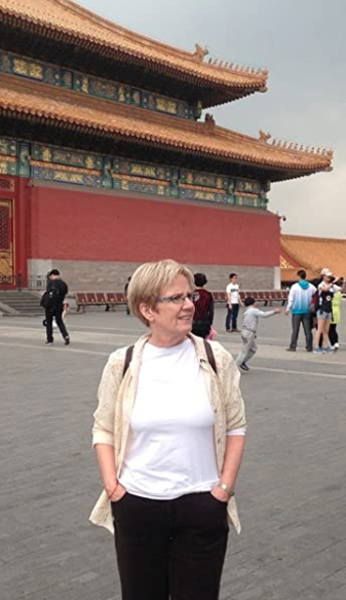 It's Balloon Juice, so I have to send in a picture of an animal I care about.  Humphrey, handsome though elongated, was with our family when I was a child.  He has been gone for many years but I think he is a big part of teaching me what I like best.  I miss him.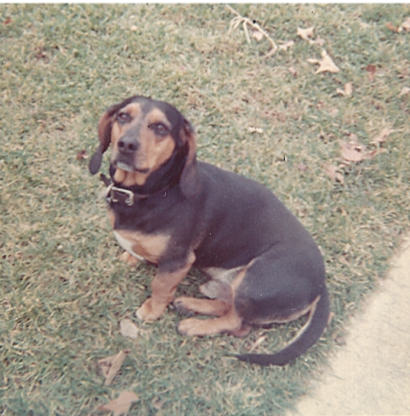 Martha C. Franks – Conversing with the Middle Kingdom!Post + Comments (54)