Talking Points Memo reported yesterday on a series of bomb threats delivered to Tufts University.  Tufts–which occupies the border region between Somerville and Medford, west and north of Cambridge and Boston, had, it seemed committed the sin of teaching about race and the concept and history of whiteness in the US.
The first threat came last Wednesday, following the Tuft's Diversity and Inclusion department hosting "Unpacking Whiteness" — part of a series of programs focused on addressing "the experience of those who have racial privilege and who would like to find support in understanding how to practice anti-racism in their daily lives."

The bomb threat, emailed to the Diversity and Inclusion department, said it was a response to the event.

"Tufts university continues to fuel anti white racism in this country by having bullshit courses like 'unpack whiteness' which is anti white propaganda," the email read. "We are a multiracial group who doesn't want white people to be treated like shit… We placed several bombs in Tufts university, we don't want anyone to die, we are just here to send a message."
This was followed by renewed threats on Thursday, Friday, Monday, Tuesday and yesterday.  They seem all to have been hoaxes, though the group escalated this week by adding the Boston office of the Bureau of Alcohol, Tobacco, and Firearms to their target list.  That will, I think, prove to be a notable mistake. Whatever the feds may feel about university DEIJ efforts, they do not take kindly to threats against themselves.
Tufts has moved its finals online, which seems to me to be prudent.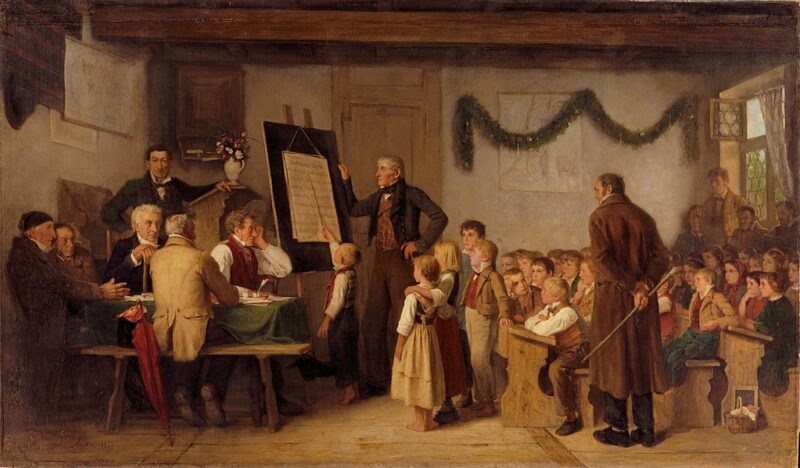 But that's already a minor win for the terrorists behind these threats.  As Adam has written many, many times, the American radical right wants to destroy civic space, the places where we encounter each other, experience things together, talk and learn. That space at Tufts has been narrowed this week.
The only other comment I have is that the GOP is to the people behind this as pre-1933 Nazi members of the Reichstag were to the Brown Shirts: the "polite" wing of a movement explicitly aiming to seize power by any means available to them.
But we knew that.
Happy holidays, I guess…and open thread.
Image: Albert Anker, The School Examination, 1862.