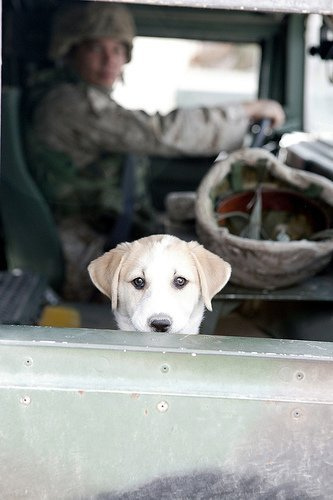 From today's New York Times, "For the Battle-Scarred, Comfort at Leash's End":
[…] In August, Jacob Hyde got his service dog, Mya, from Puppies Behind Bars, a program based in New York State that uses prisoners to raise and train dogs for lives of service. The organization has placed 23 dogs with veterans with P.T.S.D. in the last two years, training them to obey 87 different commands.
__
"If I didn't have legs, I would have to crawl around," said Mr. Hyde, 25. "If I didn't have Mya, I wouldn't be able to leave the house."
__
If Mr. Hyde says "block," the dog will stand perpendicularly in front of him to keep other people at a distance. If he asks Mya to "get his back," the dog will sit facing backward by his side.
__
The dogs are trained to jolt a soldier from a flashback, dial 911 on a phone and even sense a panic attack before it starts. And, perhaps most important, the veterans' sense of responsibility, optimism and self-awareness is renewed by caring for the dogs.
__
The dogs help soldiers understand "what's happening as it's happening, what to do about it, and then doing it," said Joan Esnayra, a geneticist whose research team has received $300,000 from the Defense Department to study the issue. "You can use your dog kind of like a mirror to reflect back your emotional tenor."
[…] Under a bill written by Senator Al Franken, Democrat of Minnesota, veterans with P.T.S.D. will get service dogs as part of a pilot program run by the Department of Veterans Affairs. Training a psychiatric service dog and pairing it with a client costs more than $20,000. The government already helps provide dogs to soldiers who lost their sight or were severely wounded in combat, but had never considered placing dogs for emotional damage…
While it's not the focus of this article, these service dogs are helping rescue two sets of lost human souls. My dog guru in the Midwest helped start a different program to pair "throw-away" shelter dogs with… well, "throw-away" humans in the prison system, selected prisoners who earn a coveted slot for schooling as dog groomers and trainers. She thought that after twenty years of dog rescue, she'd be immune to horror stories, but it breaks her heart all over again to find out how many people have never known anything but coercion, force, and threats in their lives. Thank Goddess for dogs, who forgive.
(Photo swiped, with permission, from commentor Yutsano's Flicker; hat tip to commentor Mai Naem for the article)