The latest booster shots — reformulated to better protect against omicron — began rolling out in the US over the weekend.

People 12+ who haven't had a shot in 2 months are eligible. Those eligibility guidelines are here:https://t.co/wsZC5Cufn1

— Josh Wingrove (@josh_wingrove) September 6, 2022
Is this fall the first fall of the rest of your life, Covid-booster shot wise? The folks running the WH pandemic response think so. @DrewQJoseph explains. https://t.co/UCGXXFSKIu

— Helen Branswell 🇺🇦 (@HelenBranswell) September 6, 2022
Me looking at a dude who walked up to me out of a crowd just to tell me to take my mask off, I said thanks but I'm ugly this is going to be a better picture and he left me alone pic.twitter.com/LqVR9tdXoE

— nic (@nickelpin) September 2, 2022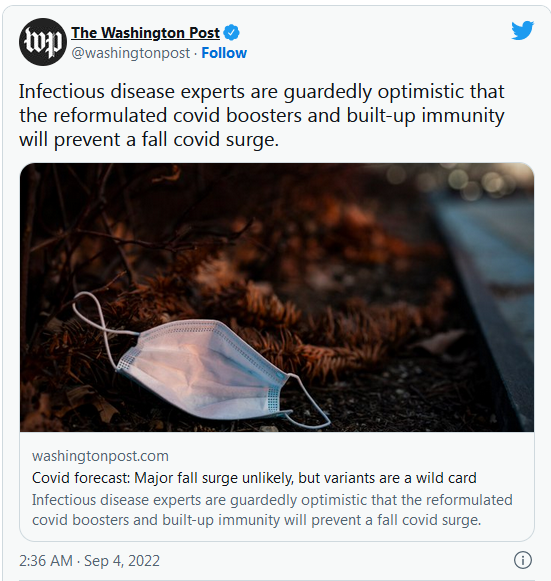 Cold weather favors the coronavirus. But as summer gives way to fall, infectious-disease experts are guardedly optimistic that the spread of covid-19 this autumn and winter won't be as brutal as in the previous two years of the pandemic.

Coronavirus scenarios from multiple research teams, shared in recent weeks with federal officials, foresee stable or declining hospitalizations in early fall. The scenarios show the possibility of a late-fall surge. A new variant remains the biggest wild card. But several factors — including the approval this week of reformulated boosters and the buildup of immunity against the latest strain of the virus — could suppress some of the cold-season spread, experts say…

The scenarios assume that reformulated vaccine boosters will be embraced by the public at a rate similar to that of the annual flu shots — possibly an optimistic assumption given that more than half of Americans eligible for boosters have yet to receive their first dose.

Peter Marks, the top vaccine official at the Food and Drug Administration, said in a briefing Wednesday that the approval of reformulated boosters comes as the agency is "looking at a possible fall wave, with a peak around December 1st."…

The emergence of a new variant in September could result in a wave of infections and severe illness in December, according to Lauren Ancel Meyers, director of the University of Texas Covid-19 Modeling Consortium. A variant emerging in October would push the peak to January, she said.

Any new variant that could change the pandemic's trajectory would have to be more transmissible than the omicron subvariant BA.5 currently circulating. It might emerge from an obscure branch of the virus's family tree — which is exactly what happened last November, when omicron, with its stunning package of mutations, appeared in southern Africa and immediately overtook the reigning delta strain.

Vaccines remain highly effective at lowering the infection fatality rate and keeping people out of the hospital, and the Biden administration continues to lean heavily on vaccination and boosting as the most powerful weapon against the virus. Anthony S. Fauci, the president's chief medical adviser for the pandemic, told The Washington Post that the fall campaign against the virus will demand widespread uptake of booster shots.

"We're not going to eradicate it. We're not going to eliminate it," Fauci said. "But we do have the capability to get it to a low enough level so that it doesn't continue to disrupt the social order."

The federal government, meanwhile, is turning much of the fight against the virus over to the private sector. As of Friday, the government would no longer mail free coronavirus tests to the public. The plan is to transition the payment of treatments to insurers, pharmacy benefit managers, hospitals and patients themselves by the middle of next year. Updated boosters have already been purchased by the federal government and will remain free to consumers…
Advisers to the U.S. Centers for Disease Control and Prevention on Thursday voted to recommend use of COVID-19 booster shots redesigned to target the BA.4 and BA.5 Omicron subvariants of the coronavirus for people aged 12 years and older. https://t.co/y0zKkJfXed

— Reuters Health (@Reuters_Health) September 2, 2022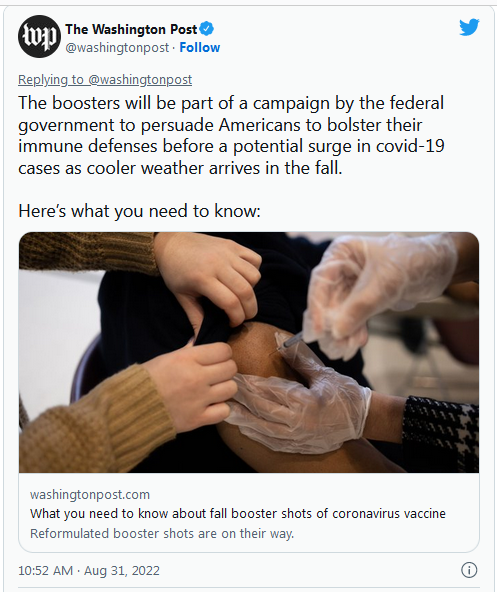 No paywall:
… Where can I get one and how much will it cost?
The new boosters, which are intended as single shots, will be available at the same places where the previous boosters and vaccines have been available — at doctors offices, hospitals, pharmacies and community health clinics.

Like the previous coronavirus shots, the updated boosters have been purchased by the federal government and will be free to consumers.

The booster takes two weeks to take full effect and can be administered at the same time as the annual flu shot, officials said. The CDC suggests that young men who get the monkeypox vaccine, called Jynneos, might want to wait for four weeks before getting the updated booster. That reduces the risk of inflammation of the heart muscle, a rare complication of the mRNA coronavirus shots that can affect young men…

What are the side effects of the boosters?
Side effects are not expected to differ from those associated with the current vaccine, which include redness and swelling at the vaccine site, as well as occasional fatigue, headache and muscle soreness, according to the CDC. More serious reactions are rare.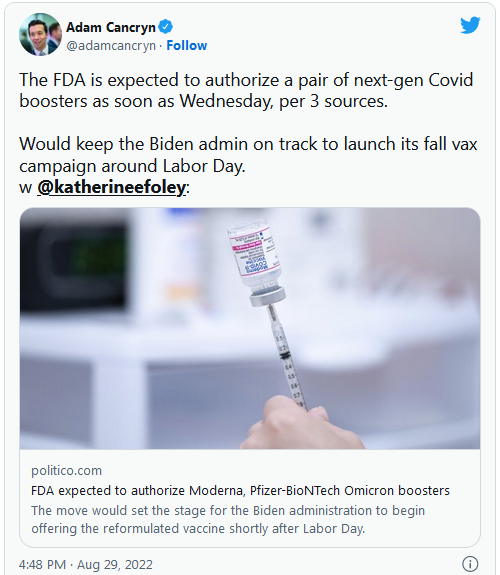 Excellent, if true:
… The government plans to roll out a combined 175 million doses of the new boosters developed by Moderna and Pfizer-BioNTech, with Moderna's shot available to all adults and Pfizer's offered to those 12 and older, according to a federal planning guide published earlier this month.

The boosters, which officials hope will offer greater protection against the BA.4 and BA.5 Omicron sub variants in addition to guarding against the coronavirus' original strain, come as the administration tries to get ahead of a fast-changing virus that continues to infect tens of thousands of Americans a day. The actual number is unknown since so many people self-test at home and don't report their cases to the government.

An FDA spokesperson declined to comment, and people with knowledge of the matter, who were granted anonymity to speak about matters they are not authorized to speak about publicly, cautioned the exact timing could change as the agency races to finalize its work…

Though regulators won't have human data on these bivalent boosters available to consider, Califf noted that they will be evaluating real-world evidence from similar mRNA shots, human data from other bivalent shots and data from studies on mice. The flu vaccine, which is also updated annually, is also only tested in animals before distribution due to the short turnaround time for manufacturers. However, it is not based on the comparatively new mRNA technology.

Pfizer anticipates that it will begin a human trial on the safety and effectiveness of its booster later this month; Moderna already has one such study underway.

The CDC also said that it expects Omicron-specific boosters for children younger than 12 will be ready shortly after boosters for adults become available.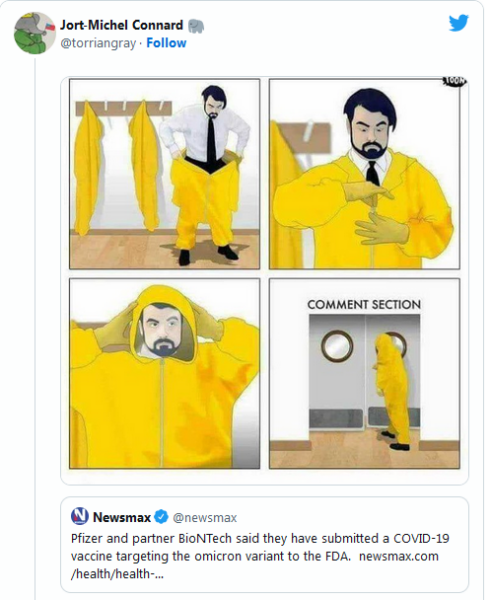 The United States plans to roll out an updated COVID-19 booster vaccine to include Omicron subvariants of the coronavirus. Regulators are reviewing the shots and could give the go-ahead as soon as next week. https://t.co/A9l0nlSo6r

— Reuters Health (@Reuters_Health) August 25, 2022
Pfizer Inc and German partner BioNTech said on Monday they had sought U.S. authorization for a COVID-19 vaccine booster retooled to target the Omicron variant, and would have doses available to ship immediately after regulatory clearance. https://t.co/I7JZUfHjWs

— Reuters Health (@Reuters_Health) August 22, 2022