The 1918 pandemic changed America, especially when it came to women's rights. The question now is how will #Covid transform the United States? https://t.co/9TgIVPWmRB

— delthia ricks ?? (@DelthiaRicks) November 15, 2022
A @KFF tracker shows more than 160K Covid deaths have been in people 65 and over, and nearly 50K have been in people under 65. https://t.co/vMJz2nMzYp

— Dr. Tom Frieden (@DrTomFrieden) November 15, 2022
Remind your holiday contacts now…
Get the updated COVID vaccine ahead of the holidays to protect you and your family.

Visit https://t.co/5SMDHKKWeY for more information. pic.twitter.com/MnwOOJ4hqv

— The White House (@WhiteHouse) November 10, 2022
The risk of death, hospitalization and serious health issues from COVID-19 jumps significantly with reinfection compared with a first bout with the virus, regardless of vaccination status, a study published on Thursday suggests. https://t.co/ALql3SJ3Yj

— Reuters Health (@Reuters_Health) November 11, 2022

Mitigating factors, *but*…
The risk of death, hospitalization and serious health issues from COVID-19 jumps significantly with reinfection compared with a first bout with the virus, regardless of vaccination status, a study published on Thursday suggests.

"Reinfection with COVID-19 increases the risk of both acute outcomes and long COVID," said Dr. Ziyad Al-Aly of Washington University School of Medicine in St. Louis. "This was evident in unvaccinated, vaccinated and boosted people."

The findings were drawn from U.S. Department of Veterans Affairs (VA) data collected from March 1, 2020 through April 6, 2022 on 443,588 patients with one SARS-CoV-2 infection, 40,947 with two or more infections, and 5.3 million noninfected individuals. Most of the study subjects were male.

Reinfected patients had a more than doubled risk of death and a more than tripled risk of hospitalization compared with those who were infected with COVID just once. They also had elevated risks for problems with lungs, heart, blood, kidneys, diabetes, mental health, bones and muscles, and neurological disorders, according to a report published in Nature Medicine…

Experts not involved with the study said the VA population does not reflect the general population.

Patients at VA health facilities are generally older, sicker people and often men, a group that would typically have more than normal health complications, said John Moore, a professor of microbiology and immunology at Weill Cornell Medical College in New York.

The researchers said cumulative risks and burdens of repeat infection increased with the number of infections, even after accounting for differences in COVID-19 variants such as Delta, Omicron and BA.5.

However, Dr. Celine Gounder, an infectious disease epidemiologist and an editor-at-large at Kaiser Health News, said there seemed to be a "plateauing effect with multiple infections," with less of a jump in risk after the second infection.

"The good news there is that the better people are protected with immunity, likely the risk of developing some of the complications will be lower over time," she added…

Still, Al-Aly cautioned that people should not let their guard down.

"We had started seeing a lot of patients coming to the clinic with an air of invincibility," he told Reuters. "They wondered, 'Does getting a reinfection really matter?' The answer is yes, it absolutely does."

Ahead of the fast approaching holiday season with travel and indoor gatherings, "people should be aware that reinfection is consequential and should take precautions," he added.
Let's gather this holiday season, healthy.

Get your updated COVID shot. pic.twitter.com/B9RZob17Gg

— President Biden (@POTUS) November 5, 2022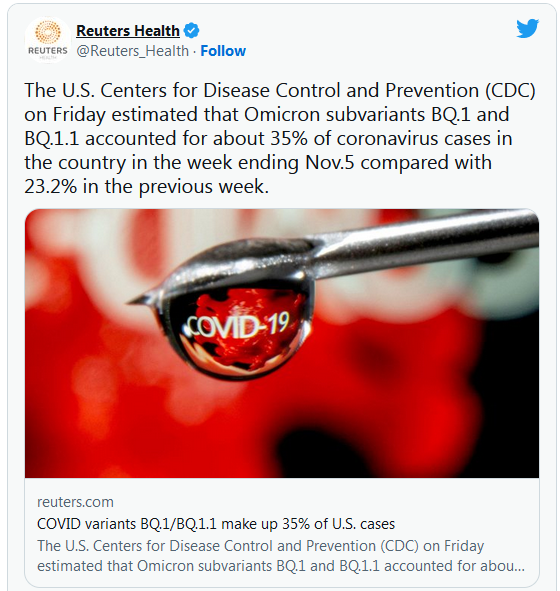 COVID-19 Coronavirus Updates: Monday / Tuesday, Nov. 7-8Post + Comments (22)
Just had Covid for the first time. I'm incredibly grateful I had the vaccine & was up to date with my boosters. Over 300 a day still dying in US. Vaccine & boosters offer protection against hospitalization & death. 100% TRUE. #covid19 #grateful #thankyoudoctors #thankyouscience pic.twitter.com/SzwANcbE8M

— Mandy Patinkin (@PatinkinMandy) November 3, 2022

Half-joking: If the dedicated crime-teevee watchers don't trust doctors, maybe they'll trust the Criminal Minds star?
Getting boosted today is a good idea to top off immunity. With a swarm of immune-evading subvariants looming on the horizon, the available boosters remain the best tool to help fortify protection, particularly against severe illness and death. #GetBoostedhttps://t.co/Izobkd9p8S

— Ian Weissman, DO (@DrIanWeissman) November 3, 2022
A #Covid 'variant soup' is making winter surges hard to predict. Descendants of #Omicron are proliferating worldwide — and the same mutations are coming up again and again https://t.co/wlImhsOsMr

— delthia ricks 🔬 (@DelthiaRicks) October 31, 2022
Biden got his booster today and is pressing companies to help boost rates. He has little choice: the US faces another potential winter Covid wave with dwindling supplies, basically no new cash, possible test shortages and some treatments growing obsolete.https://t.co/TpJBA4btfv

— Josh Wingrove (@josh_wingrove) October 25, 2022