I just fucking can't with Sinema anymore. I just don't give a shit. I am completely over all these narcissistic, power hungry, amoral and immoral, money-grubbing shitastic human beings who all seem to live to be 100 fucking years old. They're just so fucking exhausting and suck the life out of you, and they are everywhere. We all deal with Sinemas on a daily basis in our own lives, and having to deal with one on the national level is just one insult too much for me to take right now. Just fuck off and die, lady.
I'd wish them all rectal cancer, but honestly, rectal cancer never did anything to me.
***
Speaking of cancers, what the fuck exactly has to happen before Trump goes to jail. I saw in passing that they found more fucking documents. What does it take to put down this rabid dog? How are his lawyers not in jail?
And why the fuck would any right minded person want documents like this other than for nefarious reasons. The last fucking thing I want when I leave any organization, especially one in which they said "We're over you get the fuck out" is any reason for them to ever contact me again. Fucking psychotic freak.
***
Before you ask, I am doing as well as can be. It's freakish and alarming how many times a day I bookmark something, reach for the phone to call or text, think to myself "tammy would like those shoes" or "I need to tell her to watch this documentary" or "oh she'd love this recipe" or something like that. She's been such a big part of my life that I tried to remember what it was like before I knew her, and it was so long ago I was still in the military. Fully half my life.
I've been filling my time trying to help her husband, and it is just heartbreaking. She was his everything, and he hers. I went through my message history with her on my iphone, and it is just filled with elaborate, perfectly decorated meals she had made for him, from start to scratch. A picture of the ingredients, the mise en place, halfway through the cooking process, coming out of the oven, the plating, and then the leftovers "LOOK HOW MUCH HE ATE HE LOVED IT." It's all so sweet, and now so sad.
I worry he will never recover, and am just trying to help in any way I can. If any of you have any idea how to unlock her social media accounts for him, or to access his phone, please let me know.
***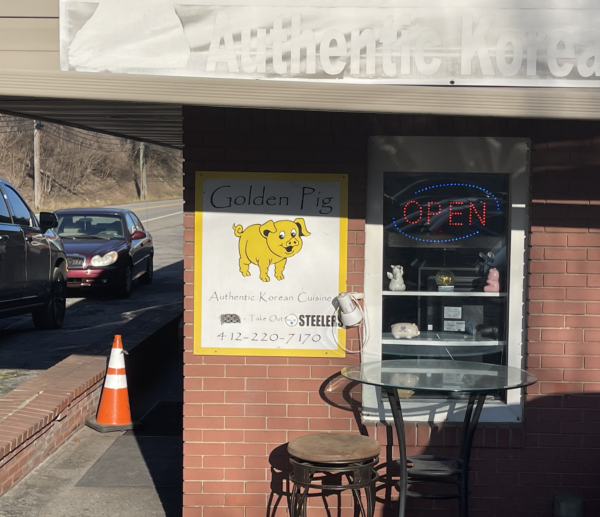 I went to the Golden Pig again today, the second time this week. It's a delightful Korean restaurant in the middle of nowhere in Cecil Township, PA, founded decades ago by Korean immigrants. It's not an elaborate five star restaurant, but the food is five star. It's the kind of place that Anthony Bourdain would have gone, and all the cooks and chefs and people "in the know" from Pittsburgh eat there. That kind of joint.
It's got pigs everywhere!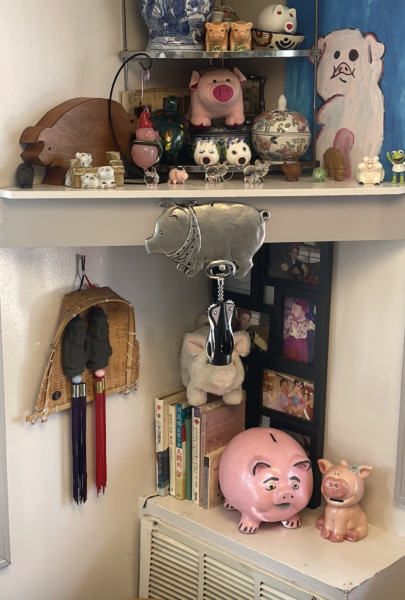 I used to go every couple of months, usually just to grab a bite and grab a container of kimchi, but I was just fiending it on Wednesday and went and man did it hit the spot. The Korean lady who owns it was so excited I was in my striped overalls and raced to my side of the counter to show me her porcelain pig in a matching hat- "It's you! TWINS!":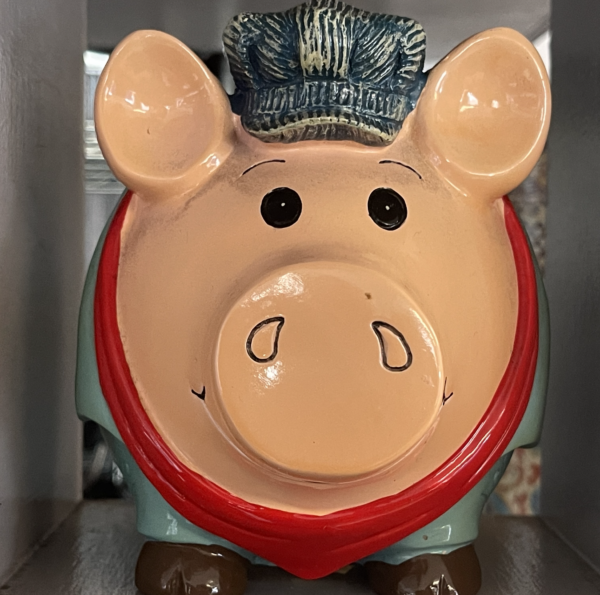 We had a funny chat today while I was waiting. Apparently she shops for the restaurant at the strip district, and often goes to costco afterwards. I mentioned I love it but I always come home with a bunch of stuff I did not intend to buy. Normally, she said, she arrives at noon, and she is so hungry that she feasts on samples, but then feels guilty, so buys a package of whatever she was sampling, but because she doesn't eat at home, ends up giving it to her college aged son. So now she can not go to Costco unless she has had lunch.
I got 64 ounces of kimchi to go. I think it is the ultimate comfort food for me right now, and I think it is because to make kimchi right, it takes a lot of love. The exact proprotions, everything has to be cleaned just right, each leaf has to be loved and rubbed, and then you have to age it properly. And you are benefitting from the collective knowledge of thousands of years of women preserving the food for their loved ones. It's just the best.
That's it for me. Here's a bonus picture of Steve doing his sultry pose.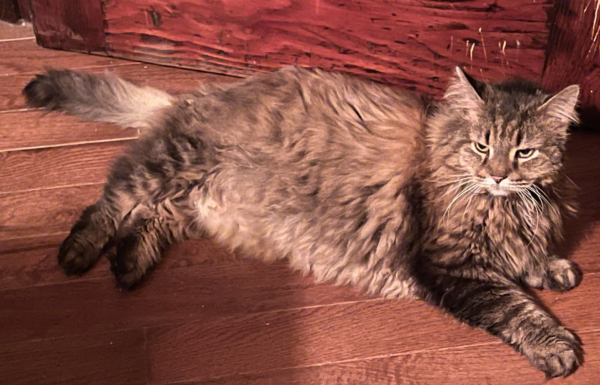 Greetings From One of the Circles of HellPost + Comments (91)