We had an Obama office opening close to here last night, so I'll give you my impressions and you may then extend my remarks about this office opening out to the entire country.
This is how you know you're at the right address, when you see cars like this one: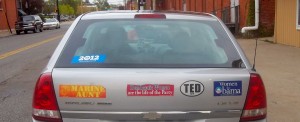 First, it was a good turnout, with solid representation of what I believe are the main "groups" of Democrats and liberals and allies that we have here. I think that is mostly due to the work of the Obama organizer who is on the ground here and has been for about six weeks. She works really hard. She gave an intro speech last night and lost her train of thought in the middle. That has happened to me, and I like her, so I was very sympathetic. I was nearly holding my breath during what seemed like a very long, fumbling-for-words silence as she tried to remember where she was and what she had just been saying. It went on long enough for me to consider rescuing her by creating some kind of distraction. Luckily for everyone there who might have had to suffer through any lame, clumsy attempt to give her a little breathing room, she regained her composure. I think she was so tired she had reached that point we're all familiar with where there are long spaces between phrases and transitioning from one topic to the next is like slogging through mud.
Second, I think the Issue Two fight in Ohio was good for national and local Democrats. I know the conventional wisdom nationally is that all union members and all public school teachers are rabid Democrats, but that is not true in this very conservative area. Nate Silver is the only national political person who has addressed the fact that union members in states like Ohio are not, actually, 100% Democratic voters, but perhaps there are others who do, and I just don't read them:
More tangibly, Republican efforts to decrease the influence of unions — while potentially worthwhile to their electoral prospects in the long-term — could contribute to a backlash in the near-term, making union members even more likely to vote Democratic and even more likely to turn out. If, for instance, the share of union households voting for Democrats was not 60 percent but closer to 70 percent, Republicans would have difficulty winning presidential elections for a couple of cycles until the number of union voters diminished further.
In any event union members here are coming off a win because they succeeded in repealing SB5, and they are very optimistic and engaged, so John Kasich's Issue Two is probably good for Barack Obama in 2012. Mitt Romney did his customary coin toss on Issue Two and the coin landed on the wrong side when it stopped spinning, when the smarter choice was probably to rely on his other two brilliant market-honed tactics, which are not answering the question at all, or making something up. Romney supported Kasich's law, no matter which Romney shows up when he gets here.
A day after he refused to endorse an Ohio ballot measure that limits public employee union rights, Republican presidential hopeful Mitt Romney said today that he is "110 percent" behind the effort.
While he was in Ohio yesterday, Romney seemed to distance himself from anti-union measures that have lost popularity in recent months. Campaigning a day later, the former Massachusetts governor told reporters that he supports the ballot measure aimed at restricting collective bargaining rights for state employees.
Third, we have a local challenger for a safe Republican statehouse seat, and the fact that the challenger is a union member at a manufacturing facility is good for the whole ticket. Winning aside (because he is a long shot) union members here know him and they like him, personally. I think it will make a difference in enthusiasm and interest in the 2012 election as a whole. He got the United Food and Commercial Workers endorsement last night. They have 2300 members in his district. It's been really interesting helping him with his race, because he operates in this wholly union-centric political world. We have had lots of union involvement in elections here, and I was a union member at one time, but they do have their own unique culture and priorities and political approaches and he's very much immersed in that.
Finally, I noticed, again, that Sherrod Brown is extremely popular with Democrats here. Sherrod Brown is a liberal, and this is a conservative area. Republicans win here. If Brown wins, and I think he will, someone or other needs to seat a round table on that, pronto, because he isn't a conservative on social issues, and he isn't a hawk on war(s) or a peacock on deficits, but he is very well-liked among rural, red-county Democrats. They're either bravely bucking the conventional wisdom here, or the conventional wisdom is wrong.