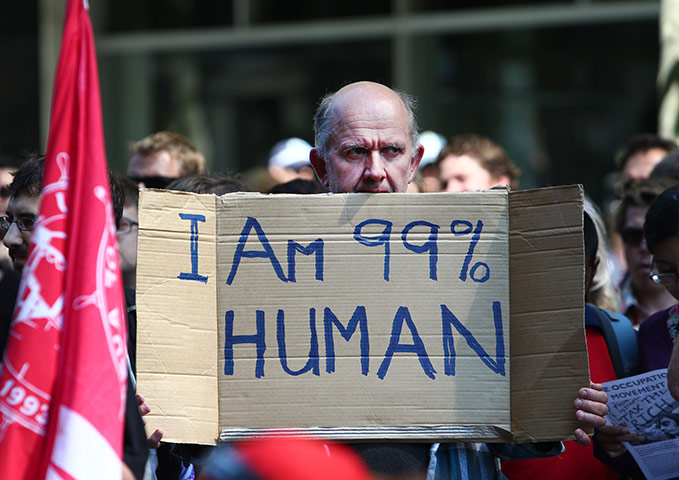 Howie reminded me earlier today of the underlying threats from the Masters of the Universe to pack up their riches and leave Wall Street if they weren't given the deference they demanded. After today you have to wonder where it is they think they are going to go?
— Digby (Hullabaloo)
__
The photo above, from Occupy Sydney, is from the Guardian's "Occupy Movement Goes Global" photo gallery. (As an otaku, my second favorite pic was the Occupy Tokyo poster… beautifully laid out… professionally printed… neatly mounted on foamcore… and trimmed with a tasteful small floral print in coordinating shades.) The Guardian also has a very comprehensive #OWS News blog, of course, which reports that "Organisers claim 950 protests [were] held in over 80 countries" yesterday. Think Progress has some great photos, too, as part of their dedicated 'The 99% Movement' coverage.
__
In John's thread last night, commentor Hilzoy generously shared a link to the Occupy the Boardroom website: "Life gets awfully lonely for those at the top. What can we do to let them know someone's thinking of them? Maybe they need some new friends!"
__
Commentor Brian S reports that "We occupied the hell out of Des Moines today, in a fiercely moderate way."
__
A number of commentors (and Charlie Pierce) reported that police in Gainsville, Florida arrested Bo Diddley's son during Bo Diddley Plaza occupation. (Click the link for added irony!)
__
Here in Massachusetts, Governor Deval Patrick decided to 'drop in' on the Occupy Boston encampment. Which must've been a severe disappointment to Mayor Menino, who attempted to blame Tuesday's excessive-force fiasco on "outsiders" from "another country". Ah, the Outside Agitators of DFH legend!… it's enough to bring a tear to an old hippie's eye (or maybe it was just the pepper spray).
__
Any other stories, links, blogs, reports to share?
Early Morning Open Thread: Occupy the WorldPost + Comments (88)