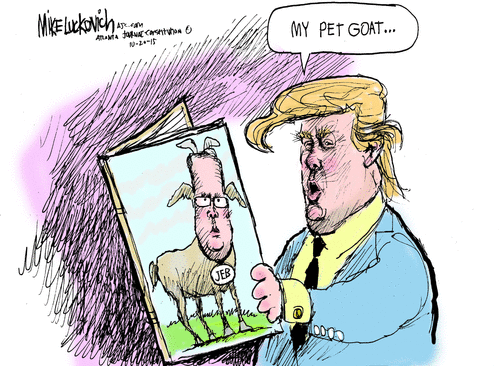 Jeb: the only man so incompetent he can't win a 9/11 argument with Donald Trump. @tnycloseread https://t.co/ESL0pQQUtD

— Nicholas Thompson (@nxthompson) October 19, 2015
Sasha Issenberg, at Bloomberg Politics, scored a long interview with the man who seems to stand in as JEB!'s version of Karl Rove. There has not been this much willful detachment from political reality on display since Baghdad Bob went on hiatus:
When Mike Murphy in June took the helm of his longtime friend and client Jeb Bush's super-PAC, Right to Rise USA, he disappeared from the media, part of a concerted effort not to draw attention away from the candidate. In mid-August, Murphy—a witty narrator of presidential politics who has also guided campaigns by John McCain, Mitt Romney, and Arnold Schwarzenegger—broke that uncharacteristic silence. "If other campaigns wish that we're going to uncork money on Donald Trump, they'll be disappointed," Murphy told the Washington Post in August. "Trump is, frankly, other people's problem."…

The political landscape is now very different. After four months of Trump's dominating both news coverage and polls, advisers to Bush—at least one of whom anonymously promised a "shock and awe" launch of his candidacy—find themselves where they never expected to be: struggling to reach fifth place in many national and early-state polls. Earlier this month, Murphy welcomed Bloomberg Politics's Sasha Issenberg to his corner office in an unmarked suite in a Los Angeles office building for a candid and wide-ranging conversation about the super-PAC's activities, plans, and the newly critical mission it has taken on: the Committee to Save Jeb…

Has the tempo of the race been different than what you had anticipated when you first developed a campaign plan?

Well, I knew it would be kind of hyper because that's the business now. But one thing in hindsight is we got this paper crown of front-runner early that we didn't want and I don't think realistically we should have had. Because what happens is when the punditocracy says, "You're the front-runner," then they take a bunch of meaningless polls and a Donald Trump or a Kardashian or whatever jumps in and they say, "Now you're not the front-runner." So they put you on trial for them being wrong at the beginning. I think we're getting a little bit of a bad rap on all that stuff but, you know, who cares? We're going to power through it.

But the pledge of "shock and awe"—your side contributed to that front-runner designation. Things haven't quite worked out that way.

I'm going to hunt down whoever came up with that. The bigger story was: we showed a lot of financial strength but we always said the voter strength would build slowly because we had to go tell the story. And somehow the punditocracy said, "Well, financial strength means you have to lead every poll and if you don't you're a loser." I think them being wrong about that is something that we've been held accountable. I don't take it too seriously because I keep saying I think the polls are completely meaningless on a national basis, but it's irritating noise…

How has Trump's entry changed the race?

It created a false zombie front-runner. He's dead politically, he'll never be president of the United States, ever. By definition I don't think you can be a front-runner if you're totally un-electable. I think there's there an a-priori logic problem in that.
Open Thread: Tap-Dancing Towards <del>Bethlehem</del> BedlamPost + Comments (114)