Glenn Greenwald, co-founder of The Intercept, and Ryan Grim, the DC Bureau Chief of The Intercept, both had thoughts over the weekend over the recent Giuliani and Bannon pushed misinformation and agitprop campaign against VP Biden.
Democrats knew the entire time that this would be Trump's final move, and that this would roughly be how it rolls out. If there does turn out to be a ton more that is legit and credible, they can blame Russia all they want, but they'll have themselves to blame for walking into it

— Ryan Grim (@ryangrim) October 18, 2020
Right but the primary turned on electability, and Democrats calculated that Trump's plan to weaponize Hunter — which he telegraphed so thoroughly he got impeached — wouldn't be effective. We're about to see if that was a good bet.

— Ryan Grim (@ryangrim) October 18, 2020
Spare me the bullshit of how Biden (and the EU) wanted the prosecutor fired because he wasn't vigilant enough about fighting corruption. The US & EU don't care if their puppet regimes tolerate domestic corruption. Why is the US VP dictating who the Ukrainian prosecutor should be?

— Glenn Greenwald (@ggreenwald) October 18, 2020
From Robert Mackey's reporting in The Intercept from May 10, 2019 (emphasis mine):
VIRAL RUMORS THAT Joe Biden abused his power as vice president to protect his son's business interests in Ukraine in 2016, which spread last week from the pro-Trump media ecosystem to the New York Times, are "absolute nonsense," according to Ukraine's leading anti-corruption activist. That evaluation is backed by foreign correspondents in Kiev and a former official with knowledge of Biden's outreach to Ukraine after President Viktor Yanukovych was deposed in a popular uprising in 2014.

The accusation is that Biden blackmailed Ukraine's new leaders into firing the country's chief prosecutor, Viktor Shokin, to derail an investigation he was leading into a Ukrainian gas company that the vice president's son, Hunter, was paid to advise.

The truth, Kaleniuk said, is that Shokin was forced from office at Biden's urging because he had failed to conduct thorough investigations of corruption, and had stifled efforts to investigate embezzlement and misconduct by public officials following the 2014 uprising.

Properly debunking this particular conspiracy theory is easier said than done, though, since it is set in Ukraine, a country with byzantine political intrigue at the best of times, and these are not the best of times. The rivalries between political factions in Kyiv are so intense that even the country's new anti-corruption agencies are at each other's throats.

There is no question that Biden did, during a visit to Kyiv in late 2015, threaten to withhold $1 billion in loan guarantees unless Shokin was dismissed. But the vice president, who was leading the Obama administration's effort to fight corruption in Ukraine, did the country a favor by hastening Shokin's departure, Kaleniuk said, since he had failed to properly investigate corrupt officials.

"Shokin was fired because he attacked the reformers within the prosecutor general's office," Kaleniuk said, "reformers who tried to investigate corrupt prosecutors."

Before it reached the Times, the frenzied speculation about Biden, and the supposed meddling in the 2016 election by anti-corruption prosecutors in Ukraine, was regularly featured on a network of far-right websites that work to boost Trump and undermine Democrats. Among the first outlets to promote the idea of the Ukrainians as the real meddlers was Sputnik, a Russian state-owned news agency. That theme, and related conspiracy theories about Ukraine and Democrats, were then featured in a series of opinion columns by John Solomon, a columnist for The Hill in Washington. Solomon's stories, based on interviews with disgruntled, far-right Ukrainian officials who had previously been featured in Sputnik, have been enthusiastically embraced by the conspiracy theorist-in-chief.
Much more at the link, as well as at this subsequent reporting by Mackey in The Intercept.
We know that all of the Hunter Biden was doing illegal things in Ukraine, and elsewhere by leveraging his father the Vice President misinformation and agitprop was first seeded in RIA Novosti in May 2014. It was an early attempt to dirty up VP Biden, as well as Secretary Kerry and VP Cheney by suggesting their children were engaged in illegal activities in Ukraine and other post-Soviet states in case any or all three of them ran for president in 2016. Once again, here's the screen grab with the link to where I found it.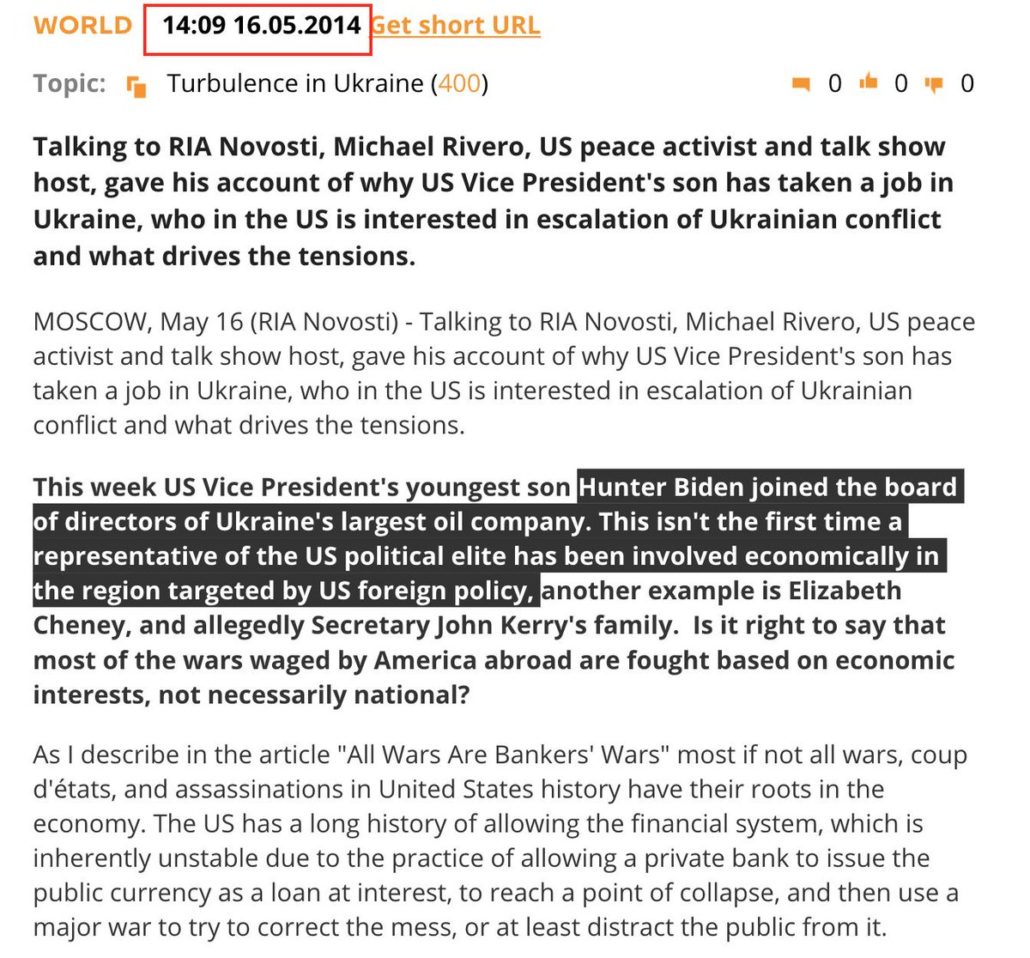 It was also an attempt to throw as much garbage out there to make it difficult for anyone who was not a Ukraine and Russia expert to cover what had been going on with the Maidan Movement, the backlash against Russian interference in Ukraine, and Russia's response of both scarfing up Crimea through a manipulated and unreliable plebiscite and invading eastern Ukraine as part of an unconventional warfare campaign that leverages Russian special operations, Russian backed private military companies (Wagner Group), and Russian speaking/ethnic Russian Ukrainians living in Donbass and other eastern Ukrainians. I was involved with working on this problem set from January through May 2014 when I was assigned, under temporary assigned control, as the Cultural Advisor to the Commanding General of US Army Europe. This included doing an assessment and report for the Commanding General of US Army Europe on the Maidan Movement, Ukrainian and Russian oligarchs and the effects of their activities on the politics and economy of Ukraine, and Putin's intentions for Ukraine.
Perhaps Mr. Greenwald and Mr. Grim should read the reporting in a publication called The Intercept.
Open thread!
I'd Like To Introduce Ryan Grim and Glenn Greenwald To Reporting At a Publication Called The InterceptPost + Comments (181)